Sometimes you meet personalities who inspire you to go beyond your mundane set of 'problems' and make you want to seize the day. And, then you meet Pullela Gopichand who makes you want to believe in the goodness of the human race and sets you off on the thought trail of the humane, humility, the 'importance of being earnest' and stripping yourself of ego. A thorough gentleman, the badminton champ and now a super mentor, makes you want to be a good girl! We caught up with Gopi, as he is fondly called, on the sidelines of Tata Steel Kolkata Literary Meet, in association with The Telegraph and Victoria Memorial Hall, at Taj Bengal.
What do you love about Calcutta?
I think, in general, the interest and love for sports in Bengal is a lot. I think very rarely do you find people waiting for hours together to get autographs and stuff at hotels (elsewhere). On the flight to Calcutta, you will actually find quite a few fanatics who actually jump and come. So, it's very passionate, sports lovers is what I would call Bengalis. And, the food is nice. I love the Bengali fish preparations. The sweets are nice as well, although I don't get to eat as much.
Any favourite sports stars from this part of the world for you?
I think Sourav (Ganguly) of course. The passion for football makes me a fan of the Bengal crowd. They really love their sport and their heroes. They are very vocal and opinionated.
Did you play any other sport as a kid?
I loved football and cricket. At the school level, I was in the class cricket team. That's as far as I could get. I loved football, but would be injured a lot… so I stopped playing football, but I love football.
Who is a champion for you?
I think every kid or girl or boy who achieves true potential is a champion for me. At the end of the day, all of us will have different heights, weights, genes and talent…. If we are able to maximise it and not give up, run as fast as we can, or lift as much as we can, jump as high as we can and, on failing, give it our next try by working harder and being smarter. Just keep doing that as a pursuit of excellence.
So, you might or might not be successful but the pursuit matters, right?
I think might or might not be successful in the eyes of the world… but are you trying enough or given it all you have and will you try even if you fail… I think these are relevant questions in a larger perspective. When you talk about players and a sport, may be then you pick up a sport and say (Roger) Federer, Virat (Kohli) or Sachin (Tendulkar)… that's another kind of a thing…. But individually, I think that's what my biggest objective would be.
And, that cuts across all sports and life too?
Sports is life. For everybody, it should be life. Sport is part of life. The whole journey is not unidimensional. I think every kid should play a sport. We learn maths, physics, chemistry and biology and we don't expect them to be world champions. We don't expect them to be Ramanujans and Einsteins of the world. But, in sport the moment you pick up the racquet, they ask whether you are good enough to be a Federer or (P.V.) Sindhu or a (Andy) Murray… then I think it becomes a problem.
How should a parent think?
I think sports should be about learning different movements which will help them in life, so that when they are 60 or 70, they can also play and enjoy the sport. It should be about life lessons that sports teaches you… it should be teachings about victory and defeats and teaching about respecting a position or respecting gender or rules. Then to explore the bounds of your physical being is what from a parent's perspective I would like to focus on when kids start playing a sport.
What do you mean by exploring the bounds of your physical being?
How many in the city have thrown the ball as high as it can go or have run as fast as they can or jump as high as they can? Do our kids actually have an opportunity to do that is a question we as Indians should ask ourselves. And, it is a mind-body connect. Vivekananda spoke about it. Aurobindo and The Mother spoke about it. The Indian traditions have forever had this… gurukuls and akharas were physical training grounds. So, if your kids cannot explore the being's physical boundaries, how can he be a visionary from the mental aspect? So, that for me would be important.
What do you tell the kids who come to your academy?
Once you have picked up the sport at the academy, it is all very professional and goal-oriented and driven for results. A kid needs to spend time morning, afternoon and evening, relentlessly trying to do the same thing… win or lose with enthusiasm. That's what the key is, especially as kids, we all grow at different ages… we all grow mature at different times. So, it is not possible for us to equate each nine-year-old as the same. Somebody is maturing early and some late. I think it is important to just hang on and play really hard and keep pushing and hopefully if things go well, you will win and even if you don't win, the time you spend in sport is not going to go waste.
How does one "lose with enthusiasm"?
Sports is probably the only place where as a young kid you are told in front of people, publicly, that you are a loser. I think that is the biggest advantage of sports. How many people outside of a sporting arena have faced failure publicly? Most of the time we as parents and as society, we camouflage failure and imagine if a kid comes out of that failure early in life and wins the next time around, the confidence that he gets? That is why sports is very important. I think it is very important to tell them that loss is okay and it is a learning and that's what should be the biggest advantage. When you lose, you learn a lot because you ponder on your mistakes and then there is time to be enthusiastic because there is a chance of improvement.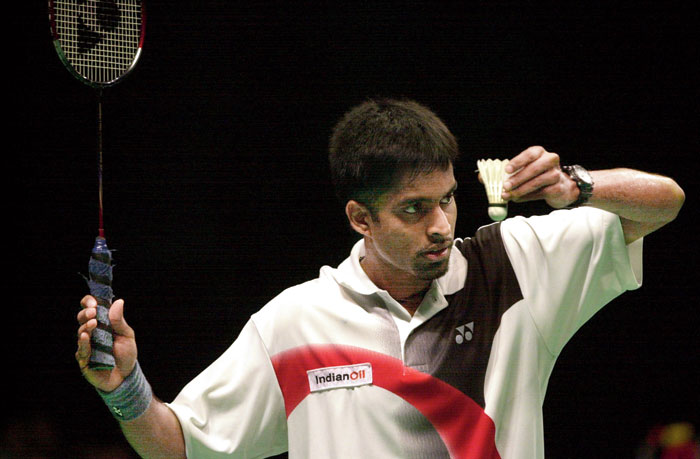 Pullela Gopichand
Sourced by The Telegraph
Personally, how have you dealt with failure?
There was a Chinese coach Su Yan in Germany who told me it's not how hard you fall or how many times you fall, but it is how quickly you get up each time, that matters. For me that advice was really critical. Somehow we don't respect loss very much in our country. You are almost made guilty of a loss whereas the coach taught me it's okay to lose. And, I think only if we say it is okay to lose, will we go and play. A lot of players don't want to go and play because they are afraid of losing. I think if we want to win, we have to be ready to lose.
Did you deal with it differently as a player and as a coach?
As a player, till 1998, till these words came from Su Yan, I wasn't very sure how I would deal with it, but post that it kind of eased out. I started to feel it's okay… I can give it another try. But, as a coach, I might 'play' 10 matches in a day and I might lose five and win five or I might win nine and lose one… every day is a loss…. As a player you might lose today… as a coach, somebody is winning, but somebody is losing. So, as a coach it becomes even more difficult. Losses happen more often than wins because you have 20 of them… if 20 play a tournament, 19 are going to lose and one is going to win. As a coach, you kind of settle down to say that it's okay to lose.
The initial years were much tougher because when players would play, my heart would keep pounding and when I would be sitting behind them, I would be very anxious. Today, I am saying it's okay. Till the time you keep giving your 100 per cent, the results will come at some point of time. Even if it doesn't come today, it's okay. It will come tomorrow.
So, being honest to yourself is most important?
That is very important. I think you have made a very correct point. Where people are analysing a match and saying: 'I should have worked harder. I should have eaten properly. I should have rested properly. I shouldn't have used my phone as much. I shouldn't have been diverted. My training session should have been better. My weight-training should have been better. My running session should have been better.' When players start analysing a loss with these, then these are good signs, but whereas when they start analysing a loss and say: 'I was unlucky. God wasn't kind. There was air. The schedule was crammed.' Then they are trying to fool themselves. And, that's not a right thing.
Now, wins. Viswanathan Anand had told us once: 'When I won it for the first time (a world championship), it was a big weight off my shoulder. But strangely enough, it was the first time I experienced how empty you can feel after you have won something.' Winning for you is what?
I think winning for me is part of the journey and it's okay to win. You are working. We don't get bored or our parents never get bored. Suddenly there is a generation that would say they have worked five days and they need two days off…. Then it's always going to be a burden to play. When you start enjoying and treating win or loss similarly… a win shouldn't elevate you to becoming a superhero and a loss shouldn't bring you back to hell. Stay grounded. Thoda upar, thoda niche thik hai… one day of celebration but the next day you are back to work… same with loss… one day of dejection and you are back to work is what is a good scenario.
For me wins are good but wins are very dangerous as well. Wins can bring new people, new things, new zones which you are not sure how you'll handle. Especially, if you do wrong things and win, in your mind you'll think that doing wrong things is okay. I think you'll have to be careful about victories because they can give you a false sense of achievement.
So, the middle path then for you. Like all of us, have you also made mistakes?
Of course I have made tons of mistakes and I keep continuing to do mistakes. But it's okay.
Who are your favourite champions?
Muhammad Ali to a Ivan Lendl to a (Roger) Federer to a (M.S.) Dhoni… it's different in different sports. I admire Abhinav Bindra and people like Mary Kom, P.T. Usha… Prakash Padukone… I think they are all great people who have done great things for Indian sport. I can go on… (Diego) Maradona, (Cristiano) Ronaldo, (Lionel) Messi…. A lot of the people I have learnt from are my contemporaries. Whether it is George Thomas or Dipankar Bhattacharjee….