Ashok Karmokar: Steering the future
When Ashok Karmokar applied to the Japan Olympic Committee in 2016 to volunteer for the Tokyo Olympics, little did he know that the vehicle he would be given to drive would become the onlooker's envy, driver's pride.
The 59-year-old from Hooghly is a Tokyo resident for 30 years now. "I speak both Japanese and English. Since language is a problem here for foreigners, I thought I could be of help," he told t2, after completing the day's duty for the Games.
As a member of the Games mobility support team, he is behind the wheel, picking up sports federation or International Olympic Committee members from hotels, Games venues or the Village.
His mount is a Toyota Mirai, 'mirai' meaning 'future' in Japanese. The hydrogen fuel cell electric vehicle (FCEV) indeed is tomorrow's vehicle, being one of the first FCEV automobiles to be mass-produced and sold commercially. "It emits only water, no carbon dioxide," smiles Karmokar. "A chemical reaction takes place in the car's fuel cell stack, involving oxygen drawn from air and hydrogen from the fuel tank to create electricity. That powers the car."
Though he is volunteering in his personal capacity, the materials system engineer works in the R&D wing of a Japanese tyre manufacturer, which is a worldwide Olympic and Paralympic partner. So he and his colleagues know a thing or two about automobile technology.
"They are so jealous that I am getting to drive a Mirai. The heat outside also makes duty in an air-conditioned vehicle a prized one," he laughs. It is around 35-36°C now in Tokyo and some of his acquaintances are assigned to run X-ray screening of luggage or sanitise lawn tennis or skateboard events venues. "They may be getting to watch matches, but the heat makes it tough. My job is way more comfortable."
The high-tech car has been drawing sundry questions from the guests taking the rides. "Some suggested in jest that I could gift them the car after the Games." He himself, too, has been a subject of speculation. "Many guests are puzzled to see a person of my complexion receiving them. They would tactfully ask if I was a local or if I was familiar with Tokyo streets. I hand them my office card to convince them," Karmokar says.
He fondly remembers an IOC official from Canada, who said this was his ninth Olympiad. "Apparently, the day before the inauguration, the entire ceremony is rehearsed and all the volunteers are invited to witness it from the stands. He said he was sorry that the courtesy could not be extended to us this year."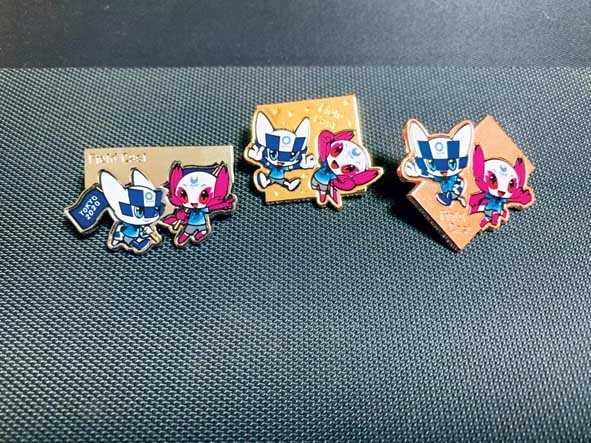 Karmokar's shift is from 2pm to 11pm. On reporting, he has to take an alcohol test. With the negative result, he has to get his driving licence and identity checked. He picks up the car from the Tsukiji depot next to the Games Village and is handed a bluetooth-enabled mobile phone to connect to the navigation system of his car. "The phone has an artificial intelligence-based system that not only collects my location data for tracking, but also receives messages assigning my next duty," says Karmokar.
He has done 11 days of duty. That has earned him all three grades of pin that volunteers can earn — bronze pin for three days, silver pin for five days and gold pin for seven days or more. "They are made of the same material as the medals."
The pandemic has changed a lot of things. What he regrets most is the missed opportunity to be in the stands of the National Stadium with his family. "I had got tickets for the coveted track and field events through lottery. Though I may still be getting a chance to soak in the Olympics, I feel bad that my family missed out."
His son wants to try on his Olympic gear — jacket, T-shirt, trousers, a pair of sneakers and socks, cap, mask and water bottle, all with the Olympic emblem. "Since I have extra sets of
T-shirts, maybe we can take a father-son picture after the Games as souvenir," he signs off.
Paromita Roy: Sight of silver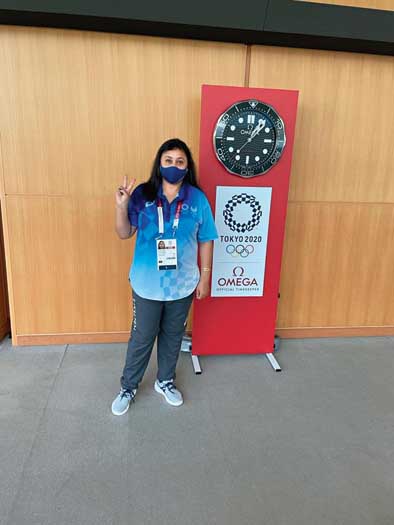 Paromita Roy:
The first afternoon when Paromita Roy stepped into Tokyo International Forum to report for duty, a women's weight-lifting event was in progress. Since the Olympics had just started, the volunteers had not got the day's schedule. Suddenly she noticed the India flag next to a contestant's name towards the top of the table on the giant screen.
"I did not know of any woman athlete other than Mary Kom. Once I realised 'Mirabai Chanu Saikhom' was Indian, I remained glued to the action. My heart was egging her on, but as a volunteer I could not shout out my support," recalls the 46-year-old part-time teacher who settled in Tokyo 19 years back.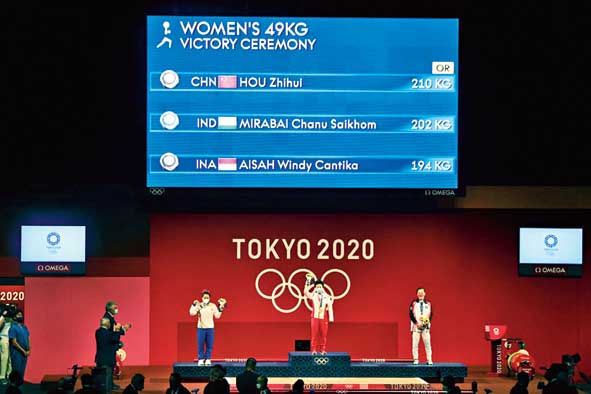 Mirabai Chanu Saikhom on the podium
Though Chanu could not execute the final lift and missed the gold medal, Paromita could hardly contain her excitement. "She was standing at an arm's length. But we were not allowed to use our mobile during the events. I consoled myself with a photo of the Tricolour going up during the presentation ceremony. It was the best moment of the Games for me."
Since her duty was to facilitate the press, she was present in the press corner for Chanu's interview as well. "There she was, so gentle and humble in her body language. She spoke in Hindi and though, as a Delhi girl, I could do a far better job with the translation than was happening, I had to keep quiet."
But Paromita did manage a quick word with Chanu later. "She asked why I was not in the India jacket. I had to explain my role."
Indeed, Paromita's role was defined. No journalist could come in with just the accreditation card. "They had to have a permit for the day. Nor could one ask more than three questions at a press meet. There were separate jackets to distinguish the common photographers from the 'pool photographers' who were allocated front seats. While leaving they had to return the jackets to us."
But much of what she did went beyond the brief. Having spent three years in New York, she was better suited to understand Western accents. "Often, I could make out a Japanese colleague looking puzzled and I would immediately step up."
Another area she realised foreigners needed help with was making sense of Kanji signage. "Simple things like entry and exit, left and right, on and off were big challenges. Once I explained to a German reporter who I found standing helplessly with a plate of frozen food next to a microwave the shape of the kanji for minutes and seconds for him to heat the food."
Another memorable experience was watching Laurel Hubbard, the first transgender athlete to compete in the Olympics. "We had been alerted about big press presence for the event. Sadly, she could not complete any of her lifts yet it was a historic moment."
Japan, she said, had started gearing up for the mega event years in advance. "They are great with marketing. Even changes of season are welcomed with changes in decor at stores. In March-April, it is Sakura (cherry) blossoming season and the flower would crop up on everything from disposable cups to flavours of green tea and candies. For the Olympics, merchandise had started being sold from 2017."
She is happy that the event could take place inspite of the pandemic. "The Japanese are great with mask etiquette and are very disciplined. That is why things are happening smoothly despite a state of emergency in Tokyo."
Every seventh day, she has to take an RT-PCR test to rule out Covid-19. She has donated her old iPhone since medals have been made this year out of recycled metal from discarded gadgets. "We are all doing our bit. Even our senior manager lends a hand to sanitise tables. No job is too small when it comes to making the Games a success," smiles Paromita, adding she would volunteer for the upcoming Paralympic Games as well.