What Rishi Kapoor brought to the film song was unique – no one emoted to a song better than he did. No wonder his filmography is replete with standout melodies. On the actor's death anniversary, Shantanu Ray Chaudhuri – who had edited Rishi Kapoor's autobiography Khullam Khulla for HarperCollins Publishers India – writes about the best of Rishi Kapoor's musical outings.
*****
In the course of finalising his autobiography, Rishi Kapoor once narrated to me how Ranbir had approached him about not being able to emote right for a song. 'You are the son of Rishi Kapoor,' I told him, the actor said, intensity writ large on his face, 'how can you not get the nuances of acting a song right.' Then, right there, he demonstrated, his face acquiring a tinge of red from the effort, his temple and jugular veins palpably throbbing, how every nerve, every sinew has to come into play as per the demands of a song. Sitting across from him, I had a glimpse of what went into an artform that many of us tend to dismiss as 'just song-and-dance'.
Feet shuffle in 'Bachna ae haseeno' and 'Om shanti om'
Few actors in Hindi cinema managed to convey the passion in a song like Rishi Kapoor did. Not even Dev Anand or Rajesh Khanna – arguably the stars with the finest songs in Hindi cinema – could hold a candle to Rishi Kapoor on this aspect. What set him apart from many other stars is the way the music literally seemed to throb in him. Unlike many other stars, starting with Bhagwan Dada and going up to Amitabh Bachchan or Mithun Chakraborty, Rishi Kapoor had no trademark steps that he patented – barring that feet shuffle we see in 'Bachna ae haseeno' (Hum Kisise Kum Naheen, 1977) and 'Om shanti om' (Karz, 1980). What he brought to the song and dance was an infectious joie de vivre, much like his uncle Shammi Kapoor.
From a qawwali to a disco, he owned them with his 'performance' of the song
More importantly, unlike most other actors he lent a welcome verisimilitude to the way he 'played' an instrument on screen – be it the guitar or a violin, a trumpet, a flute or a dafli. No actor looked as authentic doing that. And then there was the utter ease with which he navigated both western rhythms and eastern melodies. From a qawwali to a disco – he was to the manner born. One needs to look no further than Hum Kisise Kum Naheen, where he looked as much at home with the qawwali 'Hai agar dushman' as he did with the trumpet in 'Bachna ae haseeno', sporting a sparkly white jumpsuit, a red heart-shaped necklace on it and a jaunty cap – kitschy and irresistible in the same breath.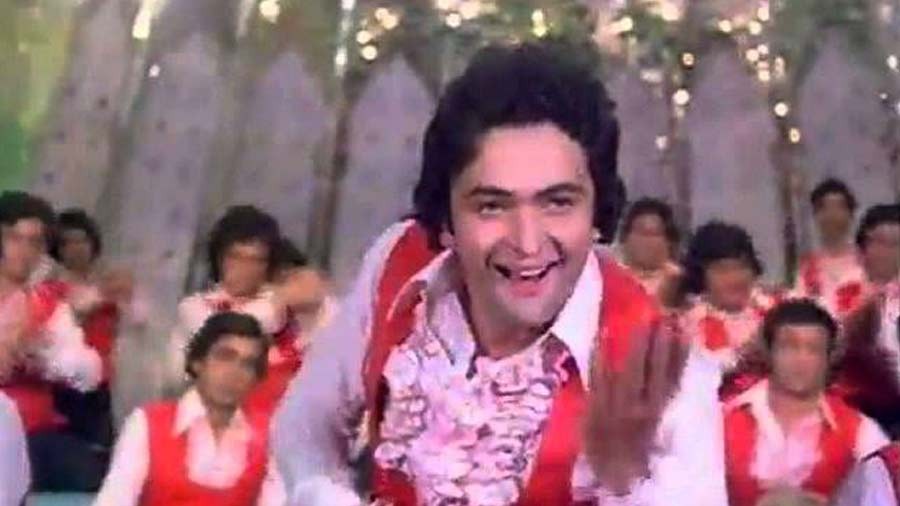 Rishi Kapoor in 'Hai agar dushman' from 'Hum Kisise Kum Naheen'
One of his greatest contributions to Hindi cinema lies in the songs that he left us. They were written, composed and sung by others, but he owned them with his 'performance' of the song. He became a star just as the 'angry young man' was set to sweep away all competition – Bobby (1973) released the same year as Zanjeer (1973). And even as music became peripheral to the narrative in an era marked by action-oriented films, Rishi Kapoor managed to serve one chartbuster after another. Even in films that failed – say, a Jhoota Kahin Ka (1979) or a Dhan Daulat (1980), a Sitamgar (1985) or a Yeh Vaada Raha (1981), ironically all scored by R.D. Burman – the melody has survived to this day, with songs from these films becoming radio favourites over the decades.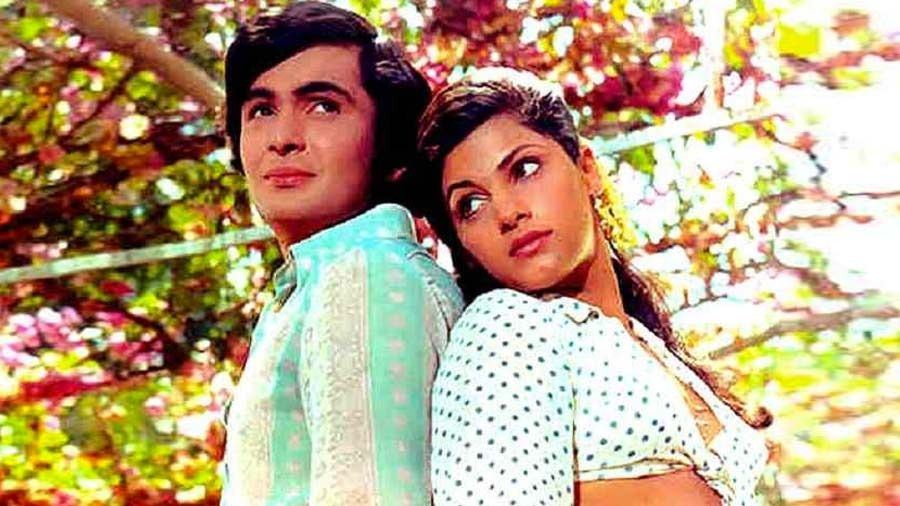 Rishi Kapoor became a star just as the 'angry young man' was set to sweep away all competition – Bobby released on the same year as Zanjeer (1973)
And even if no one remembers anything about a film called Phool Khile Hain Gulshan Gulshan (1978) or a Badalte Rishtey (1978), the songs 'Mannu bhai motor chale' in the former or 'Woh woh na rahe' and 'Yeh pahle pyar ki khushboo' in the latter have an instant recall.
It is a tribute to Rishi Kapoor's musical legacy that in each decade since his debut, songs in his films have won the Filmfare Award for Best Playback Singer Male: Bobby in the 1970s, Saagar in the 1980s, Deewana in the 1990s, Fanaa in the first decade of the new millennium and Delhi-6 in the 2010s. Of these, the first three were songs he either lip-synched to or were shot on him.
This list excludes 'Amar Akbar Anthony', 'Hum Kisise Kum Naheen' and 'Kabhie Kabhie'
So, here are my favourite Rishi Kapoor musicals. A disclaimer before I proceed: this list excludes what Hindi film music lovers would probably consider his biggest musical hits: Amar Akbar Anthony (1977), Hum Kisise Kum Naheen and Kabhi Kabhie (1976). The reason I leave these out is simple. Though he was an integral part of these films, and the songs he rendered in these played a huge part in the success they became, none of these were Rishi Kapoor's films per se. In fact, the best and most popular numbers of Hum Kisise Kum Naheen went to Tariq, and Rishi Kapoor had what at best could be termed an extended cameo. Amar Akbar Anthony had three chartbusters shot on Rishi Kapoor, but the film was as much Vinod Khanna and Amitabh Bachchan's as it was his – and in fact is seen more as AB's vehicle to superstardom. While Kabhi Kabhie is remembered more for its Mukesh solos featured on Amitabh Bachchan.
'Bobby': Two chartbusters and several hits
The film that ushered in a new genre of films – the teenybopper romance – Bobby (1973) gave Hindi cinema a new heart-throb in Rishi Kapoor. Coming in the wake of Raj Kapoor's colossal debacle Mera Naam Joker (1969), it resurrected RK Studios, brought to the limelight a singer called Shailendra and catapulted Laxmikant-Pyarelal to the top. Not many people know that Raj Kapoor was on his way to get S.D. Burman to compose for the film when Mukesh walked in, advocating for Laxmikant-Pyarelal. The rest, as they say, is history.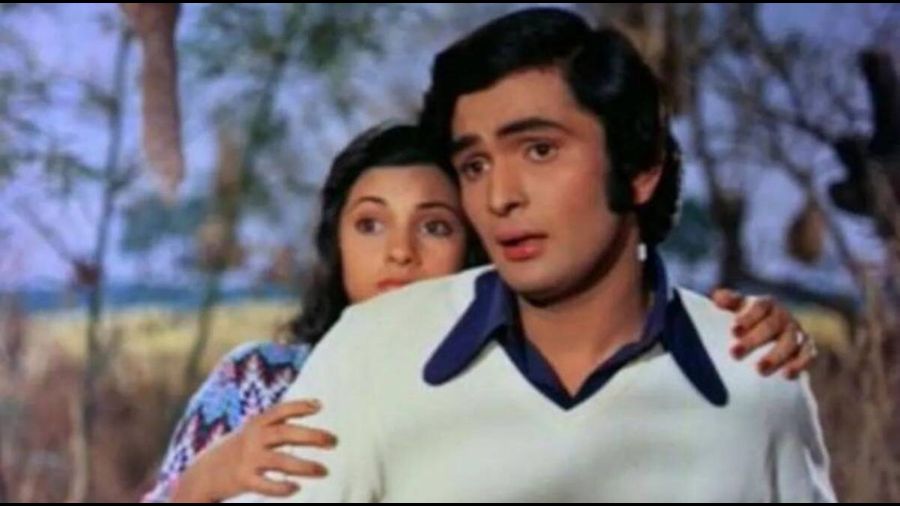 The film that ushered in a new genre of films – the teenybopper romance – 'Bobby' (1973)
Anand Bakshi's rudimentary words in 'Hum tum ek kamre mein band ho' and the poetic 'Main shayar toh nahin' have almost become idiomatic and have lost none of their charm even fifty years later. No one film has any business having two chartbusters like these, not to mention that every other song – 'Ankhiyon ko rehne do', 'Mujhe kuch kehna hai', 'Jhoot bole kawwa katey', 'Na mangoo sona chandi', 'Ae phansa' and 'Beshaq mandir masjid todo' (which fetched Narendra Chanchal the Filmfare Award for Best Male Playback singer) – was a bigger hit than the other.
But for the fact that the competition that year included the sublime Abhimaan, Bobby would have been a shoo-in for the best music award too.
'Khel Khel Mein': Defined the sound of the 1970s
The film that along with Yaadon Ki Baraat (1973), Jawani Diwani (1972) and Hum Kisise Kum Naheen defined the sound of the 1970s. No other film of the Rishi Kapoor-Neetu Singh jodi has endured so much in memory as Khel Khel Mein (1975) – and that is largely thanks to its lilting music.
'Khullam khulla pyar karenge' and 'Ek main aur ek tu' have inspired film and book titles and remain the last word in zany romantic numbers, conveying the era of free love, flower children and rebel youth like few songs did. These have so dominated listeners' memories that one almost tends to forget the other nuggets in the film – the scintillating RD-Asha duet full of verve and pathos, 'Sapna mera toot gaya', the underrated gem 'Aaye lo pyar ke din' and that quintessential college fresher-party song, 'Humne tumko dekha'.
The film and its songs cemented Rishi Kapoor's lover boy image and the Rishi-Kishore-RD combination which gave Hindi cinema some of its most melodious songs of the decade.
'Doosra Aadmi': 'Chal kahin door nikal jaaye'
How do you come to terms with a score as rich, lush and mellifluous as this. It remains one of the mysteries of scholarship on Hindi cinema that Doosra Aadmi (1977) rarely finds mention among its best musicals while much lesser scores make the cut. In 'Chal kahin door nikal jaaye', one of the rare songs to feature Lata Mangeshkar, Kishore Kumar and Md Rafi, we have, arguably, the finest song in Hindi films conveying the excitement, the sheer abandon and, in the same breath, the trepidation of 'forbidden' love. Boasting a brilliantly evocative picturisation, the melody and Majrooh Sultanpuri's layered lyrics break your heart even as they make it soar – with a memorable violin riff that ushers in Rafi's voice.
Each composition in the album is a gem – 'Nazron se keh do', 'Ankhon mein kaajal hai', 'Aao manaye jashn-e-mohabbat' and that delightful making-up-with-your-lover ditty, 'Jaan meri rooth gayi' – and so well-integrated with the narrative each is that every time you listen to them you want to sit in front of a warm fire, wrapped in a blanket. Love never sounded this melodious and seldom again would Rajesh Roshan scale the highs of the album.
Unfortunately, its theme – a love story between a widow and her younger lover who is married – was considered too bold for its time and the film languished at the box office. But nothing could prevent the songs from becoming timeless, ageless.
'Sargam': Giving the dafli the full treatment
One of the defining traits of Rishi Kapoor's musical avatar is the ease with which he traversed the spectrum from trendy modern beats to the quintessential eastern melody. Nowhere better exemplified than in the songs of Sargam (1979), penned by Anand Bakshi and composed by Laxmikant-Pyarelal: 'Dafli wale', 'Koyal bole', 'Parbat ke us paar' and 'Mujhe mat roko'. Sargam created one of the defining images of Rishi Kapoor: giving the dafli the full treatment, his face a picture of agony and passion.
The film is also memorable for the fact that though by now Kishore Kumar was his regular playback voice, the songs of Sargam were all rendered by Md. Rafi. In fact, after Dev Anand, Rishi Kapoor was the one star for whom both Kishore and Rafi's voices seemed just the perfect fit. Rafi gave Rishi Kapoor some of his biggest hits of the era – including the qawwalis in Amar Akbar Anthony ('Parda hai' and 'Shirdi wale') Hum Kisi Se Kam Nahin ('Hai agar dushman') and Laila Majnu (1976, 'Tere dar pe aaya hoon') which made the star the de facto qawwal of Hindi cinema.
'Karz': On to the violin and the guitar
A year after his dafli beat the competition hollow, Rishi Kapoor took on the violin and the guitar with as much aplomb in this reincarnation drama (1980). Chartbusters like 'Om shanti om' and 'Paisa ye paisa' heralded the sound of disco in Hindi cinema (two years before Disco Dancer). In a shiny silver jacket with 'Monty' written at the back, Rishi Kapoor set the revolving vinyl stage of 'Om shanti om' (Lord Shorty's similarly titled song in the 1978 album Soca Explosion was the obvious inspiration for this) on fire. Then there was the final word in haunting melodies – 'Ek hasina thi', with its memorable guitar riff (again, inspired by George Benson's 'As we love') played by Gorakh Sharma that can still have your heart racing, with Rishi Kapoor defining what acting to a song could be. And as if these were not enough, Laxmikant-Pyarelal had the dulcet ghazal-like 'Dard-e-dil', set to a catchy western beat, as the icing on the cake – impeccably rendered by Md Rafi in what is among his swansongs.
The songs have acquired such cult status that it still does not cease to surprise one that the film failed at the turnstiles, swept away by a tsunami called Qurbani which released a week later, driving Rishi Kapoor to a spell of depression.
'Saagar': The sublime, the evocative, the peppy, and the sensuous
Kamal Haasan may have walked away with the acting honours (albeit watching it now, one is aghast at how over the top his performance is, making one wonder how it escaped the director's gaze) and Dimple with the glamour quotient in her comeback vehicle. But Rishi Kapoor, girth expanding just that wee bit, in a thankless role typically understated, is the reason why we remember the 1985 film to this day. The songs – the sublime 'Saagar kinare', the evocative 'Saagar jaisi ankhon wali', the peppy 'Yunhi gaate raho' and the sensuous 'Jaane do na', all shot on Rishi Kapoor – have endured over time, and is the one reason this otherwise stale narrative still lingers in the memory.
The film failed at the box office, Ramesh Sippy abandoned composer R.D. Burman for his future ventures but never came up with another song that remotely measured up to Saagar, and Rishi Kapoor moved imperceptibly to largely ineffectual supporting roles.
'Chandni' to 'Bol Radha Bol'; 'Damini' to 'Deewana'
And yet, even in this generally barren phase as an actor and star, a number of films starring him made it to the top of the charts. Yash Chopra returned to his winning ways with Chandni (1989), that had the rambunctious 'Chandni o meri Chandni' and the beautiful 'Tere mere hothon pe' with Rishi matching Sridevi beat for beat. Bol Radha Bol (1992) had the chartbusting 'Tu tu tu tu tu tara', the actor gamely shaking a leg with Juhi Chawla. Damini (1992) boasted the dulcet 'Jab se tumko dekha' and 'Gawah hai' (a rip-off from Adam Salim's Swahili classic 'Malaika', made famous by Miriam Makeba), while Deewana (1992), Shah Rukh Khan's debut, is more remembered for Rishi Kapoor lip-synching to 'Sochenge tumhe', 'Teri ummeed tera intezar' and 'Payaliya'.
Even as a fading singing-star, as Rishi was during this phase, he was good enough to deliver melodies that set the box-office on fire. Till his astonishing second coming that showed him in an entirely different light, leading him to say, 'For the first 25 years I was doing nothing but singing songs in the hills and changing jerseys. It's only now that I am getting roles to sink my teeth into.'
Those who grew up in the 1970s would beg to differ. His musical outings are as legendary as the latter-day roles that discovered the incredible actor in him. No one did the song-and-dance as well as Rishi Kapoor.
Shantanu Ray Chaudhuri is a publisher, editor, critic and film buff.