Do you recall the elderly chalchitra artiste from the movie Durgeshgorer Guptodhon? Or the old man who gets slapped in the film Bob Biswas? Or the drunk man dancing in the middle of the road with a bottle of country liquor on his head in the detective film Tirandaj Shabor? Chances are you wouldn't and even if you do, you wouldn't know his name.
Meet Nimai Ghosh, an actor who started as a junior artiste and went on to play bit roles in more than 200 films over five decades.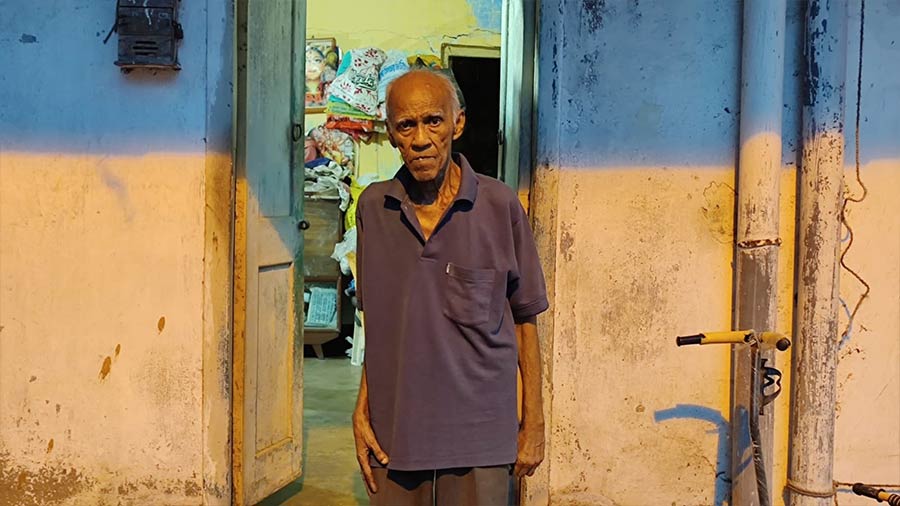 Nimai Ghosh has been working in the Bengali film industry for more than five decades now.
Jaismita Alexander
But roles are now drying up for the actor who has worked with directors like Mrinal Sen, Suman Ghosh, Bappaditya Bandopadhyay and Sandip Ray. 
When My Kolkata contacted him for an appointment, Ghosh said, "Ekhon toh sheyrom aar ager moton kaj nei, janen. Apnar subidhe moton ashun (Not much work these days. Come at your convenience). We caught up with him at his modest one-room home near Ultadanga.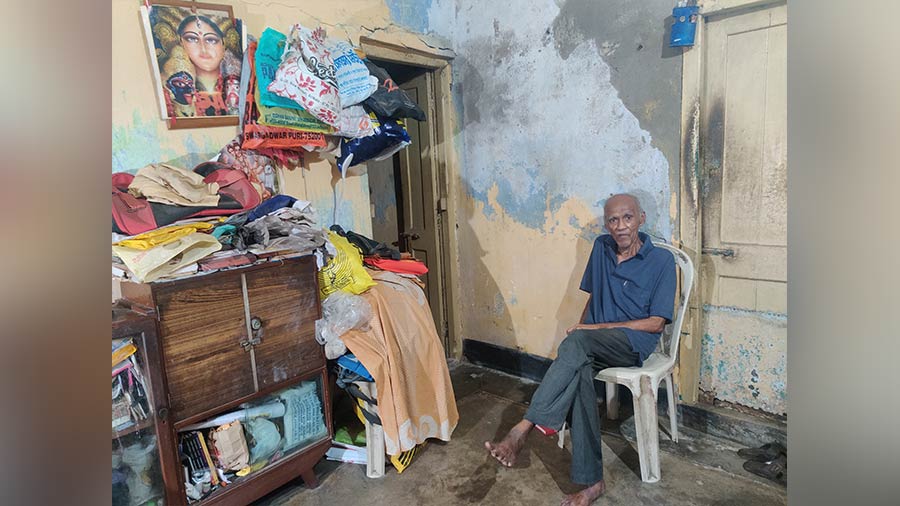 Nimai Ghosh in his modest one-room apartment in Ultadanga.
Jaismita Alexander
Journey to the big screen
Nimai Ghosh was only 13 when he first witnessed a film shoot in a studio near Dakshineswar. The film was Saajher Pradip starring Uttam Kumar and Suchitra Sen. 
"One of my local dadas took me there. Uttam Kumar and Suchitra Sen were big stars then, a craze among youngsters and movie buffs. For the first time, I closely watched how a film is shot. That day I realised this was what I wanted to do," said Ghosh. 
He started stealing money from his grandmother to travel to Tolly para. There he built up a good rapport with a tea-seller popularly known as Nirmal da.
"Nirmal da had all the inside news. He would arrange for junior artistes when big directors needed them. I had to wait for a long time before I got selected for a small role. Unfortunately, that film was never released. Then my brother told me that if I really wanted to get into the movies, I should join a theatre group and learn acting," Ghosh recalled.
A still from 'Durgeshgarer Guptadhan'.
Amazon
With the will to learn acting and a wish to join the theatre, the young boy approached Sisir Bhaduri, the stalwart stage actor. "Sisir Bhaduri asked me if I was still studying. On hearing that I was in school, he drove me away asking me to concentrate on my studies. In those days, education was important in theatres as one had to read a lot. I managed to finish my school somehow." 
After school, Ghosh went on to join a local theatre group and then Nandikar, where he met Ajitesh Banerjee, another stalwart actor.
First break with Mrinal Sen 
Ghosh met many personalities from the film industry during his theatre days. That's how he met Mrinal Sen who would eventually cast him in Parashuram and some of his other movies. 
"Mrinal Sen came to watch one of our shows. After the show, he asked one of our group members about me. He was making Ichhapuran, a film based on Rabindranath Tagore's short story and cast me in a small role," said Ghosh.
A still from the movie 'Chokh'
Angel Digital
"Mrinal da had a unique style. He didn't believe in line-by-line script. He would tell us the story and ask us to be spontaneous. So, most of the dialogues would come up on the set, created by the actors themselves. That's a very brave style, I must say," Ghosh said when asked about his experience of working with Sen.
"In his last few days, Mrinal da told someone that he wished to do more for me," he wistfully said.
 'I regret not being able to work with Manik da, although I got a chance'.
Satyajit Ray used to often watch theatre shows. There he came across Ghosh and appreciated his work. "Manik da watched me act in a play called 'Aam-er Manjari' based on Anton Chekhov's The Cherry Orchard. He praised me for my role. Later, when I left Nandikar, I heard he had come looking for me but by the time I came to know it was too late."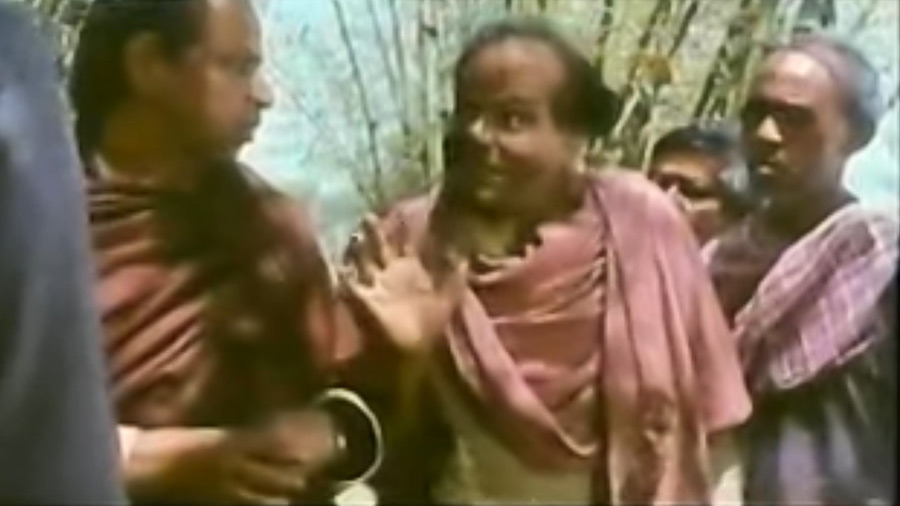 A still from Sandip Ray's film 'Uttaran'
But Ghosh did get to work in Uttaran, a film started by Satyajit Ray and completed by his son, Sandip Ray. "I have worked with Babu (Sandip) in quite a few projects, but I regret not being able to work with Manik da."  
Films then and now
Ghosh, who turned 80 this year, has lost count of the movies he has acted in. "Must be 200 or more," he said. 
Some of the noteworthy films he worked in include Damu (1996), Chokh (1982), Spandan (1982), Patalghor (2003), Kantataar (2005), Satyajiter Goppo (1998), Chaar (2014), Peace Haven (2015), Shyamal Uncle Turns off the Light (2012), Durgeshgorer Guptodhon (2019), Bob Biswas (2021) and Tirandaj Shabor (2022). 
In Utpalendu Chakrabarty's Chokh, Ghosh played the friend of lead actor Om Puri. He also worked with other popular actors like Soumitra Chatterjee, Paran Bandyopadhyay, Amol Palekar and Utpal Dutt. 
"There are many films where I have done a smaller role. Some are in the pipeline. I don't know if some others have been released. Maybe they'll inform me once they are released," said Ghosh.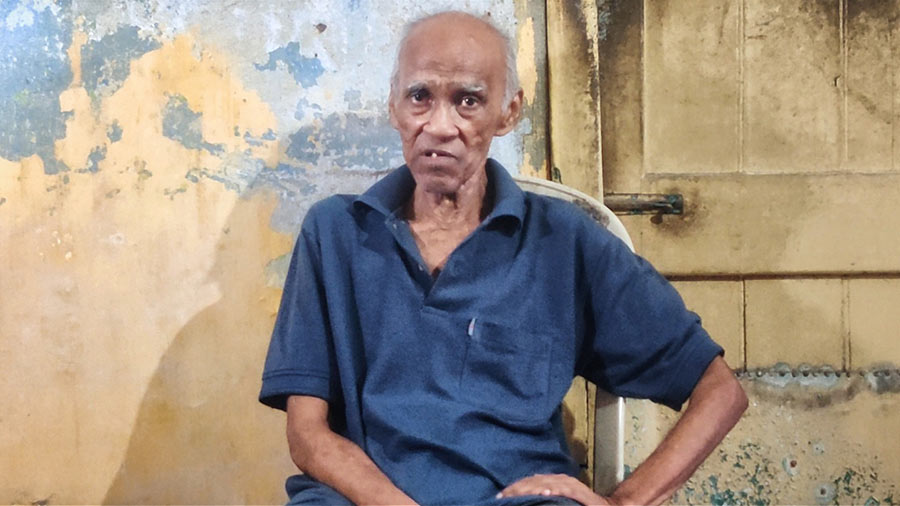 Nimai Ghosh has worked in plays, serials, movies, telefilms, web series and YouTube videos
Jaismita Alexander
Recently, the veteran actor played the central role in a Zee5 Original movie, Ekti Bangali Bhooter Goppo, by Indranil Roychowdhury. The story revolves around Gourhori Basak (played by Nimai Ghosh), a faithful clerk trying to find out the whereabouts of his missing master. The cast included Jaya Ahsan, Joydeep Mukherjee and Sourav Chakraborty.
Ghosh was also a part of the popular mega serial Janmabhumi on DD Bangla that was aired in the 90s.  "The experience of working in a serial was different. It's a big responsibility and commitment when the character has multiple appearances. Janmabhumi was aired for seven long years and I was there throughout."
Struggle to make ends meet
The glamour and fame of the world of cinema have eluded Ghosh despite his many years in the profession. The struggle has only doubled since the pandemic. 
"In 2020, I fell ill just a month before the lockdown. That time I was offered a role by SVF for the webseries Tansen-er Tanpura on Hoichoi. I couldn't take it up because of my health. When I came back from the hospital, there was no ration in the house. My brothers live near Girish Park and they couldn't come to help me because of the lockdown," he said.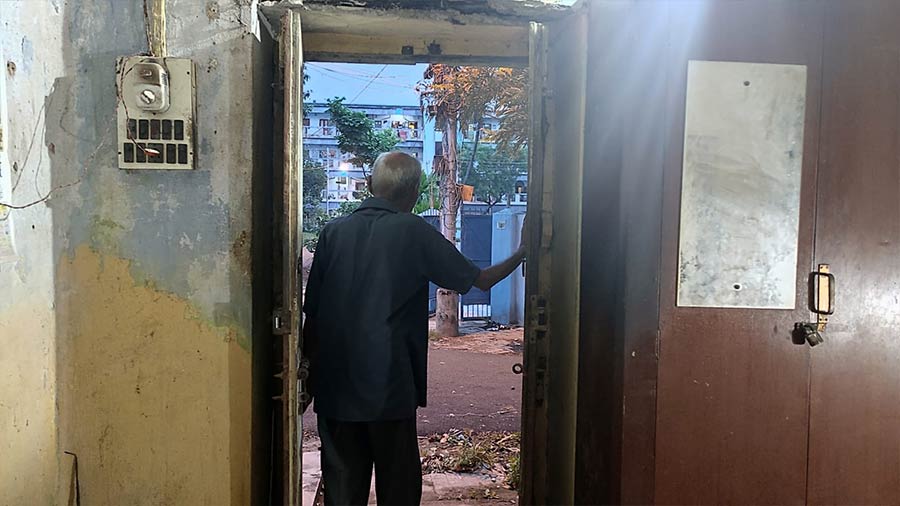 The veteran actor now struggles to make ends meet
Jaismita Alexander
"For months, I had no job, no money, no food. My neighbours would offer me food sometimes and I survived on that. Later, the ward councillor and the West Bengal Motion Picture Artists' Forum helped me with ration, but I didn't have any fuel or utensils to cook. So I gave the ration to my neighbours who cooked for me," he added. 
The room in an LIG (low income group) building near Ultadanga was offered to Ghosh for his contribution to the state as an artiste. The tiny room has an attached bathroom and a kitchen. A bachelor, Ghosh lives alone and eats at pice hotels. 
The room is stacked with books, has a small altar, a piece of plywood that serves as bed, two stools and a wooden chair. "We (extras) don't make much money. Our roles are small compared to others and the payments are often meagre," said Ghosh ruefully. 
"Nowadays, I don't get too many calls. Many people don't even know I am alive. The other day someone I had worked with was asked if I was still alive and working (laughs). People sometimes don't recognise me and often they get confused between me and the photographer Nemai Ghosh," he also said.
"These things happen. But people who know me come and give me work. Some enthusiastic youngsters have approached me. They are making YouTube videos and they want me to play a few comic roles. I have worked with them recently," he added.
Independent filmmaker Debojit Ghosh is making a documentary on Nimai Ghosh. "My only aim is to let people know that the actor Nimai Ghosh is not just an extra we have seen in different films. He has many other talents that people don't know of. He is an exceptional writer. I have read his poetry and have encouraged him to get them published," he said. 
The documentary is likely to be completed soon.