Neena Gupta made feminism cool before feminism was even a word'. That's a comment on Twitter that I came across recently, that sums up the 62-year-old actor's life. Whether it has been speaking her mind, her brutal honesty, her openness about her relationships, her decision to have a child out of wedlock in the 1980s (with former West Indian cricketer Vivian Richards) and then bringing up her daughter — fashion designer Masaba Gupta — as a single mother, Neena Gupta has been the epitome of the woman who owns her life and her decisions.
With the second innings of her career looking almost better than her first, her relationships going strong and her growing popularity on social media, the actor with the never-say-die spirit has now poured her life into her autobiography, which is tellingly titled Sach Kahun Toh, (Penguin, Rs 599) which is now available for sale.
Over a long, freewheeling chat, The Telegraph spoke to the disarming Neena Gupta on her life, her career and what has made her the inspirational woman she is today.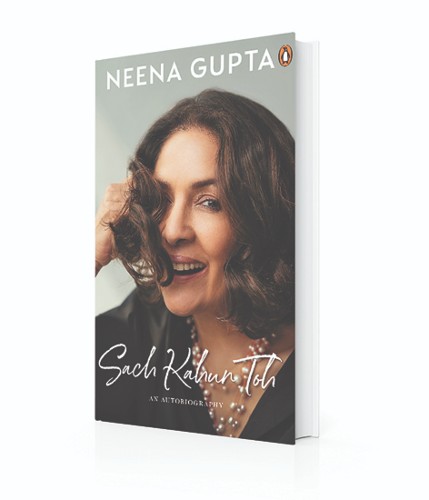 Cover page of Neena Gupta's autobiography
Sourced by the correspondent
You have always said — and the preface of Sach Kahun Toh also spells that out succinctly — that you have been much misunderstood all through your life. Was that the primary reason to pen your autobiography?
In the first lockdown, I was in my house in the mountains in Mukteshwar (in Uttarakhand) and we couldn't go anywhere. After a long time, I got a lot of time to think about myself, my journey... and I said, 'Okay, let me try again'. I have tried writing in the past too, but I would always get stuck at some point or the other, and eventually, I would get bored. And I would then leave it and say, 'This is very boring. Who would want to read about me?!' I think I didn't have the confidence.
Last year, someone told me, 'Ab nahin likhogi toh kab? Likhlo!' So I said, 'Chalo, let me try again'. And this time, I somehow didn't get stuck. I just flowed with the whole thing. Sometimes, I would write a little, then there would be a few days when I wouldn't sit with it at all, and suddenly, a gush would come and I would finish one chapter in one day. Sometimes I would go for long walks in the forest and record my thoughts, I would come back and edit them.... It just happened... there's always a right time for everything in life.
Was writing this book cathartic or therapeutic or both for you?
I would like to use a big word like 'therapeutic', but I don't really think it has been therapeutic! (Laughs) I don't know what it is, actually. Maine bhi ek do baar 'cathartic' aur 'therapeutic' bola, but then I was like, 'No ya!' (Laughs) I think the main aim in my heart was to tell people that what image the media has made of me is not me. That anger is what really propelled me to write this.
Sach Kahun Toh has been out for a few days now. Which bits of the book have touched readers the most?
The honesty. I am being told that no one has ever been this honest in telling everything about themselves. But that's the title, isn't it? I had to speak the truth....
But that's what you are. You are someone who has always been known for your unbridled honesty. Can you ever not be honest and upfront?
Actually, I have tried a few times, but I have failed miserably! People have been teaching me for years... how I should speak to journalists, how to speak to people in my industry, how to be politically correct... I try it for a bit, I tell myself that I am going to be very, very, very careful and I am not going to give them anything which will enable them to write nonsense about me. But eventually, I do! (Laughs) I have accepted the fact that I am like that. What can I do?!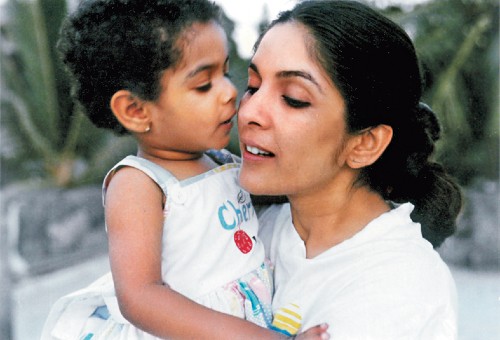 With a young Masaba
Sourced by the correspondent
It's an autobiography that speaks so much about family, values, relationships.... There is nostalgia and struggle and there is also hope. Were there any parts that were more challenging to write than the rest?
The chapter related to my late brother (Pankaj Gupta) was very challenging because he had a very, very difficult life. I tried to help him out, but I always feel that I didn't try enough. He was struggling in Delhi, and I had my own personal and career-related struggles in Bombay. I called him to Bombay to come and stay with me, I told him I would do everything for him.
His chapter was very tough for me because I didn't even know much about him in his later years. Apne struggle mein itni busy thi ki main nahin dekh paayi ki wahan kya se kya ho gaya. He was the best CA (chartered accountant) teacher in Delhi, he could have done so much. But till he died, I didn't even know that. At his funeral, the fathers of so many of his students came and touched my feet and said my brother had changed the lives of their children. All my life, the only thing I had heard about my brother was, 'Yeh nahin karta, woh nahin karta'. I just didn't know my brother at all in his later years. I feel very sad about that. That's why I have written in the book that you should always tell your family and friends what you feel for them because you never know when they will not be there.
Is that the major regret in your life?
One of them, yes. I have many, many regrets. I looked after my father very well for so many years of his life, but on his last day, I got angry with him because he was being fickle about a very small thing. I got irritated with him and told him, 'Jo karna hain woh karo' and I went off for a walk. And I lost him. I keep telling myself that after doing so much for him for so many years, why did I behave like this on his last day? We all have regrets. I keep thinking, 'Mujhe baat kar lena chahiye tha'.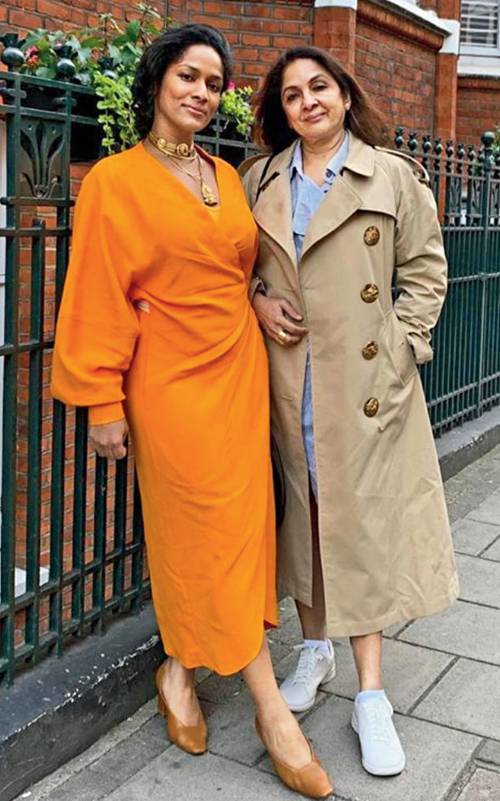 Neena with daughter Masaba Gupta
Sourced by the correspondent
Whatever you have done in life, your unconventional decision to be a single mother, the way you have gone about your career, came organically to you, right? Or were you trying to make a feminist statement?
I am not a feminist at all! I would be called to talk at these sessions held by women's organisations and the first line I would say was, 'I think it's a sin to be a woman'. And everyone would stare at me with their mouths open. I get very affected by the situation of women in my country, and also around the world. Earlier, we had the division of labour where men would be the providers and women the nurturers. Now, women have to do both, it's very difficult.
I don't know what it is like to be a feminist. The only thing I tell women is that it's most important to be financially independent. That's something that my mother taught me. Not that my mother had any kind of money problems because my dad provided for us very well. But I remember her words... she said, 'Ek apne paise ki garmi hoti hain'. I feel that's very important. And that's probably the most feminist thing you will ever hear me say! (Laughs)
You have written at length about the career struggles you have faced, even until a few years ago. They make for interesting reading because they are interspersed with your trademark humour. In what way have your struggles shaped the person you are today?
Everything in my life has taught me something. Consciously or subconsciously, my struggles have affected my life, my lifestyle, my decisions.... I am what I am because of the life I have led, with or without my regrets.
You were born in Calcutta and the initial chapters of the book talk about the Bengali influence on your life. Can you speak about that?
I went to a Bengali-medium school called Vidya Bhawan on Shankar Road in Delhi. I had Bengali as a subject also. There were only Bengali girls or Punjabi girls in our school, and no one else! I lived in a Bengali area, there was a Bengali club opposite my house, and then I married a Bengali fellow! (Neena's first husband was Amlan Ghosh) I used to really love dhoti-kurta waala Bengali men (laughs). I think mere DNA mein hamesha kuch Bangali tha....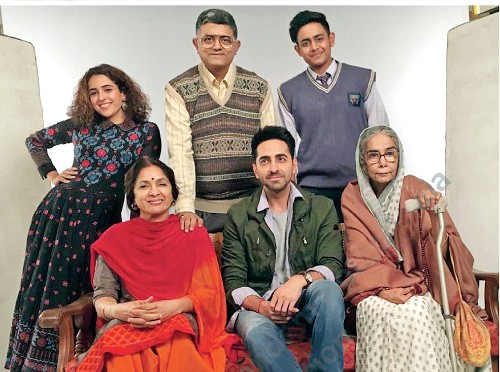 With the cast and crew of the 2018 film Badhaai Ho, that sparked off Neena Gupta's flourishing second innings as an actor
Sourced by the correspondent
Your life is epitomised by a never-say-die attitude and your are the proverbial phoenix who rises from the ashes each time. Has there ever been a point in your life when you have wanted to give up?
When I first came to Bombay, I was giving up almost every month. Sometimes every week. I knew that I could always go back to my parents in Delhi and they would welcome me with open arms because they didn't really like me being in the film industry as such. I have given up so many times, a lot of times actually.
But every time when I want to give up, even today, I get this hope, 'Kal yeh achha ho sakta hain'. When you come to Bombay, people say that the first thing you need to get done is your portfolio. I didn't know how to do it and I didn't have enough money to do it. I made some friends like (photographer) Jagdish Mali, who was a very nice guy. He lived near my house and didn't charge me for the pictures. I used to go to the producers and directors with my pictures. Once I went to (film-maker) Subhash Ghai and asked him whether I should show him my pictures and he said, 'No, no, no! I don't believe in pictures because you can always make yourself look pretty in pictures. I prefer to take a video test' . So I would keep trying and nothing would happen and I would tell myself, 'It's time to go back'. But the next day, I would wake up and say, 'Okay, let me get one more photoshoot done'. I am someone who would fall and then slowly get up again.
Is that something that defines your life even today?
It does. In life, I am such a big coward, I am so scared of so many things! (Laughs) But when there is a crisis, I become a lioness. Then, I am just there. There was a day when my father had to be admitted to the ICU and at the same time, Masaba, who was very little then, had a very bad bout of allergy. I sent my maid with my father in the car to the hospital and I walked and took Masaba to a doctor. I brought her back and then went to the ICU to see my dad who was on the brink of dying. Then Masaba got so unwell, she had to be admitted to the ICU the same day. I spent the whole night waiting outside the two ICUs, all alone. At that time, I got such strength from somewhere. And later, I thought to myself, 'How did I do that, that too all alone?!' But then I think all of us have that strength somewhere.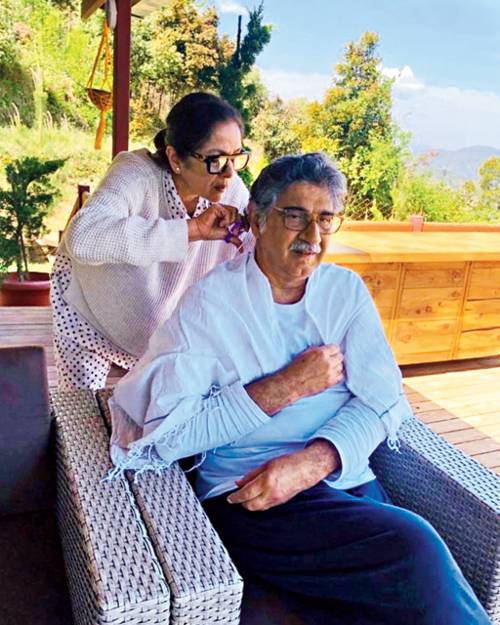 With husband Vivek Mehra at their home in Mukteshwar
Sourced by the correspondent
But going by your book, you are a woman of consistently extraordinary strength. All of us perhaps do it some of the time but you have done it all the time...
I think I just have to thank God. There is no other reason I can think of. In a crisis, I become somebody else. Otherwise, I am like a babboo... I am scared of so many things. I can't swim, I can't drive (laughs).
The book talks about a time when actor-director Shekhar Kapur had told you about a role but you didn't pursue it thinking they would get back to you. You wrote about how it's important to be 'besharam' and push for work in the film industry. Cut to several decades later, where your Instagram post asking for work went viral and kickstarted this flourishing phase of your career. How have you changed, as an actor and in your mindset, from the earlier days to now?
I think Badhaai Ho (2018) changed everything for me. It was a leading part, possibly one of the first in my career. It was a film that got me accolades and awards, and it got me so much of the work that I am doing today. There is a respect for me in the industry now as an actor, and not just as a single mother. It has changed me so much, it's made me so much more confident and happy. After this, I am more confident in all my relationships also.
I remember when I was young, I was fighting with a boyfriend of mine one day and I told him, 'You don't respect me enough'. He said, 'respect has to be earned'. And I kept thinking, 'How do I earn respect? I know how to earn money' (laughs). But today, things have changed. I have respect.
Do you have any regrets that you didn't land lead parts in the prime of your career? Or do you feel good things take their own time to come?
No, no, good things don't take so long! (Laughs) I wish I was younger now and could play certain roles. But then again, I feel bad one moment and the next moment I am fine. I think I got this from my mother. I have this huge sense of gratitude... ki bhagwaan ne mujhe bahut kuch diya hain. I have regrets, and then I tell myself, 'Dekh, tere paas bahut kuch hain. Tu sundar hain, tere paer bhi kitne sundar hain!' (Laughs) I see so many other people who have nothing. I think that has also changed me a lot.
I have spoken to Masaba a few times, and she comes across as very confident. Has your spirit and strength percolated down to her? Do you see a lot of yourself in her?
I see a lot of me, as well as a lot of her dad (Vivian Richards) in her. Her whole thing of not leaving anything and getting after it till it's done comes from her dad. I am just happy that she has taken only the good things from both of us! (Laughs) There are some very unfortunate children who get only the bad qualities from their parents. Like my brother who got all the bad points from my parents, while I only got the best qualities from both my parents.
What gives you the greatest joy in life now?
I am the happiest when I am with Masaba and my husband (Vivek Mehra), when all three of us are together. When I see everything going right in Masaba's life and career, that's my biggest joy. I am also the happiest when I have some good acting work.
You and Masaba have been such a strong unit all your life. Being a single mother, how does your mother-daughter dynamic differ from the ones your friends share with their children?
It's a little different because there has been no third person, it's just me and her. We have always been dependent on each other and needed each other, we have also had a lot of problems with each other. Bringing her up has been difficult for me. This small thing, if she had fever, I would call three doctors! I didn't have anybody to take joint decisions with, as couples do. If I told her to come home by 10pm and she didn't come even at midnight, I would be awake alone... I didn't have anyone to share it with. That made our relationship very special and that's why we are very good friends. And because I was very honest with her about my relationship with her dad, she doesn't have any bitterness towards me... I hope not! (Laughs)
Is there any one part of your life you wish you could rewrite?
Oh my God, everything! (Laughs) I wish I had heroine-type roles when I was younger and had become a big star. I would have loved to have a proper family, with maybe three-four children. A joint family with a lot of people, a life where I didn't have to be alone for so many years.