Navin Noronha has been making waves in the Indian stand-up comedy scene for a while now. The comedian is known for his unique brand of queer comedy, and in June, he dropped his most ambitious project, an 84-minute solo show. The Good Child is India's first queer comedy special, and laces Navin's authentic experiences, like growing up in a chawl, hailing from a Catholic family, and accepting his sexuality with humour. My Kolkata caught up with the comedian over a Zoom call, where he spoke about why we need alternate voices in art and his desire to keep breaking boundaries. Edited excerpts from the interview follow…
My Kolkata: Congratulations on The Good Child! What is this show all about?
Navin Noronha: The sick thing about us comedians is that we use everything that happens to us, funny or sad, in our sets. (Chuckles) When I came out to my family, my life started unravelling at a very rapid pace. Amidst the chaos, I felt it would make for good material. I went through a lot when a picture of me kissing my partner was circulated in my family group, and I got kicked out by my family. I knew that if I had to live with it, I couldn't not talk about it. That's the full extent of the queer experience, which goes beyond just coming out, being teased by peers or finding love. But despite the struggles, my life busted the notion of being a good child and turned it around. When my father couldn't breathe properly in the pandemic, I was the one staying with him, caring for him, so how do you even determine a good child? Is it contingent on them having sex with a certain gender or being there when you need them the most? One of my aunts is a nun in Argentina, and when she saw the posters of the show, she asked my mom why I was doing this, but my mom shut her down and defended my right to make a living through comedy. It's taken a while but life has come a full circle. Hannah Gadsby's Nanette was a major inspiration for this show, where she took something f***ed up about her life, and made it hopeful. With The Good Child, I wanted to ensure that there is a rainbow at the end of the tunnel.
How much does being queer shape your comedy?
It is my life. I can't discount the fact that I live with my partner, who is a man. I don't do this because I want to shout about my sexuality from the rooftop. I do this, hoping that someday a queer child will see my comedy and feel comfortable talking about their queerness, because we had no queer media earlier. I could very easily sit on the sidelines and do observational material about growing up in a chawl, but I talk about this because there is no alternative. If I don't speak up now, we'll be silenced even further. When my mom saw the media going after comedians for jokes, she told me to say what I wanted onstage, adding that if I bow down now, I'll never be able to be myself. The first time I came out was for myself, and then it became easier to come out to the world.
A lot of the themes you tackle are considered taboo in India. What prompted you to keep pushing?
When I decided to talk about being gay, I knew I would have to talk about being Catholic at the same time. In my pious Catholic upbringing, talking about my sexuality was a big 'NO', but I was also doing salsa, which is a celebration of sexuality. Kissing is celebrated in our marriages, but when my picture was leaked, my sister said that it wasn't normal. I kept thinking, if I never felt that my love was invalid, why were people around me saying this? It brought a desire to double down on the taboos.
While touring, I realised that most people in India have no idea about things that are basic to queer lifestyle. I decided to break down the authentic queer lifestyle for straights, using humour. You need to make it palatable, only then will people get on our side. I'm usually an anxious person, but just put me on a stage and I'm fine. That 4x4 stage is where you can really push boundaries, and a lot of things you say are forgiven. In my new hour, I'm even talking about fisting using Pinnocchio! There is humour to be found in everything.


What has the response been like?
It's been very tough, but people are finally coming to see my brand of comedy. During my initial years, I asked many comics if I should just stop doing this because people weren't laughing, but getting turned off. They pushed me to keep doing it until I found my rhythm. Sapan Verma mentioned that he saw a stand-up comic do 30 minutes of just queer content in New York and I thought, 'Maybe one day I'll find that space'. I finally found it during The Good Child tour, where after doing stand up for almost eight years, people specifically came to see me because they liked my work. A lot of this happened due to some viral reels, the India after 377 video is one that people are still discovering and loving. My fans are sending love and money and it's been tremendous. There is a clear need for my kind of comedy. In a world of goldfish memories and 30-second reels, we don't need to only say things that an algorithm likes.
Why did you choose to put it out on YouTube, as opposed to a traditional streaming platform?
Choosing a platform is a gamble at the end of the day, I just think that YouTube is a better one for me in the long run because I own all the rights to my work. I have written for multiple OTT platforms, where you get long notes from the legal department. I was working on this queer show where we had to walk on eggshells when it came to queerness, and I fail to understand how you can talk about sexuality without sex. I knew that they'd automatically want to put a clampdown on things they didn't like, but my YouTube is my safe space.
'I do comedy because I don't think anything else would have made sense in my life.'
How challenging is it as a comedian to navigate this culture of being offended at jokes?
There's no denying that people are looking to clamp down on free speech of comedians. And yet, people can still comment 'chhakka' on my videos without any consequences. I have made my peace with this, but my inspirations are Bill Hicks and George Carlin, who have always said f**k you to the norms of society. When you talk about religion in India spears immediately come out. I had to cut 17 hilarious minutes from the special about my Catholic upbringing. My editor told me that I couldn't keep it if I wanted to stay out of jail and not get lynched. The biggest pro and con of our industry is that we have the Internet to push our careers, so anyone can say anything they want to us. Some days, you may miss the 100 positive comments but find yourself spiralling because of the one negative comment. It's extremely human to see negativity first. That's why I take a step back and keep my phone away. I also think that the negativity and the desire to retort comes from a place of hate. When someone is attacking me, I understand that they are probably going through something in their own life. I have worked really hard to build a happy life for myself with my cats, my partner, and my home. I have made a safe space that I care for, and no one can violate this.
Despite the struggles, what keeps you at it?
I do comedy because I don't think anything else would have made sense in my life. I've always said the wrong thing at the wrong time. While I faced a lot of repercussions for this as a kid, it has made me who I am. I grew up in Bhayandar and did a show in south Bombay where I was paid to roast them! I always tell other queers that it's okay to be the weirdo, because someone will find you really adorable. But my favourite thing about comedy is interacting with people. You do a show in a new city for an hour, but what do you do with the other 23 hours? Fans show up whenever we play in their cities, they even give us gifts and take us around. I have found fans who have become family all over the country. These are people who have fed me and taken care of me, and none of it would have happened if it weren't for my work. Comedy has given me a commune, and this is all I have.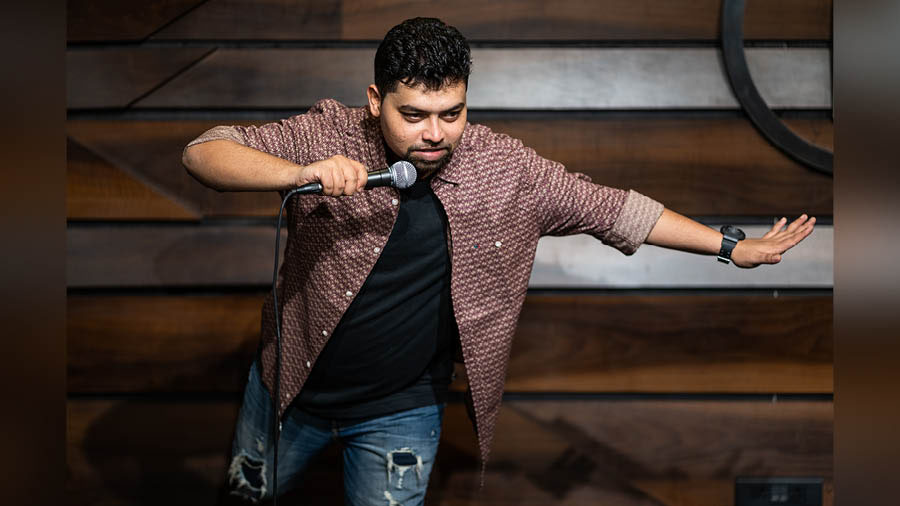 Navin Noronha during a performance
Do you see alternative voices becoming the norm in Indian comedy?
I started India's first queer comedy show virtually in 2020, and now we're doing stage shows. There are more queer comics and alternate voices in the scene, and that really gives me hope. When I first joined the comedy scene, it was just a bunch of Bandra elites talking about Tinder and girlfriends, and now that narrative has entirely changed. There are so many avenues to explore and we've come a long way with people now talking about queerness, disability, casteism and classism. The only thing we need is for the audience to be just as enthusiastic as us, and things will completely change.