Abdul Qadir 
Shane Warne
Anil Kumble
Asaduzzaman Sadid
Sadid who?! 
Sachin Tendulkar has faced his fair share of leg spinners in his time, but that did not stop him from being bowled over by the wizardry of Asaduzzaman Sadid, a six-year-old leggie from Bangladesh, who has become cricket's latest social media sensation.
"It's brilliant. The love and passion this boy has for the game is evident," captioned Tendulkar while sharing a clip showing Sadid's prodigious skills as a leg spinner on Twitter. The viral video of the youngster in action, which reached Tendulkar via a friend, was initially shared in September by former Bangladeshi cricketer Shahriar Nafees. It has clocked more than a million views across Twitter, Facebook, and Instagram.
"Sadid's video was made to study the areas in his game that can be improved, such as his head position, how his foot lands, and all that. After that, just out of curiosity, I put it up on my social media profile. I could never have anticipated the response it has generated," confesses Md. Sirazul Islam Shuvo, Sadid's maternal uncle and cricket mentor.
Having first held a cricket bat at just three years old, Sadid picked up the art of leg spin from Shuvo some eight to 10 months ago, when the Covid-19 pandemic had made outdoor practice impossible.
"We played inside the house during that time and I would teach Sadid how to grip the ball and give it a good rip. He is such a quick learner that he picked everything up in a matter of days," says Shuvo.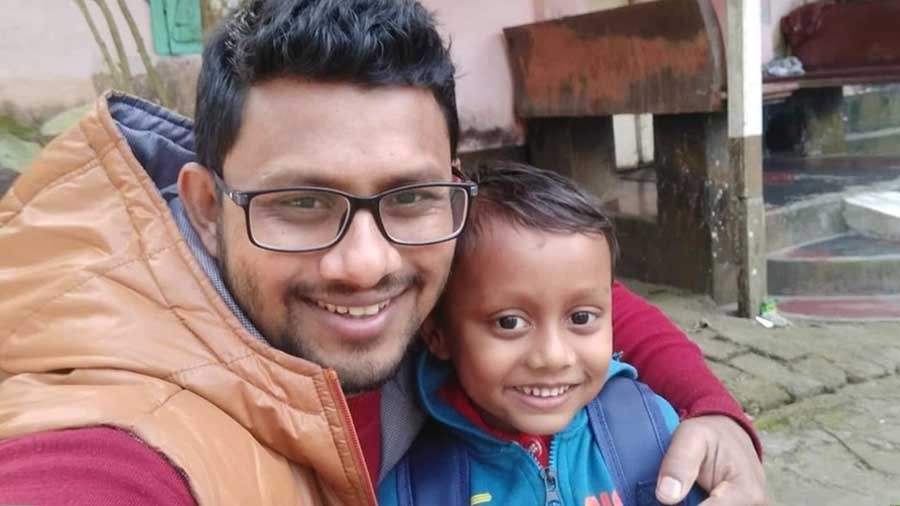 Sadid with this mentor and uncle, Shuvo. The two are virtually inseparable, especially about all things cricket
Courtesy: Md. Sirazul Islam Shuvo
Sadid, who adores Bangladesh and KKR all-rounder Shakib Al Hasan, had started out as a batter who enjoyed smashing the ball with all his might, especially on the leg side. He decided to take up bowling only after watching Shakib claim a man-of-the-match award for his excellence with both bat and ball.
"I also want to be an all-rounder," mused the wonderkid, and his uncle decided to help him be one.
Toiling on two fronts meant extra hours of cricket, sometimes as late as 11 in the night, well after everyone else at home was sound asleep.
A tireless student of the game, Sadid watches hours upon hours of cricket highlights on YouTube and never misses a live match whenever Shakib, or any of his other heroes — Virat Kohli, Rohit Sharma and Rashid Khan — are in action.
After Tendulkar shared his video, Sadid, who already used to wear the number 10 shirt out of his admiration for the "God of Cricket", started watching even more of Tendulkar's innings from the past.
"He is obsessed with cricket, which naturally takes up most of his time. On some occasions, he might watch cartoons, go for a swim, play carrom, or help me with planting trees and feeding dogs. But usually, his days start and end with cricket," says Shuvo, who played division-level cricket in Barisal as an off spinner.
A close look at Sadid's cricketing montages shows barely any change in action when bowling his stock ball, the leg spinner, and the variation delivery, the googly. Shuvo backs this up when he says that "Sadid's wrist position doesn't alter at all. And yet, he is able to get so much drift and spin on the ball that even I, who has taught him how to bowl, get puzzled and can't pick which way the ball will go!"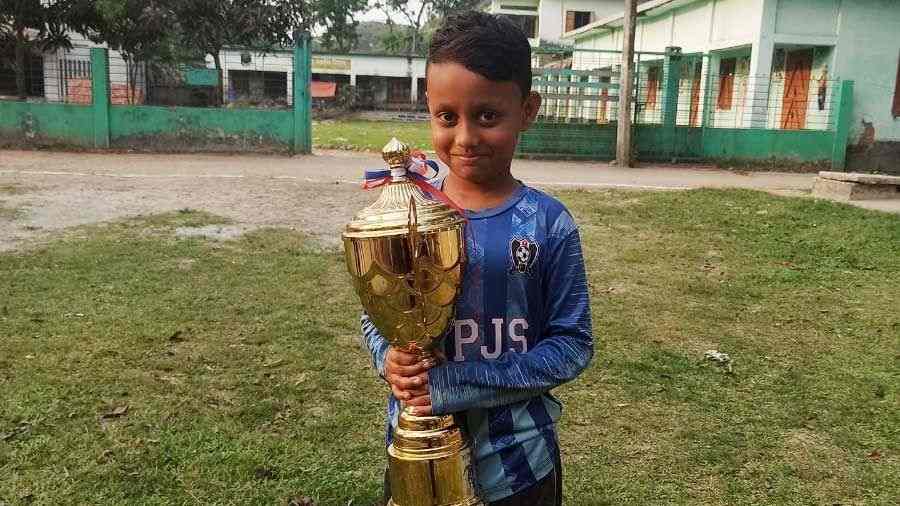 Sadid posing with one of the many trophies he has already won at his tender age
Courtesy: Md. Sirazul Islam Shuvo
Does Sadid know himself what comes out of his hand and how?
"Yes, I know when I'm going to bowl a leg spinner or a googly. Personally, I enjoy bowling the googly more," mutters Sadid, as reticent in a Zoom interview as he is expressive on a cricket field.
Starting out with a tennis ball on concrete pitches, Sadid has graduated to bowling with proper cricket balls on full-size cricket turfs with practically no difference in how much he can spin the ball.
"Even though I have coached him, there are parts of his game that are entirely natural. Those things can't really be taught, they are a gift from God," says Shuvo, who admits that a number of youth teams have already approached him about recruiting Sadid.
Shuvo goes on to add: "We have dreams, but we're in no rush. Sadid is just six. I want him to develop under my guidance for a few more years before I send him to one of the best academies in the country."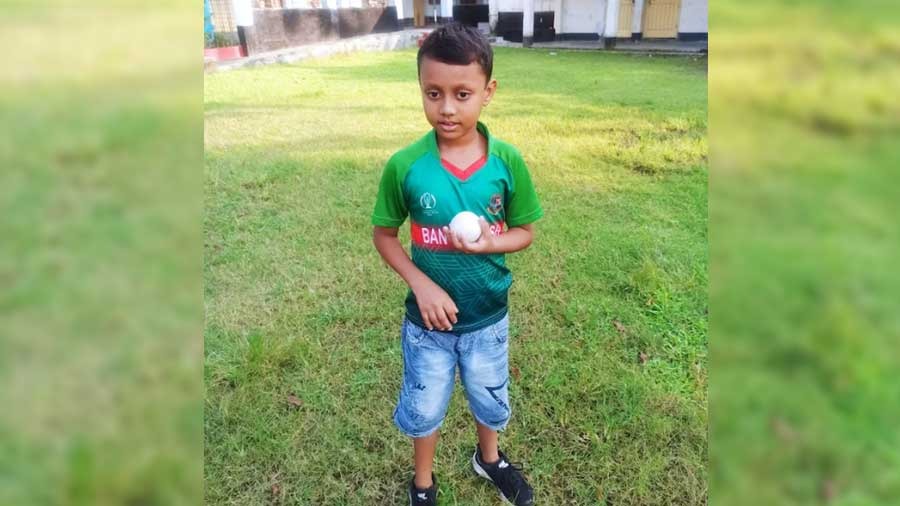 What is Sadid's dream? 'I want to be a world champion,' he says
Courtesy: Md. Sirazul Islam Shuvo
But what is Sadid's dream?
Gazing at the floor, Sadid answers: "I want to be a world champion."
Shuvo helps contextualise Sadid's aspirations.
"Every now and then, Sadid will ask me cricketing trivia. One day he went: 'Tell me which country has won how many World Cups.' After I gave him the numbers, he was dismayed to discover that Bangladesh had never been world champions. He looked at me and said: 'One day, I'll win the World Cup for Bangladesh.'"