Music leaps out of the turntable. You love it. Who's playing? You figure. The band stays with you, embedded in the inner reaches of your heart, beating gently, keeping time with the tune that's playing. For Souvik Dutta, a Kolkata boy with musical roots like of most in this city of exciting cultural complexities, Indian classical morphed its way into western harmonies vi the sounds of the acoustic guitar, tabla, violin and the ghatam. Shakti was a band he loved instantly when he heard them for the first time in the eighties.
Now, 2023 is officially the 50th anniversary of the musical idea called Shakti, the one-of-its kind east-west fusion ensemble founded by John McLaughlin, the "Mahavishnu" of guitar wizardry widely acknowledged to be among the foremost exponents of his instrument straddling multiple genres; a composer of frenetic power and sublime beauty. And Dutta is in the throes of organizing the band's forthcoming tour of India, which, he also reveals, will be McLaughlin's last as he would be retiring from touring.
So, how did Souvik Dutta end up being in the music business?
Well, for over two decades now, this Kolkata boy of Deshapriya Park lineage, has been the key persona who manages concerts and much more for Johnji. Dutta moved to the US in 1991 to study. But his eye was on the vibrant music scene. "I just could not sell that idea to my parents, so formal education was my gateway, but live music was an integral part of my college life," he admits, relishing stories about going to see his favorite acts   that he'd heard on records and bootleg cassettes back home in Kolkata, like, Grateful Dead, Little Feat, Allman Brothers, Talking Heads and hundreds of others.
If Dutta was in heaven then, he's living his dream now, running his company Abstract Logix with his wife Shweta and a small team of five in North Carolina, USA, organising concerts, creating merchandise, funding albums, and other stuff for an artists' repertoire ranging of jazz masters and virtuoso musicians like bassist Jonas Hellborg Alex Machacek, Wayne Krantz, Scott Kinsey, Gary Willis and several other heroes of his.
"I had absolutely no background going into it at all. Working with musicians, observing, and learning from others, and learning from failures is what got me a bit more prepared for the task," says Dutta, who has so far managed over 2,000 concerts in over 80 countries.
In an expansive conversation with My Kolkata, held over the phone and email, Souvik Dutta outlines his magical journey days before Shakti is all set to perform tunes from their new album to commemorate 50 years of musical togetherness. Excerpts.
My Kolkata: Hi! We met briefly in Kolkata during the Shakti concert in January 2020, just before the pandemic. Then things changed forever. Now you're back with Shakti to celebrate its 50 years. When did you start planning the tour?
Souvik Dutta: The early beginnings of dreaming of a 50th Anniversary tour really started before the pandemic hit us in 2020 when we were in Kolkata and Singapore: 2023 is officially the 50th anniversary of Shakti. According to John McLaughlin, 1973 was the year that Ustad Zakir Hussain and he began collaborating in New York and San Francisco on what evolved into Shakti.
Shakti is also releasing a new album, This Moment.
Yes. Starting summer of 2021, the band started working on new musical ideas for their new studio album. Very recently, the leaders met physically in Monaco and we are nearly finished with their first studio album since Natural Elements (1977). Hard to believe, isn't' it? We are touring extensively in Europe, America and Japan which are going to be announced shortly. But it is just wonderful that the anniversary concerts kick off in India, which was the wish from the beginning. I feel great that my hometown gets a show. This is the last time Kolkata is going to see Shakti or John McLaughlin as he is retiring from touring.
In India, Shakti plays in Bangalore (January 20), Mumbai (January 22), Kolkata (January 24) and Delhi (January 28). How difficult has it been to organize this, especially after the two-year Covid disruption?
It has been difficult. There are promoters and producers involved like Hyperlink in Mumbai. They were originally called Oranjuice and have been instrumental in curating and producing festivals like Mahindra Blues and Independence Rock in India. They have been working with local promoters like Gameplan for Kolkata, which is led by our friends Malavika and Jeet Banerjee.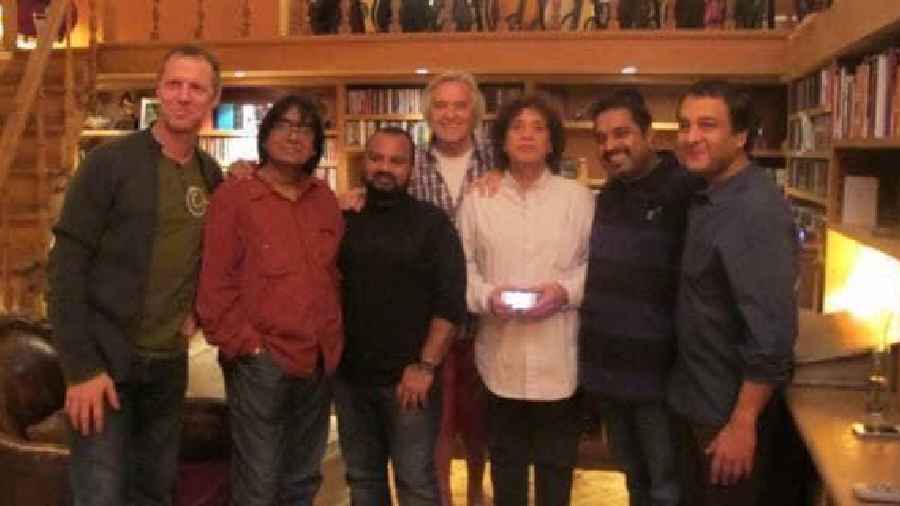 With Remember Shakti at John McLaughlin's house after the last show with Mandolin Shrinivas in 2013
Tell us about your association with John McLaughlin. A Kolkata boy ending up managing one of the greatest musicians of all time is an amazing story.
My personal association with the music of John McLaughlin started in the early eighties. The music of Shakti as well as Indian classical music was always playing at our home growing up. Both my parents were immersed in Indian classical music and that was really the beginning… I would very much like to acknowledge that musicians in Calcutta like Lew Hilt, Nondon Bagchi, Gyan and Jayashree Singh, Kochu and Amyt Datta and others made a profound impact during my early teenage years when I would go see them live. I discovered so much music through them.
Fast forward almost 30 years. In 2003, Shakti was touring the US after many years. I reached out to John McLaughlin's management in France at the time and volunteered my services to sell merchandise during their tour. I really wanted to take time off from my day job in IT and travel the country. So, we drove on our own in a minivan and sold merchandise at the concerts. It was in Los Angeles that John saw us unloading stuff from our van. He thanked us and welcomed us to come backstage after the show. We were thrilled. The tour went well, and I took the profits and reinvested it in my little venture. The following year, John McLaughlin called me and asked to distribute his seminal DVD instructional set 'This Is the Way I Do It'. Talk about a dream come true for a die-hard fan who knew nothing about the record or distribution business but was willing to learn and work hard.
How did Abstract Logix come about?
It all started with that house concert with the late guitarist Shawn Lane, drummer Jeff Sipe and bassist Jonas Hellborg. I streamed the concert from my living room (pre-YouTube) on a one-page blog. The blog evolved further as I posted photos or reviews of concerts that I attended locally. That evolved into selling a few CDs and it amplified from there.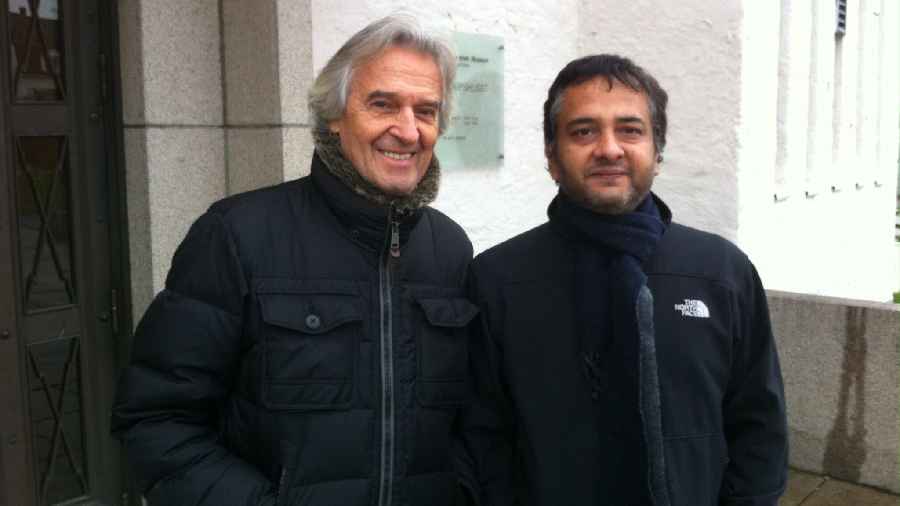 Souvik with John McLaughlin
What happened next?
The word started to get out about a guy from North Carolina who was working with John McLaughlin. This led to others inquiring like guitarist Jimmy Herring (Allman Brothers, The Dead, ARU) via Jeff Sipe, his drummer who I had already met at the house concert. The stars aligned and next thing you know I was travelling the world with John McLaughlin.
And the record label?
When John asked me to retail his 3-DVD set, my venture became a bit more serious. And with the formation of the record label in 2005 with Jimmy Herring and Alex Machacek, it just took off. Soon, other artists who I personally loved reached out — Alex Machacek, Wayne Krantz, Scott Kinsey, Gary Willis and so many musical heroes of mine. As the years went by, I got more involved in managing tours, producing and funding records. Hard to believe, but in 2023, we are going to be producing our 70th album. Over the last twenty years, I must have managed at least 2000 concerts in over 80 countries for artists on our roster. Nothing short of magical for me.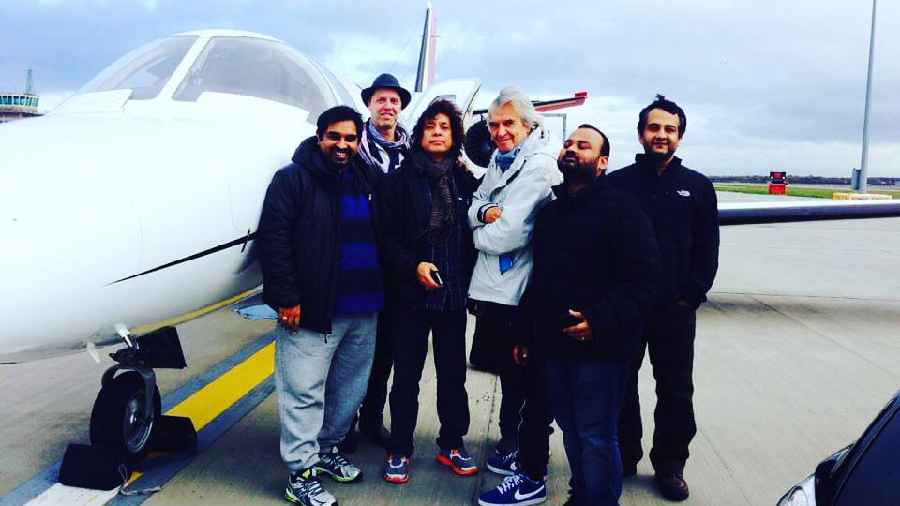 Souvik Datta with Shakti
How does Abstract Logix choose artistes to manage?
I really must love the music and the person(s) behind it. Intent is everything for me, so if all the math adds up, I might end up working with the person. It is 100 per cent my decision.
Not many Indian musicians are part of your label. Is that a conscious decision?
Not at all. I have worked in the past with the late Mandolin Shrinivas. I continue to work with Ranjit Barot and very recently Kolkata's slide guitar virtuoso Debashish Bhattacharya, whose new record will be released in January 2023. The business has really changed, and international touring has become much more difficult with the complications of visa and work permits amplified by very little record sales.
Aren't there musicians in India who you think could be introduced to the world and promoted in the international market?
I am always looking for someone who brings something of their own to the table. There are so many fantastic players all over the world, but for me it's about the story you are trying to convey in the music. I am not that into musicians who want to emulate what has already been done. That's just not for me. But I wish all of them the best, whatever road they may choose.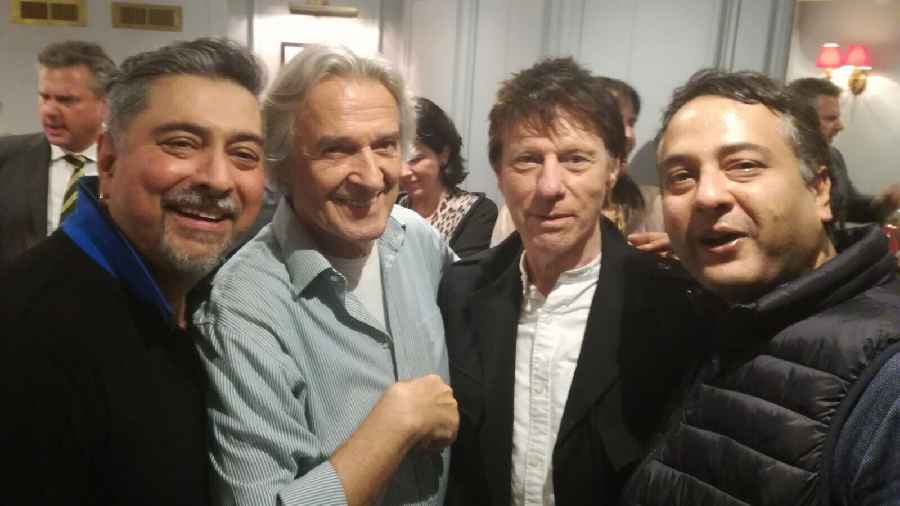 With Jeff Beck, John McLaughlin and Ranjit Barot
Physical music formats have all but vanished. It's all streaming now. How did you navigate the changing scenario?
I haven't had much of a choice… The streaming idea is very consumer friendly but not artist friendly. Surely it might help a larger listener base to access music, but the math barely adds up when we are talking about niche genres. It is a controversial subject but let me leave it at this for now.
What does the future hold for musicians? It's one thing for musicians in the US or Europe. But it's quite another reality for Indian musicians, especially those rooted in improvisation and jazz.
I honestly do not have an answer. When you barely get paid from streaming and gigs are far and few between for most, the economic viability is in question. I hope there is a bright light on the horizon, where creators and personnel supporting the creators are compensated for their lifelong dedication.
Obviously, music is very close to you. Do you play any instrument?
I am a music fanatic. I learned and played the sitar growing up under a teacher, and that led me to playing bass a bit later. Education was something that I had to rely on to make a living, and subsequently the day job in IT really puts food on the table and ensures a future for my daughter. That is my primary motive in life. John told me something ironically in 2004 that I will never forget: 'Don't let music run your life'. It's one of those Zen statements that I understood years later.
Do you miss Calcutta?
There is nothing like Calcutta for me. I had an amazing family and childhood, and I loved every moment of it. I do come to Kolkata at least twice a year and will continue to do so. Life just took its turns and I have a wonderful life in North Carolina. I work with music and musicians that keeps my passion alive and I would not be where I am today if I had not moved to the US. This is still the heart land of creative live music.
Thank you for talking to us.
Your questions brought back memories of the last 20 years. What a long but beautiful trip it has been. Thank you.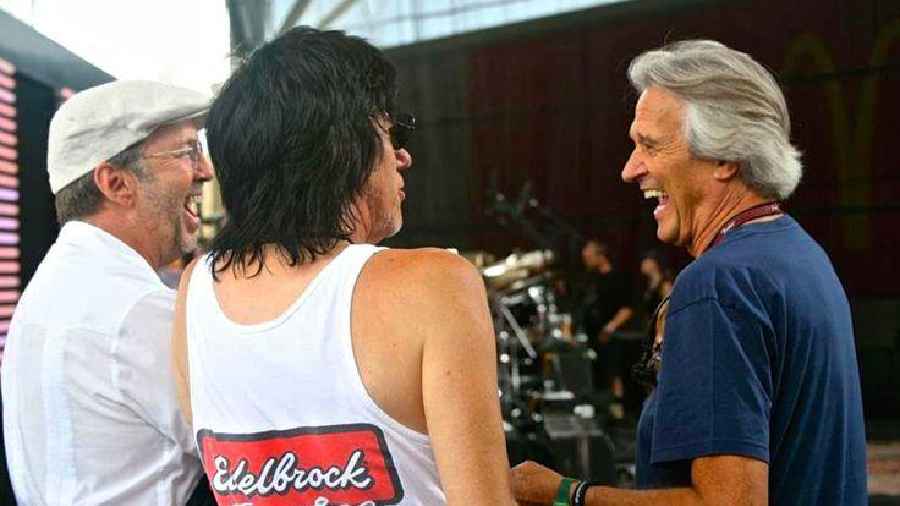 Eric Clapton, Jeff Beck and John McLaughlin. A 'sneaky shot' Souvik managed to take