Beautiful eyes writ large with dreams. A broad smile, so innocent. Long, flowing locks mirror her free spirit that's ready to soar higher. And, the possibilities, limitless, much like the countless waves that kissed the threshold of her "hut" in Bandra Bandstand, her home till a few days back. "Now I live in a chawl and I have a proper house," Maleesha Kharwa tells TT over the phone from Mumbai. Her life as she knew it has indeed changed quite a lot since she met American actor, dancer and choreographer, Robert Hoffman, in 2020, in the middle of the pandemic. "I told him that I want to be a model and dancer. He came and spoke to my father and explained everything to him. I was very happy," she says. She talks of a certain financial stability with straightforward candour and world-wise maturity. "I did not have money, now I have money and I can do anything," she says.
The 15-year-old Gujarati youth icon has been on the cover of The Peacock Magazine and Cosmopolitan since. Striking in her poise and grace, with that twinkle in her eyes that spells happiness, she is a natural. Maleesha's CV also features a Forest Essentials campaign, the latest feather in her cap, an assignment that's close to Maleesha's heart. What does she love about modelling? "We click photos and do photoshoots. It is not difficult, but sometimes you have to do retakes and you can get a little tired," smiles Maleesha, who wants to grow up to be like Priyanka Chopra Jonas, the Jamshedpur-born girl, who compelled the world to take note of her with a never-say-die spunk.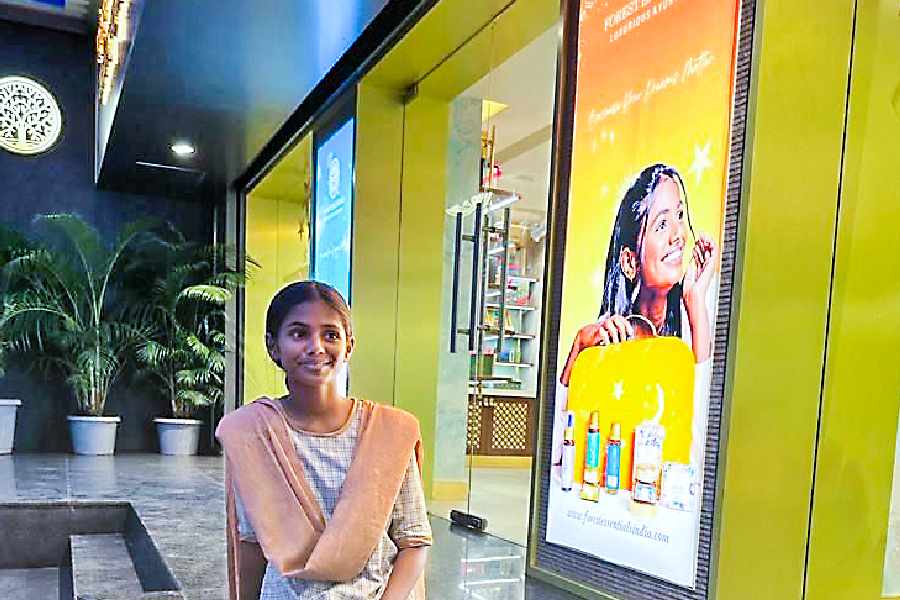 Maleesha Kharwa has a Forest Essentials campaign on her CV now
Her team is careful of what she signs up for though. "My manager only allows it if it is something good because there are many fraud people too," says Maleesha who has been to Delhi, outside of Mumbai, so far. She has a younger brother and is currently studying in the 10th standard. "I like studying and my favourite subject is English. My friends and teachers are happy (for me)," she says. She enjoys scrolling through Instagram reels as her pastime and wants to help people.
Maleesha's favourite Priyanka Chopra movie is Krrish and she loves the Marvel movies. A perfect match for her superhero soul. She has her task cut out. "I want to become a supermodel and dancer," she says. The clarity of aspiration is perhaps half the battle won though. The same feistiness with which she puts out her message to all the girls who would read her interview: "Try, try, till you succeed, never give up because your dreams matter".
Her 291k followers on Instagram will vouch for that. As will the whole universe.
Watch this space for more!