While the bouncy bass and searing lead guitar had already charged up the packed up den under The Park hotel, it was hard not to notice the towering presence of the 75-year-old man popularly known as "India's Bob Dylan". With unkempt white hair and clad in his signature denim shorts, he stands up on the bar counter of Someplace Else, brandishing his mike to the audience, in a bid to make them sing along. 
"And may you stay forever young..."
Lou Majaw doesn't need an introduction, in Calcutta or elsewhere in India. Listeners throng to his shows, trying to match his insurmountable energy. The immortal lines of Bob Dylan didn't feel like it came from his vocal cords but rather from his soul. For, he has lived his life in similar vein regardless of his age.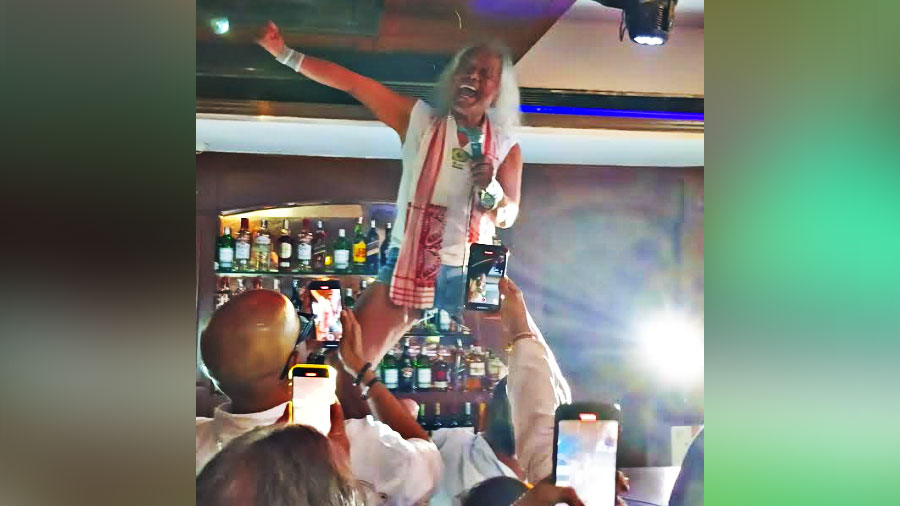 Lou Majaw stands up on the bar counter while singing Bob Dylan's 'Forever Young'
Arnab Chatterjee
The concert was a time warp, with the ever-young rockstar transporting the audience of today back into the sixties as he celebrated Dylan and lent his beautiful baritone to classics such as Mr. Tambourine Man, If You Gotta Go, Go Now, Knocking on Heaven's Door, among others. The audience revelled and sang along with the lyrics as Lou left the confines of the stage and mixed in with the crowd, blurring the lines between performers and listeners.
The Shillong rockstar had no idea that he would end up like this, he confessed to The Telegraph Online hours before the concert. "Back in the day, when I came here, it was tough as I had come with a family, who had a wedding to attend and they told me to tag along, not because I wanted to come to Calcutta but because I had to run away. I was sort of an escapist from Shillong because very dark things happened and I wasn't able to face the nightmare of reality," Lou says, reminiscing the turbulent times, which marked his early years.
Survival: life's first lesson
Majaw says how he overstayed his welcome in his first week in Beniapukur Lane at the place of the people he had accompanied from Shillong. "It's not good, you know, to take advantage of someone's generosity." Living in the streets and sleeping on the pavements is how Majaw's early twenties started. "What I like about Calcutta is that it has sheltered me and taught me to actually survive. My heart was on fire, my stomach was empty but I did survive."
The colonial structures of 1960s Calcutta, the vibrant Anglo-Indian community and the twinkling fairy lights of Park Street gave Lou the start of his musical journey. "The first song that I wrote was in Calcutta. There is a church at the end of the tram lines near Ripon Street. The church compound is where I wrote my first song Sea Of Sorrow. The second song of mine, I Had A Woman, was written in Victoria Memorial."
The singer says he respects not just the musicians of Calcutta, like Arjun Sen and Sumit Ramachandran from that time, but also instrument makers. He talks about how Calcutta is a city catering to both the rich and the poor referring to a line of faux Yamaha guitars called "Yemaha". Those were the only ones musicians like him could afford.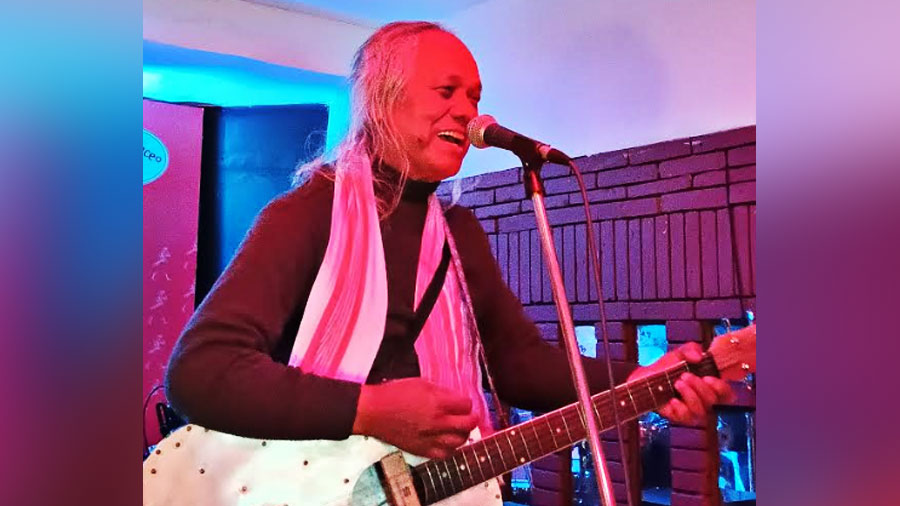 Lou Majaw with his acoustic guitar during soundcheck before his performance
Arnab Chatterjee
How Dylan set the tone
Along with his musical journey, the onset of Lou's spiritual journey was sparked by the everlasting lines, "How many miles must a man walk down before you call him a man". Bob Dylan's Blowing in the Wind was a revelation for Lou. Like many others of his generation, he had never come across lyrics of such profound depth.
The reason behind Lou hosting celebratory concerts marking Dylan's birthdays was out of respect– not as a man, not as a musician or singer but as a lyricist.
"The song asked such elementary questions and yet nobody seemed to have the answer. I was listening to so many bands and singers but Blowing in the Wind stood above the rest. The lyrics were relevant then and it's still relevant now. I used to say it's the song of the century but later on I realised it's not the song of the century but a song of the times."
Kolkata: A colourful city in B&W
Lou expresses happiness that there are musicians who are still keeping the bygone era of the fifties and sixties alive through their words and melodies. The people of Calcutta have kept that era alive regardless of the changing times.
However, he remarks with a sad undertone,"The city has lost a lot of colour. The music is still vibrant but the colour– The Anglo-Indians took that with them when they left." The nostalgia associated with the city is still there as Lou recounts revisiting St. Mary's Church a few weeks back where he once worked as a labourer.
The future
"I don't have plans. I'm not a schemer. These things are for politicians and businessmen," says Lou. Nonetheless, there is a hope of becoming wealthy enough to be able to invite (to Shillong) musicians from every state of India knowing how difficult it is for musicians to survive.
"I want to be wealthy just like every other person in the world, not to fill my bank account but to be able to pay artists– for food, transport and a place for them to come and culture their music and poetry and perform," says Lou.
Reflecting on his life and struggles as a musician, he says, "I am a simple man. I learn life by living it and you gotta do what you gotta do."
Lou will turn 76 this year but he could care less about present-day fads. The only thing that keeps him going is the love of music and the drive to share his art as a single drop in the great big sea of life.