For Kolkata boy Varchasv Agarwal, balancing sports, fitness and academics is not easy. However, he manages to do it with elan at a tender age of six. Having won the gold medal of excellence for maximum non-stop single dutch double bounce in five minutes, his name has also been recorded for performing 638 counts in five minutes — an enviable record even for any athlete across all age groups. In his leisure time, he loves to watch movies and spend time with his grandfather. His tryst with academics is strong as well, with him taking active interest in academic activities, maintaining impressive grades at school, where his favourite subject happens to be maths.
When asked about his interest in sports and fitness he said: "I saw my father train for boxing from an early age which attracted me towards sports and fitness. Later I was introduced to Khabib Nurmagomedov by my father whom I started following and idolising."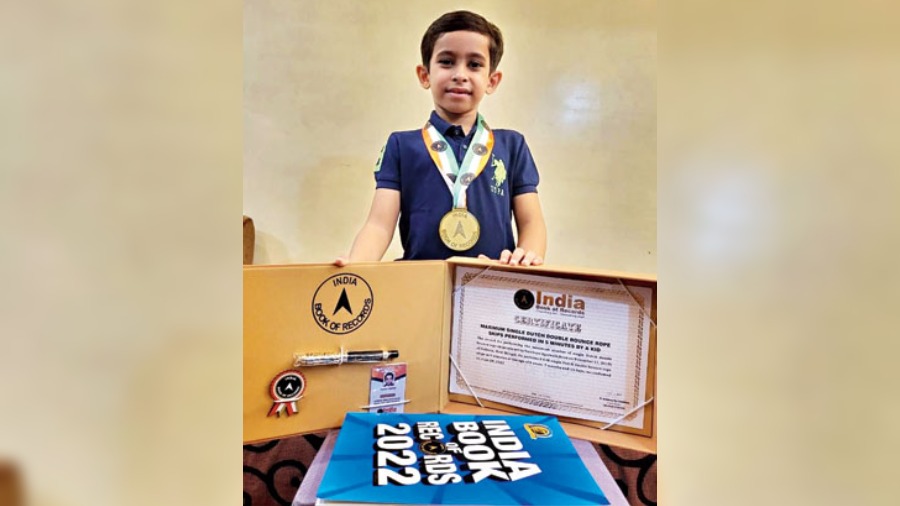 Varchasv with his accolades
Varchasv is a student of Class II at La Martiniere for Boys (Kolkata). An active child, his parents enrolled him in sports fitness and gymnastics classes at the tender age of three to channelise his energy. The lockdown had halted his classes, but his spirit and urge to utilise his potential kept him going. Piecing together the entire setup of his training requirements on their terrace, he was brought under the tutelage of Rabikant Kumar, who is a national champion in 55 kg Greco Roman wrestling (Olympic style) and judo state champion. Also dabbling in other sports, he trains in basketball, tennis and goes swimming with his dad.
Talking about his schedule and practice hours, he said: "I usually train in the evening between 3pm and 6pm, depending on other classes that I have. My training regime includes two strength and conditioning sessions for 90 minutes each, a couple of boxing and wrestling sessions, tennis classes for an hour, a couple basketball classes for an hour each and a dance class, which I recently started for mobility and flexibility, spread across the week.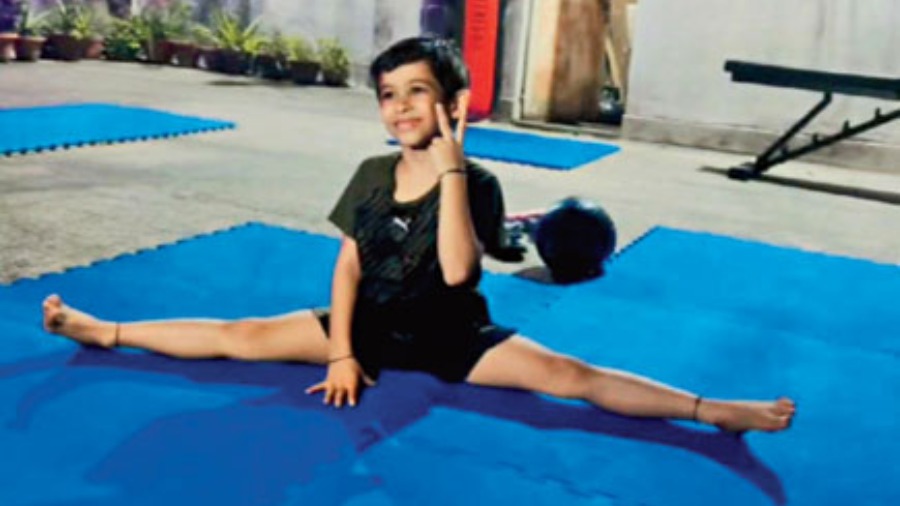 During one of his exercises
"It feels so good when hard work starts to show results. I was very proud to show my achievement in gold to all my family and friends," said the wonderkid about his feelings after winning the Gold Medal of Excellence. When asked about the sport he wants to pursue, he said: "I love mixed martial arts (MMA), which gives me an exposure to wrestling and kick boxing together. I want to become an MMA fighter when I grow up and want to be the first Indian ever to be the Lightweight Champion of the world in the UFC and bring the gold belt home ."
His parents have helped him realise his passion and dreams. He said: "My parents are very supportive and they have helped me a lot . They make sure that I don't miss any of my classes without compromising my studies. I have a fixed routine which I follow to achieve my goals and dreams. I love what I do and would ask everyone to do the same since it brings in a lot of discipline in you."