Indubala Bhater Hotel, author Kallol Lahiri's second novel after Gora Nakshal, is serving up a beautiful tale of the two Banglas. The stories and sentiments surrounding opar Bangla or what is now Bangladesh, and epar Bangla or today's West Bengal, play a pivotal role in Bengali literature. The marks of Partition were intense and the stories of the time and of the land left behind have made their way down to the present generation as well.
Much like many on the Indian side of the border, the 46-year-old author has never resided in his ancestral home on the other side in Khulna. But Khulna is deeply embedded in his mind through the conversations with his father, uncle and older family members. Indubala Bhater Hotel, in many ways, reflects that sentiment. 
Judging by the novel's reception since its release in July 2020 and the fact that it has become one of the most popular Bengali novels presently, these are sentiments shared by many.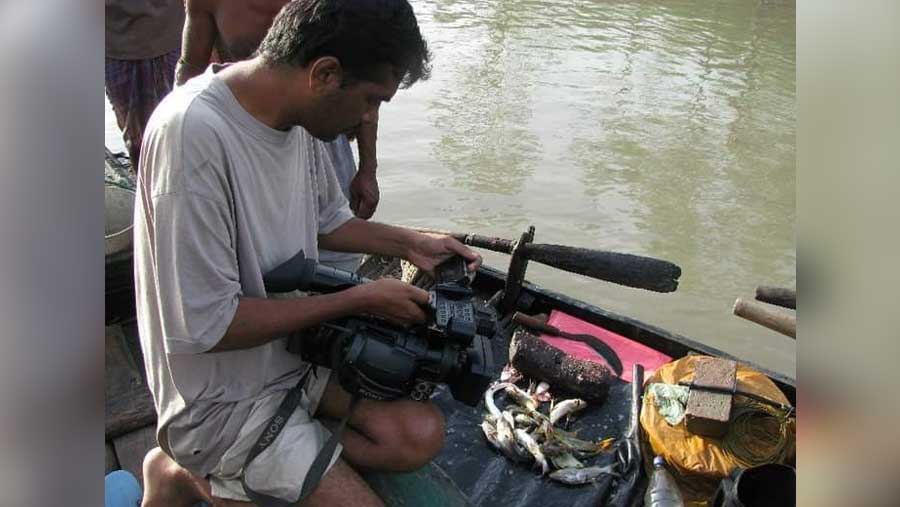 Lahiri began his career as a scriptwriter and documentary filmmaker
Courtesy: Kallol Lahiri
Film and literature
An alumni of Jadavpur University where he studied Film Studies, Lahiri began writing on films once he graduated. He took a job in the television industry later and went into documentary filmmaking. He has also penned a number of scripts for Bengali television serials including Aparajito, Mahanayak and for films such as Shob Bhooturey and Dracula Sir.
He also began blogging 10 years ago. His blog, titled Likhte base, is where he speaks his mind. It is also where Indubala was first written. A few chapters in, the novel became popular. Comments started pouring in from different parts of the world and publishers started queuing up. The editor of Suprakash Prakashani got in touch after the first chapter was put up on Lahiri's blog and they published the book.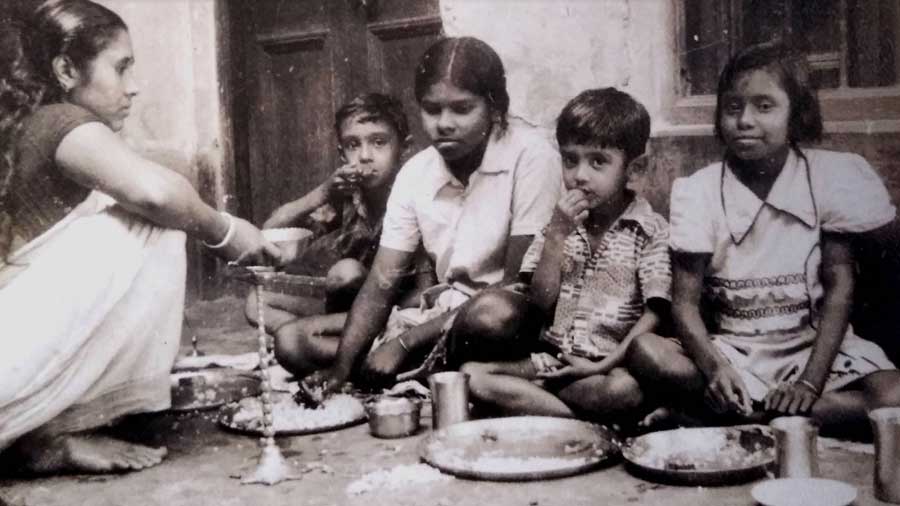 Lahiri remembers a lit pradip and meals served on kasha dinnerware for birthdays, and his mother's stories of growing up amidst fields and streams
Courtesy: Kallol Lahiri
Indubala and her tale
Lahiri's story is the tale of Indubala, which unfolds against the context of immigration and the desolation of having to leave one's roots. His protagonist is a woman who travels to Kolkata from a village in Bangladesh post marriage and even after spending the rest of her life here in this city, her heart remains with her desher bari.
Speaking of how Indubala was characterised, Lahiri says that she is no one in particular, yet someone we all know. She is present in every other kitchen and household.
Forging a connection
"From a very young age, I have seen my mother, grandmother, or their previous generations, reminisce about their homeland. They might have left their birthplace, but were still connected to it. A sense of displacement filled their minds. It's not that they would always shed tears, but little everyday things like kancha-mitha aam would forge a connection to their desh."
Their conversations built images in Lahiri's head as well. The river and courtyards he never saw were in his mind, and when he started to write, all these images found their way to the page.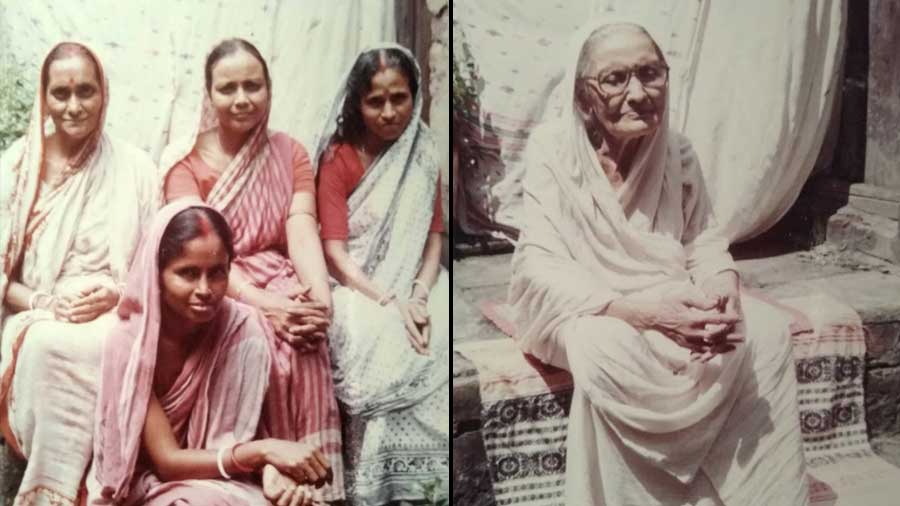 Indubala was inspired from women in Lahiri's life, like his aunts (left) and grand-aunt Ranga, who would cook various Bangal dishes
Courtesy: Kallol Lahiri
Stories on a plate
One of the things often heard in these conversations was how everything tasted better when it came from the other side or was made the Bangal way. "Okhankar moto noe. Se ki swad chilo."
Food plays a pivotal role in Indubala Bhater Hotel, weaving a story of the past and present, feeding into the themes of reminiscence and displacement and telling the stories of the characters. The day East Pakistan is declared to be Bangladesh, the widowed Indubala starts her bhater hotel or pice hotel. We learn of her difficult marriage and witness the change her life undergoes with the start of her hotel at Kolkata's Chenu Mittir lane.
Memories and tastes of Khulna
Pice hotels came up in Kolkata years ago to bring wholesome meals at affordable prices to students and travellers. At Indubala's pice hotel, people got a taste of her Khulna roots. The reader sees how her food takes her back to the memories of her days there and of all that she has lost.
Each chapter is named after a dish she cooks and are dishes that were made by different people in the author's real life. Names of quintessential Bangal ranna, such as kochubata, holud gala chingri, chandropuli and aam tel, the stories of Indubala and other characters in the story open up.
Speaking about using food as an important element, Lahiri explains, "Every dish that is mentioned is also connected to some special person who made it. So, each item made not only speaks of the comestibles, but also has a personal story connected to it, which in turn connects us to the character."
The book is illustrated by Mekhala Bhattacharya
Courtesy: Kallol Lahiri
The art of writing
Even though born from deeply sentimental roots, the imagery that Lahiri paints with his words come with no exaggeration of emotions. They are vivid, varied and portray many sentiments — but nothing blows out of proportion.
Mekhala Bhattacharya's illustrations add to the beauty of Indubala Bhater Hotel. Incidentally, Bhattacharya's forefathers are from Chattogram and she grew up listening to stories of her desher bari as well. This is the artist's first commercial work, and she was not given any definite brief about the illustrations. Lahiri wanted her to read the story and illustrate it in her own way.
Tasting success
Since its publication, the novel has remained in demand, selling 15,000 copies till date. The story went into reprint soon after publication, since all the copies of the first print were pre-booked. Lahiri has received feedback from Bengali literature readers all over the world. Even the small booksellers of boi para and even those who deliver books at home in Kolkata have had positive things to say.
"I am elated and taken aback by the feedback I still receive. Every day I receive at least one message from a reader on Indubala," he says . He feels that studying films helped him develop the book's non-linear narrative and write in a way that best brought forward the imagery to his readers.
Lahiri's recent novel, Babar Iyeshika Camera, was published in September 2021.