I am not surprised when I call up Parambrata Chattopadhyay at the scheduled time and he tells me he is busy but will call back in an hour. When my phone rings a little over an hour later, I am pleasantly surprised.
Ever since he stepped in front of the camera in 2001, Parambrata has gone from strength to strength — from television serials to Bengali films to a hit Bollywood debut to his recent OTT debut, from acting to directing to producing. And then, more recently, during the second wave of the pandemic, he threw himself headlong into lending his voice and hand to the Covid-19 affected. What set it off?
"The scale of the pandemic and the number of lives lost was so huge that it was impossible to sit idle, to sail through another lockdown by making dalgona coffee or whatever and posting nice videos," says Parambrata. "You couldn't look at social media without coming across heartbreaking appeals for help."
Parambrata called up people directly and tried to get them the help they needed. "Others from the fraternity did it too, Raj Chakraborty, Swastika. When you have social agency, you should use it," he says.
Eventually, they got a little more organised. Along with friends like musician Anupam Roy and two NGOs (one run by Roy's wife, Piya Chakraborty), he set up a small Covid-19 care centre in south Calcutta. It was meant for patients who couldn't find a place in hospitals but needed a bed, some care-giving and oxygen support. The group set up another such centre in Dum Dum.
These are details pretty much everyone knows from news reports, not the man himself. All he says is that when he decided to get involved in these initiatives, he found plenty of people from the film fraternity to support him. "A lot of people wanted to help fight the pandemic, they just did not know how to go about it." The way people reacted and helped random strangers has apparently restored Parambrata's faith in humanity. "People have become more aware of their social responsibilities where helping others is concerned. But wearing masks and maintaining social distancing? Not so much," he says cheekily.
Most of Parambrata's sentences are not this short and sweet. They are long-winded, liberally peppered with "you know" and "like", and he often tries out a turn of phrase but then gives it up and says what he wants in another way. What shines through is his sincerity and clear thought process, especially where politics is concerned.
"As far as I am concerned, there is a line and on one side are all the other political parties — whom, of course, I can criticise if I want — and on the other side is the far Right. I would do anything — support any of the other parties — to keep out the far Right," says the actor who turned 40 this June.
Parambrata was part of a music video released weeks ahead of the Bengal elections; "Ami ei deshe tei thakbo" has the semiotics of a no-vote-to-BJP campaign. Says Parambrata, "For me, politics is not about who belongs to which party, it is about a consciousness that comes out of [an understanding of] history." And he isn't coy or apologetic about the fact that it is his reading of history, a certain Leftist reading.
"I consider it my responsibility to be politically grounded, to have a stand. That doesn't mean belonging to a particular political party but knowing good from evil."
Do his beliefs impact his work?
"As a director, whenever I can get to make it, whichever format, there will be something that will be coming out of my awareness and preoccupation with the emerging political polarisation," he says emphatically. I ask him if his connection to maverick filmmaker Ritwik Ghatak — his maternal grandfather was Ritwik's nephew and his maternal grandmother Geeta acted in a couple of Ritwik's films — puts him under any professional pressure. Parambrata laughs that away. "Ritwick Ghatak was never a commercially successful filmmaker," he replies. "Now, if I belonged to the Ray family or to Uttam Kumar's family, it would have been different."
But he does admit that he finds it "mishti" that people think sharing DNA with that "genius" means he must have some talent.
Parambrata has recently been doing a lot of work in Hindi for OTTs. It allows him to do "great meaningful work which doesn't make you dependent on indulgent and pompous cinema" though he is adamant that he will continue acting in, directing and producing Bengali films. He is worried that Bengali cinema is losing touch with reality. "We are losing connect with simple, normal, regular stories."
The man who wears many hats believes in having a multitude of lives within the one we are given. "My life is like a Leonard Cohen song," he signs off enigmatically. I find the explanation in his Twitter bio. It reads: "Oh, like a bird on the wire/Like a drunk in a midnight choir/I have tried in my way to be free."
Têtevitae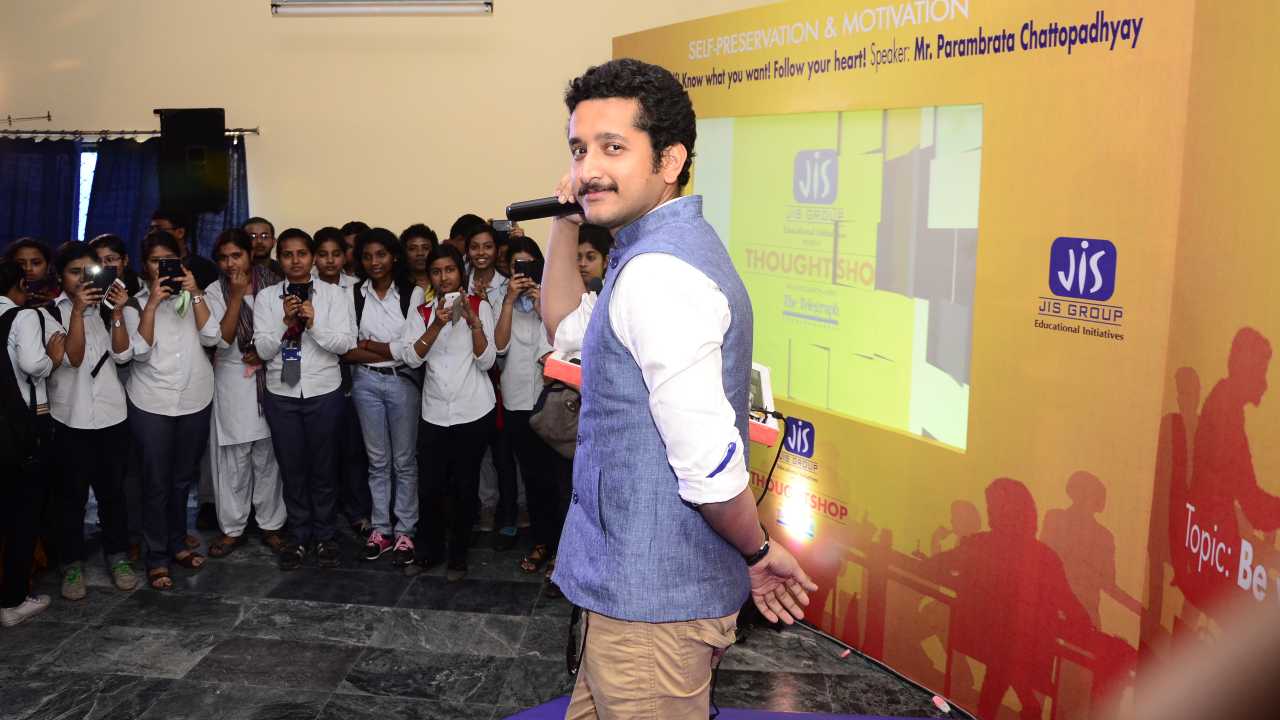 Bhubaneswarananda Halder
1981: Parambrata is born in Calcutta to film critics Satinath Chatterjee and Sunetra Ghatak Chattopadhyay
2002: Debuts in the National Award-winning film, Hemanter Pakhi. This is also the year his first film as Feluda's cousin Topshe — Sandip Ray's Bombaiyer Bombete — releases
2011: Directs his first Bengali film, Jiyo Kaka
2012: Becomes a household name in India with his portrayal of a Calcutta cop in Sujoy Ghose's Kahaani
2014: Makes his Hollywood debut in Sold, Oscar-winner Jeffery D. Brown's film on child trafficking
2020: Does his first Web series, Pankaj Mishra's Bulbbul
2021: Directs Abhijaan, a biopic on and starring Soumitra Chatterjee