Cool, edgy, statement, fun and dramatic with a fresh-young flavour. That's Rimzim Dadu's label which turned 15 recently. The soft-spoken designer, who was in Calcutta recently, chatted with The Telegraph on her creative process and more.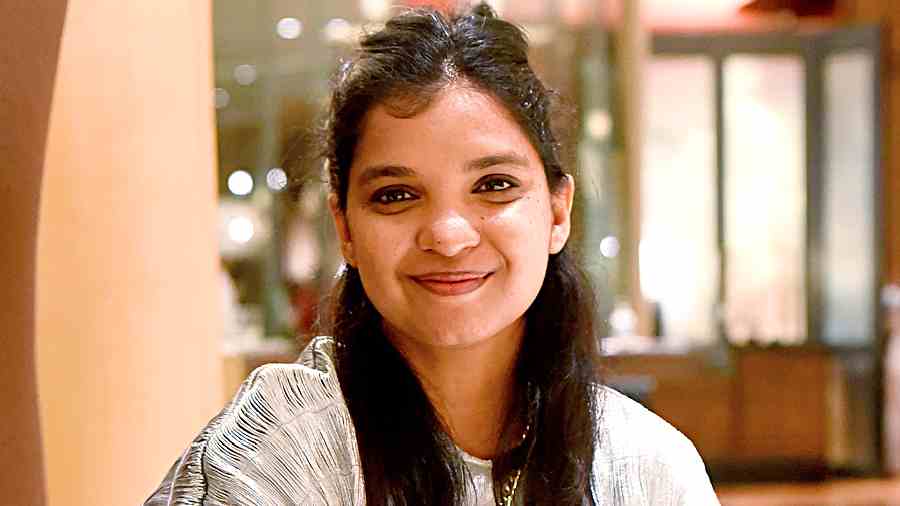 Rimzim Dadu.
Picture: B. Halder
What was your vision when you set out?
When I started out, I was very young, 21. At that point, I wanted to take things as they come and I wanted my brand to stand for anything that's unique... experiment a lot and do something that nobody had seen before. That's the only thing I knew at that point of time. I didn't know what my design language would be or what my aesthetics were at that point and of course, looking back, 15 years ago what I did to now, my work and craft have evolved. 
What has become your DNA over the years?
I love experimenting with textiles and creating my own textiles. I love to explore different materials and I play with them, break them apart and put them back again. Sort of reengineered textiles, be it with metal or be it with other materials. That has become my USP over the last few years. 
Tell us what you are wearing right now... 
What I am wearing right now is interesting. It's made with zari cords, which is one of the signature textiles and zari as you know is an Indian thread, used in traditional Indian embroidery. So, zari was given a contemporary, almost a grunge version. I wanted to reimagine zari.... The textile is made of hundreds of zari threads twisted together by hand to create these cords and then each cord is stitched together to create this fabric. I love to create my own textiles and give them a fresh perspective. 
You also work with wire...
The wire is something that I have been doing for a while. Steel wire clothes have become my signature. I wanted to take something like steel which is a heavy and stiff material and I wanted to completely transform it. When one wears it, it should be light and soft, drapey and malleable. We spent years on research and development... it's a long and scientific process. It involves breaking the material apart and reengineering it back together with wires. 
What have you had the most fun working with?
My steel wires. We have spent six-seven years working on it and it's one of our bestsellers. Over the last few years, I have been refining my techniques, texture and craft further and further.
These concepts were unheard of when you started out. Do you think you are only starting out now, in a way?
Absolutely... 100 per cent. When I celebrated 15 years recently, a lot of people asked me how I felt. I felt just like a child... there is so much I want to do.
What you make is couture. Given the awareness, do you think now is the perfect time for the label? 
Absolutely... 100 per cent. When I started out, fashion and designerwear were mostly about bridal clothes. To break that notion of what designerwear or fashion could be, it's taken me a lot of time and now because of how everything has gone digital and people are more aware, there is a lot more awareness now. People are willing to experiment and when they purchase, they want to make sure that they are making a statement. They have the sensibility to invest in pieces which they will cherish for a long time and help them express their personalities.
Have you ever doubted yourself, given the very different fashion language that you have, and maybe thought of making commercial clothes?
I won't lie, I did have some doubts about whether I was on the right path...  making these crazy clothes and who would wear them. I have thought of this multiple times when I started out. But did I ever think I should make sequins and gota clothes? No. I knew that's something I just can't do. I never wanted to make any other kind of clothes, but I did question whether what I was creating was relevant. I am always a believer in creating with purpose. We all talk about sustainability, but one of the first stepping stones to building a sustainable practice is to just know why you are creating something.... 
Who have been your icons and mentors? 
One of the first designers who mentored me for GenNext (Lakme Fashion Week) was Wendell Rodricks. He was the biggest support throughout. 
What is your mindset as a young designer with respect to the times we are going through? 
As you mentioned, we are at the brink of something beautiful, but I do feel that there is a lot of mediocre stuff that gets celebrated, still. As a designer, I want to push myself and do better every day to leave a heritage behind that I can look back at, as well.
What are you doing to push the freshness meter even more?
When I started 15 years back, I wanted to be relevant 10-15 years down the line. That's some sort of insecurity that I have always had (smiles). It is a conscious decision in my head to do fresh things and I am so glad you find things fresh.
What are you looking at on social media?
Funny meme accounts! Food, and now that I have a baby, so a lot of baby tips. Not fashion! I have tunnel vision in what I create.