Sunday summer mornings invariably have a late start for most of us. A warm cup of coffee in bed, a slow scroll through Instagram and a bevy of options to choose from for what to binge-watch for the rest of the day. But not if your goal is to represent your nation on the cricket field one day.
At Ashok Malhotra Cricket Academy on Sarat Chatterjee Lane in Rabindra Sarovar, Sunday mornings begin early. By 7am, young batters and bowlers between six and 16 years of age fill up the ground, ready to hone their skills and learn about the tricks of the trade.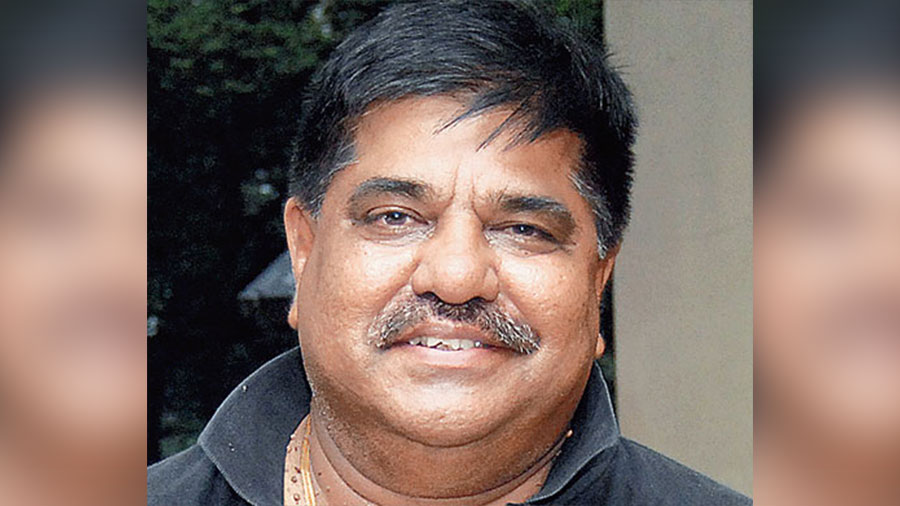 A former Test cricketer for India, Ashok Malhotra has been a mainstay in Bengal's cricketing fraternity for decades
TT archives
Equipped with multiple matting, turf and concrete wickets, as well as two separate pitches for practice games, the academy has been running since 2000, founded by Ashok Malhotra, former Indian Test cricketer and Bengal coach, who had briefly stepped in as acting head coach for India's men's senior team in 2003. As of now, the academy, which has produced graduates like Shreevats Goswami along with a slew of age-level cricketers for Bengal, has 170 junior cricketers trying to make it big across different age groups.
Right from its inception more than two decades ago, the academy has never faced a challenge quite like COVID-19, one that not only stopped all practice at a moment's notice, but also created a vacuum in terms of different aspects of the game that is only now beginning to fill up.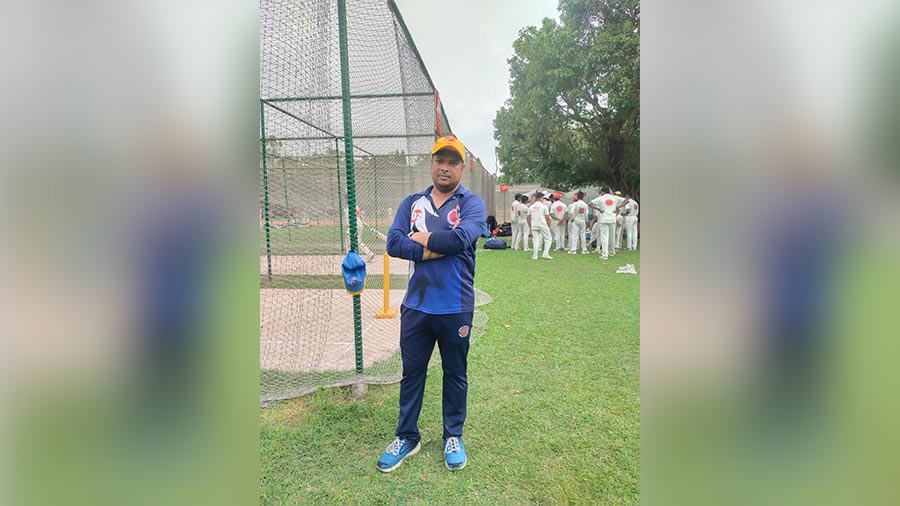 Atanu Mukherjee is in charge of coordinating the smooth operation of facilities at the academy
Debrup Chaudhuri
On our trip to the academy, we began with a chat with Atanu Muhkerjee, the academy coordinator.
When asked about how the academy has dealt with the pandemic and how it is functioning after the easing of lockdown regulations, Mukherjee said, "Our biggest fear after the pandemic was whether students would return to the sport or would be restricted by parents from going to large gatherings like a cricket academy. We called up each student and their parents to ensure their safety while they came to practice and enjoyed doing what they truly loved."
He also said that safety measures such as keeping sanitisers handy, checking the temperature of everyone who entered the facility, wearing masks in large gatherings as well as maintaining social distance, whenever feasible, have become common practice.
Asked about the problems the academy has encountered due to the pandemic, Mukherjee said, "Initially, we began practice with only 10 students. When the number of students increased, we added an additional training session. Instead of the usual three sessions a day, we now have four sessions."
"We have increased the number of coaches; we also use more nets for practice so that everyone gets a fair chance," he added.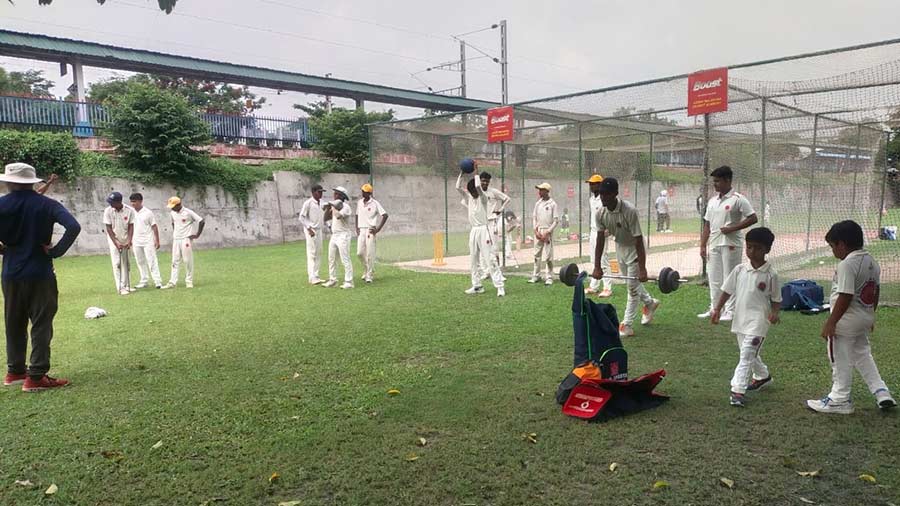 The total number of students at the academy dipped by almost 20 per cent as a result of the pandemic
Debrup Chaudhuri
The biggest issue, according to Mukherjee, was how various age group players, such as those playing under-13, had crossed that age and were stepping into a new age group.
"They needed to play at a higher level, but got no practice for almost two years. We lost players with potential at higher age groups as they looked for other careers to pursue. Some players lost their interest in the game while quite a few lost their fitness," he said.
The total number of students went down by almost 20 per cent at the academy as a direct impact of the pandemic. For those that remained, retaining competitive standards became challenging since all the age-level tournaments organised by the Cricket Association of Bengal (CAB) had come to a halt.
Budding cricketers at the academy could only get competitive action against other academies in local leagues. Even though practice sessions involved game scenarios and matches were played out in training, the edge and intensity offered by the CAB tournaments went missing.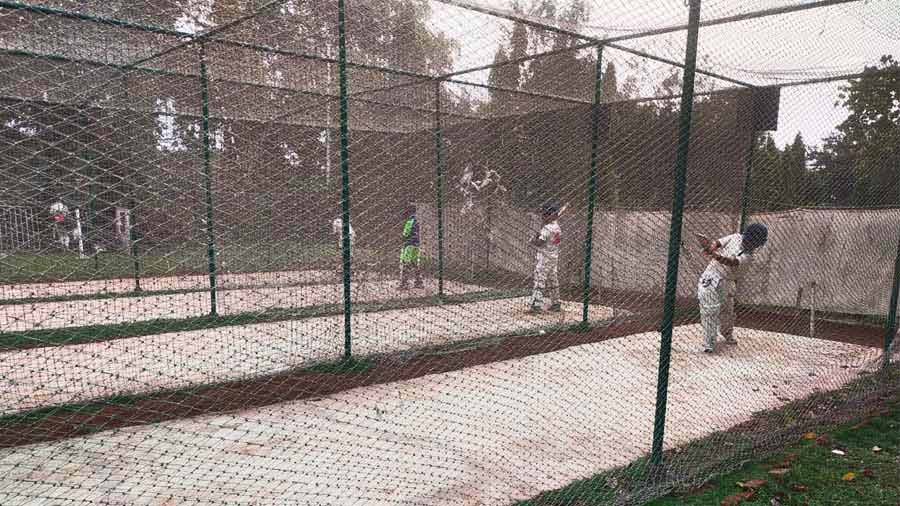 Junior cricketers are beginning to return to their cricketing groove after the lengthy layoff due to the pandemic
Debrup Chaudhuri
The present situation, however, is not all doom and gloom. "New admissions are surging as parents now want their children to play sports instead of being glued to their mobile phones," said Mukherjee.
With more and more practice sessions taking place everyday, the youngsters are also getting back to their optimal fitness and competitive levels.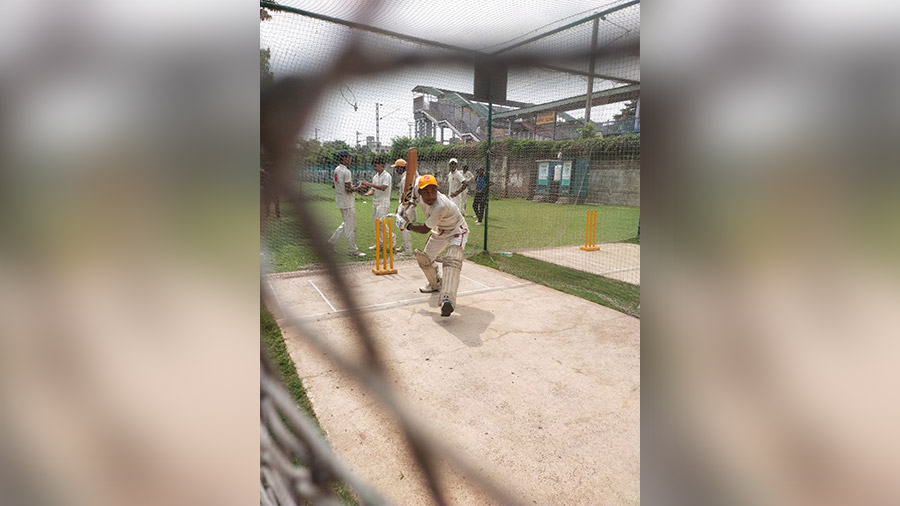 Originally from Digha, Shoib wants to pursue hotel management should his cricketing ambitions not work out
Debrup Chaudhuri
One such youngster with a killer instinct is right-hand batter Shoaib Khan, 17, who has been training for almost five years now. Originally from Digha, Shoaib stays at a rented accommodation in Baruipur, away from his family, so as to make it easier to realise his dreams of becoming a cricketer.
"Things aren't very different now, but we play fewer games or practise for shorter periods as compared to what we used to do before the pandemic. A lot of my friends who used to come and compete have also stopped attending practice. They've probably shifted their focus away from cricket," said Shoaib.
Growing up in a village in Digha where his parents are farmers, Khan used to make the most of whatever opportunity he got to play cricket, usually with a tennis ball. Before COVID-19 struck, Khan was a second-division player, aiming to make it into the under-16 Bengal team.
"I felt as if my time had come, but then the pandemic ruined everything. It wasn't possible for me to practise at home during lockdown. When I finally returned to practise here, I could sense that my form had dipped," Shoaib said.
"I have to spend a lot of time working my way back to how I was playing before the pandemic. While education and exams can happen online during the pandemic, cricket can't. You can't get results in the game without hard work on the field," the young cricketer added.
Shoib practises six days a week, three of which are spent at the academy. He also has a Plan B should he not end up piling on the runs soon enough. "If cricket doesn't work out, I'll go into hotel management. My uncles are chefs and I'd like to go abroad to study hotel management as a backup," he said.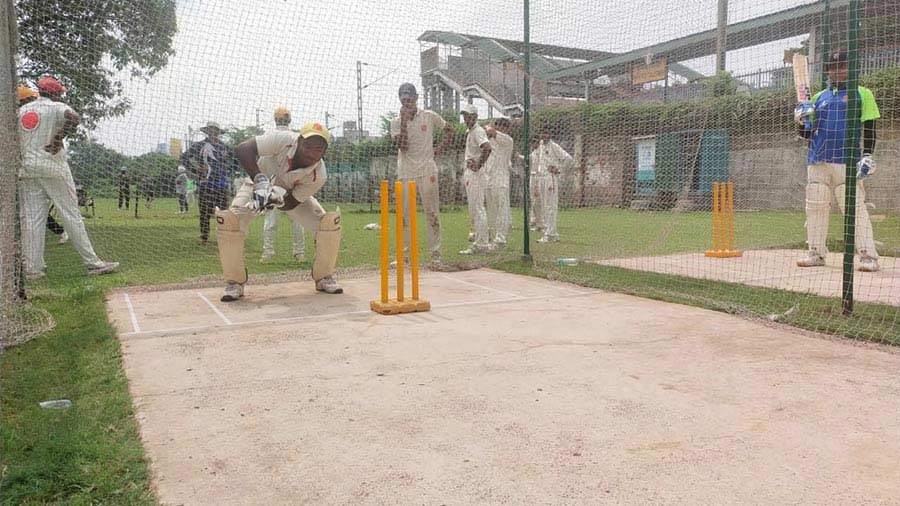 Supratim credits the academy with playing an instrumental role in shaping the cricketing futures of hundreds of youngsters like himself
Debarup Chaudhury
Just like Khan, 15-year-old Supratim Paul also endured a difficult lockdown period during the pandemic. He admitted "not doing much at all related to cricket" during the first lockdown. But when everything came to a standstill once more during the second wave, he found a solution.
"I didn't want all my previous work to go to waste. So, I made an arrangement on the roof of my house and asked my father to give me some throwdowns to keep my batting in shape," Supratim said.
"A friend of mine, who is more like an elder brother to me, helped me with wicket-keeping drills since he used to be a keeper himself. Those little things made a lot of difference when I returned to proper practice as they ensured that my focus or form didn't waver too much," Supratim added.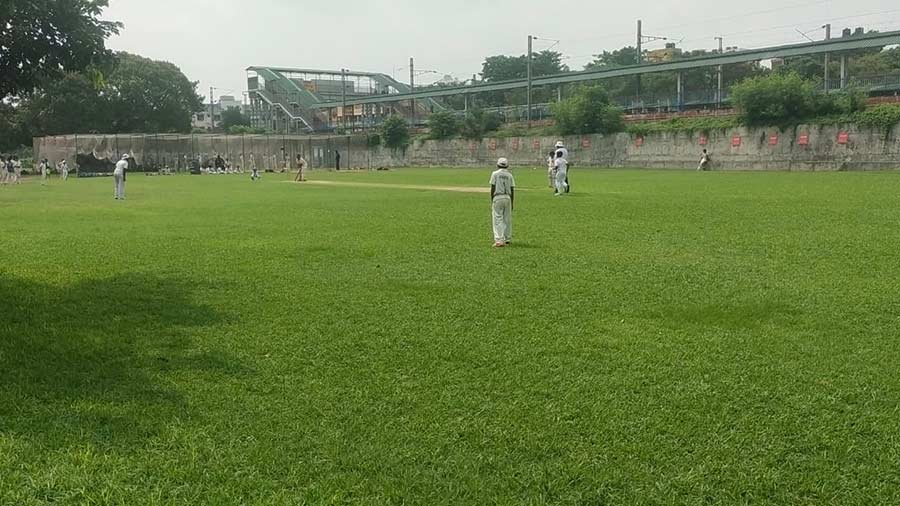 Supratim credits the academy with playing an instrumental role in shaping the cricketing futures of hundreds of youngsters like himself
Debrup Chaudhuri
When asked about how the academy has helped him in his cricketing journey so far, Supratim said, "The academy is our biggest support system because it provides us with all the facilities we need to prosper and grow. Without the academy, it'd be very difficult for all of us here to flourish as a cricketer."