A beautiful haldi ceremony, extravagant floral decor, an exchange of garlands at the wedding and 200 guests in attendance. It looked like any other big fat Indian wedding, except that the mandap had two men – Abhishek and Chaitanya. 
Same-sex marriage isn't legally recognised in India, but many couples across India are celebrating their love with social ceremonies. 
"I like to call it a wedding ceremony. I can't call myself lawfully wedded but yes, I am wedded and Chaitanya is my husband," Abhishek told My Kolkata.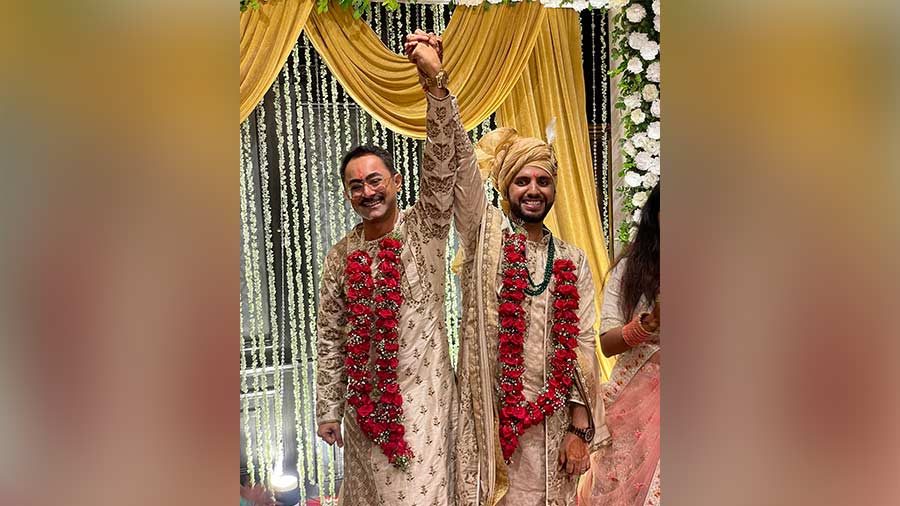 'I can't call myself lawfully wedded but yes, I AM wedded and Chaitanya IS my husband,' Abhishek says
Abhishek Ray, a popular fashion designer in Kolkata, and Chaitanya, a digital marketing expert based in Gurgaon, met in 2020 even though they'd been friends on Facebook for many years. On the evening of July 3, they got married in Kolkata with all the traditional rituals of a wedding.
What follows is a first-person account by Abhishek of their love story…
------------------------
Chaitanya and I met in 2020, even though we'd been friends on Facebook for many years. Since we have a lot of common friends, we honestly can't even remember who added who first!
During the lockdown in 2020, on my birthday in September, I had uploaded a picture of myself cutting a birthday cake with my friend's children around me. He loves children, so that's how we got talking. At first, he thought they were my kids and that I was married (laughs). We started chatting more often, but then he got Covid and there was a gap in the middle.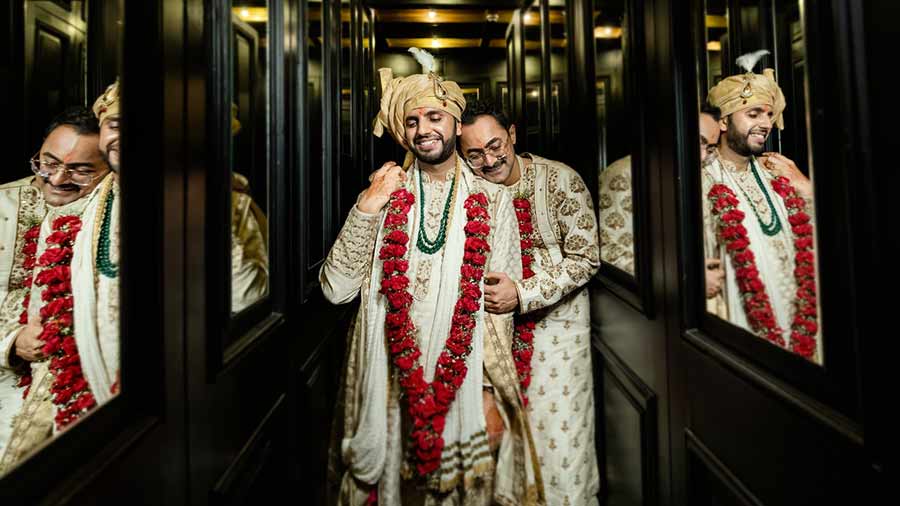 The couple after the wedding
After a month, we started chatting again and the conversation started getting deeper. It was more than the frivolous ones that every dating relationship usually begins with. Suddenly, one day, he sent me a screenshot of a ticket. The lockdown was easing and flights had opened. We had not even exchanged numbers, we were still chatting on Facebook Messenger, so I was a little apprehensive.
But everything changed once Chaitanya and I met. He told me he's coming for a weekend but that two-day trip extended to two weeks.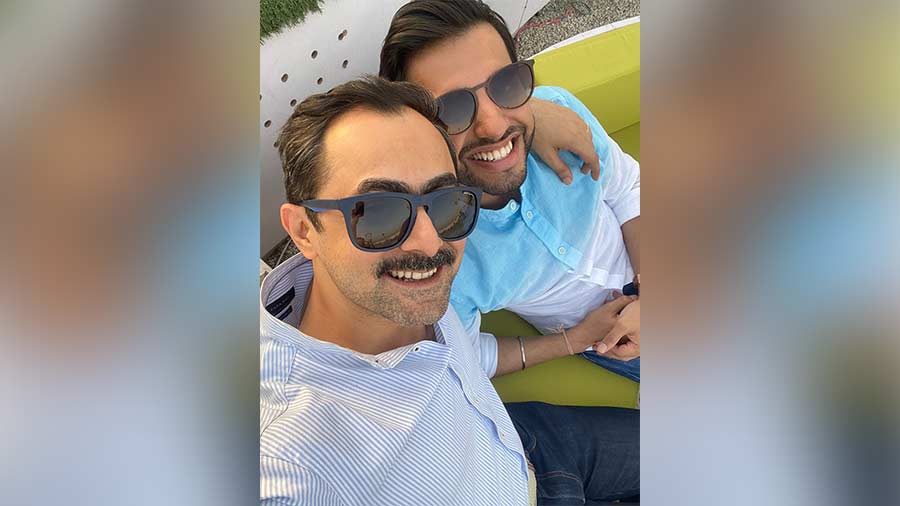 'Everything changed once Chaitanya and I met,' says Abhishek
Only after he left, I realised how much I missed him and how much I felt for him. So in March, I went to meet him and his family in Gurgaon. Both of us were looking for something solid. Right from the start, it didn't feel like something casual.
'He proposed in a very filmi way, right in front of the Taj Mahal'
Then we made a trip to Agra, where he proposed to me, in a very filmi way, right in front of the Taj Mahal. Because, casually, I had told him I am a very Bollywood-y person and that it was my dream to see the Taj Mahal with my partner. He remembered and went out of his way to do it in a place where there were less tourists with the Taj Mahal as the backdrop. It was the most surreal experience.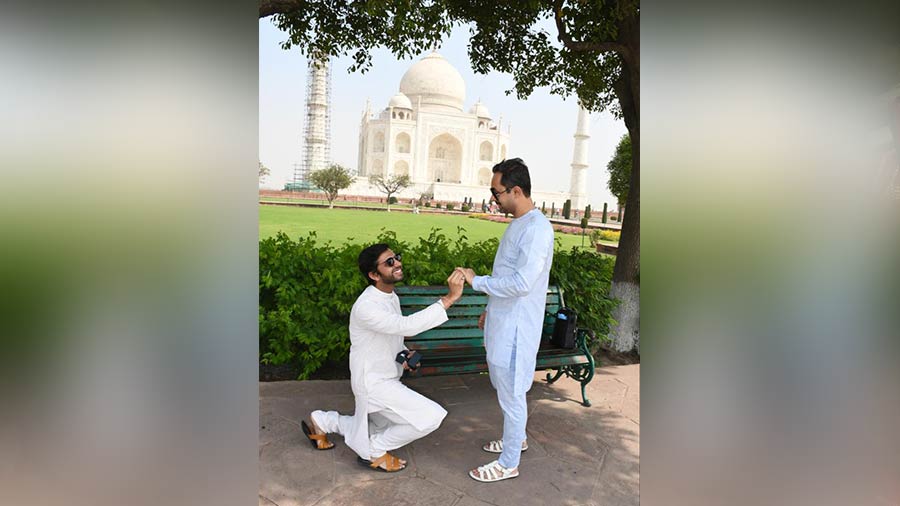 Chaitanya proposes to Abhishek in front of the Taj Mahal
Then came the family glitches. 'What are you doing?' and 'This is not yet acceptable' and 'Do you really want to get married in such a big way?' It wasn't a very smooth ride for us, to be honest.
He comes from a Marwari family, and though he was extremely brave and had already come out to his mother when we met, like all mothers, she was also worried about society. We still live in a country where same sex marriages are not legal and people are still not 100% open to it like it is abroad.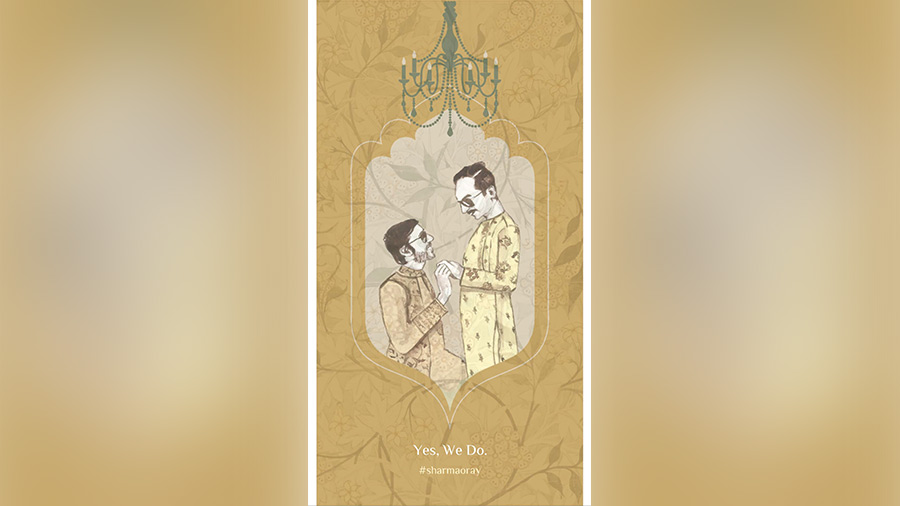 Their wedding card
We had been planning the wedding since December. We didn't get any event manager on board because we wanted to look into every detail ourselves. We had proper tilak and ashirvad ceremonies at home, followed by mehendi, sangeet and cocktail night. On July 3, we had the haldi in the morning and the wedding in the evening at a banquet hall on Camac Street.
Exchanging garlands
I have a close-knit circle of friends in Kolkata for the last 20-22 years and we are the privileged ones. We don't come from that strata of society where we have to think twice before doing anything. But we were shocked and surprised to see how beautifully people were accepting it.
My entire neighbourhood, even the 60-65-year-olds, attended the wedding and blessed us.
'The biggest challenge was finding a pandit'
The whole social marriage thing was Chaitanya's idea, to be honest. He really wanted to do all the rituals. I just wanted to do a commitment ceremony, call some friends, have a party and cut a cake. But he really wanted to go around the fire, take the vows together and hold my hand.
The biggest challenge was getting a pandit to do the ceremony. We were let down by many, and we asked both Marwari and Bengali pandits, in the hope that someone would agree to do it.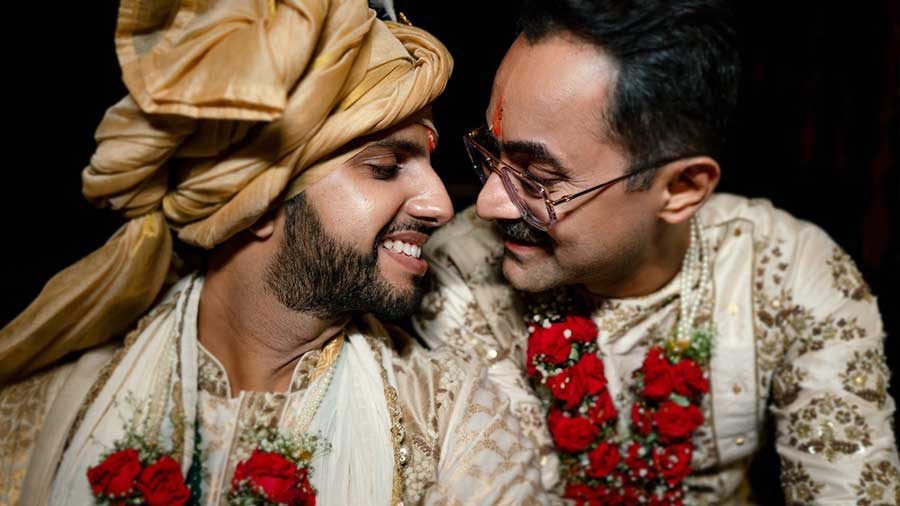 'The whole social marriage thing was Chaitanya's idea,' says Abhishek
I was not approaching my own panditji, who comes home, because I didn't know how he would react. I didn't want to lose him as our official ghar ka pandit! But it was unbelievable how he reacted when we asked him. He said that we guys are the torchbearers of our society. He told us how in his village, there are so many guys and girls like us who are quietly taken to the bamboo jungle and have their throats cut or tied and drowned. He said that what we were doing was making a change and if we guys didn't do it, then others would never get the courage either.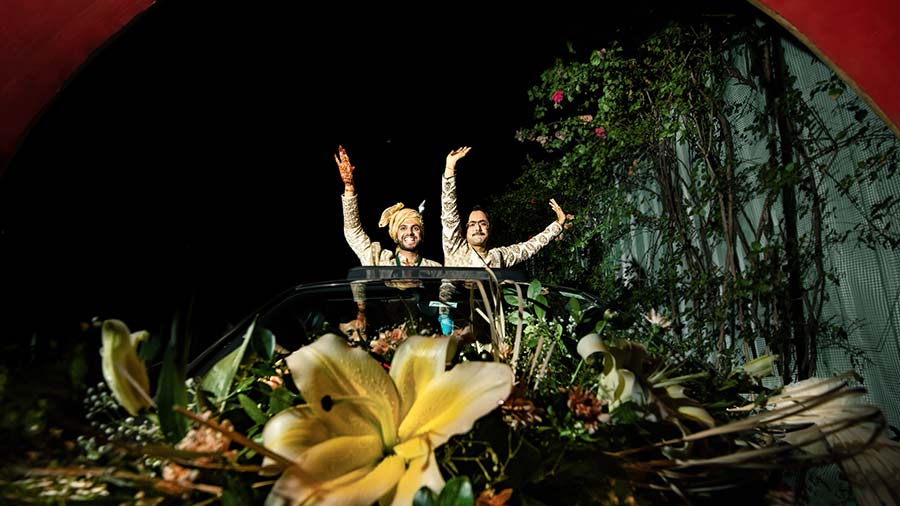 Arriving in style
It was so touching. He said, 'This time I may not get any Durga Puja projects when people get to know, and I may be treated differently by the other pandits, but I will do it.'
The wedding went off so well. My cousins, kids, all the elderly in the family, everyone came down. Same-sex marriages are not yet legal in India, but it's not a criminal offense anymore. Still, we wanted to keep things low-key till the wedding happened. But once it happened, so many people have shared posts that my phone hasn't stopped buzzing.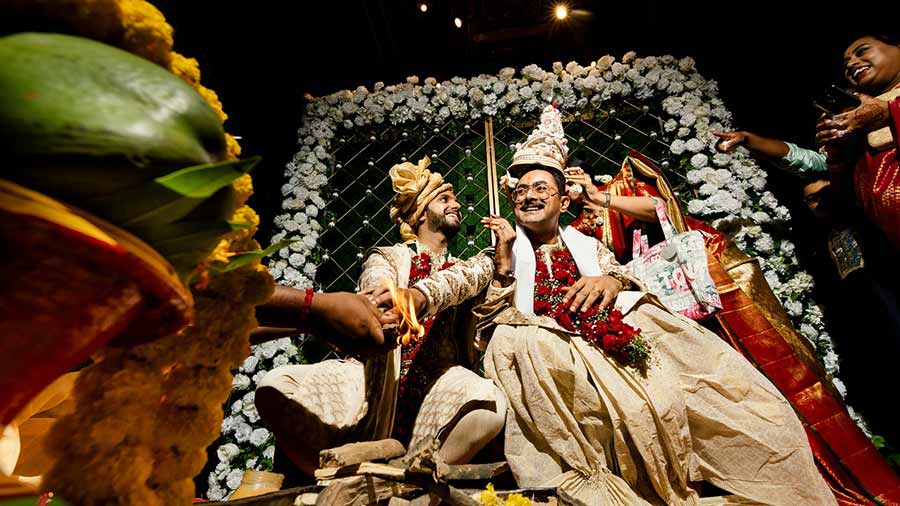 At the traditional ceremony
Today, for the first time in my life, I feel that I have done something for society. It was my wedding, but deep down, I feel responsible for so many of our community guys and girls, gays, lesbians, transgenders. I wish I could show you the messages we have got! They tell us they are getting so much courage and some have gone and told their parents overnight that 'Papa, I don't want to marry a girl, I like a guy' and showed our pictures to them.
People have to understand that this is natural. It's not like some parents say, 'Tera jaisa chal raha hai, chalne de, naam ke vaaste shaadi kar lo'. That is what we all need to understand. That it's something so natural and so normal. And I hope our wedding helps make the change that India needs.