Sabbaticals were known as a period of paid leave granted to a university teacher or other workers for study or travel — traditionally one year for every seven years worked. The corporates have found value in offering this as a benefit to tenured employees. Companies like Nike, Deloitte, Intel and McDonald's all have sabbatical programmes in place. This is the time for all employers to consider offering sabbaticals to employees.
Psychologists, who treat anxiety disorders, report they have seen an increase (84 per cent) in demand for anxiety treatment since the start of the pandemic, up from 74 per cent a year ago. Depression has increased too. Increased demand was also seen for treatment of sleep-wake disorders, obsessive-compulsive and related disorders, and substance-related and addictive disorders.
If there was ever a time for employers to offer sabbaticals, it is now.
What to do during your sabbatical
Sabbaticals are opportunities to get traction on the path you have been. You could use the time to reskill and upskill yourself, or get the credentials needed to pursue a different career path. Some people use sabbaticals to plan their second career or to spend time with their families. Sometimes, burnouts can be caused by the need to be a caregiver to a loved one. A friend chose to take time off to be with a terminally ill parent and get closure.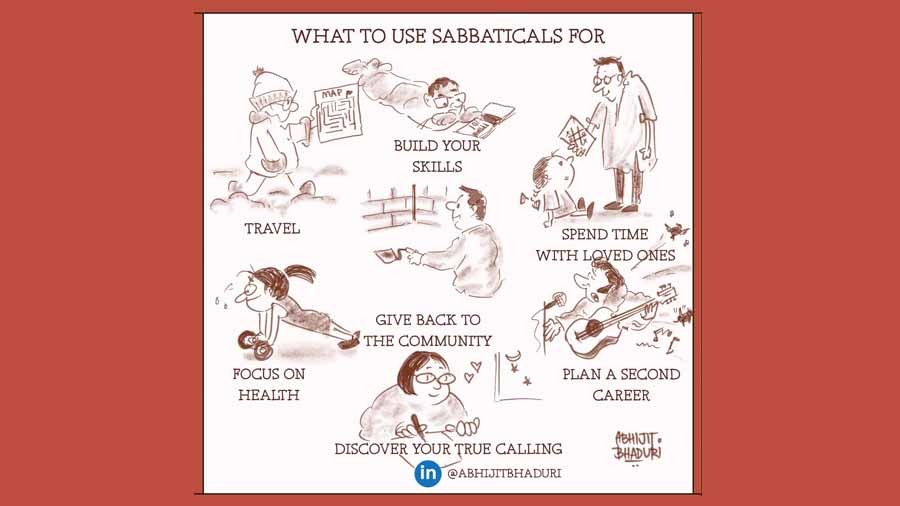 Illustration by Abhijit Bhaduri
Sabbaticals can be a great opportunity to discover your true calling. It is the perfect time to try and sample many different options before zeroing in on the career path you want to follow for the next few years. It is not surprising that some employers are worried about losing people if they got time to think about their career choices. That reminds me of employers who did not allow employees access to job sites during office hours. Those who wanted to surf those sites used the omnipresent mobile phone to surf while the employer stayed blissfully oblivious.
Sabbaticals every three years
There was a time when long service awards were given to people for being with an employer for five or 10 years or more. Then, the BPO (Business Process Outsourcing) industry changed the norm and started acknowledging people who had spent 12 to 18 months with the company. This may be that moment for sabbaticals.
'If there was ever a time for employers to offer sabbaticals, it is now,' says Abhijit Bhaduri
Courtesy Abhijit Bhaduri
Instead of giving people a year off after working for seven years, do it earlier. Employers can offer paid time off (six months) for every employee who has completed three years. What if they quit after the sabbatical? In that case, they pay back the six months' salary.
If they leave before the seventh year, they lose the additional six months of sabbatical they would get. Technology has changed the way we view time. Bosses send mails to their global talent pool and employees feel compelled to respond right away; it is a competition. If you are not responding right away, your peer is doing so.
Reality check for customers
Customers expect even the most mundane items to be shipped right away. Start-ups outcompete with each other to cut down the time needed to show up at the customer's doorstep. The supply chain delays in 2021 have helped to temper down customer expectations. From 42 per cent increase in cyberattacks in the first quarter to port congestion and labour shortages, business and supply chain leaders faced more than their share of challenges in 2021.
People are keen to build multiple experiences in their career. It may be time to make three years of employment standard to offer sabbaticals. When I asked readers on LinkedIn, more than 3,900 people responded and 61 per cent said, three years of work with an employer was the right time to offer a sabbatical.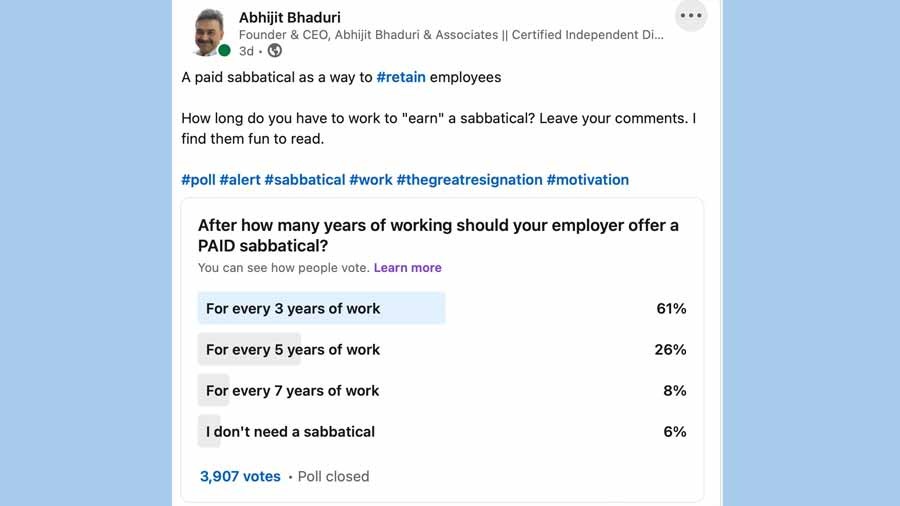 Courtesy Abhijit Bhadhuri
Money is not enough
The job-hoppers are pushing up pay for those who stay put. Labour shortages are probably going to continue throughout 2022. There are too many jobs and not enough people to fill those jobs. This is the year when talent rules. It may be time to make new rules. The sabbatical is not just a fancy perk, it is a way to keep people sane.
Offering a sabbatical may be a win-win option for the employer and employee alike because it is better to offer something that people are craving for today.
Abhijit Bhaduri is an executive coach and talent advisor to organisations around the world. He is the author of Dreamers and Unicorns. Follow him @AbhijitBhaduri on Twitter and Instagram.