'Tis the season to be generous and that's exactly where a luxury gifting concierge comes in. Siddhika Jalan is one of the first people Kolkatans call when they have happy news to share, but it's not just about seamless end-to-end service or even about assorting a luxe registry. In 2021, bespoke giveaways can be a statement, but they also need to be truly engaging.
"Gifting for us is very structural. Our brand offers a diverse range of services and products — it's about curating an experience. Though I have a core team, we use the services of around 100 people including our artisans, who work with acrylic work, fabrics and ceramics. When a client comes in, we take them through some of our earlier work, we talk about emerging trends. We show them any new fabrics we're developing, we talk about design elements I like and tell them about our local artisanal facilities. It's really about tapping into what they're really looking for," Siddhika tells us.
Siddhika's love for design pushed her towards adopting an artisanal approach for her brand, Siddhika Jalan & Co. The Kolkata entrepreneur who went to business school in Manchester was quick to recognise that she can bring together her business acumen and artistic flair for a premium, one-of-a-kind service in the city.
"I've always had an entrepreneurial side to me, but I've always leaned towards designing. After I returned to Kolkata, I would occasionally set up for parties or curate giveaways and that's kind of how I got drawn towards this sector. My brand has been commercial for 10 years now, but I've been doing this longer," she shares. 
It's all in the details
One of her most ambitious creations is the Safarnama wagon — a 3-feet long wedding invitation, inspired by the first steam locomotive to be completely built in India, in 1895. 
"It was for a destination wedding in Mauritius. The miniature train carried luggage tags for guests that were shaped like the island of Mauritius, along with some champagne and luscious desserts. To replicate the look of the real vintage wagon, we grooved tracks matching the size of the wheels on the wooden board the train stood on. We made 100 of these 3-feet trains and each cost Rs. 25,000. We were quite short of time, but the detailing we achieved was quite phenomenal," Siddhika recalls.
Splurging pretty
In the past months, the country's $50 billion wedding industry cut some corners to accommodate the new normal. But Siddhika confirms affluent Kolkatans are back to splurging after the year-long unpredictability. 
"Since people were hosting fewer events, these elaborate giveaways or gifting became quite crucial for them — in a way these gifts became the celebration. The spending patterns have also become quite relaxed, but my clients are definitely more involved in the process now. It's not about just getting it over with. It's a more conscious, personal process," the concierge reveals.
Down to a fine art
Some curations are more audacious than others, not in terms of flamboyance but vis-a-vis execution. One of Siddhika's newest projects saw her collaborating with artist Viraj Mithani, who designed a series of equine sculptures for a birthday invite of a one-year-old.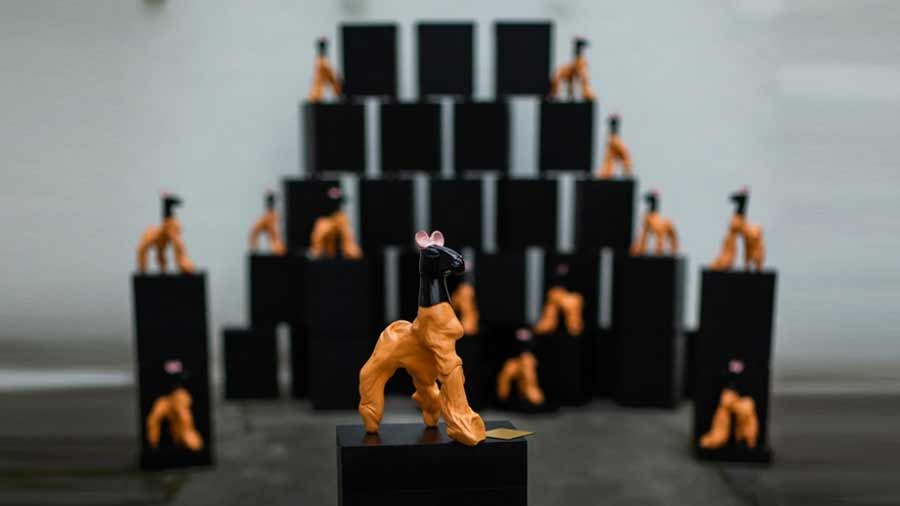 Siddhika Jalan's label commissioned 55 of these horse sculptures by artist Viraj Mithani as part of equine-themed mementoes for guests at a child's birthday party
"The kid's mum spent her own childhood around horses and was very fond of the animal, so she was considering some equine-themed mementoes to celebrate her son's first birthday. My label helped her commission a series of sculptures by Viraj Mithani. We got in touch with the artist and the design of the sculpture came into existence via virtual meetings. It was a four-month-long process. We sent out 55 of these horse sculptures to the guests. Each piece has a certificate and a number, which of course determines its authenticity and resale value, like any other artwork," Siddhika shares.
The good gift
In a world emerging from crisis, anything mundane can be a gift, be it a homecooked meal or an offer to babysit. Siddhika, too, agrees that at the end of the day the act of giving or sharing should be significant and not just commercially.
"People are increasingly looking for meaningful options, something that actually becomes a worthy keepsake. They're consistently de-cluttering. Whatever they fill their space with should hold meaning for them. We are working towards making collectables that are worth retaining. We've also evolved quite a bit in the past year, so much of our work has moved online. We have made it easier for people to make decisions virtually, which works for us too," Siddhika says.