Rituparna Sengupta has started the year on a busy note with the shoot of a couple of new Hindi movies. Over a period of time in March, she was shooting in a haveli at a place near Rajkot for the film Kal Trighori, with Arbaaz Khan, Mahesh Manjrekar and Aditya Srivastava. A Telegraph chat with Rituparna...
Tell us more about the film Kal Trighori?
Our director Nitin Vaidya has written a very interesting and intelligent horror film with strong elements of thriller, suspense and emotion... the shooting was done in a big haveli near Rajkot, which was built in the 1930s.  
Tell us about your character?
I play a painter named Madhuri who only paints abstract stuff... the story is very unique, revolving around four people... it's a horror film but has its emotional moments.
How was Arbaaz Khan to work with?
Arbaaz Khan is a wonderful co-actor. He is so spontaneous and charming. He has a beautiful nature with  tremendous professionalism... very talented with a great sense of humour. As a person he is quite simple and chilled out, very amicable and adjusting . He loves Bengali sweets, especially the rosogollas and gur sandesh I got for him and the unit. He later said that the sweets are  enough to make him fat.
Did you get time to talk about movies with him?
We discussed various things, from the war in Ukraine to family to films. We were both disturbed by the outbreak of war in Ukraine. He spoke about the time when he got his first break and so did I... he wanted to know more about Bengali films and its dynamics... he appreciated the content and especially loved the trailer of Praktan.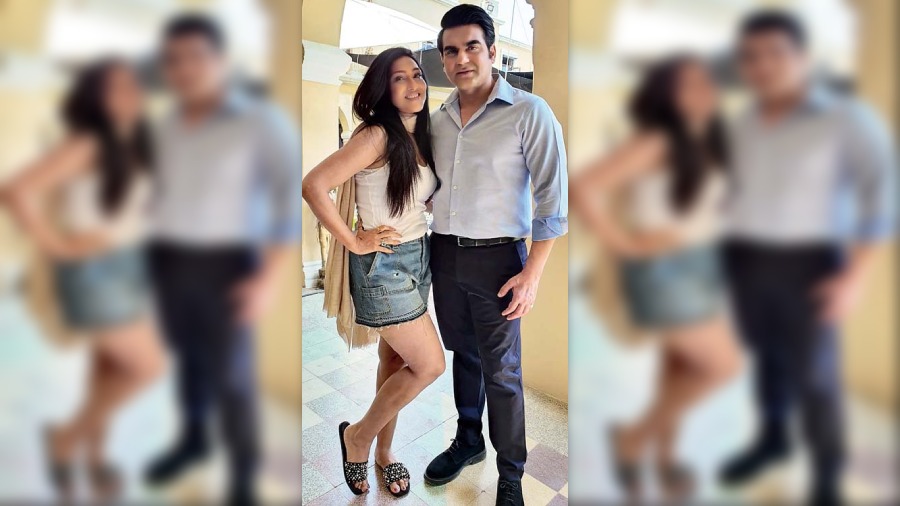 Shooting for Kal Trighori has been a wonderful experience. Working with Rituparna Sengupta is truly amazing, she is a talented actress and it has been a great learning curve. Her acting skills and professionalism are par excellence. Director Nitin Vaidya, who is making his debut in Hindi, is doing a commendable job. Looking forward to this film reaching the audience soon. My character has some interesting shades, it's a well-defined character, something I've not played in my career — Arbaaz Khan
How was it like shooting in Rajkot, and in a haveli?
Rajkot is really nice. We were shooting a little away from Rajkot... our director Nitin Vaidya is from Rajkot and so is his family... the whole unit is mostly Gujarati and they are very hospitable. Nitinji has written a wonderful story. The haveli is beautiful and mysterious as well... it was established in the 1930s and was called Ambika Palace... the heirs are still there to take care of the place and it's been almost like a heritage property... when the haveli is lit up it looks beautiful... the peacocks come and play there... there's beautiful scenery all around.
How is the shooting procedure different from a Bengali film?
Shooting is pretty much the same... only the arrangements for a horror film take a little more time with all the effects for thunder, lightning and rain... also, we had a few shots in the dense jungle with the drone and the Jimmy Jib.
You have been shooting for a lot of Hindi films recently. Why this shift to Hindi?
I am open to doing good and constructive work. I have always tried out new concepts and good scripts... of late along with Bengali films I have been doing interesting Hindi films like Bansuri, Good Morning Sunshine, Tere Ane Se, Jihad and most recently Ittar and now this. I heard the narration for this film in Mumbai when I was doing Ittar and loved the suspense element in it. They were very keen to have me in this film since the heroine has a very strong role with shades. As you all know, I am very emotional about my work... of course Bengali films have always been my priority and always will be... it's not a shift but yes this year I'm trying to choose scripts, which will show me in a new light.
Are you spending more time in Bombay?
Yes, I have my own beautiful apartment in Versova. I have always loved Mumbai and now I want to spend some quality time as well and work in some amazing projects... I'm also looking forward to Ittar, it is a beautiful love story.
Will you be cutting down on Bengali films?
No, I'm not cutting down on Bengali films, but yes I'll definitely try to select the best ones for me since I need to be in Singapore too with  my family. I want to be with my daughter.
What are your plans for acting and producing in 2022?
Apart from the films I mentioned, I am now doing a lot of dance performances. I want to do a musical and put together a good production in place. I have plans to produce as well, for which I am going through scripts.
You also announced a film with Prosenjit. Please tell us more about it...
The project with Prosenjit will be a surprise... it's an interesting project and we both come with our names as a surprise element in the film... it is about that beautiful resonance of the most popular pair.
Cover picture of Rituparna Sengupta:
Make-up and styling: Kaushik and Rajat
Location courtesy: JW Marriott Kolkata