An IIT Kharagpur alumnus, Samarth Mahajan decided to tread a different path and went on to make several award-winning non-fiction films.
Mahajan's latest film, Borderlands, won the Best Editing for a Non-Feature Film at the 68th National Film Awards 2022. My Kolkata caught up with Mahajan when he was in Kolkata in August for the screening of Borderlands at Goethe Institut/Max Mueller Bhavan.
An engineer and a filmmaker
Taking the leap of faith, Mahajan decided to pursue a career in filmmaking. "While in IIT Kharagpur, I was studious and wanted a typical internship and a good job. Only when I started working in Kolkata did I realise that I felt suffocated and out of place," he recalled.
Soon after passing out of IIT, Mahajan quit his job. "I had two to three options. I was interested in education, so I applied for the Gandhi Fellowship, which is a three-year programme. Then I started reflecting on what I really enjoyed doing in life. I remembered how in college, we used to do inter-hall advertising design which was great fun. One day, I was talking to a friend and thought maybe I should make films and the thought came back again and again. Some of my friends were involved in a few things in Mumbai and they were ready to collaborate. That's how I came to Mumbai and made a short film on fireflies called Kazwa with the production house Camera And Shorts. The film won awards and we gained confidence. Thereafter, we kept on making films,'' he said.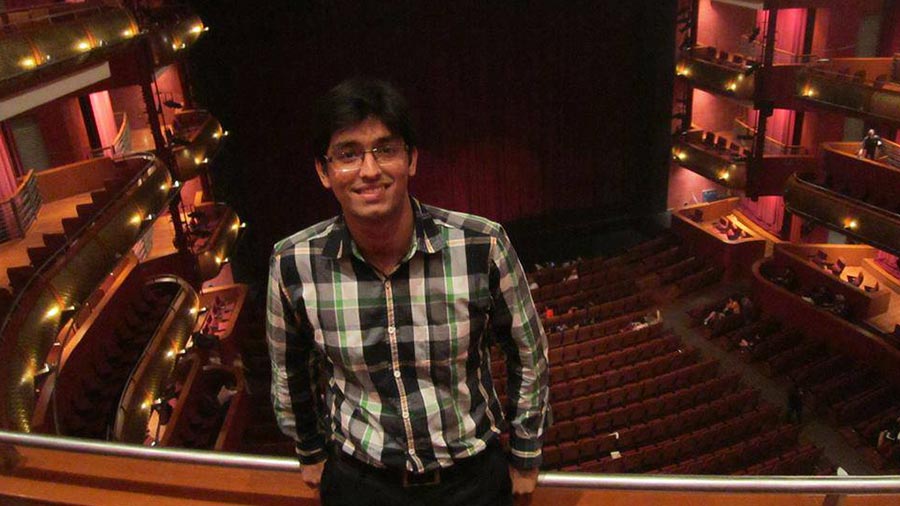 Mahajan during his IIT days. 'While in IIT Kharagpur, I was studious and wanted a typical internship and a good job. Only when I started working in Kolkata did I realise that I felt suffocated and out of place,' he recalled
Courtesy: Samarth Mahajan
Making 'Borderlands'
While he was making The Unreserved, travelling in general train dabbas and meeting a lot of people, he discovered different kinds of people. "During that journey, we met a person from Kashmir. He talked about Pakistan and how he liked the country. This fit into a mainstream Indian idea that Kashmir is close to Pakistan. The man also said his brother was in the Indian Army and said how he had applied to the armed forces; and if he got a job, he would start supporting India. This is very counter-intuitive. This conversation opened up the idea of greys in border areas and triggered the idea of Borderlands (2021). World politics was talking about borders. I come from a border area myself so it was a very binary image – masculine, violent, militant image – but there is so much more to it," said the Punjabi boy who hails from Dinanagar in Punjab.
'Kazwa', the first film
Kazwa is about the firefly trails near Mumbai. "We found it [the trail] through the internet. Basically, my producer Ashay Gangwar and I were thinking of what to shoot. Since we had no money, we wanted to shoot only around Mumbai. We started searching for interesting ideas and found this firefly tour. We started searching for videos on fireflies but could not find any. The concept was new and fireflies are visually unique. We contacted the tour company to collaborate. They introduced us to the village and arranged for our entry. That's how Kazwa happened," Mahajan said. The film went on to win the Best Cinematography award at The Tyre International Short Film Festival, Lebanon.
IIT Kharagpur days
Mahajan described how the multidisciplinary approach to life and activities at IIT Kharagpur helped him progress in life. He was pursuing a dual degree in Mechanical Engineering.
"Kharagpur was a very interesting campus because it's not a city. You don't have distractions outside the campus. The syllabus is outdated but what's good is the extra-curricular activities. I started getting involved in a lot of activities and made a lot of friends. Then you also had the rat race to get the best internships. You need to have the best 'funda' from the best seniors. You need to make sure your CGPA is over 8. You need to have the position of responsibilities in your resume. Luckily, I received a pre-placement offer in my pre-final year and had another year on campus at my disposal. That whole period allowed me to experiment with what I actually wanted to do in my career. In my fourth year, I also participated in Jagriti Yatra which was a 14-day train journey around India where I met social entrepreneurs. This broadened my ideas.''
Mahajan's love for education made him travel throughout the country taking him to different institutions. While he did his schooling from DAV Punjab, he spent two years in Chandigarh preparing for competitive examinations. After IIT, he pursued a Liberal Arts course under the Young India Fellow at Ashoka University, Delhi.
Revisiting childhood
Mahajan has lived in various cities and imbibed their uniqueness. "I have lived in Dinanagar, Chandigarh, Kharagpur, Kolkata, Bangalore, Delhi and Mumbai. I think the extensive travelling has taught me to live comfortably in different spaces.''
"Personally, I feel very out of place in my hometown because no one understands or cares about documentaries. In Mumbai, I feel I have a tribe. There is a film-making fraternity. Kolkata is like my other city where I love coming and chilling with people and talking films." he said.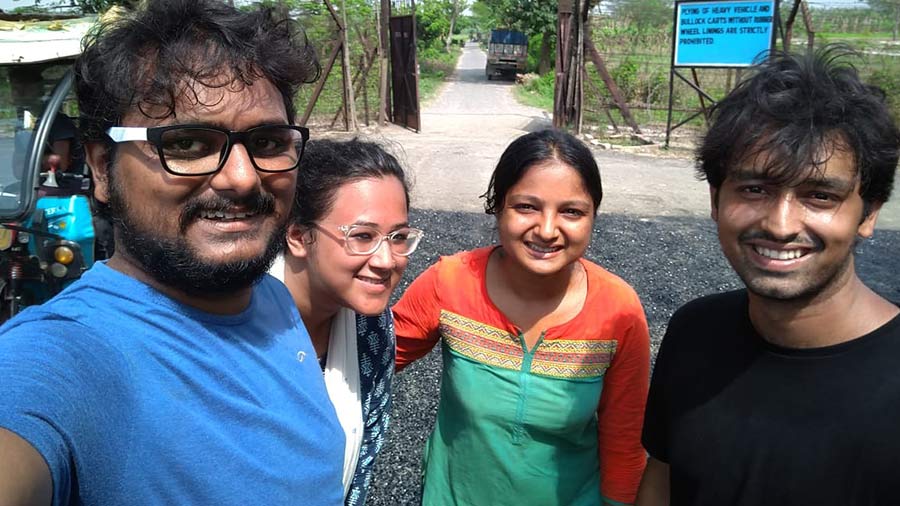 Samarth with his team at the Bangladesh border during the shoot of 'Borderlands'
Courtesy: Samarth Mahajan
Films to OTTs
In this age of transition and with the emergence of the OTT platform, Mahajan recalled his own film-watching journey. "Initially, I only watched Bollywood because in my home town there is no culture of independent cinema and there was no OTT platform back then. The first film I watched and cried through as a four-year-old was Hum Aapke Hain Koun!, then came Dil Toh Pagal Hai, Border, Lagaan. I only started watching world cinema or independent cinema after I started making films because people around me are very educated in films. My favourite Bengali film is Satyajit Ray's Mahanagar. Even by today's standards, it's a very modern film because people would find it difficult to accept that a woman can earn more than a man. I like a lot of Iranian films, especially the ones made by Abbas Kiarostami and Mohsen Makhmalbaf. Salaam Cinema is one of my favourite films by Makhmalbaf."
Does he binge watch films on OTT? "No, I don't. But I really like dark humour. There are shows on Netflix like Black Mirror and Love, Death and Robots. Also, there's a very old film called Harold and Maude that I like."
His own films
Kazwa was a short film shot in three days with no budget. "With The Unreserved (2017), we started getting into what people's lives are like. It's about 17 days in the general dabbas and moving around India starting from Mumbai to Kashmir, Dibrugarh, Kanyakumari and back. The Jagriti Yatra during my college days was one of the inspiring points for The Unreserved. It won the National film Award for Best On-Location Sounds at the 65th National Film Awards in 2018. We the People in 2018 was made to give voice to those who, in spite of shouting, don't have a voice! We found some interesting characters. A person was dead on paper but alive. A lady couldn't speak in Hindi, so her protest wasn't registered. There were farmers from Tamil Nadu doing crazy things to garner attention. My experience is that everyone is trying to create so much noise that it's almost inaudible because everyone's talking. The film also won the European Social Documentary Workshop Award."
Finding funds
Funding has always been an issue with films, especially non-fiction films. "It's been a mixed experience. There is a lack of funds for documentaries in India. Kazwa was within reasonable limits as most of us worked for free and collaborated mutually. The Unreserved had a sufficient budget to do two brand films for a start-up and we saved enough money. For Borderlands, we had to shell out a lot of money because the budget was huge. We decided to crowdfund and pitch it to co-producers as we wanted to control the story," Mahajan said.
Processing the film
Asked about what he keeps in mind while making a film from scratch, Mahajan said: "One is the fundamental idea of a film because every day you get ideas and every idea doesn't click. It's more about which ideas are coming back to you. My process is I will tell some of my closest people about it and I'll try and gauge how exciting it is for them and how am I feeling while sharing it with them."
"Once it comes to actually making the movie, I read a lot online, meet academics and journalists. This is all part of the research. Finding characters usually comes down to two methods. Sometimes we have a not-for-profit working with us that introduces us to potential characters. Sometimes it's a village where we meet the sarpanch, explain our motivation and they will help us. I look for people who are inherently warm and open up organically," he said.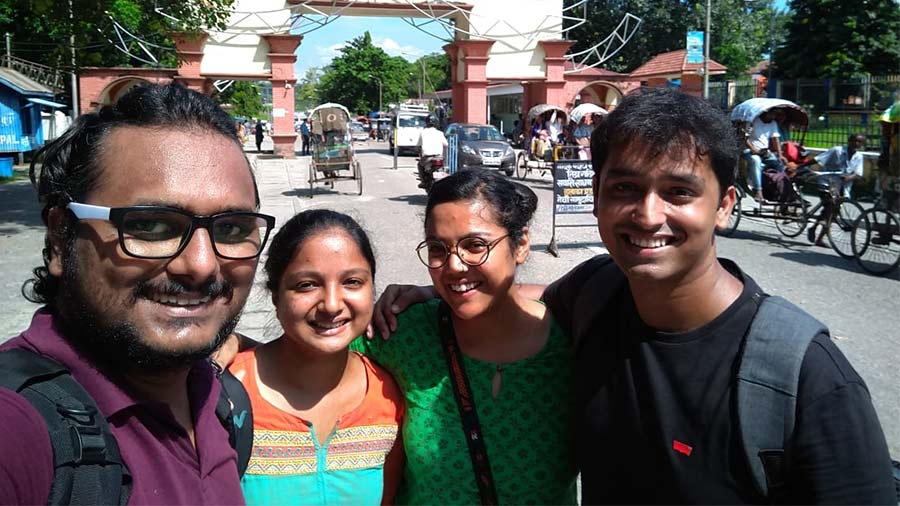 Samarth with his team at Nepal border
Courtesy: Samarth Mahajan
The pandemic effect
"It affected my experience of having completed a film more than just making a film. We were shooting Borderlands when the pandemic struck and we had to come back. My editor Anadi Athaley and I lived in the same building. So, all we had to do was edit, which made us very focussed. But as every filmmaker wants to travel with their film and promote it during film festivals; that perk was taken away because of the pandemic."
Samarth Mahajan, the teacher
Apart from being a filmmaker, Mahajan also teaches the basics of non-fiction filmmaking. "I take a full 45-hour semester course at Symbiosis Centre for Media and Communication in Pune called Introduction to Documentary Filmmaking. I do a lot of workshops across the country. My main focus is to make people aware that documentaries need not be boring. They are as interesting as fiction films. I introduce people to narrative documentaries. It is also important to create an awareness among people that though there is less money in this field, how one can actually make money.''
''Persistence is one lesson I want to inculcate. Just be at it and don't get de-motivated!"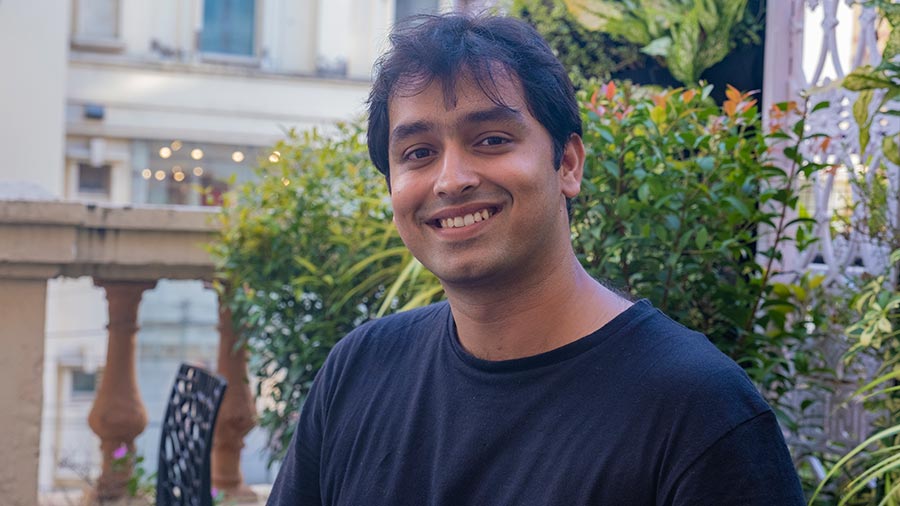 'My main focus is to make people aware that documentaries need not be boring. They are as interesting as fiction films. I introduce people to narrative documentaries,' says Mahajan
Ritagnik Bhattacharya
Unwinding
Mahajan watches a lot of content on social media. "I love watching a lot of cringe on social media. I watch a lot of strange meaningless stuff. I am a firm believer that life is fundamentally meaningless but we create our own meaning. I am passionate about three to four things. I love exploring places for good food, watch films, meeting new people and making films."
Kolkata, my second home
The very mention of Kolkata has Mahajan smiling. "I wish I could just stay here. Every year, I come here for at least two to three weeks. There's a certain calmness here for a person who is coming from Mumbai. Kolkata is more content as a city. People have a certain self-confidence. The food, architecture, legacy and heritage of the city, nolen gurer ice-cream and Indian Coffee House bring me back every time."