On the day of celebrating women and appreciating them for excellence in their respective fields, IIHM Presents The Telegraph She Awards Leadership 2022, which was recently held at JW Marriott Kolkata's The Grand Ballroom, brought together two talented musicians who were guest performers. Hailing from Maharashtra, percussionist Swarupa Ananth-Sawkar and violinist Shruti Bhave came together as a duo to perform a medley of well-known songs. While Shruti took the lead with the tune, Swarupa backed her up with energetic beats, both modern and traditional. The communication between the two was spot on. Before the performance, we caught up with the two artistes who specialise in world music.
Is this the first time the two of you performed together?
Shruti: We have collaborated earlier, we have virtually collaborated as well and now we are here.
How did you conceptulise the performance?
Shruti: It was a collage of different themes that would leave the guests guessing. The audience would be like: "Oh my God, I know this."
How does it feel to perform on a platform like She Awards?
Swarupa: It is an amazing platform to begin with. Women excel in every field but there are few such occasions where they are celebrated. So being on the same platform as some of the other women who got their awards was a great opportunity.
Coming back to when you met virtually, how did your friendship brew?
Shruti: Before Covid, we have played together and rehearsed. Thanks to technology, we can interact, exchange ideas, and put it all together. We both have been dedicated to our fields for more than 15 years, so it is easy to come up with something and take it ahead.
Swarupa: Shruti and I have known each other for a very long time, We have played together in many ensembles as instrumentalists. This is the first time we walked in as a duo.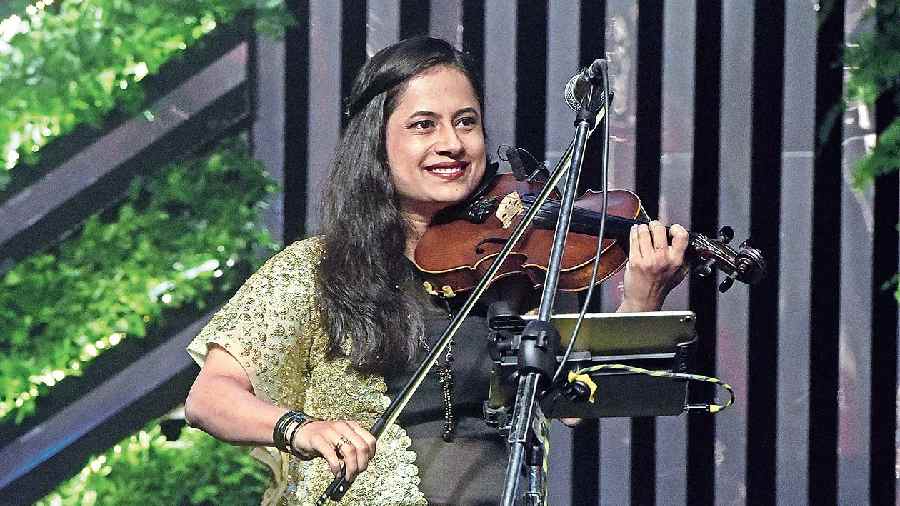 Shruti Bhave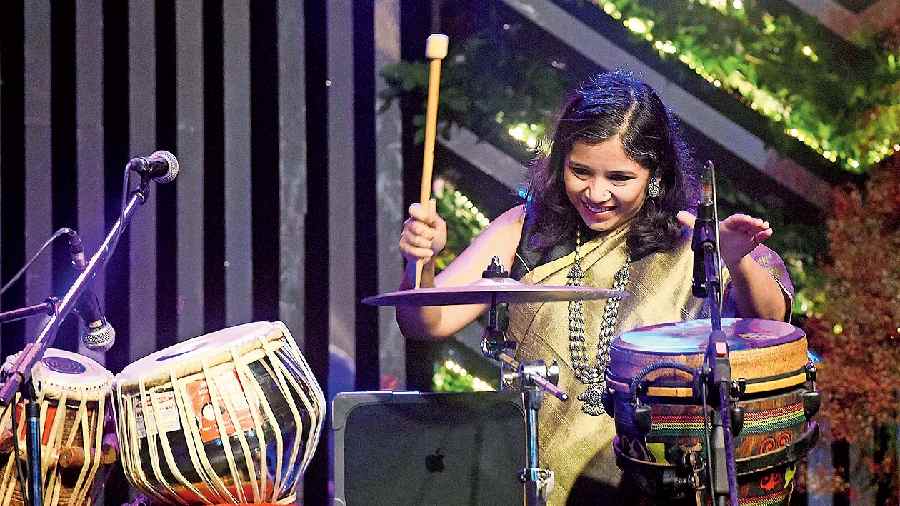 Swarupa Ananth-Sawkar
Shruti, your parents are also musicians?
Shruti: Hailing from a musician's family you really have no other choice (laughs). And I didn't know what else to pursue so it was a natural choice. I wanted to learn to dance but then my mother wanted me to learn the violin. I slogged during my teens because when you start to learn an instrument very late you have to be patient. Being from Maharashtra, there is a lot of folk, classical music and sangeet, so that is how I started as a soloist. Then I did reality shows, started in bands. The journey is on.
Swarupa, you were under the mentorship of Ustad Zakir Hussain. What was that like?
Swarupa: I come from a musical family too. My mom is a singer, my grandmother was a singer. I was gently pushed into music as a kid but you don't really realise that it is your calling until later when you have some sense of it. I started learning the tabla under Ustad Alla Rakha Qureshi when I was just 10. At that time he was just a teacher to me because you don't realise the magnitude at the time and when I grew up I saw him as my guru and felt lucky. After his death, Zakir Hussain took the reins and it's been a great long journey.
On Instagram you have put up a countdown to something?
Swarupa: (Laughs) That is the countdown to my debut solo album as producer and artiste. I have an album that is already out which is a collaboration with my flautist partner, my project Filter Coffee. But this is a solo album and it will be released on September 23. Incidentally, Shruti and I have been a part of this residency in the US called One Beat which is funded by the US State Department Cultural Affairs. I went this year and it was a life-changing experience where I planned an idea and came out with an album. I have been producing for10 years but I never called myself a producer, but I finally did that with some courage. It's a mix of experimental, electronic world music, interlaced with tabla and ethnic beats.
Both of you make fusion sounds with a modern touch and you have performed on international platforms as well. How do international audiences react to your music?
Shruti: We definitely get a fantastic response as long as we represent our culture from the grassroots. Representing our culture shows exactly who we are, we stand out, we are absorbed and it's easy to collab when you know your roots well. The way we appreciate Western culture, they respond in a similar manner. 
Swarupa: I have played at a lot of festivals across the UK and I think they perceive our music far better than some people here. Because they appreciate culture... there are only pockets in our country where people really appreciate our own music. They appreciate your culture and want to listen.
Shruti: They value it.
Swarupa: They are okay with experimentation also.
Pictures: Pabitra Das