When we aren't vibing to our K-pop playlist (think BTS, Blackpink, EXO and more!), you can be sure to find us glued to K-Dramas like Squid Game, It's Okay To Not Be Okay and Crash Landing On You. And almost each of these dramas come with a buffet of Korean delicacies which are sure to unleash waves of insatiable cravings for Korean Fried Chicken, Kimchi Fried Rice and tteokbokki, that simply cannot be ignored. 
My Kolkata has curated a list of recipes that can be rustled up from your home kitchen. Let's dig in, shall we? 
Breakfast Bites
Gyeran-Mari (Korean Rolled Omelette)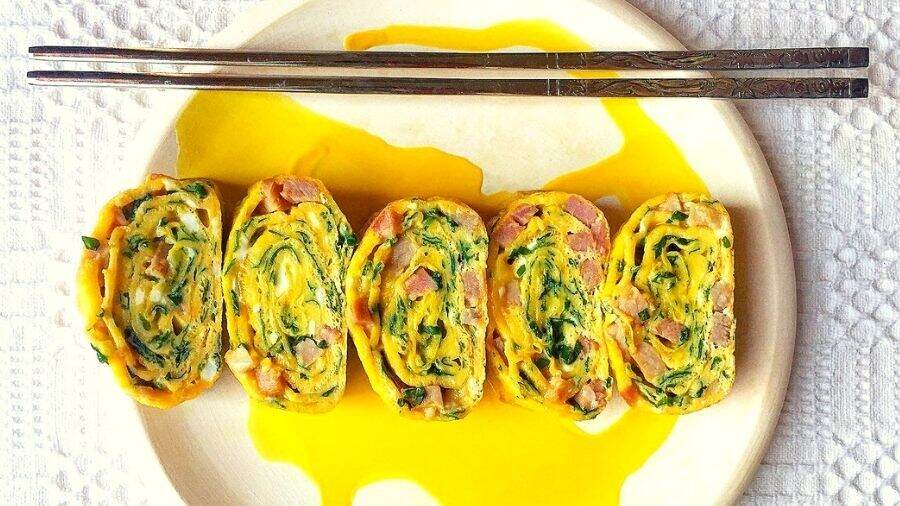 Gyeran-mari with a splash of sesame oil
@chilivanilia/Instagram
A mainstay in every Korean lunchbox, gyeran-mari is a delicate, layered omelette laden with caramelised onions and an assortment of crunchy vegetables. The caramelised onions lend a honeyed flavour while the colourful bell peppers (or veggies of your choice) add a cherry pop of colour to this eggy delight. Let it simmer on low so that you can nail that golden-yellow hue – the hallmark of a traditional gyeran-mari.
Remember the luscious lunches Geum Jan-di packed for Gu Jun-pyo in Boys Over Flowers? This lunchbox staple made quite a few appearances there!
Find the recipe here.
Yachaejeon (Korean Vegetable Pancakes)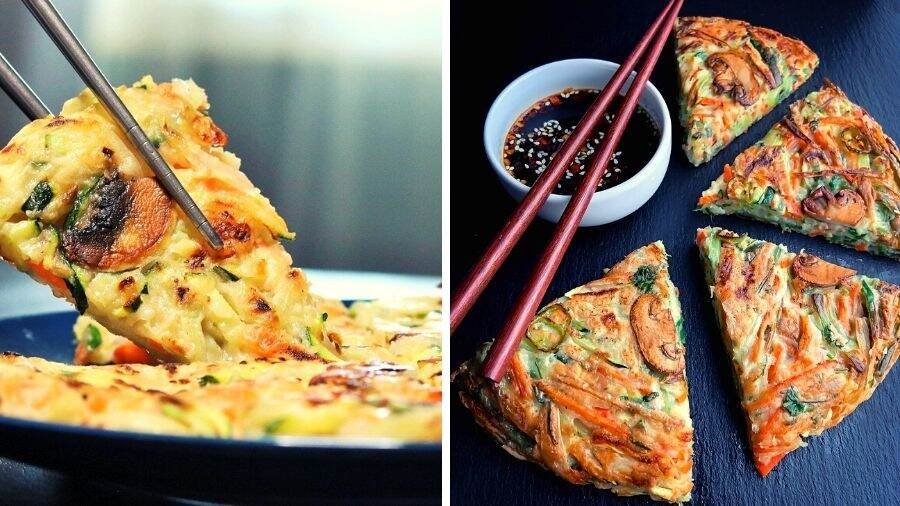 Ready to flip a Yachaejeon?
@dycedelices and Hussein/Instagram
A savoury concoction that blends earthy notes with hints of tang, yachaejeon is a bed of braised veggies that is usually paired with a bitter-sweet dipping sauce. Quintessential veggie picks include wild leeks, green onions, sweet potatoes, carrots, zucchini, green chilli peppers and shitake mushrooms. However, feel free to throw in your choice of vegetables for a flavour-packed pancake. Remember to add a generous dash of sesame seeds to the dipping sauce for that well-balanced tang.
Click here for the recipe.
Mid-Day Munchies
Hasdogeu (Korean Corn Dogs)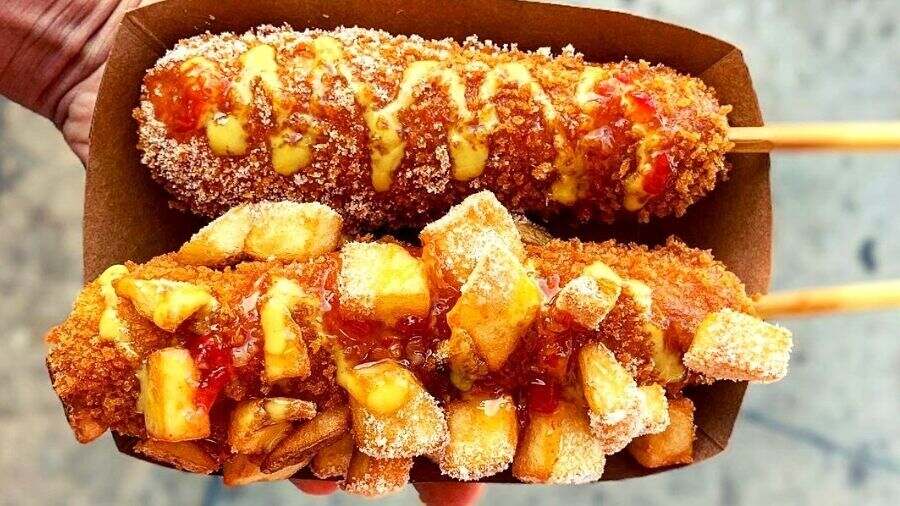 Hasdogeu — a cheesy snack-on-a-stick
@foodwithbros/Instagram
Hasdogeu is a deep-fried battered hotdog, a twist on the original American corndog. A combination of mozzarella cheese and chicken sausage, this snack-on-a-stick is our favourite Korean romantics' go-to pick. Enveloped in a mix of flour and bread crumbs, hasdogeu has all the essentials of fantastic fast food — easy on the pocket, quick to whip up and truckloads of stringy cheese oozing out. Topped with a swirl of tomato and mustard sauce, this crispy Korean snack is the perfect companion for a weekend binge-fest.
If you've watched Start-Up, Choi Won-deok's hotdog stall definitely built up a strong craving for this cheesy nibble.
Find the recipe here.
Yangnyeom chicken (Fried Chicken Wings)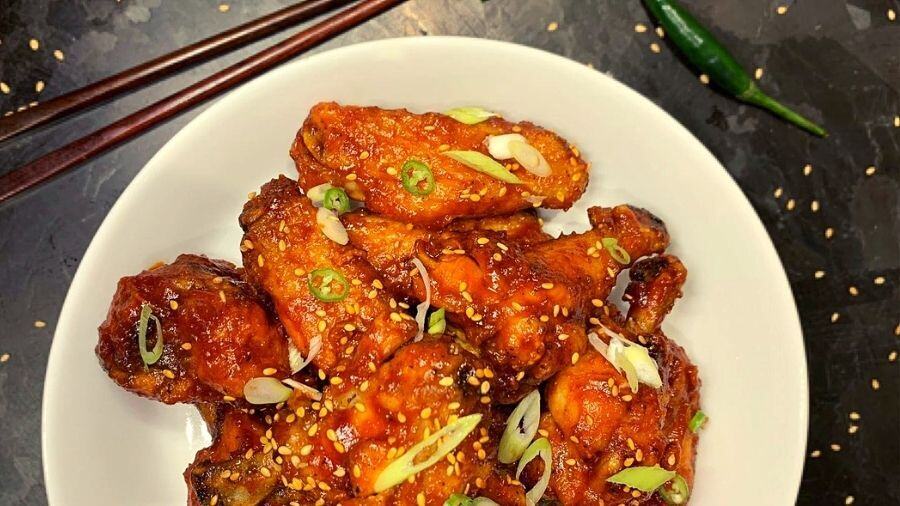 Yangnyeom — the OG finger-lickin' chicken
@the.foodgeographer/Instagram
Chicken is an all-time favourite in Korea. Yangnyeom chicken is a pop pick, courtesy of the blend of fiery and citrusy-sweet notes that tango off your palate with every bite. The hero of the fare is the gochujang sauce (Korean red pepper paste) – a concoction of red pepper flakes, fermented soybeans, glutinous rice, sweetener, and a range of authentic spices. The sauce lends a distinct taste to the dish, which itself is a combination of spicy, sweet, umami, and savoury flavours and always leaves you craving for more.
You can buy the sauce here or at Kolkata's all-things-Korean bakery — King's Bakery located in Park Street and New Town.
Gobble up this Korean delicacy just like Lee Gon did in The King: Eternal Monarch (and who can blame him, really?).
Click here for the recipe.
Hearty Meals
Tteokbokki (Korean Rice Cakes)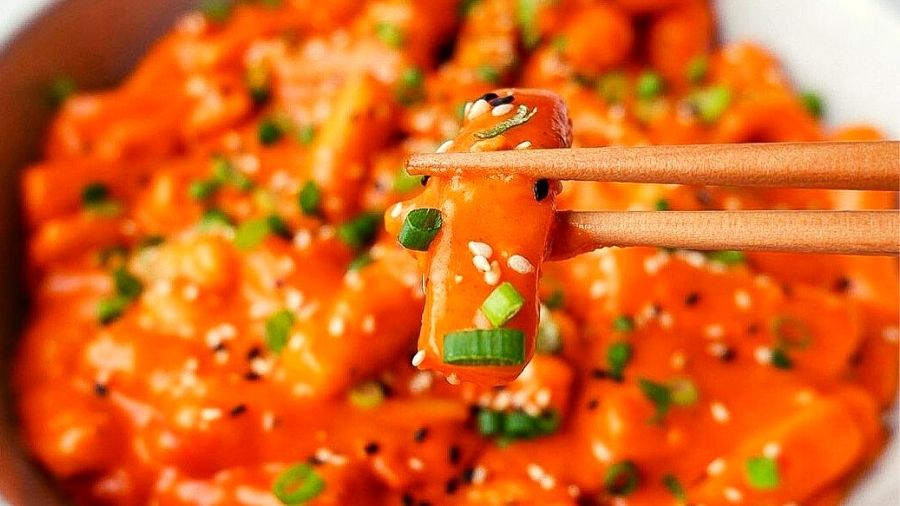 Tteokbokki makes for the perfect pick-me-up
@chow.down.under/Instagram
If something juicy needs to be discussed in a K-Drama, it's usually over a bowl of piping hot tteokbokki! A dish that warms the cockles of your heart, tteokbokki is made from spicy rice cakes, soy sauce, eomuk (fish cakes), boiled eggs, and scallions. It looks a lot like the Italian penne pasta but boasts a completely different flavour palate that can be adjusted according to individual preferences. From curry and cream sauce versions to the more extravagant seafood and rose strains – an extensive variety of this dish is prevalent in K-Dramas. The essential element for the silky broth are the rice cakes, so focus on nailing that consistency for a smooth, velvety finish.
Unquestionably, the most wholesome moment over tteokbokki is Dan-i and Eun-ho's heartfelt tteokbokki liplock in Romance is a Bonus Book, that left us teary-eyed.
Click here for the recipe.
Kimchi-bokkeum-bap (Kimchi Fried Rice)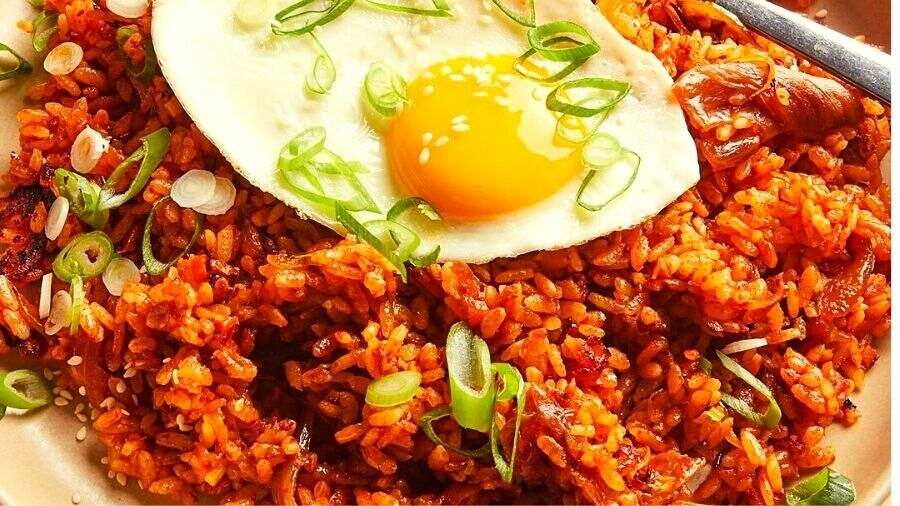 Kimchi-bokkeum-bap — a smokey fare to warm up a cold winter day
@kitchenstories_official/Instagram
Kimchi in Korea is twin to rice in West Bengal and constitutes a vital part of every meal. A stir-fried smokey mash-up, kimchi-bokkeum-bap is similar to fried rice, except that sesame and kimchi share the spotlight in this dish. It's prepared in the same manner as every other fried rice — by stir-frying a host of vegetables with spoonfuls of rice. Topped with some succulent meat cuts, kimchi-bokkeum-bap is a melting pot of flavour and promises to fill every corner of the house with a mouth-watering aroma.
A memorable moment around kimchi-bokkeum-bap is the family bonding session in Boys Over Flowers, which was a turning point in the drama's storyline.
Find the recipe here.
If you're not looking to don a cute apron and roll up those sleeves, Kolkata has a smattering of restaurants doling out well-prepared, reasonably-priced Korean must-haves.
Head to places like King's Bakery, Cafe TOV, Bite That Spoon and Asia! Asia! Asia! for some yum eats.
Follow My Kolkata's handy guide for a head-start.