The film Shrimati, which releases today, is the story of a simple, fun-loving, innocent, naive, a bit disorganised homemaker (played by Swastika Mukherjee) who falls prey to the dilemma of having a good personality or putting up an outward appearance. The film, directed by Arjunn Dutta, is a big shout-out to all the homemakers. The Telegraph chats with Swastika...
It's been two years since Paatal Lok where your performance was collectively praised. What changed after that?
The presence in the national space has become huge, compared to before and after. I am getting offers for many significant roles. And even after Paatal Lok I have given innumerable auditions. There is a process.
At the same time I have done a Netflix film and a web show for Disney+ Hotstar for which I didn't have to audition. See, people in the industry and trade will give you work. You making a presence for them is important. You have to be in people's knowledge through your performance and actually get deposited into their minds. That must have happened with the kind of work I am doing... everything is pretty substantial.
I want to do meaningful work where people will remember my performance. That is the process I have followed here. I am following the same process there.
Are you doing more work in Bombay now?
Depends on the work. If people in Bombay know that you are staying in Bombay, they might think of you more. That's why it is important to have a base there which I have now.
What's the criterion for doing a Bengali film now? It has to be really special, right?
That's how it has been for a really long time. In the last 10 years I have done films here that have really excited me... and it's also really important to be paid well. If I'm doing a film or web show that's being sold on my name, you'll have to pay me for that.
But surely you get to hear requests where you have to consider?
I have been hearing this since I was 21. That there's no budget. I have 'considered' for 20 years. Not any more. At 21, I was trying to make my mark, and I had considered then. Now people come to watch my films for me. They are buying tickets for me. Then one has to pay me. I come from a generation of actors where OTT was not there. It still feels nice seeing my face on a poster, seeing yourself on the big screen. It still has its own charm and thrill. I had started working in films when they were shot on celluloid. There was no monitor then. I see people nowadays checking their scenes on the monitor. I don't have the habit of checking my scenes on the monitor.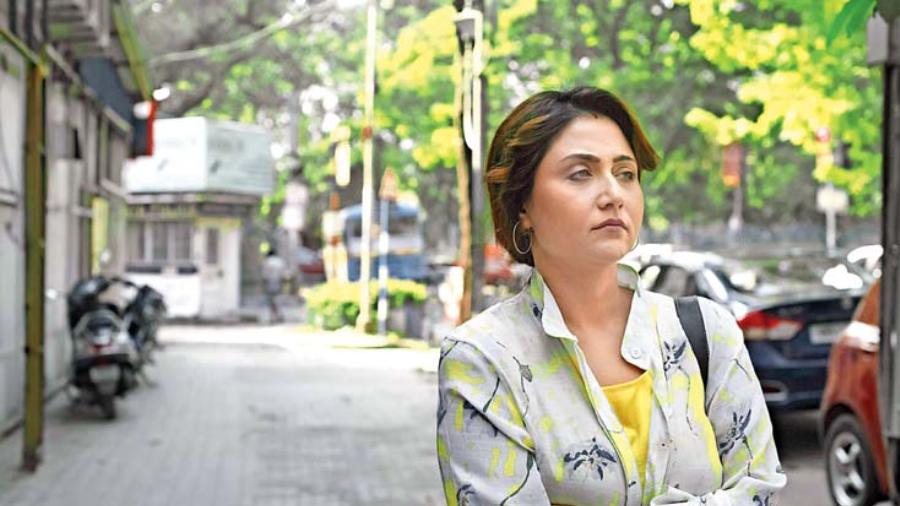 Swastika in Shrimati, which releases today
When you are shooting for Hindi films and web shows, the sound is recorded at the time of the filming. But here one dubs. How challenging is it to shoot in sync sound?
In sync sound, every shot is do or die. That's going to stay. You won't get to correct anything unless there is a technical problem. One has to be really prepared and the concentration level has to be a hundred times more.
What attracted you to the script of Shrimati?
For a very long time we have been portraying homemakers as a very weak, vulnerable, unhappily dependent, sad, depressed, frustrated people, who are disgusted with their life... that they are not actually doing this by choice.
In the portrayals we see that either their in-laws have forced it on them or husbands have forced it on them or someone else has forced it on them. I myself have done so many roles where leaving the household was an essential part of women's liberation. Going out and becoming financially independent was women's liberation. Standing against all odds thrown at you by the rest of the family was part of women's liberation.
When we talk of women empowerment we never include homemakers. Why is that? But can I say my mother was not independent? Or that she didn't do things that interested her? I can't say that. I had never seen a more enthusiastic personality than my mother. And in 24 hours, she could do 400 things. And that all our mothers can. Somehow we have been made to believe that financial independence is the only form of independence. I have many friends who are well-educated and they have become a homemaker by choice. If you are talking about the other choice, you have to also talk about this choice. I thought we also need to tell these stories. Living life on her own terms also works for the homemaker. It is an assumption that this lifestyle has been forced upon the homemaker. We often shun them in a corner, which is sad. They are somehow not included in the discussion about women and feminism. You don't hear a homemaker being included in such a debate or seminar. There are many households including mine... my father had just earned. My mom took care of all our finances, investments and accounts. She was not a commerce student. I had earned the money and gave my mother the cheque. Don't we have so many families where a portion of the monthly salary is handed to the mother or wife, and then they decide how they will run the household.
People who are going out to work can do so because there is someone taking care of the household. You are dependent on someone or the other. How are you fully hundred per cent independent then?
On a personal level, I was happy playing a character who is very happy in her marriage. I am just beyond done playing characters whose marriage, love life or relationship is tattered. On screen, dating a man or woman has been so full of negativity... I think it was getting to me. If you are playing characters who are so emotionally devastated...
It gives you a great scope to perform also; the roles get an emotional heft in the tragedies of life...
After shooting for Shrimati I realised it is not always the dark, intense, psychologically derailed characters that give you the scope to perform. This is difficult only.
I had to become this soft, dependent, lazy, naive character ... someone who is happy in her cocoon. It is also difficult because this is not how we live nowadays.
The film is also about finding her identity...
Of course, you'll lose yourself 10 times and you'll have to find yourself. You can have qualities that are extraordinary. You always don't need to go out and fight a war or fight with the world, and go up the hierarchy to prove a point. I did not want anything of me to overpower that person. Shrimati is loved and cared by all... to feel that essence of security and protection even in a make-believe character was giving me some kind of solace. I was feeling secured, taken care of...
This is the first time you have paired up with Soham for a film...
It's a miraculous casting decision. You would want to see these two people together. At times we have felt this for various on-screen couples. Soham has also kept the moustache. I like him as an actor. I have watched a lot of his commercial films and liked his performance. Shrimati is getting amazing feedback on social media. People are connecting with the characters and moments.
Picture: B. Halder