Lingerie moghul and casual rulebreaker Rihanna once famously said, "If I'm wearing a top, I don't wear a bra. If I'm wearing a bra, I just wear a bra." And we see a lot of merit in her logic. If you're splurging on a ritzy party bra or athleisure picks this season, why hide them under a shirt?
Buying bras or shapewear online is no longer a chore as homegrown brands are stepping things up with their size-inclusive and buyer-friendly services. Not only are designers making bras more body-loving, but are also ramping up their style quotient so they can double up as dressy loungewear or even better, a bra top!
So if Deepika Padukone's Gehraiyaan wardrobe has you doing a double-take, you should probably take yoga bras more seriously. My Kolkata helps you dive into the world of effortlessly gorgeous bralettes that are a must-have this season.
Maikai
Vidya Sethi's size-inclusive label Maikai is making bespoke cotton sports and yoga bras that prioritise coverage and do not use micro-plastics. The slow fashion brand is making block print cotton bras with double fabric lining, that offer support without pads.
Every piece is made-to-order, which means every bra is stitched to fit one's size based on the measurements given by the shopper while placing the order.
Available in 29 vibrant prints and colours, their line of slinky cotton bralettes offer a great fit and can be paired with sarees or with boho skirts.
Tailor and Circus
Sustainable label Tailor and Circus is putting comfort first with their line of lounge bras. Created from a fabric called Modal Micro, their bralettes are thrice as soft as cotton and more breathable. This fabric is sustainably cultivated in Austrian forests and is extracted from a natural beechwood pulp.
The brand has a focus on gender-neutral design. Their U-Back Lounge Bralette is the ultimate athleisure pick. It offers unrestricted movement and is available in 30 prints and colours, you can even grab matching high-rise 'cheekies' and hipster briefs to go with them.
The best part about the bras is definitely the diversity in sizes. The brand offers sizes ranging from XS to 5XL. Style this with a pair of fitted denim and layer it with a button-down shirt. Throw in your favourite chunky sneakers and you're ready!
Mulkaai
Mulkaai is known for their delicate floral hand-block printed designs that are functional (their dresses have POCKETS!) and comfortable. Their pieces are size-inclusive and range between XS-4XL making sure no matter which size you are in, you can look confident and gorgeous.
Their scarlet rose bralette, for instance, features hand block Sanganeri print, stretchable elastic straps and extra cotton lining. They come in padded and non-padded options and the side-zipper ensures a snug fit.
Their leheriya printed halter top provides great coverage and is perfect for music festival styling since it has light pads and a tie-up neck detail that makes them longwear-friendly.
Their Anti-Corset bralette is made in a rayon cotton blend fabric and comes with stretchable straps and light padding.
Deusa the Label
Deusa's aesthetic is clean, simple and sharp. Designing clothes with a sense of structure is what they excel at and their bralettes are no different.
They have two distinctly different bralette styles—boss lady and hippie. Their linen bralette is sleek, sharp and flattering on all body types. Featuring an elastic waistband, this bralette is comfy and looks exceedingly sleek. Pair it with a pair of structured trousers and a blazer to complete the look.
The boho-chic bralette is like a summer top with puffy sleeves and hugs all your curves to offer a great fit. This wrap-style bralette has a tie-up detail that lets you flaunt your midriff and adds a dash of sex appeal. All you need is a great fitted high-waisted denim and heel to make the world your runway.
Sand by Shirin
Shirin Mann's label Sand offers fluid, minimalist fits and uses fabrics that are completely sustainable made from aloe vera, eucalyptus, rose, soybean protein and banana. Their luxe bralettes are the epitome of luxury resort wear and will give you all the main character energy you need. Their bandeau-style numbers are the most popular. They offer a snug fit and act as essentials, so you can look like Kylie Jenner on an errand run.
Despite being simplistic, the muted hued numbers are dressy and go with almost every other colour.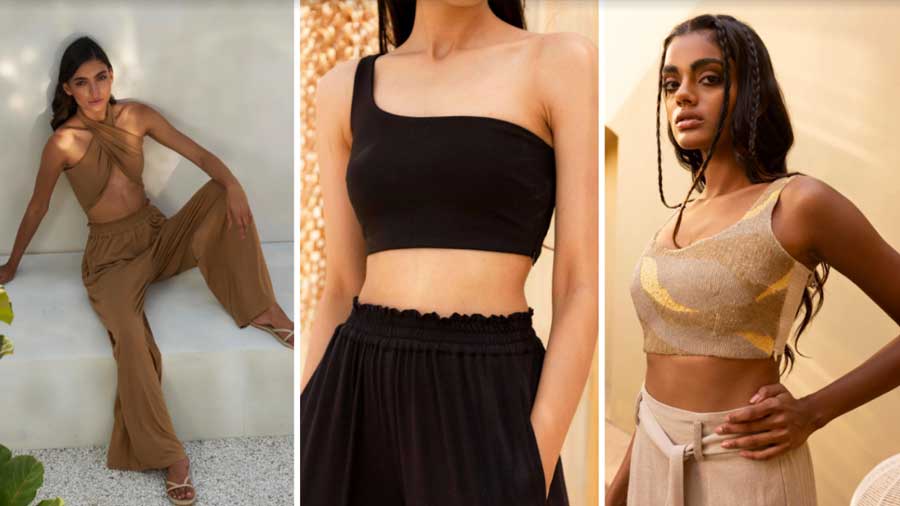 (L to R) Twisted Bandeau, One Shoulder and Tahiti Bandeau by Sand by Shirin