Later this year, iOS 17 will be available on all iPhones, onwards of iPhone XS. For the moment, the developer beta of iOS 17 is available and will be released as a public beta next month. Early beta releases are for developers to help them keep their apps up to date and get early access to upcoming features.
Practice gratitude with Journal
Journaling is a great way to practice gratitude. Apple is bringing a new app called Journal later this year. The iPhone can give suggestions on what to write about: music, photos, workouts and more. Using on-device machine learning, the app can make suggestions to inspire journal entries; it can analyse recent activity from photos, workouts, interactions and travels. You can also schedule notifications to remind you to write and maintain a journaling routine. With the ability to lock the app, the use of on-device processing, and end-to-end encryption will ensure high levels of privacy. With the new Journaling Suggestions API, developers will be able to add journaling suggestions to their apps. This one will do really well for Apple.
StandBy displays
The Always-On lock screen display has been a hit with Apple. It's time to take it a step forward with StandBy, which works as a smart display, showing the time, temperature, schedule, and other key info when your phone is in horizontal mode. In fact, what gets displayed is up to you. It can be helpful on a nightstand, kitchen counter, or desk, and can be personalised to display a range of beautiful clock styles, favourite photos, or widgets, including Smart Stacks, which show the right widgets at the right time. When charging with MagSafe, StandBy remembers a user's preferred view.
Allow some NameDrop-ing
We think this will be one of the biggest trends once iOS 17 is rolled out. Say you are at a conference and want to share your contact details. Now we hand the phone over to get the number keyed in and that's not the best of ways. Or send a text message… another clumsy way. With NameDrop, two iPhone owners just need to bring their phones together — one phone contains the person's contact card and the other is a receiver. The contact information will be automatically sent from one device to the other. You can easily choose the information you want to share, like work email address, work phone number and so on. This feature works across iPhone and Apple Watch, the company says. The same gesture can be used to share videos and large video files. At the moment when you AirDrop a video, you have to be within range. Now you can step outside of AirDrop range and the content will still continue to transfer over the Internet.
Here's one word for you — Siri
The rumour was true, you can now wake up Siri by simply saying 'Siri'. Once activated, users can issue multiple commands in succession without needing to reactivate the assistant. Don't try it now; wait for iOS 17. It's not about the number of words that makes a wake-up command successful; it's about the phonemes and the diversity of the sounds.
Live FaceTime Voicemail
Users will be able to leave video voicemails on FaceTime. If you try to FaceTime a friend and there's no response, you can leave a message. Apple is also adding a feature that will do live transcription while contacts are leaving you voicemails. If you are busy in a meeting but think the voicemail transcript is important, you can go ahead and take the call. It'll also be useful to see if an unknown number is something important or is just another spam call.
Check In to be safe
You can keep a friend or family member updated on your journey. For example, you can use Check In, which notifies the person of your whereabouts. If they are not making progress toward the destination, useful information will be temporarily shared with the selected contact, such as the device's location, battery level, and cell service status.
Contact Poster
When you share your contact, you want the contact card to look good. With iOS 17 you will get personalised Contact Posters. Users can customise how they appear, bringing a completely new look to incoming calls, and choose beautiful treatments for photos or Memoji, as well as eye-catching typography and font colours. Contact Posters will also be available for third-party calling apps.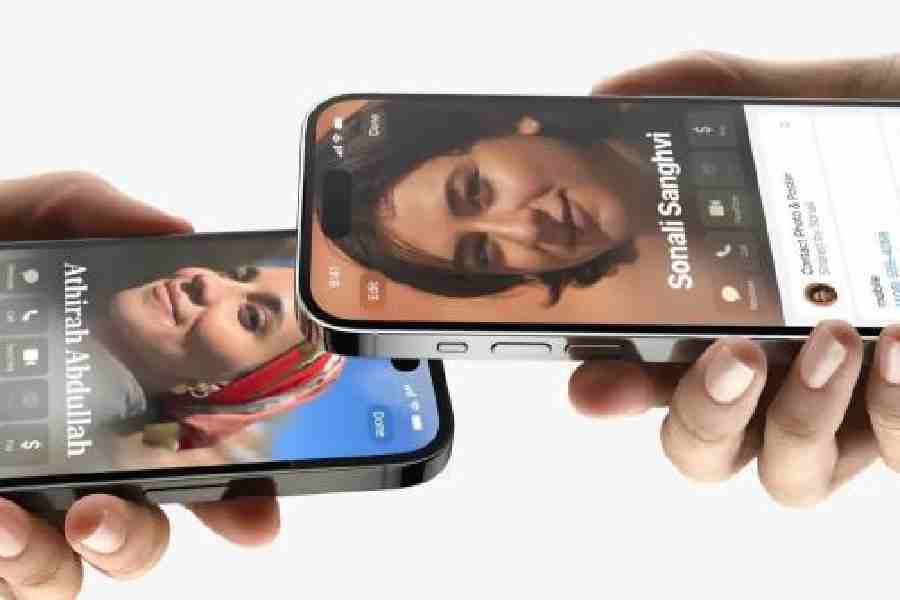 NameDrop allows users to easily share contact information by simply bringing their iPhone devices together