A lady carries the Holy cross along the tram tracks of Rafi Ahmed Kidwai Road. 
She walks barefoot, her anklet keeping rhythm with every step. Her lips quiver, but it is not because of the scorching April heat; listen closely and one can hear the murmur of a prayer. 
A Bengali Christian, she wears sindoor (vermilion) at the parting of her hair, a symbol of marriage. She is participating in the Seven Church Walk, a Roman Catholic ritual carried out on Good Friday in the Holy Week leading to Easter.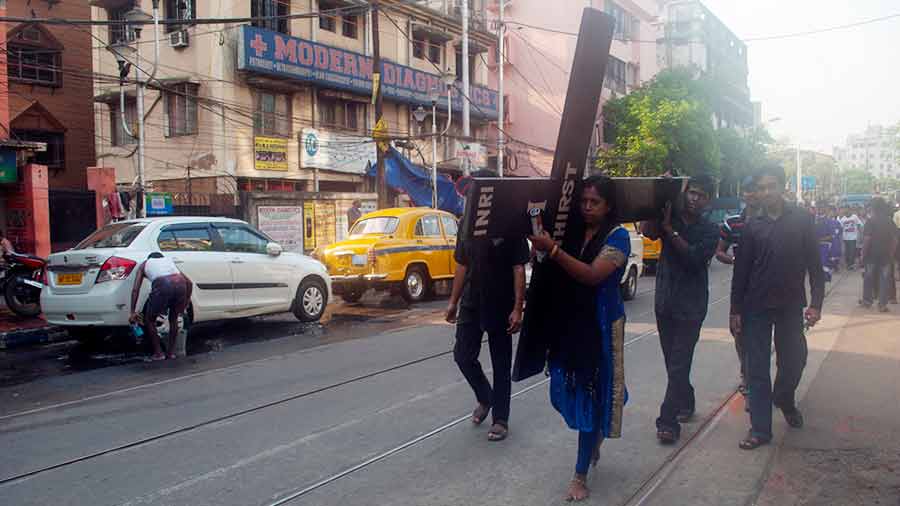 A woman carries the Cross along Rafi Ahmed Kidwai Road
Seven-Church Walk is a Roman Catholic tradition originating in 16th-century Rome, when St. Philip Neri and his friends would visit the seven basilicas of Rome.
Today, the tradition is a ritual for Roman Catholics all over the world, and Kolkata is no exception. Almost every Roman Catholic church in the city organises its own Seven-Church Walk. Many people prefer to do it independently or with friends and family members. The paths of these individuals or groups often cross and though one is in a prayerful mood, there is always a greeting, smile or a nod of acknowledgement, as the eyes meet.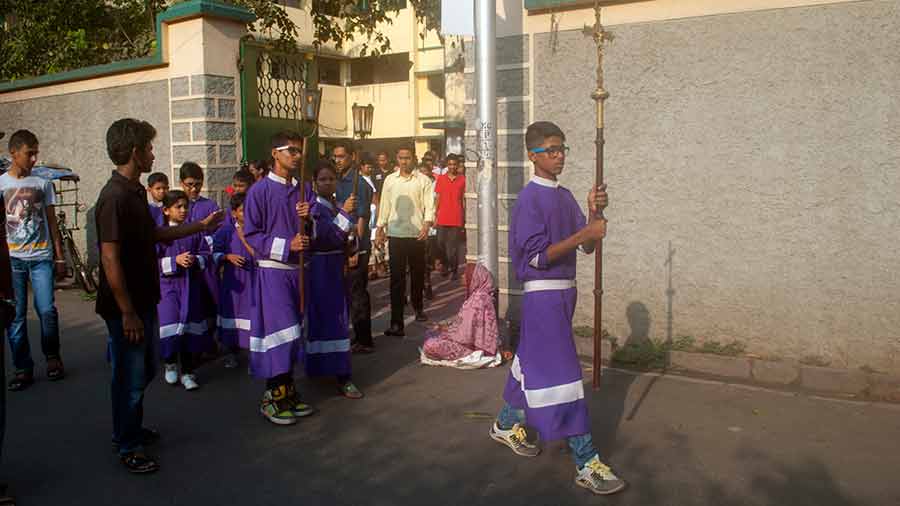 The walk moves out of Loreto Day School (Elliot Road)
The churches range from big ones, with lofty spires, to quiet little shrines inside schools and even private residences. The churches are usually located close to each other or in adjoining neighbourhoods; this helps to keep the walk shorter. Those who walk in faith carry crosses of different sizes or carry the rosary wrapped around the fingers, counting beads with each decade of prayer said out aloud, and interspersed with the singing of hymns.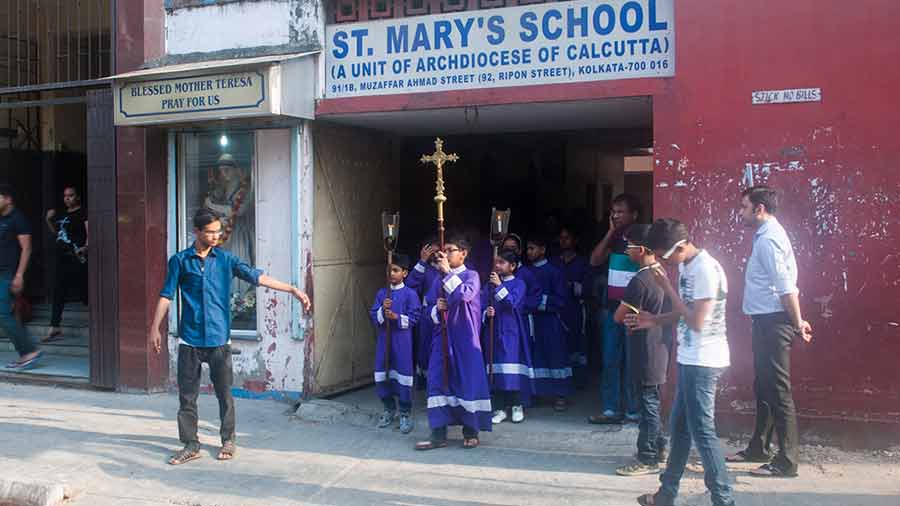 Heading out of St Mary's School
The St. Teresa's Church on A.J.C. Bose Road, near Moulali, organises a Seven-Church Walk. The walk starts at 7am from the beautiful red building, built in the late 1980s, standing out with its twin minarets. The walk is led by groups of young men who take turns carrying the huge cross inscribed with the message 'INRI I THIRST'.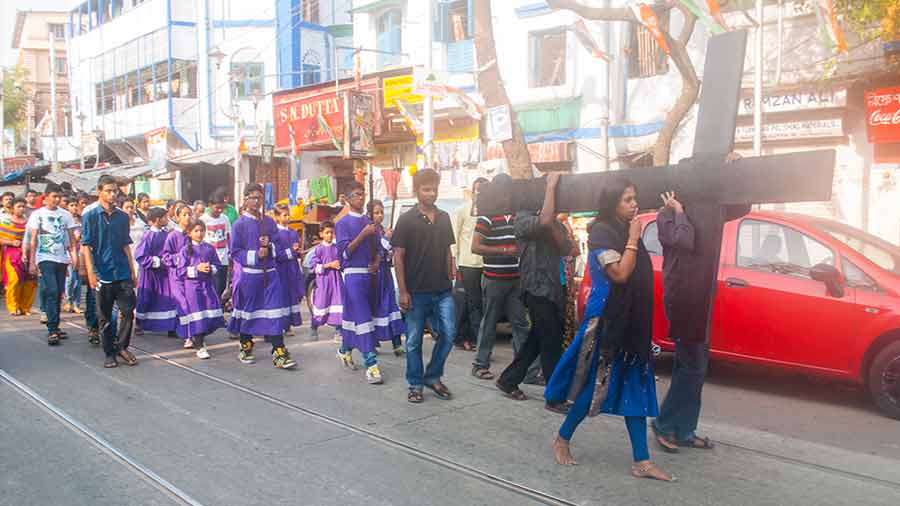 The walk moves along Rafi Ahmed Kidwai Road
They are closely followed by a group of young boys and girls, dressed in bright purple albs. The group leader carries a crucifix, mounted on a pole. He is flanked on both sides by candle-bearers. The group stops at each church for some time to offer prayers and sing hymns.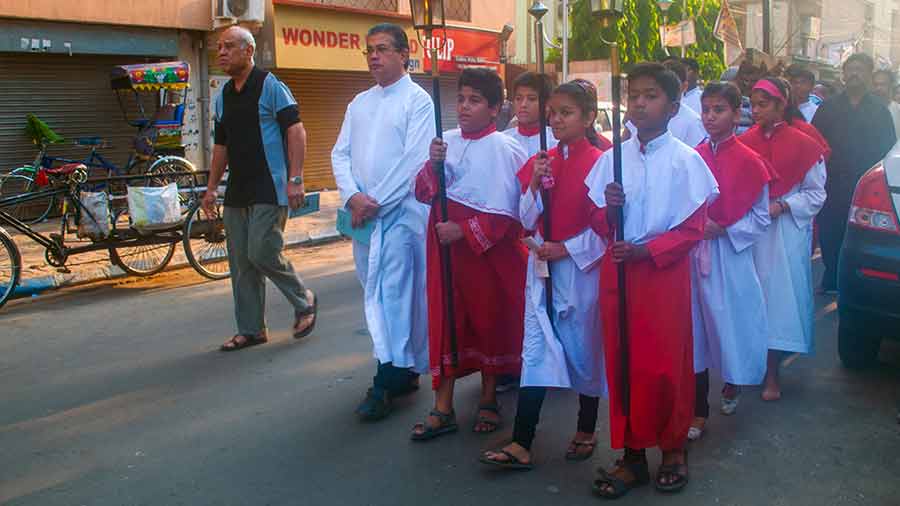 Another Seven-Church Walk group on Ripon Street
The seven stops, on this particular year, were as follows:
St Teresa's Church (AJC Bose Road)
Nirmala Shishu Bhavan, a unit of the Missionaries of Charity (AJC Bose Road)
Convent of Our Lady of Providence - Girls' High School (AJC Bose Road)
Mother House of the Missionaries of Charity (AJC Bose Road). This is where many groups meet.
St. Mary's School (Ripon Street)
Loreto Day School (Elliot Road)
Prabhu Jishu Girja (Rafi Ahmed Kidwai Road)
Note: The route varies from year to year, and the photographs used in this article are from an earlier year and were published previously.

Rangan Datta is a mathematics and management teacher by profession and a travel writer and photographer by passion. He has been addicted to discovering off-beat places since his undergraduate days at St. Xavier's College. Blogging and contributing to Wikipedia are his other passions.