If it's extreme portability you are looking for, the two-in-one laptop is what you need. You know them well… the ones that can be a laptop as well as a tablet. What you don't usually get on these is a great screen. That changes with the Samsung Galaxy Book3 Pro 360. Light chassis, big screen and bigger battery life. All these may not sound like having the potential to blend but it does, making this year's iteration of the 2-in-1 a big canvas for productivity.
The company has lately started making a push for the PC market in India but, at the same time, been cautious of the number of devices to present. The 2-in-1, which many call the convertible or hybrid, laptop has a few advantages over other form factors. These tend to be thinner than traditional laptops, so they don't appear bulky when used in tablet mode. Using them in "tent" mode can be great for giving presentations or while watching a film. Also, these are very capable machines when it comes to making illustrations or taking down notes.
Bigger display? Yes, and deeper
Samsung is famous for its screens, and this Galaxy Book is a perfect example. As the name suggests, this is the third iteration but one of the only things that was holding this particular model back was a 1920x1080 Full HD display. Now it's a 2880x1800 pixel display in a 16- inch form factor. That makes it sit somewhere comfortably between a 2K and a 4K resolution (with adaptive 120Hz refresh rate).
How does it translate into something worth your time and money? After a few years of working inside the confines of the home is making most go back to cafes and working outdoors. The brightness has been bumped up from the previous generation. The biggest update is the aspect ratio, which now is 16 by 10, making it taller and more things fit on the screen while editing videos and photos. Despite a different aspect ratio, thickness remains unchanged over last year's model and so does the weight.
As machines evolve, companies tend to blunt corners to bring down prices. That doesn't seem to be the case here. Looking at the Book2 and the Book3, you get three USB Type-C ports and a micro SD card reader plus a headphone jack on the former whereas on the Book3 there is an HDMI port as well as a USB Type-A, however, the third USB Type-C has been removed. Personally, I like that because I have a lot of devices that still use USB Type-A. More the number of ports, the better the chances of holding on to the machine for years.
Ultra-thin laptops always pose a challenge when it comes to offering a good typing experience. There are improvements. The chiclet keys have a more noticeable travel and retaining the number pad makes data entry easy. Typing 70 to 90 words per minute with high accuracy is easily achievable. Now that the aspect ratio of the screen has changed, the already big touchpad has become gigantic. At 5.9 x 4.3 inches, this is far larger than on rival devices. You can easily glide over it and use all the gestures that Windows 11 supports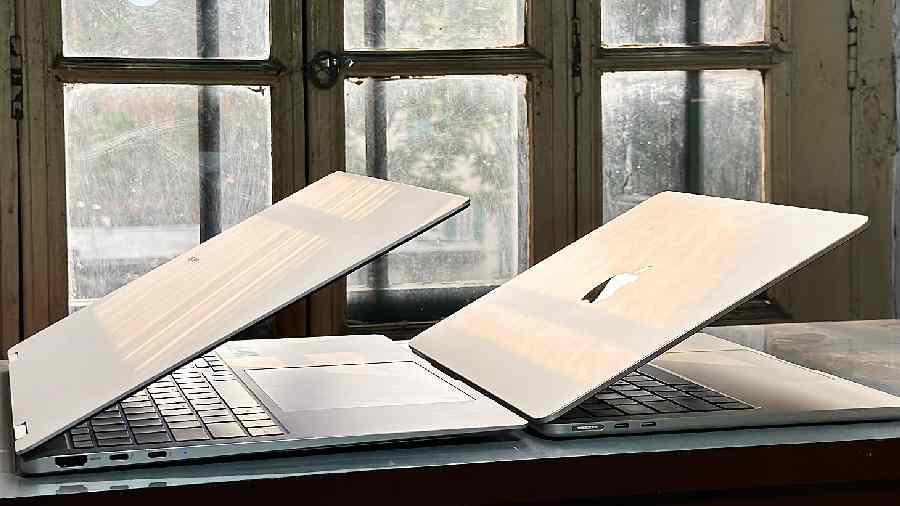 Samsung Galaxy Book3 Pro 360 versus Apple MacBook Air (M2, right): Both are equally slim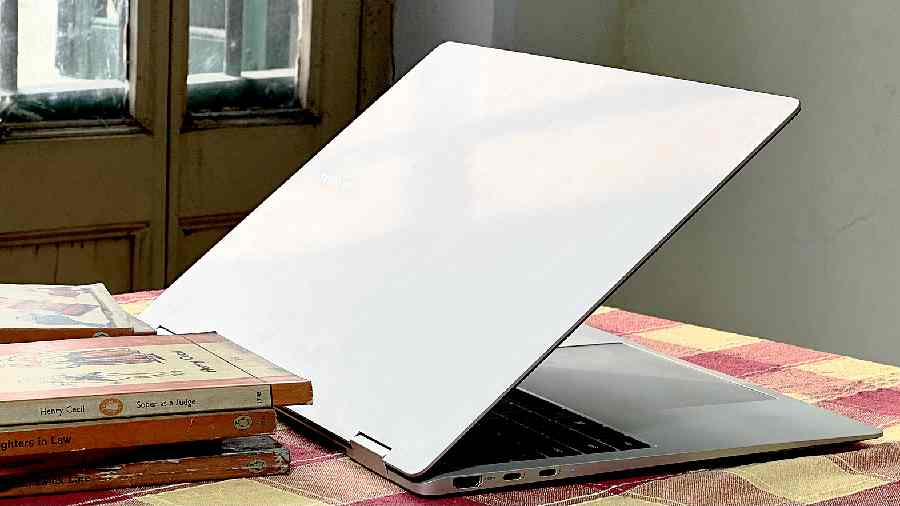 The hinge on the laptop is sturdy and comes into play during tablet and "tent" modes
Bring out the artist in you
With the devices comes the S Pen, which Samsung has been adding to its boxes for years. I really like using this stylus — the lines are smooth, you don't get weird blobs or anything, it holds pressure well and there's a really nice tapering at the end of any line. While using it as a canvas, the 2-in-1 form factor comes into play. The hinge is sturdy and while taking down notes or drawing, you fold the screen over the keyboard.
The S Pen doesn't have the weird feel of rubber against a glass screen. After a few minutes, you will notice how natural it feels to draw. Even the palm rejection on this machine is quite good. Palm rejection is a technology that you use to write or draw while resting your palm on the screen without registering unintended marks on the digital page.
Gripes? While using software like Adobe Fresco or other Windows-based painting tools, I tend to use a lot of shortcuts on the keyboard. If more shortcuts are allowed on the screen while the keyboard is folded in 2-in-1 mode, the workflow will improve. Second, there is no place to store the stylus in the laptop.
The biggest advantage of going into tent mode is while watching films. The keyboard disappears, leaving you with this giant, bright AMOLED 2X display. The AKG Quad speakers (Woofer Max 5W x 2, Tweeter 2W x 2) offer an excellent soundstage without any overpowering bass.
Should you buy it?
It's a Windows laptop but there is a bunch of Samsung software that's useful — combining voice notes with written memos, a simple video editor and a security centre that makes you feel safe with data and privacy.
Powered by 13th Gen Intel Core i7-1360P processor (top model), you get top-of-the-line performance while graphics is restricted to Intel Iris Xe. Having 16GB LPDDR5 memory and 1TB of NVMe SSD (there are several other variants) allows you enough headroom while working with videos. Though the chip doesn't beat the Apple silicon, the laptop is fast in practice and it holds its ground while playing games like F1 Manager 22.
The bigger display could have easily knocked down battery life but getting more than eight hours of screen-on time with the brightness turned up and continuous web surfing is more than acceptable. Thermal management has also been improved, so you will continuously have a cool machine. Needless to say, there is tight integration with a phone like the Galaxy S23 Ultra. This is important because we are reaching a point where having a full Samsung setup is making more and more sense. Apple has its universe. So does Samsung. In a segment that has very little competition, Samsung Galaxy Book3 Pro 360 wins with its light chassis, massive display and, of course, versatility.
At a glance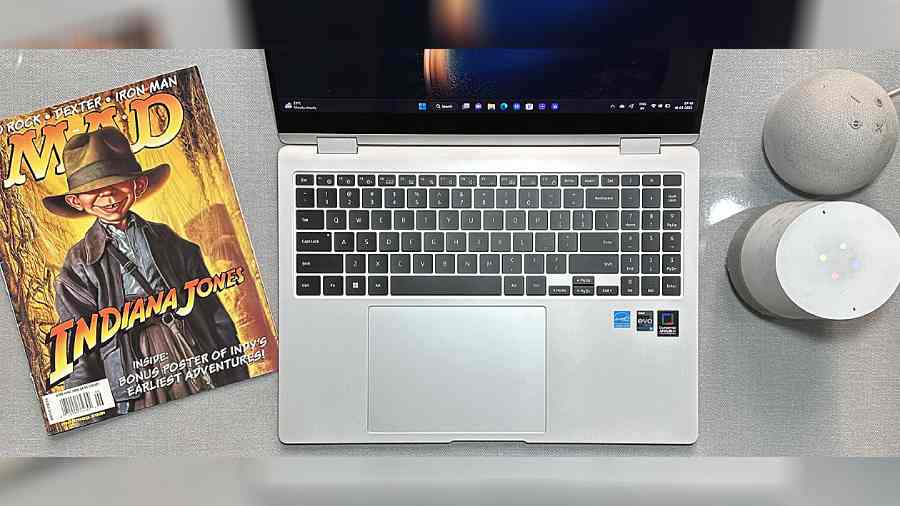 The trackpad has become bigger than before and it's very responsive
Device: Samsung Galaxy Book3 Pro 360
Price: Rs 179,990 (16GB RAM + 1TB storage with 13th Gen Intel Core i7-1360P; there is also a 13th Gen Intel Core i5-P model, priced at Rs 155,990)
High notes
Screen sits comfortably between a 2K and a 4K resolution
Full-size keyboard with massive trackpad
Lightweight with enough processor power
Good battery life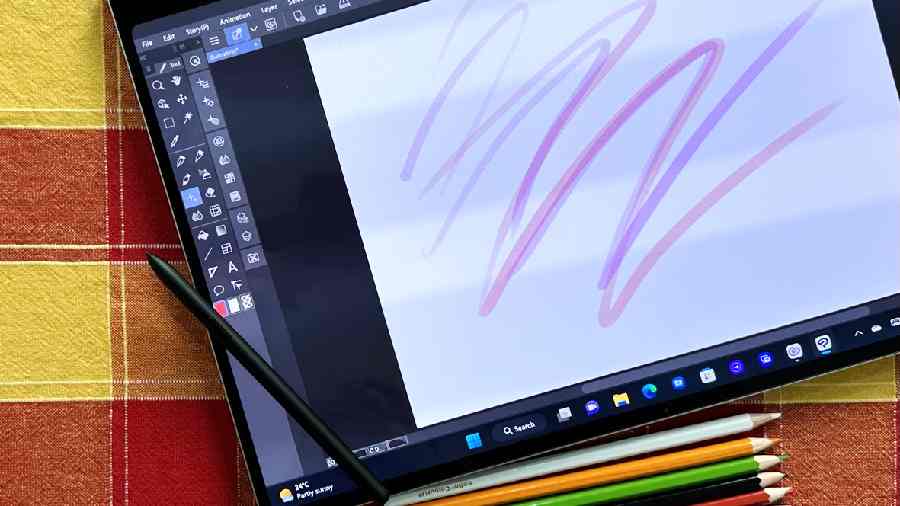 The S Pen comes in the box. Using it, you can take notes or draw on the screen
Muffled note