"We're not a band, we're a family," smiles Darren Manuel, one of the founding members of the popular city band, Blue Mist. One conversation with the ensemble and that sentence comes to life. Music is usually the essence of a band, but with Blue Mist, a sense of belonging prevails — making each performance a real tour de force.
The troupe came to life in the summer of 1993 when five friends — Alan D'Rozario on the guitar, Clayton Quigley on the bass, Cary Bishop on vocals, Darren Manuel on drums and Claude Perril on keys — joined forces out of a shared love for music. Three decades later, Blue Mist comprises Darren Manuel on the drums, Dean and Samantha Martin on vocals, Dominic Cazo on the bass guitar, Carlyle Highland on the ivories and Mrinal Dhote on the guitar. 
With Blue Mist set to complete three decades in the music scene soon, My Kolkata gets the lowdown on the father-daughter dynamic, the Michael Jackson medley that's all the rage, memorable moments over the years and more…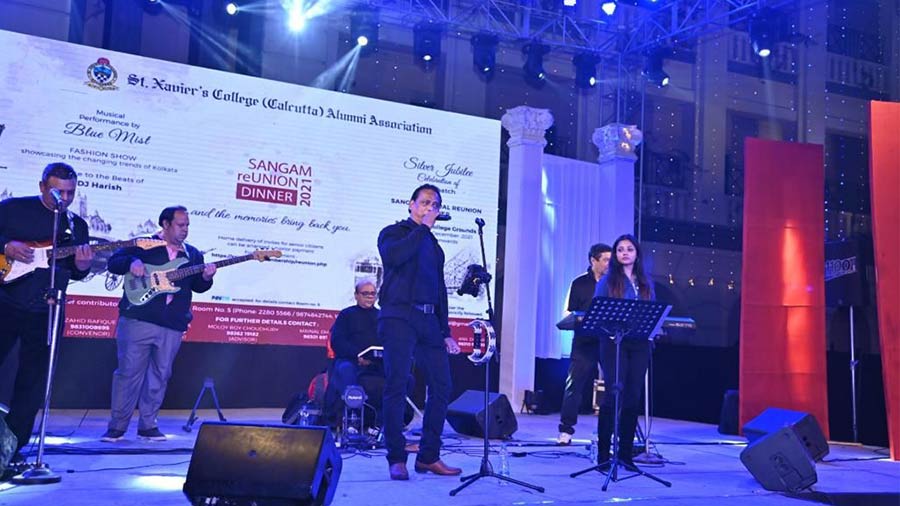 The band performing at St Xavier's College
My Kolkata: Blue Mist first took the stage in 1993. Tell us about the old days…
Darren: We were just a couple of friends who loved music and decided to form a band. I still remember the date: May 9, 1993. The early days saw a lot of rehearsals before the Calcutta Rangers Club gave us our first gig. We performed at their annual Teacher's Day function and then again at their New Year's Eve show. After these two performances, our band took off! I remember one year we got everything during the festive season — from the Goan Association of Bengal's Christmas dance to Calcutta Rangers Club's 31st show and every wedding in between! In those days, the music was different from what it is today. It was a lot of classic rock, disco and of course, rock 'n' roll! Our favourites at the time were Michael Learns To Rock, Bon Jovi and Foreigner.
What does Blue Mist's repertoire sound like in 2022?
Mrinal: Over the last 30 years, Blue Mist has added over 3,000 songs to its playlist. We play everything from old-school classics like Frank Sinatra, Elvis Presley, ABBA and Michael Jackson to more recent artists like Bruno Mars, Maroon 5, Meghan Trainor, Dua Lipa and Ed Sheeran. Basically, our playlist begins with '70s rock 'n' roll and ends with recent pop hits like Despacito and Taki Taki.
Carlyle: We're also a band that does a lot of classic rock. So you'll hear a lot of Bon Jovi, Bryan Adams, Deep Purple and Joe Cocker if you attend a show that calls for that kind of music. If we're playing at an event with a sit-down crowd that's looking for 'listening music', we take out our rock playlist! That's when we play Santana's Black Magic Woman and Eagle's Hotel California.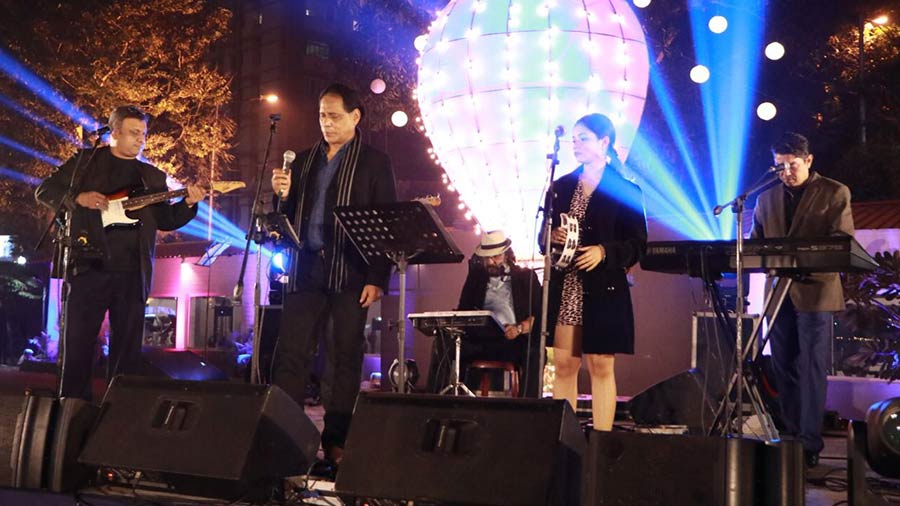 Father-daughter vocalist duo Dean and Samantha Martin is unique to Blue Mist
Blue Mist has recently ventured into 'new-age' music. Is a Pitbull or an Adam Levine cover different from an Elvis Presley or a Beatles cover?
Darren: Yes, it definitely is. Today's music is produced using a lot of high-end technology, so reproducing today's hits is far more difficult than reproducing the music of the '70s or '80s. We keep the skeleton of the song, which is the lyrics and the beat, but we add in the soul. And that comes from the music we play. The song ends up having a twist to it — which is a Blue Mist trademark.
Carlyle: We needed to start singing songs that are popular now because we've seen that there are a lot of youngsters who attend our gigs. So in order to keep them happy, we mixed it up and added in these newer songs. Our shows begin with classic numbers and we slowly build it up and end with recent numbers. This way everyone goes home happy, and we have a great gig.
Dean: When we decide to cover a song, we always try to keep it different from the original. Adding our own spin to the song was a little difficult with the older numbers, but with the music of today, we have a lot of room to move around. I love doing a song differently and so does the band, so even though it's challenging we love it.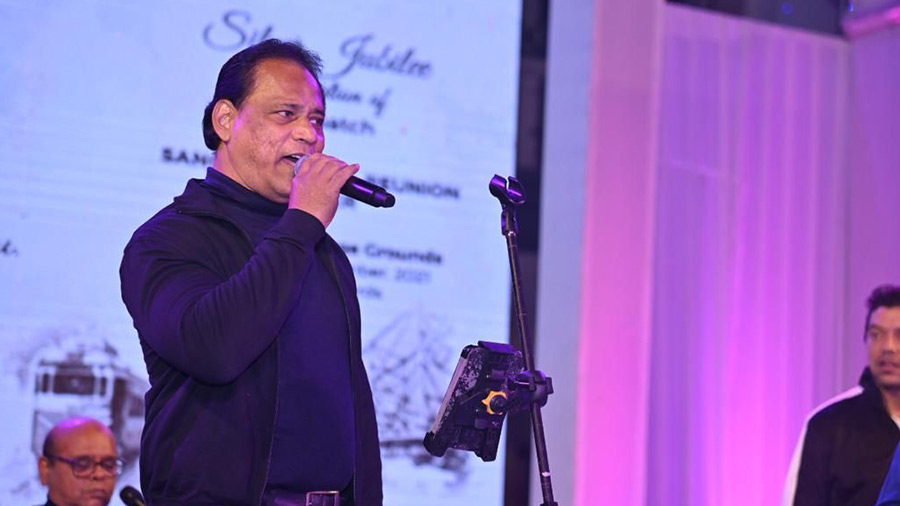 Dean Martin is one of the vocalists of the band
Blue Mist medleys draw everyone to the dance floor! What makes you such a rage?
Carlyle: This idea came to us when we realised that the crowd doesn't respond well to the breaks we'd take in between songs. With a medley, it's about five minutes of continuous music, so the crowd loves them! Generally, what we do is we take the hit songs of one popular artist and put them into a medley. We do Creedence Clearwater Revival, Michael Jackson, Dua Lipa, Bruno Mars and Enrique Iglesias medleys. Also, they're mash-ups of the most popular parts of the songs, so most often, the crowd knows the words and they sing along while dancing and the atmosphere at the time is off the charts.
The father-daughter vocalist duo is unique to Blue Mist. What's the dynamic like?
Samantha: It's a privilege to sing with my dad. I love music from the '70s and '80s — from country to disco and punk. When I joined Blue Mist, I had a very thorough recruiting process — I had to learn all the new songs, rap included, and audition. I picked up the songs after a lot of practice and my dad guided me every step of the way. He taught me how to stay alert on stage, when to start a song, when to stop a song and so much more. Even now, I still go back to him for guidance. He keeps reminding me 'It's not easy Samantha, you have to constantly train your vocals!'.
Dean: I've been the vocalist with Blue Mist for a while now, but I'm not a mover. Samantha is! She brings life and energy to the stage. I focus on the technical parts of the vocals and she takes care of the rest of it. She's a very keen learner and she picks up songs very fast, so I'm really proud of her.
Samantha: My dad is very stiff on stage, but I think I've brought a little bit of change to that! I remind him that it's me, his daughter, and he can chill and dance with me. I think that helps! I love listening to my dad sing You're The One That I Want — it was my mum's favourite song and one of my favourites as well.
What makes Blue Mist stand out?
Dominic: We are trying to break the practice of hiring a band and a DJ at events in the city. Whenever we play, we always request the organisers to not hire a DJ — we handle the whole show. We do all kinds of music, so there's no need for a DJ. Also, we don't take very long breaks! We'll even play a four-hour set, if necessary. If the crowd enjoys the music, we have a good time so it's never an issue for us to play long sets.
Carlyle: When we're off stage, we're a bunch of football fans! Most of us in the band like football and we support different clubs in the English Premier League, so we often pull each other's legs when one team loses or another outperforms. Many of us support Manchester United, while Darren supports Arsenal, so it's a real fun time and we trade much banter.
Mrinal: We often add layers to the songs, which helps us stand out. You'll hear original introductions in many songs along with a few riffs here and there!
One memory everyone cherishes?
Carlyle: We once had a show in Gorumara, which is a national reserve in West Bengal. So, after the show, it was around one in the morning, and we were on our way back to the hotel when we ran into a family of elephants. It looked like a mother, father and little calf, and they were right in front of us. We had to remain completely silent, switch off the car and the lights and just wait it out. That was definitely a memorable experience that Blue Mist's music gave us!
Darren: My favourite memories are always the train journey to and from out-station events. I'm an early riser, so I wake up at 4.30 in the morning and make sure to wake each one of them too! We all go and get a cup of chai at the next station and have a chat.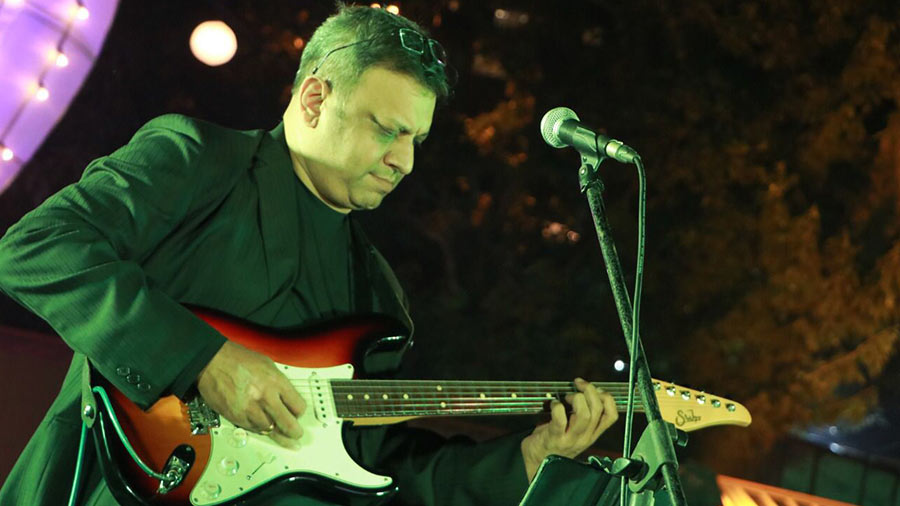 Mrinal Dhote - Blue Mist's guitarist
Few for the road…
Blue Mist's favourite song: Uptown Funk and Cheap Thrills
Most requested songs: Mustang Sally, Who the F…Is Alice? and My Way
Blue Mist's favourite duet: You're The One That I Want
Most popular first dance numbers: Perfect and She Wears My Ring
Blue Mist's favourite band to cover from the '90s: Michael Learns to Rock and Foreigner
A song to end with: I'll Never Fall In Love Again by Tom Jones
Recent rager: Calcutta Rangers Club's Anglo Indian Day Dance