Unique, dramatic and appealing, the 19th century shaded textile treatment technique ombre is a timeless trend that has gained momentum in recent years.
The Telegraph explores it through a range of styles with five Calcutta brands creating a festive fashion lookbook:
Festive Daytime Looks:
Diti and Sneha cut a pretty frame in these soothing ombre shaded outfits, perfect as daywear during the festive season or a fancy outfit option during a vacay. On Diti, a smart and casual ombre co-ord set from Pranati Kejriwall with a three-tone tie-dye satin organza sheer shirt with frill detailing on the sleeves and 3D fabric buttons on the collar and lapel. It was paired with a digital printed cotton crop top with a four-tone geometric print and a three-tone tie-dye panelled midi skirt made in satin organza, styled with an ombre organza belt. The look is accessorised with contemporary hoop earrings and cuff from Pehr, enhanced with a navy blue liner and peach-pink lips. The hair is worn open in voluminous curls.
On Sneha, a dual-colour chiffon bodice and skirt from Reyanka. The bodice is designed with frills in front and the skirt is arranged in symmetric tier design that gives a graceful flow with a sweeping hemline. The peach-pink ombre effect of the outfit is matched with fuchsia pink and baby pink ombre shaded eye make-up, baby pink lips and a messy bun tamed with a pretty pink hairband and accessories from H&M.
Designerspeak:  This bodice and skirt set is imbued with ease and grace. The ombre effect renders a dreamy vibe to it. The entire set could be an addition to your day-to-evening festive wardrobe. The recent trend in ombre also includes faded, besides being shaded with contrast panelling that gives the gradient look. Reyanka is a contemporary pret-a-porter brand that focuses on timeless fashion. If we look at ombre's progression, it has made its place on the runway to the closet in every season in a different way, the trend is quite intriguing — Reyanka Saha, owner and creative designer, Reyanka
Ombre as a trend made its major comeback last year. Not just in fashion but also in interiors, art, architecture, home decor, beauty and food. This trend is smoothly making space in every closet due to its stunning colours and stellar patterns. It is here to stay. The brand explores this trend through plenty of happy-hued and dip-dyed separates like tops, skirts and dresses that are easy to pull off. You can either pick a single item and pair it with basics for a playful pop look or rock a coordinating set with streamlined accessories for an elevated yet playful result. It is also the perfect trend to try for a warm-weather getaway, intimate gatherings or special occasions
— Pranati Kejriwall, founder and creative director
Festive Indian Ethnic Look:
Sneha decked up in a completely Indian ethnic festive look in this pink-and-blue shaded organza sari with mukaish work and silk frill detail along the edges teamed with a Benarasi-bandhni blouse from label Naina Jain. Draped traditionally, layered neckpieces, chunky earrings and bangles from Virrayaa Jewellery accessorise the look. Sleek gel bun, bindi, brown and peach shaded eye make-up, peach blush and pink on the lips give a trim touch to the elegant look.
Designerspeak: Ombre comes as a fresh breath of air to modern-day clothing. Its colour-rich pattern adds drama to any simple or heavy garment and changes one's look altogether. We, at Naina Jain, have heavily explored ombre in everyday dressing such as our organza saris and also in occasion-wear dressing such as our crush silk lehngas. While experimenting with bandhni, we have recently explored ombre bandhni and the results have been beautiful. Our ombre organza have been very much loved by our clients from across the world who find these pieces very versatile to attend parties, lunches or even traditional functions. We have been working with ombre since the start of 2019. We believe, it is a trend that is never going to fade away — Naina Jain, designer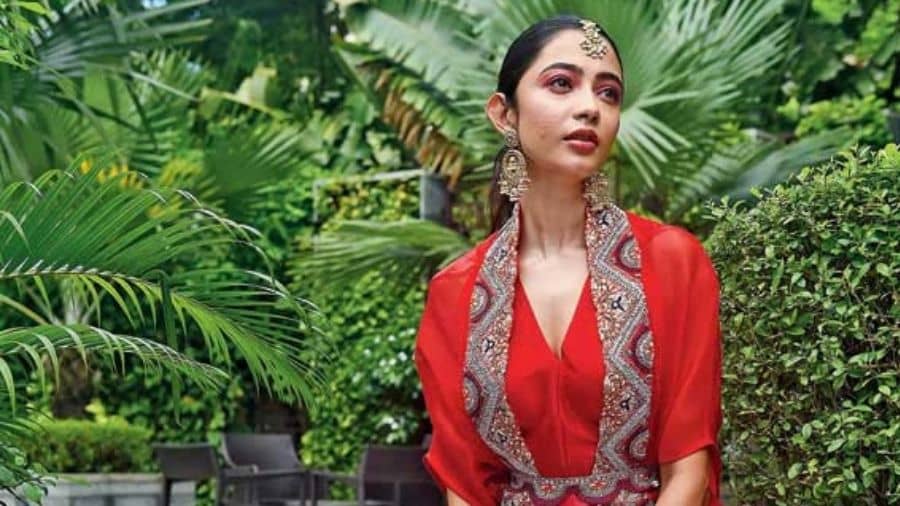 The Festive Quintessential Colour Palette:
Diti chanelled a fusion look in the festive colour palette of red and grey in this layered outfit from PriSho. The bright red transitions into an evening grey in the silk handkerchief kurta paired with a silk organza belted cape embellished with zardozi and threadwork and a pair of red asymmetric pants. The look is styled with maangtika and a pair of chunky earrings from Virrayaa Jewellery complemented with a sleek low ponytail hairstyle, shimmery red and matte red ombre shadow on the eyes and peach-red lips.
Designerspeak: The outfit is layered and falls beautifully. The brand PriSho creates intricate embroidery in sleek and contemporary silhouettes and cuts, which is aptly captured in this outfit from our new range. We have used the ombre technique in this outfit as we believe in using a slightly offbeat colour palette — sometimes muted pastels and sometimes deep and richly saturated ethnic tones. The technique of ombre perfectly captures that combination
— Priyanka and Shobhit, designer duo, PriSho
Festive Party Looks:
Dreamy and princessy! Diti wore a tone-on-tone lavender ombre organza lehnga from Vasavi Shah with cascading pearl embroidery teamed with a one-shoulder lavender cropped blouse with organza frill detailing for a subtle-glam festive day-to-evening party look. Statement earrings and multiple finger rings from Tribe Amrapali, glitter on the eyes, nude lips and gel-back hair enhance the chic look.
Designerspeak: Ombre is one of the prominent trends noticed in beauty, hair and fashion sectors. It has made a comeback and has evolved into faded styles as well. Indian wear or fusion wear, this trend makes an outfit tasteful and stylish. We have explored this trend with a more subtle outlook for Indian wear and a slightly more obvious dissimilarity in Indo-western looks. These outfits make great fun party looks — Vasavi Shah, founder and designer.
Sneha posed for a classy style in this dip-dyed organza skirt and sheer ruffled organza shirt from Vasavi Shah, perfect for a night party look during the festive season. The classic black-and-white combo blends into a subtle grey ombre and is sprinkled with red hand-painted and thread embroidered flowers. A cocktail ring and statement earrings in silver hue from Tribe Amrapali with black liner on the eyes, blood red lips and a sleek hair updo complement the look.
Stylist speak:
Ombre is in itself very colourful, so I styled these looks brightly but at the same time kept a subtle touch to it. Vasavi's outfits are very smart, modern and edgy, so I styled it with statement earrings because nothing could be worn on the neck. Naina Jain's sari was styled with a very neat and clean look with lots of jewellery to give it a classic and modern touch. PriSho's red ensemble is bright and smart, so with the jewellery I gave it a festive look. Pranati's skirt and shirt set is full of colours, so I styled it with contemporary jewellery for a fun look. Reyanka's co-ord set had multiple flares on the skirt, which added drama to the style, so I amped it up with her headband. Ombre is an ongoing trend. While styling any ombre outfit, one should keep in mind to use minimal accessories. Go for statement jewellery because the outfit has a lot of drama in it already — Sumit Sinha, stylist
Hair and make-up notes:
The looks were very colourful, smart and ranged from contemporary and fusion to traditional styles. So, we have tried to create mostly classy statement, edgy and elegant looks with the hair and make-up, as per the outfits — Bhaskar Biswas, make-up pro.
Pictures: Pabitra Das
Styling: Sumit Sinha
Make-up: Bhaskar Biswas
Hair: Amrapali
Location: JW Marriott Kolkata