Expect every word Bob Dylan writes to be examined. The photographs he uses will, obviously, be also scrutinised. That is happening with his new book, The Philosophy of Modern Music on the cover of which is an odd choice of photograph — Little Richard, Alis Lesley and Eddie Cochran at Sydney Airport on September 28, 1957.
Richard, of course, was the Tutti Frutti man while Cochran was Summertime Blues. Lesley? Well, she is the "female Presley".
Alis Lesley was once a musical firestorm, creating waves for a short time but unlike others, the retirement was brought upon very early in the career. In 1959, she called it quits at the age of 21, leaving rock 'n' roll record collectors with just two songs — He Will Come Back to Me b/w Heartbreak Harry (Era Records), with "b/w" standing for "backed with", referring to the flip side associated with 45rpm records. (There is also an unreleased demo recorded at Sun Studios, credited to "Alice Leslie".)
Meeting Elvis Presley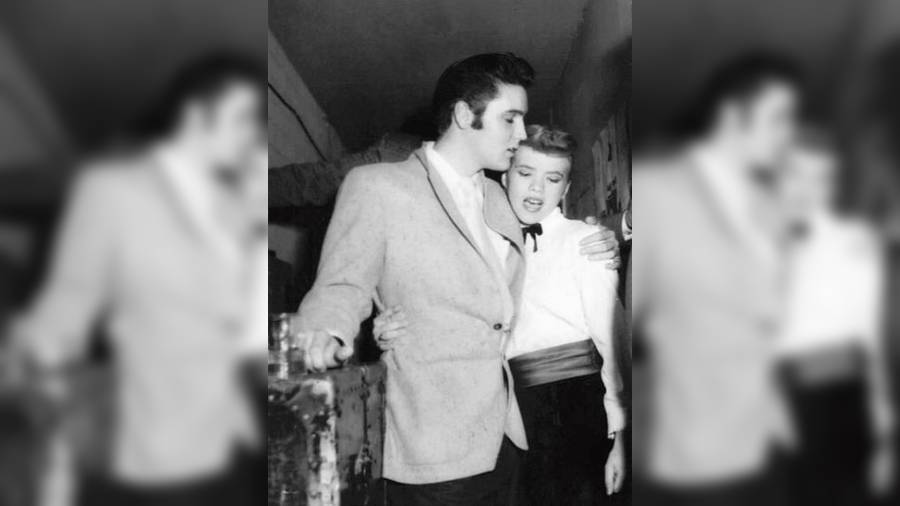 Alis met Elvis Presley on November 13, 1956, at Silver Slipper Casino in Las Vegas
Dylan, of course, is not expected to offer an explanation for including the photograph. In 1959 the Nobel laureate looked like a promising young man in the yearbook from Hibbing High School in Minnesota. Featuring Robert Zimmerman on page 76, he listed his ambition as "To join Little Richard" and is mentioned as belonging to the Latin and Social Studies clubs. Perhaps Dylan had heard of Lesley or even saw her perform.
Enough of Dylan! Lesley was the "female Presley" and she happened to be in the right place, at the right time. Born on April 20, 1938 in Chicago (later moved to Phoenix), she was discovered by Kathryn Godfrey, radio and TV broadcaster Arthur Godfrey's sister, while bandleader Buddy Morrow is credited for creating the "female Presley" persona.
Back then Elvis Presley was the cool cat and the music world was walking in his footsteps. Lesley even gave her hairstyle a twist to mimic sideburns.
Though she doesn't have enough records to match the success of either Richard or Cochran, Lesley had a great start in September 1956, supporting Gene Vincent & The Blue Caps, and the Coasters. The following year she landed an unforgettable overseas package — Australian tour with Little Richard, Gene Vincent and Eddie Cochran.
It is not just a name that rhymes with Elvis Presley, she, in fact, met the King of Rock 'n' Roll on November 13, 1956, at Silver Slipper Casino in Las Vegas.
An old Presley fan magazine notes that Lesley's fans called her 'Alis the Malice' while she has been quoted saying, "I've never copied Elvis (singing style). In fact, I just caught his performance recently. You know, I've been singing ever since my 13th birthday."
Such was her popularity that cartoonist Stookie Allen (Benjamin Allen) in his syndicated strip, Keen Teens, featured Lesley. He wrote: "She gives a rock 'n' roll treatment to Western tunes, which makes them 'wow'." Newspaper articles wrote about how she prefers to ride a horse and her love for rocky trails.
Taking her final bow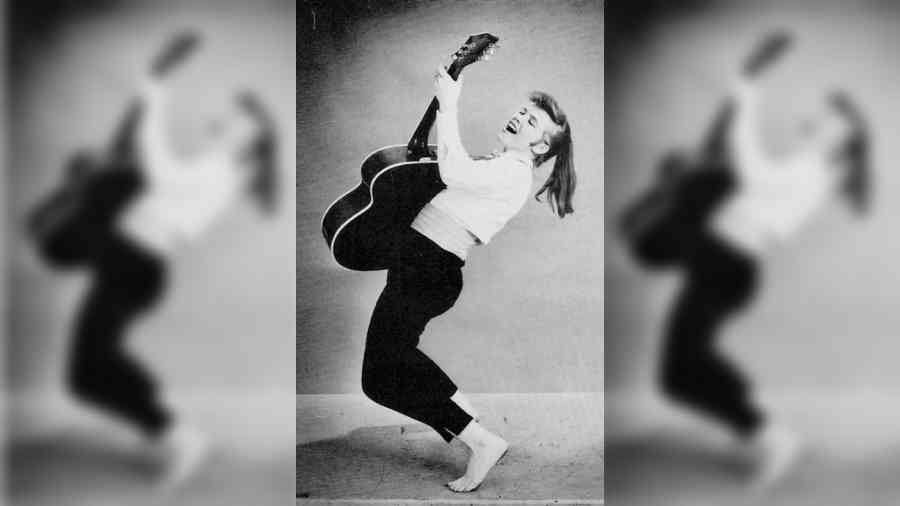 Alis in one of her Elvis Presley moments. She used to perform barefoot
The few years she was seen on stage, there were reports about her performing barefoot because shoes "made her feel inhibited" and how she "stood on the piano, lay on the floor, wrestled with the microphone, embraced the string bass — and sang".
And then she disappeared from the public eye, following appearances in Quebec in 1959 and that was also the year she gave her only interview (to researcher Will Beard), a brief one. The article mentioned how after her final tour, "she returned to Arizona to care for her ailing mother, worked as a teacher and a missionary after college, continued to do some occasional vocal work and coaching, and retired in 1980". A recent report mentions that she spent her retirement "travelling around the world" and survived cancer in the 1990s.
Forgotten? No longer. Bob Dylan's thoughtful choice of cover picture for The Philosophy of Modern Music is enough to make readers find joy in reading about history… music or otherwise.