What started with a simple social media post grew into a poetry movement of sorts, rekindling love for Bengali literature and language among people over the past decade. Kobita Club today has more than 25,000 followers and is a platform for budding writers.
An official Facebook page for Kobita Club was created on January 3, 2012, followed by the launch of a website (www.kobitaclub.com). A decade ago, musician Surojit Chatterjee had shared a post on Facebook that invited numerous comments, which when strung together took the shape of a poem.
Accidental beginning
The man who started it all had no idea a simple Facebook post would evoke such response and give way to a bigger movement. 
''When I posted the line Aar bhaal lagena tomaye chhara, I didn't know so much would happen! People's response prompted me and my wife Kamalinee to think of creating something constructive together with the people. Sometime later, we opened a dedicated Facebook page called Surojit o Bondhura Kobita Club," Surojit said. "Nothing was planned. It all progressed organically. The core members of the virtual club met offline in April 2012 at a curated event called Poila Adda. That was when we started thinking about the future and registered the club as a society.'' 
The next step was to preserve the writings on Facebook through website archives and for this the members took the help of crowdfunding. The website was launched at a formal event and inaugurated by Sunil Gangopadhyay. Anyone who registers on the website — there are no charges — becomes a member of Kobita Club.
"We then proceeded towards publishing books. Our motive was to preserve the content of Kobita Club as far as possible. Kobita Club is all about passion, love and being together," Surojit said.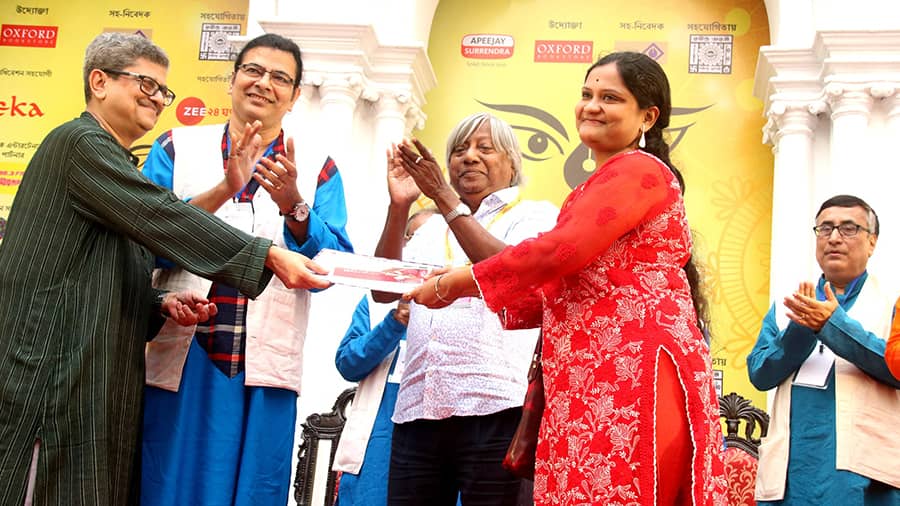 Participation certificates being distributed during Totkhunik Tatkhunik, an instant poetry-writing competition, at the Apeejay Bangla Sahitya Utsob 2019.
Kobita Club / Facebook
Hosting events 
Kobita Club encourages members in many ways from publishing the best writings on the website every week to arranging for reading of one poem on radio. There are also a host of virtual programmes such as Tarpor, a weekly series about short stories on social media; Bondhu Kotha, where submitted stories are read out by member-friends on the Facebook page; PickChaarKotha, where members write a four-line story or prose based on a given photograph; and Shishuder Jonne, a collaborative event where members submit writings for children. 
Kobita Club, in partnership with Patra Bharati publishers, brings out a participatory book every year. The club members also take part in the annual Apeejay Bangla Sahitya Utsob with their event Totkhunik Tatkhunik, an instant poetry-writing competition, and curate several thematic dialogue sessions. 
Gradual expansion 
It primarily ran through online activities until the members polled in for an offline meet which was in April 2012. Saptarshi Chatterjee, a teacher by profession, reminisced about this transition, "When Kobita Club had started it was mainly online. But then we asked for people's opinion for a physical event and it was positive. Our first event was on April 20, 2012 in Jodhpur Park, Nari Seba Sangraha. It was called Poila Adda. We found a lot of friends from the Kobita Club from this meeting and they were a part of the core committee. Then onwards we keep having events. The main physical event that we have now is the Grand Meet which we have annually.''
Encouraging amateur writers 
Kobita Club has, over the years, become a platform for amateur writers to express themselves.
"There are a lot of people who write well but do not have the means and the exposure to take their writings to people. Kobita Club is a platform for common people to share their thoughts and reach out to others. That is what made it so special for me," said Sohini Ghosh, cooperative development officer, Government of West Bengal, Purulia.
When Mainak Sengupta, a musician by profession, joined Kobita Club 10 years ago he was straight out of college. Since then, he has participated in events like PickChaarKotha, Kobita Club Book Adda and compered several of the club's programmes.  "When my first poem was published on the website and earned positive response, it was encouraging. Since professionally I'm a rhyme writer and lyricist, participating in these activities has helped me professionally as well. The club fosters love for writing not only poems but also prose, short stories, rhymes and plays,'' he said.
Saptarshi Chatterjee, a teacher by profession, is intrinsically attached to the club. ''The Kobita Club logo was designed by me. I had it hand-drawn and digitised by an illustrator. I had made almost 50-60 designs and then selected this logo based on inputs from others," he said.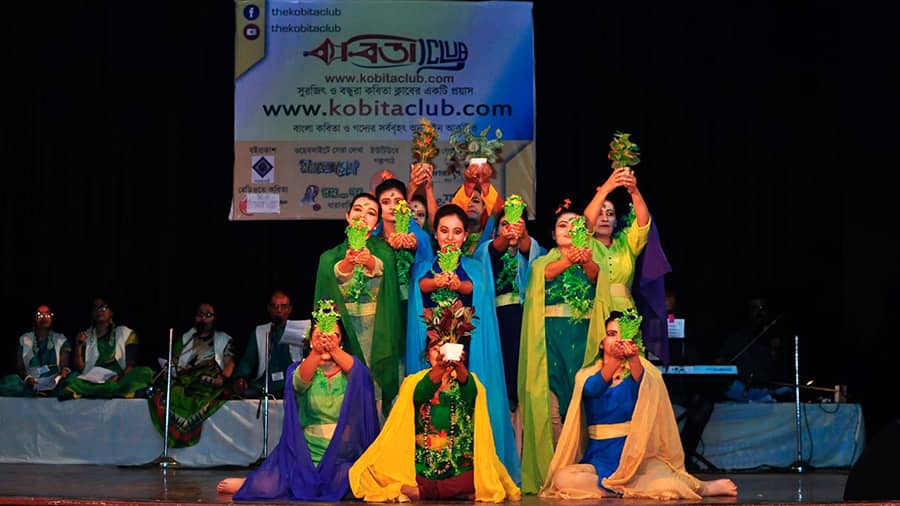 During a performance at Kobita Club's Grand Meet, an annual offline event, in 2019.
Kobita Club / Facebook
Bridging physical distance 
The members of Kobita Club are not just from Kolkata. They come from all over the state and even the country.
Snehasish Banerjee, who lives in Sarpi, Durgapur, makes it a point to travel all the way to Kolkata whenever there is an offline event. "It usually takes me around 4.5 hours to travel. But the distance doesn't matter, considering the joy and happiness meeting the club members gives me. Surojit-da and Kamalinee-di are like my family and how can you say 'no' to a family member?" he said.
Banerjee's most memorable moment during his long association with Kobita Club has been when his theatre group, Sarpi A Aa Ka Kha Natyagusti, performed a play written and directed by him at Sisir Mancha in 2019 , thanks to the initiative of Kobita Club.
Digital connect & Bengali diaspora
The club has made most of its resources to make its programmes available to members beyond boundaries. "As I have been in Japan since 2019, I'm unable to attend programmes and activities physically.  But I always try to stay connected via the internet. A few days ago, I enjoyed a special PickChaarKotha programme in memory of Satyajit Ray through Facebook Live. I love reading poetry and Kobita Club is a place where I get the opportunity to read new poetry every day, which helps me to think with new thoughts and perspectives," said Writuparna Chakraborty, a travel blogger from Tokyo, Japan.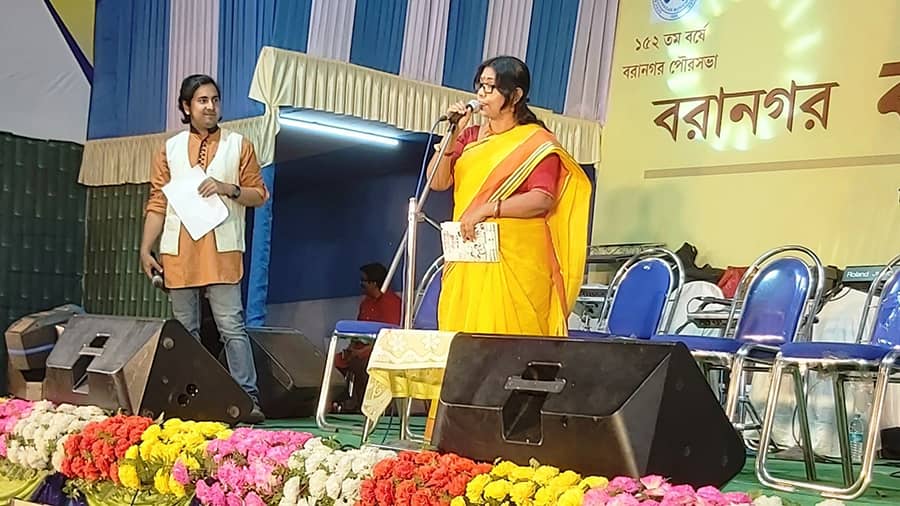 Kobita Club members at Baranagar Boi Mela in 2020.
Kobita Club / Facebook
Papia Ganguly, an entrepreneur based in Muscat, is another regular. "I am based in West Asia and had little touch with modern poetry trends of Bengal. Kobita Club helped me to connect with the current crop of writers and inspired me to write poetry. It was a different feeling to have my own writing published online and being read by thousands."
The road ahead 
Kobita Club is all about passion for poetry and that is what will keep it alive.
It has been pivotal in renewing the love for Bengali literature and language, completing 10 years in 2022. Surojit Chatterjee comments "All that we have been doing is following our passion. We have not set any benchmark or targets for the future. We work with the Bengali language and new writers. Several writers like Shirshendu Mukhopadhyay, Srijato, Sanjib Chattopadhyay have supported and attended our events. It is all about inspiring people to write without the fear of being judged."
The club is in the process of publishing its tenth book, making its website mobile-friendly and curating innovative activities to engage people.