There's no other way to say this, but your old white shirts need to go! The allure of the crisp white button-up may be unimpeachable and it's the only thing our closet has in common with Kate Middleton's. But the white button-up has had a serious facelift; it's now the ultimate fashion ally for an unpredictable year and not just a saviour for impromptu work Zooms.
Ashley Olsen and Mary-Kate Olsen's Y2K-minded label, The Row, led the resurgence of the normcore trend with their classic white button-ups, which quickly became an off-duty staple for celebrities. On the homefront, New Delhi designer Twinkle Hanspal, Dhruv Kapoor, Chola's Sohaya Misra introduced new-wave upgrades on the basic white shirt.
"Lately I've been cinching my white shirts at the waist to style them. It helps accentuate curves. And I've also added large pleats for drama! But my favourite way to style a white shirt this season is under a vest, which immediately elevates it from something basic to glamorous daywear," says Kolkata designer Devina Juneja.
The white shirt simply has a lot going on at the moment — it's not just more extravagant but also more distinct, despite its overall unassumingness. The office-friendly Oxford shirts or the white, buttoned poplin are timeless. But modern design elements like contrast stitching, tie-dyes, notched collars, balloon sleeves have also entered the chat! Here are the trendiest white shirts you can go for this year:
Boxy is foxy
Kolkata designer Kavya Singh Kundu introduced the ultimate trans-seasonal classic — the boxy, button-up. It's a lot more laid-back than a regular-fit or slim-fit work shirt and it has an asymmetrical hem which makes it dressier.
This roomy shirt has been crafted from handwoven cotton and sports a zari striped cotton fabric along with exaggerated patch pockets. The dressy shirt doesn't always need to be work-friendly. It can also be something as cool as this double-yolk shirt from the Mumbai-based label Warping Theories. There's no wrong way to style something this effortless. In fact, the half sleeve helps it work better for the after-dark memo; just pair it with some baggy joggers or a sequined bottom!
Two's company
Dual-toned shirts emerged as a big favourite last year especially since it lets the wearer step out of the monochrome colour profile. Streetwear designer Kanika Goyal came up with this oversized, concentric-cut shirt. It comes with ribbed panels and detachable sleeves which is ingenious.
White shirts also work well in co-ord sets. Twinkle Hanspal's Olsen twin set is a dual-toned wonder. It features a handloom, chanderi colour-blocked shirt and trousers in ivory and fuschia.
Flower power
Floral white shirts can be dressed up or pared down depending on the memo. Harsh Agarwal's upcycled label Harago is already a favourite with Harry Styles and their cotton linen sets have hand-woven detailing and some old school, nostalgic elements. "As a brand, we care about historical methods and traditional textile making techniques. Antique cross stitching is one of our core signature embroideries along with twill denim weaves and tie-dyeing of yarns," Agarwal shares.
The Kavita cross-stitch set was made from a bedroom set hand-embroidered by Agarwal's mum in 1985 and the brand has also introduced applique florals for their spring/summer 2022 line.
The ready-to-wear label Genes Lecoanet Hemant founded by Indo-French designers Hemant Sagar and Didier Lecoanet introduced Parisian savoir-faire to Indian fashion two decades ago. Their floral Organa applique detailing added a classic touch to well-cut button-ups.
The big and the bold
Go for the billowiest white shirt for your next Zoom or better yet, pair it with a saree! Alaya By Stage 3's balloon shirt has some classic detailing and trendy overlays. It can be styled like an outer shirt or as a dreamy tie-up shirt.
Heart on your sleeve
The dramatic sleeve will never not be cool. Kolkata designer Devina Salarpuria's sustainable label Studio Moda has a line of chic, dressy white shirts. The Nawab Notch shirt is a dramatic pick with notched collars and exaggerated sleeves. Style it with your favourite skinny denim or with a saree!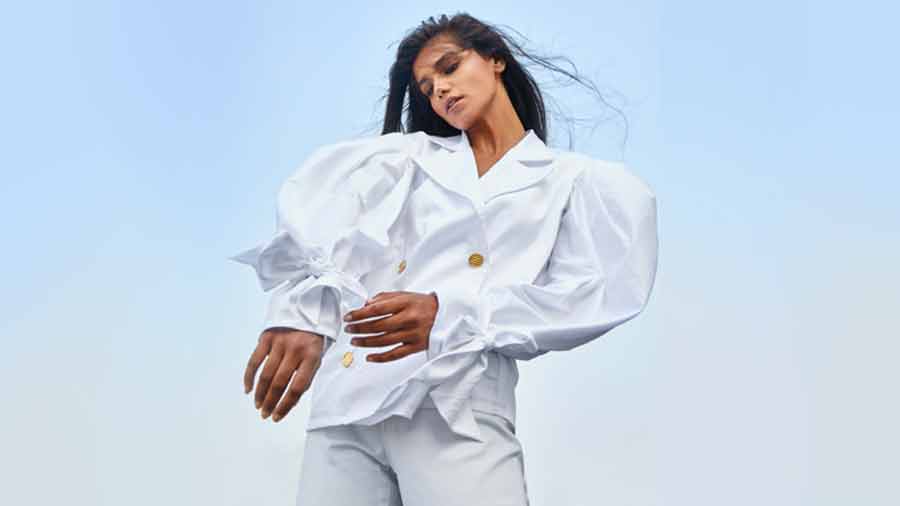 The Nawab Notched Shirt by Kolkata label Studio Moda
Silky Ahluwalia and Prithi Monga's minimalist label Chillosophy also took big strides in utilitarian fashion with their take on the finely stitched white shirt which features dramatic broken sleeve detailing. You'll also spot chic tailored white shirts with interesting hems, cuffs and a flared silhouette.
Budget hack: Off-the-rack labels also offer great options for capsule wardrobes. Zara, Fabindia, H&M also offer diversity in sizes when it comes to classics.