No less than 60 per cent of men and 40 per cent of women in India suffer from hair fall issues between the ages of 18 and 50. When it comes to skin disorders, one in three Indian adults are found, on average, to have sensitive skin, which can be prone to anything from inflammation to itching to acne.  
"The most common practice among Indians, especially the middle-class, is to buy a couple of products for their hair and a couple of products for their skin," say Sayantani Mandal and Vaibhav Makhija, co-founders of What's Up Wellness, a Kolkata-based, self-funded start-up that is brandishing a one-stop solution for everyday hair and skin problems.
The What's Up Beauty gummy may not be a "silver bullet that can produce magical results overnight", but positions itself as a natural, efficacious superfood that promises steady results – chiefly, reduced hair fall and healthier, more glowing skin – after 90 days of use and has been approved by the Food Safety and Standards Authority of India (FSSAI). Enriched with 13 essential ingredients for hair and skin (and nails, too), including Vitamins A to E, aloe vera, sea buckthorn, biotin and zinc, the gummies are vegan and gluten free and do not contain any artificial colours or preservatives.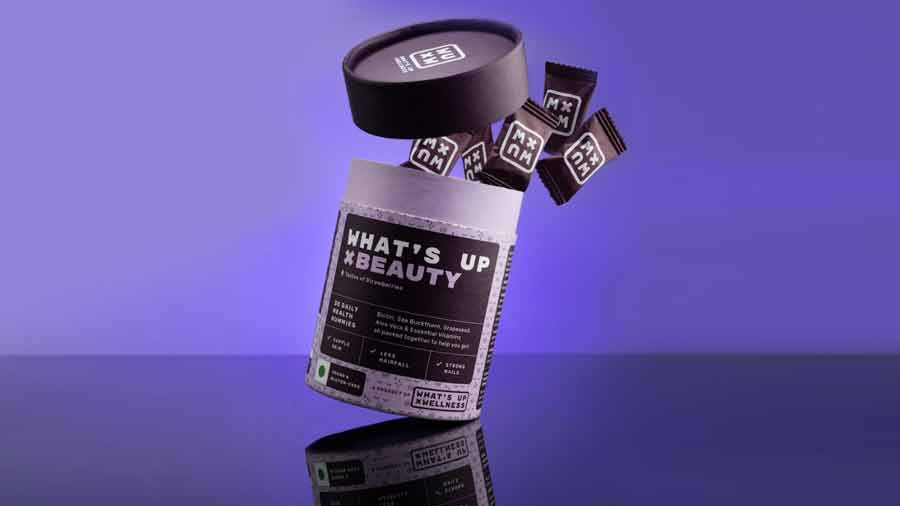 What's Up Beauty gummies are available in packets of 30, 60 and 90 gummies with no more than one gummy required for daily consumption
Courtesy: What's Up Wellness
Available in strawberry flavour, the gummies have a smooth texture, can be chewed like a candy and leave a mildly sweet aftertaste. They can be purchased in packs of 30 (Rs 899), 60 (Rs 1,599) and 90 (Rs 2,149), with no more than one gummy to be consumed (at any time) every day.
Intersecting beauty and wellness through nutraceuticals
Having worked in the grooming industry for close to a decade, Sayantani, born and brought up in Kolkata, and Vaibhav, who hails from Pathankot in Punjab, noticed that the regular urban Indian is not reluctant to shell out money every month on a whole range of grooming products. "We identified a gap in the market based on nutrition, which revealed that most Indians in their late 20s or early 30s are facing issues that can be linked directly to a lack of nutrition. We also found that 90 per cent of hair and skin issues can be solved without medication and purely through supplements that provide the correct nutrition. This is where the idea to intersect beauty and wellness through nutraceuticals emerged," explains Vaibhav.
While most companies sell hair and skin products separately, Sayantani and Vaibhav decided to combine them into a gummy, which became ready for the market in August 2021. Working out of their office in the Panchasayar neighbourhood of Garia, the co-founders, who are supported by a remote team in Delhi, have structured their start-up on: "look good, feel good and perform better".
Choosing gummies and a customer profile
The goal for What's Up Wellness is to "start off with the beauty gummies as the first product before diversifying into other categories for a comprehensive wellness experience".
But why did Sayantani and Vaibhav pick gummies and not powder, strips or pills?
"Powder takes time to mix and it's not something anybody looks forward to having after coming home from a long day at work. Strips can't hold as many nutrients or extracts as four grams of a gummy can. And as for pills, they give a very patient-doctor vibe. We want something cooler and more exciting, something that people will be eager to have day in and day out. Based on all these factors, we opted for gummies," answers Sayantani.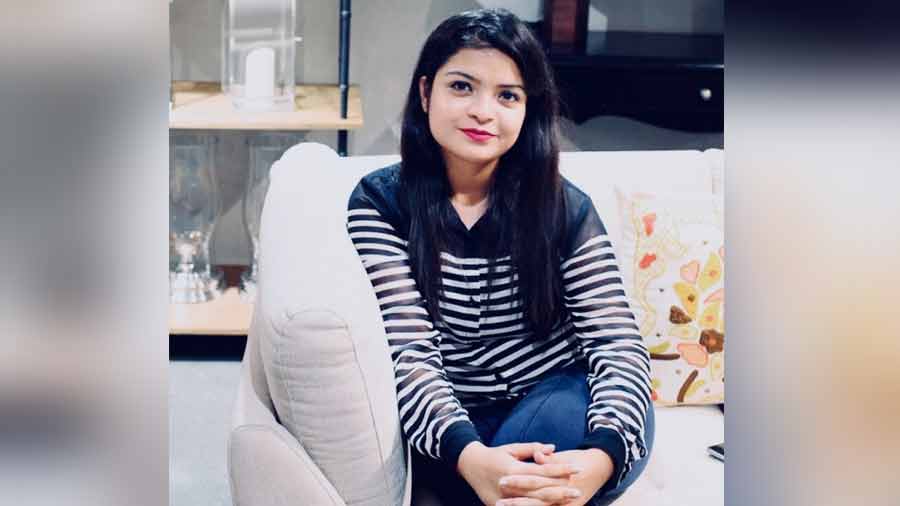 Sayantani explains that gummies are cooler, more palatable and contain more extracts than pills, strips or powder
Courtesy: What's Up Wellness
Targeted mainly at India's working population between 25 and 45 years of age, the What's Up gummies should not be eaten by those below 18. For people above 50, who may be on medication, Sayantani and Vaibhav advise checking in with the doctor to ensure that consumption of the gummies do not result in any kind of double dosage.
Not a miracle product
In less than a year, What's Up Wellness has already found customers in various parts of India, with a turnover of Rs 1 crore between August 2021 and March 2022. Around 35 per cent of their orders come from Tier 1 cities, although Kolkata does not lead the metropolitan market share. "This may have something to do with the fact that people in Kolkata aren't completely on board with the concept of taking supplements, unlike a Delhi and Mumbai," says Vaibhav.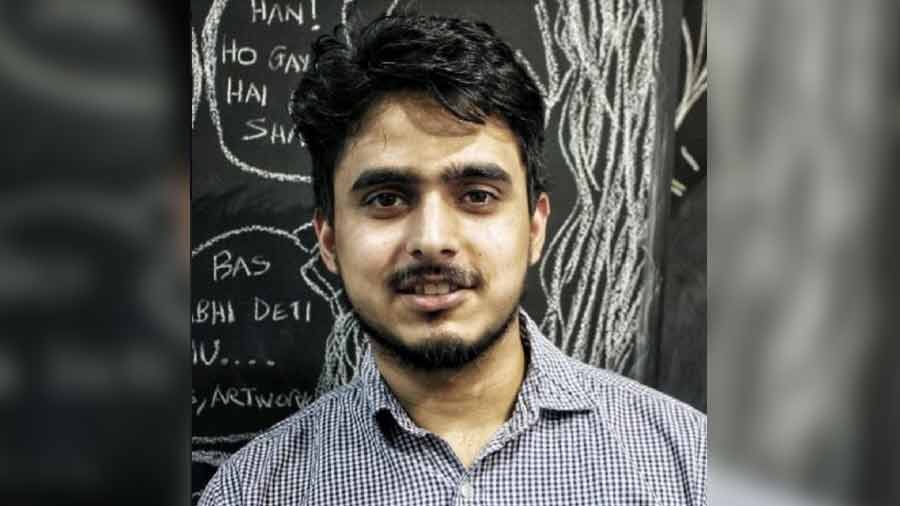 Vaibhav feels that consumers in Kolkata are still sceptical towards supplements
Courtesy: What's Up Wellness
Apart from scepticism towards supplements, what are the other challenges What's Up Wellness has to deal with in relation to responses from customers?
"There are two kinds of customers we've seen so far. The first are highly aware ones, who ask specific and technical questions, such as the source of sulphur in our products. The second are those who have far less knowledge and who don't know whether to chew or swallow the gummy," replies Sayantani.
For both kinds of customers, the approach on behalf of What's Up Wellness is to keep things as transparent and as simple as possible. "We have an open formula that everybody can see. There's no overdosing involved and we have full Recommended Dietary Allowances (RDA) compliance. We make it very clear that the gummies are a dietary supplement that are fused with all the extracts of fruits, vegetables and other healthy food items that most people generally miss out on in their regular diets. It's not a miracle product," underlines Sayantani.