Don't think of the iPad Pro as a MacBook Pro with a touchscreen. It's a machine that comes with its benefits and, for many, the iPad Pro is the only device they carry around. There are several advantages the machine has to offer and it can well be seen in an app that many have been demanding for several years — Final Cut Pro for iPad.
We have been using it for a couple of days and the best thing about it is that Final Cut Pro for the iPad is not a port of the desktop version. The software has been around for years but this is kind of a restart because it's designed and built for the iPad. Apple didn't take the desktop version and just make a few changes.  It's an overhaul.
It's important to remember that Apple has been making the iPad run faster and faster over the last few years. The iPads that support Final Cut Pro include those with the M1 or M2 processors on board. That's the fifth- and sixth-generation iPad Pro 12.9-inch, third- and fourth-generation iPad Pro 11-inch and the fifth-generation iPad Air. As OS, you need to be running iPadOS 16.4 or later. Having an Apple Pencil will allow you to work on plenty of features but it's not mandatory. 
The question many may ask is why Apple didn't do this earlier. First, battery life and optimization are important when it comes to running Final Cut Pro. Second, Apple wanted to ensure that the processor is powerful enough and there are enough iPads to support it. Typically, any big app that Apple rolls out is tried for a long time, and the case must be similar for Final Cut Pro for iPad.
Easy to adapt
There are some specific features for the iPad version that will probably never come to the Mac version because they just don't make sense there. There is something called the Jog Wheel, Apple Pencil animation and being able to capture footage inside of Final Cut. The interface is similar but different. Typically, on a MacBook Pro, one would like to keep the layout unchanged while working on Final Cut Pro. Here, there is more scope for playing around. You will be able to resize Final Cut Pro and still run other apps side-by-side.
The iPad comes with powerful cameras. Please don't take out the iPad to capture concert footage but if need be, you can collect high-quality videos. Having a camera is a win for those working in the app. At times, one forgets to film a moment and instead of bringing out all the equipment, use the camera on the iPad to film it.
A lot of the Final Cut Pro for the iPad will feel familiar if you've used Final Cut for the Mac but there's some stuff in there that are slightly tweaked that does make a lot more sense since it's on an entirely different platform. One such tweak is some of the terminology. For example, the library on the Mac version is now what's called a project on the iPad version. Calling it a project makes sense and in a project you can have multiple videos that share assets. 
The interface is familiar but it's obviously optimised for touch. For example, let's try to edit a clip. You can simply tap on a clip and then grab the yellow handles; select the relevant part and then you could just press hold and drag it into your timeline. Apple has put some thought into it and so there are other ways to do it also. You can choose a clip and then set an 'in point' and then an 'out point'. 
Another way. There is a Jog Wheel, which can be activated from the top right corner of the screen. You can move the wheel to get to an accurate point in the clip. It's based on how video editors work. The Jog Wheel also helps to go through a clip really fast, like a minute-long clip can be previewed in two-three seconds. Then, frame by frame, you can find the beginning and end to the clip. More? Throw all the clips into the timeline with the 'append' button. Then use tools like 'delete', 'blade' and 'trim' to manage the clips, as you would on a Mac. 
There is another tool related to editing clips; it's called 'favourite'. Within a clip, you can choose a part and mark it as a favourite. After you have a bunch of these 'favourites', you can easily sort media types by 'favourited'. Once you choose that, you will only see the parts you have selected as 'favourite'. Another feature worth talking about is how you can easily move a connected group of clips on the timeline. In the timeline, you can disable the snap feature in case you are someone who wants to adjust things manually. 
All these make the software perfect for the iPad, which is light enough to carry around and it can have all the footage from the iPhone since it gets synced over iCloud. There is no need to AirDrop. When it comes to importing clips, it behaves a lot like the desktop version. There is an import button and you can choose to import from the Photos app or the Files app. In Files, you can choose clips from SD card or external drive.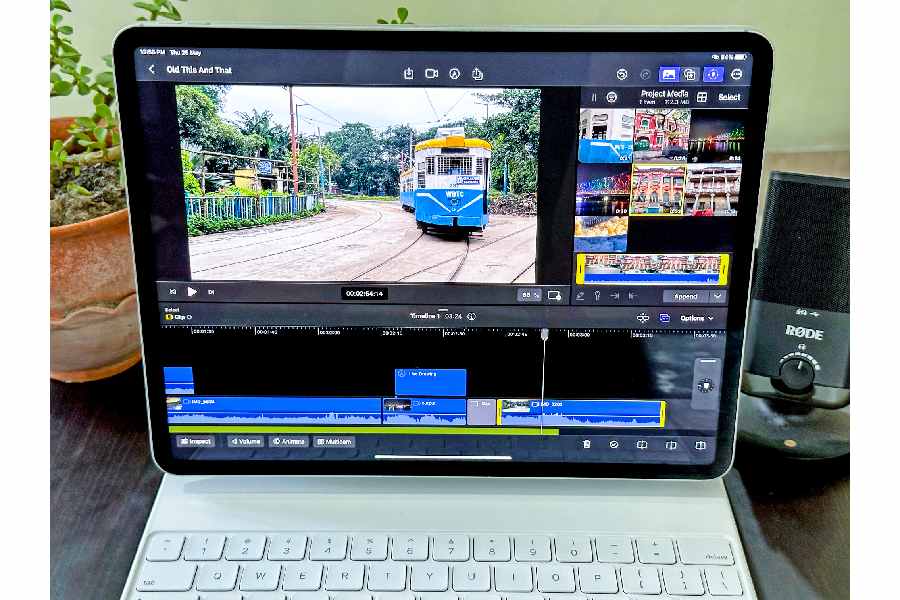 The layout is simple — preview window is on the top left, media window is next to it and at the bottom is the timeline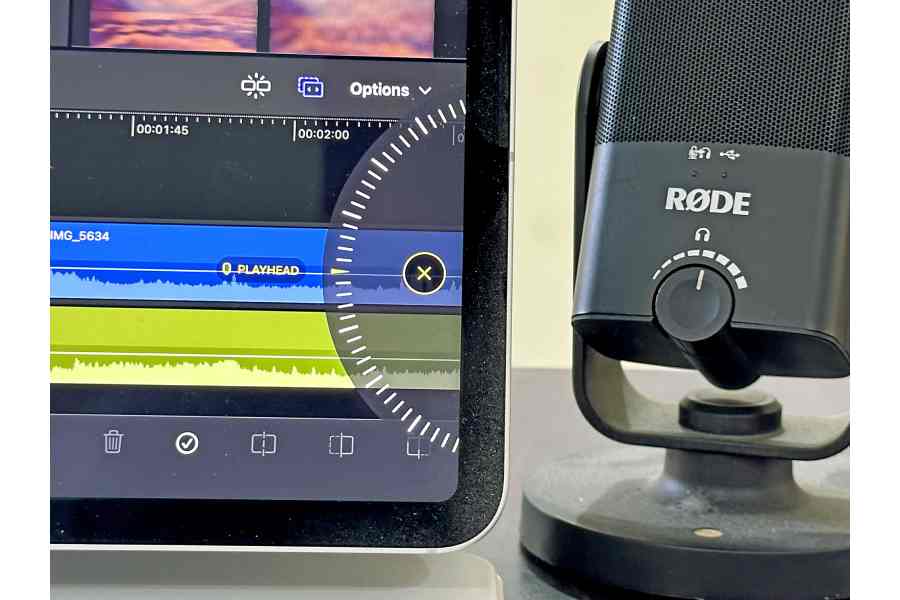 The Jog Wheel is handy and helps cut down on time spent while editing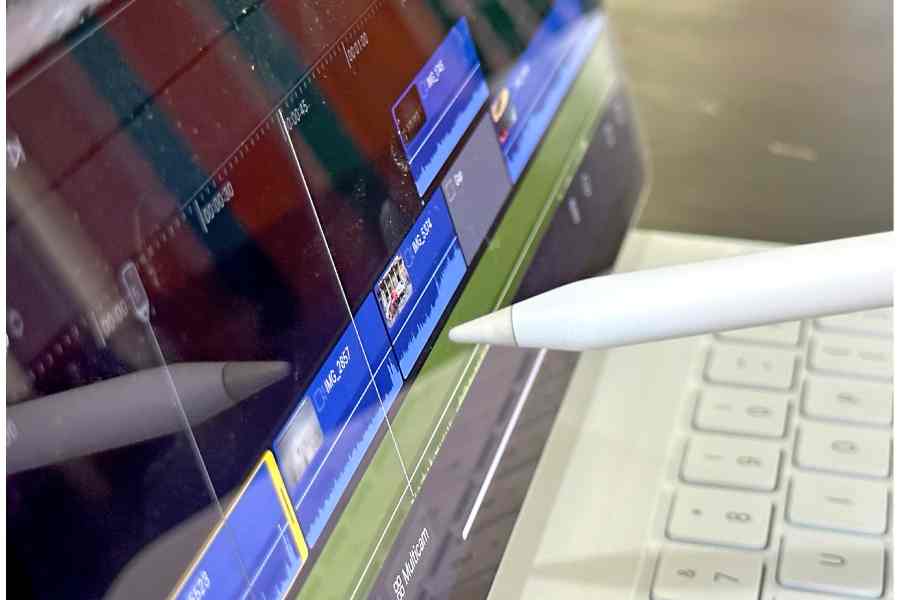 Pencil Hover feature speeds up the workflow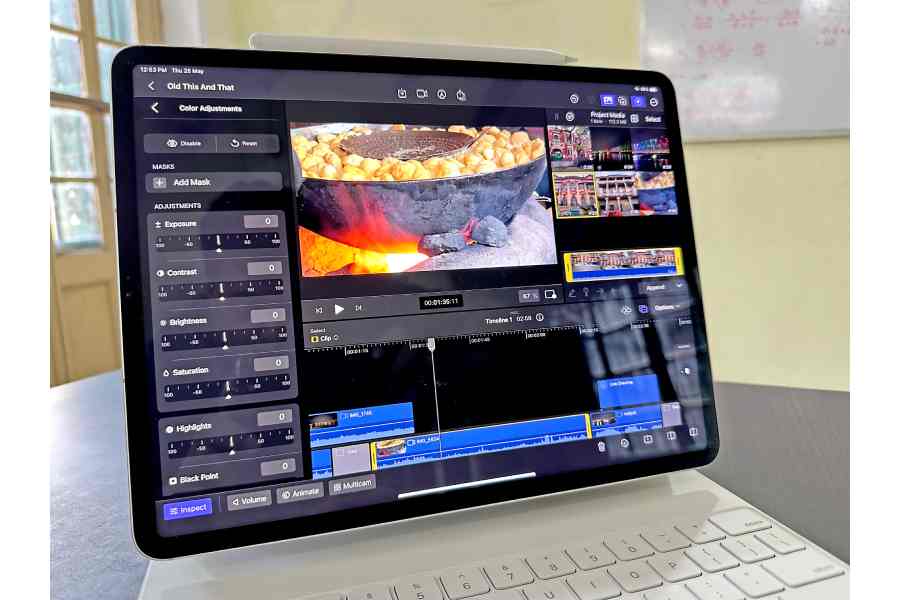 There are enough colour management tools in the iPad version of Final Cut Pro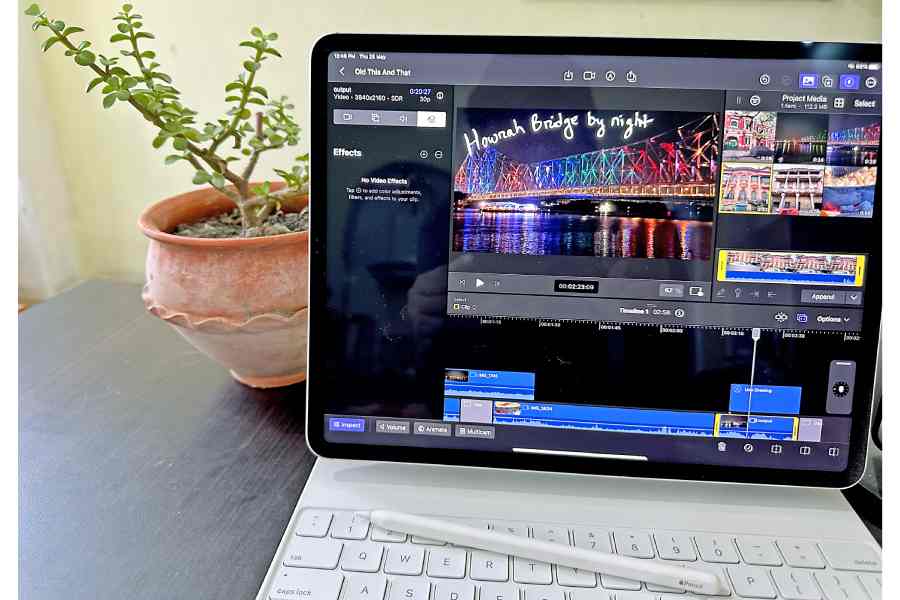 There is a nifty live drawing feature
When selecting a clip, open up the inspector pane where you will find 'log processing'; you can select camera LUTs easily. But if you are selecting multiple clips, you can't apply a camera LUT to a group of clips; it has to be done individually.
There are plenty of effects on the software and more should be coming soon from third parties. For the moment, there are some excellent effects to take care of all your needs. The scene removal mask is one of the best and it's surprising as to how quickly it works. That's the power of Apple silicon. The titles are standard but highly customizable to fit your project.
One feature that needs to be added is more speed ramping tools. On the MacBook, you can choose a clip and then select a speed for the first part of a clip and then a different speed for the rest of the clip. On the iPad, it is ramped up across the clip, so you need to splice the clip into two to get two speeds in place. You can retime clips for slow motion or speed things up. If you film something at a higher frame rate, you can use the automatically retime feature to get it to slow down to your project's frame rate. There is also multicam editing; it is a feature that I am still trying out.
One of the features that you will fall in love with is live drawing or using the finger or Apple Pencil to draw on top of a clip. You can choose how long it will take to draw on a clip with the 'draw on' option. Staying on with the Pencil, when Pencil Hover made its debut with the new iPad models a few months ago, one knew it would be a game-changing feature. Skimming through footage in Final Cut Pro feels like what the tech was made for. With Pencil Hover, you can skim and preview footage without ever touching the screen.
There are all the tools you will need for colour grading — waveform, vectorscope and histogram. You will be spoilt for choice and I am sure with future upgrades, things will only get better in terms of variety.
It's a subscription model
The pricing is reasonable. Instead of paying a big amount, things become affordable with Final Cut Pro for iPad. FCP and Logic Pro for iPad are available on the App Store as subscriptions. Each is available for Rs 499 a month or Rs 4,999 per year with a one-month free trial. Having a subscription model also means there will be regular updates. With Adobe Premiere you pay a higher amount per month but you also get updates all the time. One will now expect more updates from Apple.
Yay or oh-yay?
At times you may feel like starting to edit a video while travelling and on reaching the destination you want to transfer it to the Mac, it's possible. Overall, Final Cut Pro for iPad is geared towards the independent creator who likes to churn out videos on the move. You are no longer restricted: the iPad is very powerful and editing happens in the blink of an eye. I don't expect Christopher Nolan to edit his next film on the iPad but what if MKBHD or Rene Ritchie wants to make a video? They should be absolutely fine with Final Cut Pro for iPad. The software even goes easy on the battery. After working for two continuous hours, I was down to 57 per cent. Final Cut Pro for iPad is thoughtfully designed and makes life very easy for the independent creator.