A few weeks ago, my 10-year-old attended a Swift Playgrounds session and soon after ditched her Scratch programming lessons to stay glued to the iPad. Talk about a gamification approach, it's an effective way to spend time with the friendly alien Byte, moving around an isometric 3D map, picking up gems, activating switches, making the right turns… all with the help of simple coding.
The weeks have been kind as she has been able to switch between homework and time with Byte to the point she is trying to get her first simple app off the ground as we celebrate National Science Day today. It's a day to mark the discovery of the Raman Effect by Indian physicist Sir C. V. Raman in 1928, who, two years, later, won the Nobel Prize in Physics. It's also a great day to discuss STEM AND "STEAM".
STEM (science, technology, engineering and mathematics) education is on almost every other parent's lips now more than when I was playing with MOD files and Unix at school. Not that the push (and nudge) towards science was missing in the 1980s, now we have a fancier term to throw around. Now that I am a parent, I also believe in putting an 'a' into STEM with the alphabet standing for the arts.
If engineering focuses on how things work and coding is about a clear cut approach, artists are equally important and needed to improve user experience and user interface.
Look at Steve Jobs, the co-founder of Apple. Did he code? But boy did he know a thing or two about design. "I read Moby Dick and went back as a junior taking creative-writing classes. By the time I was a senior, I'd gotten permission to spend about half my time at Stanford, taking classes," he had said in a Playboy interview in 1985. Jobs understood Bob Dylan and The Beatles but he also knew that his co-founder Steve Wozniak's world was interesting and important.
In Swift Playgrounds logic and a beautiful interface reside side by side… as if Steve Jobs was behind it all. The visionary in a 2008 interview with journalist Walt Mossberg at the D8 conference described a future in which he looked at iPads as cars, being used by a majority of people, while PCs were likened to trucks, required for specialised needs. It's easier to drive a car around. And with an iPad you can write the code there and then and come up with the app.
Some of the world's most popular apps, in fact, are created in Swift. Those new to coding can start with Swift Playgrounds and work up the ladder. It offers a seamless transition between block-coding and language-coding. There is, of course, Google's visual coding platform called Blockly. But I think Swift has an edge because it is more accessible and tightly integrated with everything developers need to build their software. It's a good way to build apps for iPhones, iPads, and Macs. Further, Swift has a more "regular" syntax which can help people get interested in programming.
Does my daughter want to pursue programming in the long run? It's too early to know. She is only 10 and she is equally interested in video editing using LumaFusion. She is only 10 and prefers the Rick Riordan universe and mythology over Butter-inspired music. For her, design and aesthetics matter as much as the ease of coding. Who knows, she may land up at IKEA with her design software on the iPad.
Be it science or the arts, both are about moving society forward. Both are in search of answers for which they wander far and wide. Not everyone wants to be an engineer or doctor. If history has taught us anything, innovation is stimulated by those who are creative in different ways. Collecting ideas from disparate fields help to approach problems differently, allowing creativity and innovation to flourish. Let's celebrate creativity on National Science Day.
Put the iPad to good use with these science-related apps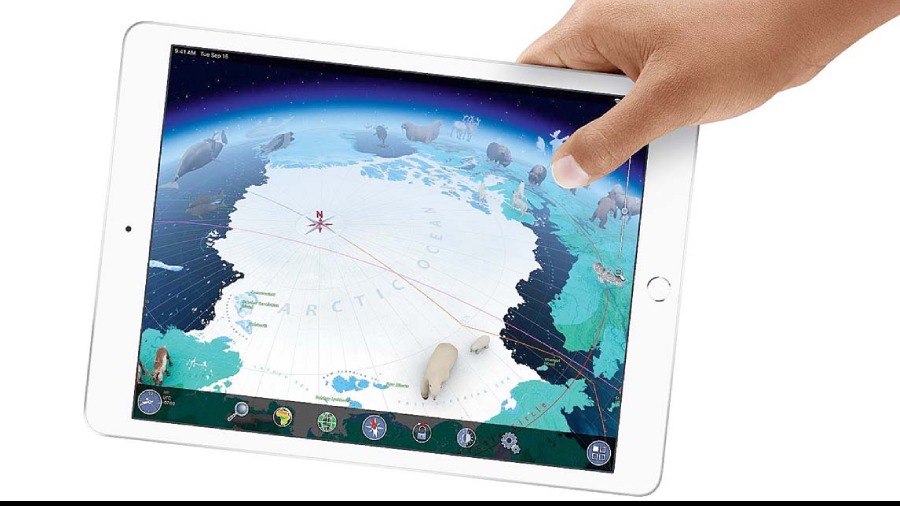 • Khan Academy Kids — Fun educational games and books.
• Toca Lab: Elements — Experiment with science.
• KS1 Science for Kids: Tappity — Top educational learning games.
• Night Sky — Guide to the sky above.
• BEAKER by THIX — Experiment with 150 chemicals.
• The Earth by Tinybop — Volcanoes, glaciers and more.
• Microsoft Maths Solver: HW app — Maths homework scanner and tutor.
• SPACE by THIX — Play in a cosmic sandbox.
• NAMOO — Wonders of plant life