Daft Punk, Bane, Hannibal Lecter (in Red Dragon)… the face contraption is nothing new in the world of entertainment but in the hands of Dyson, it takes on a different meaning. The company has delivered more information about the Dyson Zone noise cancelling headphones with air purification, which will go on sale in select markets from January.
The product is the result of six years of research and development. The headphones deliver up to 50 hours of ultra-low distortion, advanced noise cancellation and full-spectrum audio reproduction. At the same time, it captures 99 per cent of particle pollution as small as 0.1 microns, whilst K-Carbon, potassium-enriched carbon filters target prevalent acidic gases most associated with city pollution, including NO2 and SO2.
There have been several prototypes over the years and it even included the snorkel mouthpiece.
"Originally a snorkel-like clean air mouthpiece paired with a backpack to hold the motor and inner workings, the Dyson Zone air purifying headphones evolved dramatically over its six years in development. More than 500 prototypes saw one motor initially placed at the nape become two compressors, one in each ear-cup," Dyson said earlier this year.
So why is the device important? According to Dyson more than half of the global population lives in cities. This is expected to reach seven in 10 by 2050. The device can tackle the dual challenges of city noise and air pollution. Powered by advanced lithium-ion batteries and USB-C charging, the headphones offer 50 hours of audioonly run-time, or four hours of combined purification and audio run-time, charging to 100 per cent in three hours.
It supports Bluetooth 5.0 and features a 3.5mm audio jack and USB-C port for charging. There are 11 microphones, eight of which are used by the device's advanced noise canceling (ANC) system. According to the company, the microphones can monitor surrounding sounds 384,000 times a second, reducing background noise by up to 38dB.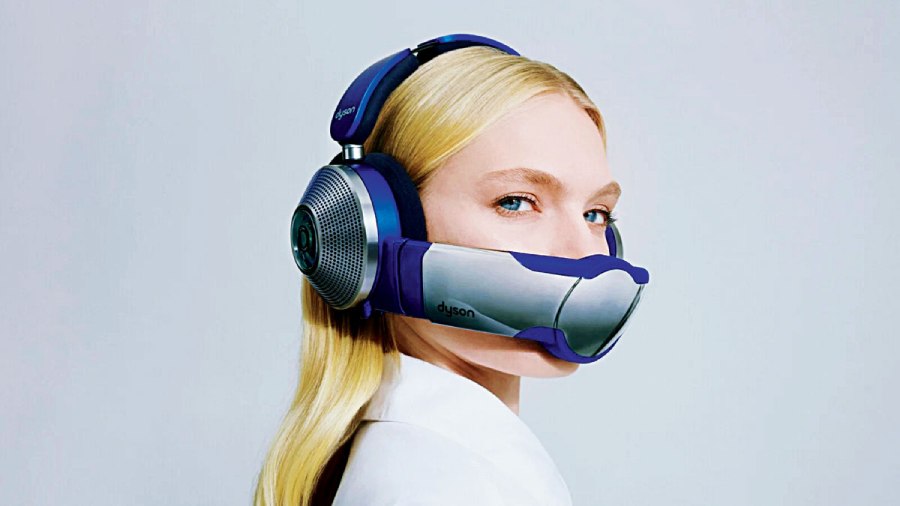 Dyson Zone headphones feature active noise canceling and a face mask that acts as a filtration system
The air filtration system acts like a visor and doesn't form a tight seal around the face and can be detached from the headphones, snapping into place using a series of magnets.
Though no annoucement has been made about a launch in India, Dyson Zone will be available in the US for $949.