Why go for a basic balayage or a boring braid when there are so many ways to jazz up your summer hair? There's a plethora of styling options for switching up your hair without going for a big chop or impromptu bangs (put down the scissors sisters, please!).
Happy hair doesn't always have to be about immaculate blow-drys — shaggy bobs, faux bangs, rainbow pins or even a quick DIY dye job can be transformative. Here are all the trends you should bookmark for summer:
Warm streaks
Go the Miley Cyrus route and go for big streaks, with blond, pastel or bright colours. This summer, warm hues and easily changeable hair are all the rage, says Yushika Jolly, the founder of vegan hair colour label Paradyes. Jolly's semi-permanent hair colours are a hit with young buyers who, until recently, only had the option of overpriced, imported hair colours or domestic brands that offer basic palettes.
"Hair colour is such a tactile and creative way to express yourself and it's a fun, experimental process to bring a colour transformation to life. Now that masks are a part of the new norm, hair colour is important for people to be able to express their individuality," says Yushika.
Yushika notes that fiery shades like Ruby Wine, Carola Pink, Rubra Red and Amethyst Plum are reigning big among her clients, especially those who love switching up their colours often.
"For Indian dark hair, one must bleach their hair and then deposit a colour of their choice. Bleaching is a one-time process and one can deposit multiple shades after that. The best part? Every time you deposit Paradyes' semi-permanent hair colour on your bleached hair, it will nourish it and only make it softer," shares Yushika.
Clip-on bangs
Want bangs, but not the hassle? Go for clip-ons! Parul Gulati's brand Nish Hair creates 100% human hair extensions that you can use to give your hair a fresh new look.
Their clip-on bangs can make a sleek addition to your hair and they're superbly easy to put on.
The brand has seven different varieties of bangs, from curtain and curly bangs to side bangs and wispy fringe.
Braids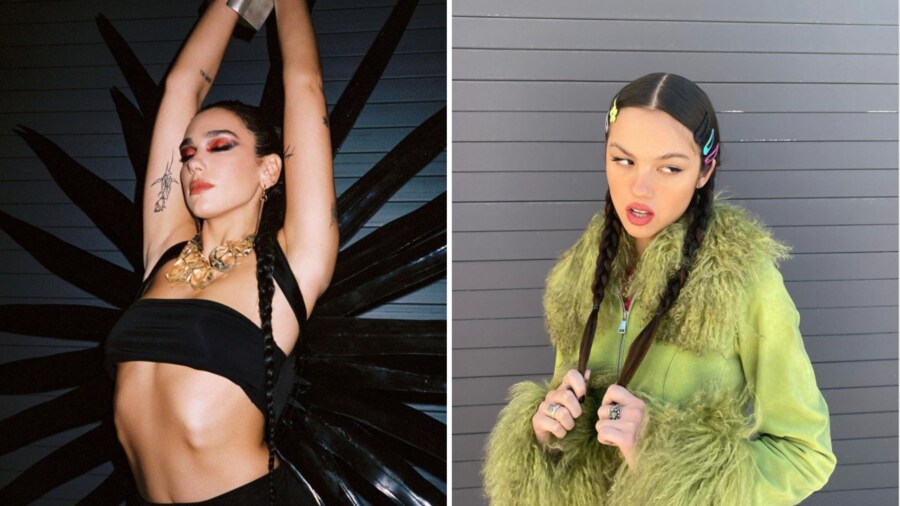 Go for some braids this season
@dualipa/Instagram; @oliviarodrigo/Instagram
You can't go wrong with braids this season. From Bella Hadid's mini braids to Kim Kardashian's wet, long braid or even Dua Lipa's sleek high pony-style braid — braids are back, baby! You can also try braiding your hair from the side of your head to create the Bridgerton-style milkmaid's hair.
Explore Kim's hairstylist Chris Appleton's tutorial on how to ace braids for summer:
Y2K accessories
We can't travel back to a simpler time, but our hair can! Oversized scrunchies, butterfly clips, claw clips and barrettes are trending big. Take a cue from Shanaya Kapoor's Y2K ponytail which has mini hair claw clips to add some drama to the look! Trendy Pitara has these popping sequin rainbow hairpins which can switch up your hair in seconds.
Curl-ready hair
Instead of relaxing your curls, embrace their natural texture with a shaggy chop or a dramatic mullet. For shoulder-length hair, rounded, full-bodied and layered curls are the easiest to manage, since they don't always need a blow-dry. If you want something shorter, go for a glossy, polished do with a lot of texture. We love how Bollywood stylist Amit Thakur gave Shanaya Kapoor's curly mane a retro spin.