83 — that documented India's historic cricket World Cup win in ways both emotional and entertaining — didn't get the box-office returns it deserved, with the third wave of the Covid-19 pandemic shutting down theatres as soon as the film released in December last year. Since then, 83 — with Ranveer Singh as Kapil Dev leading a talented ensemble of actors — has got a fresh lease of life on streaming platforms and has also won awards. Ahead of the Indian Film Festival of Melbourne, where the film has been nominated for a bunch of awards, The Telegraph caught up with its director Kabir Khan for a freewheeling chat.
Congratulations for the awards that 83 has been winning and you are nominated for quite a few at the Indian Film Festival of Melbourne that starts on August 12. How does it feel like being able to attend film festivals and award shows in the physical format after the pandemic pause?
I am an avid traveller who has always maintained that travel is an essential experience of life. I am what I am today because of my travels. I felt caged in when I wasn't being able to travel, but now I have just come back from a two-week trip to Europe. It was my first long trip after Covid and I just felt so alive to be able to walk on the streets and just do the kind of things we were able to do pre-Covid.
I always look forward to going to Melbourne because not only is it a beautiful city, the Indian Film Festival of Melbourne has grown to be a brilliant festival... it has great participation from the audiences. I am really looking forward to it.
Staying with the travel bit, is it going to be 'agenda revenge tourism' for you now?
It's already started! (Laughs) I do a lot of street photography. What's therapeutic for me on my holidays is slinging two-three cameras on my shoulders and walking around and taking pictures. If I just get one picture that I can frame and put up in my house, for me that becomes the souvenir of that country. More than two years ago, I got myself a whole new set of cameras so that as soon as 83 released (the initial date was April 2020), I would travel and take pictures. My aim is to hit 100 countries in the next few years... I have already done about 85-86.
I have just come back from Prague and Budapest and my revenge tourism has already started! I will have to start prepping for my next film (with Kartik Aaryan) and I am already wondering which are the countries I can shoot in.
83 was unanimously praised by critics and audiences, but that didn't translate into ample box-office returns. Now that you have had some time after the film's release, can you look at the reasons why this happened with some amount of objectivity?
Totally, absolutely! We had held on to the film for more than a year-and-a-half and we didn't want to release till the pandemic was over. There was so much planning and strategy and then we ultimately ended up releasing the film on the worst day possible! The third wave of the pandemic started in the third week of December (2021) but when we had the premiere of 83 on December 22, we had no idea that the third wave would blow up in the way it did. We thought we would perhaps get a two or three-week theatrical run. At that time, theatres were still operating at 50 per cent occupancy, but we were okay with that. We were very confident about the film.
But within the first four days of release (on December 24), so many states started shutting down theatres again. By the time the first week ended, nine states had completely shut down, and the remaining states cancelled the evening shows, which are always the biggest shows of the day.
I was shattered, I was so disappointed! We had been showing the film at screenings before release and I was already seeing the hugely positive reactions. I had never got such reactions even for all my previous films combined, though some of them have been immensely loved too. But 83 was 10 times more than all of them put together. I knew I had a very strong film, but when entire states started shutting down, I got very depressed.
I took a very, very long time to get over the disappointment of the film not getting its due. There is not a single person who saw the film and said, 'Listen, I didn't like it'. Everyone was ecstatic about the film. I was getting cathartic messages of what the film did to them, how it made them cry, how it brought back memories, for some it was the discovery of a historic event in India's history. With all my other films, I would go back and change something. With 83, I wouldn't change a thing... I am so happy with it!
But while it didn't have a good theatrical run, once 83 released on OTT — simultaneously on Netflix and Disney+Hotstar — it became a completely new release for us. The flood of messages that came in! Ranveer (Singh) and I would exchange messages every evening. Even today, after six months, I wake up to messages from those who have either seen it the first time or even those — and I am not exaggerating — who have watched it 50 times!
Ultimately, a film is successful in terms of how many years it's going to be remembered. It's not about the box office... it's about the impact it made on the people who saw it and the number of lives it touched. And I can very safely say that 83 is one of those films in my filmography which is going to have a lasting impact. For me, it's up there with Bajrangi Bhaijaan... I still get messages for that film.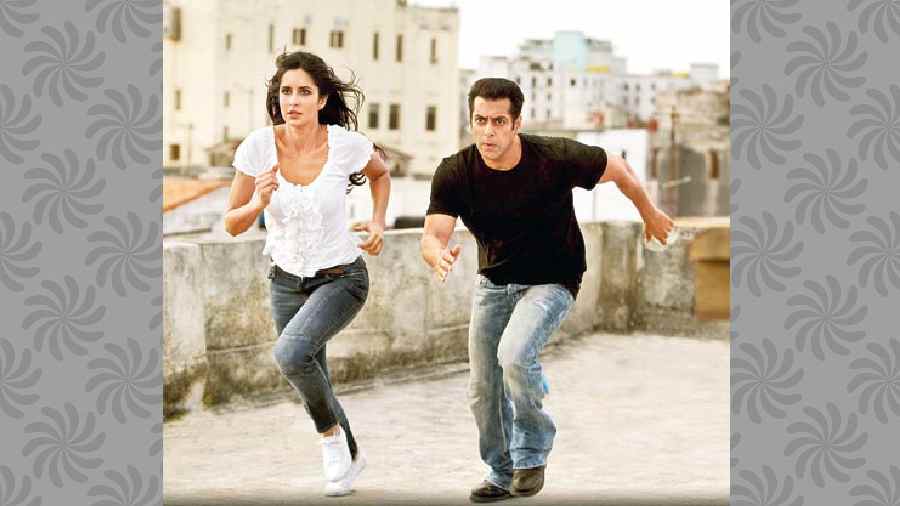 Salman Khan and Katrina Kaif in Ek Tha Tiger that turns 10 on August 15
When the film didn't do well, there was so much talk on Twitter that your Left-leaning ideology had harmed 83's chances...
Twitter is a well of negativity... the less attention one pays to it, the better it is for us. I keep telling people that if they want to have a better life, they should just stay away from Twitter! There are a bunch of fools sitting there spreading ugliness. I have stayed away from Twitter for the last five years.
Even in the analysis of films, these self-styled trade pundits come off as foolish. You can't be putting out the (box office) figures of a film without revealing the context. They put out numbers of 83 without saying that 11 states had shut down. So it either shows they are inefficient or have an agenda.
There is so much talk about how films from the southern part of the country are doing so well across the country. Bollywood had a Bhool Bhulaiyaa 2, but once a Shamshera happened, the obituaries came out. As a film-maker who has been entrenched in the Hindi film industry for years, what are your thoughts?
I don't really get this debate about south vs Bollywood. We should all be happy that some films are doing well and audiences are going to watch it. I think we should be celebrating films coming from every part of India. We don't have to necessarily take lessons from their success. We have to do what we know best. As a film-maker, the worst thing I can do is make a film for somebody else. You will always fall flat on your face. A film-maker will always make a film that he or she likes to watch. Making a film with conviction and integrity and in the way you want it, will ultimately always get you an audience. Every industry goes through ups and downs but that doesn't mean that obituaries have to be written.
It will be 10 years of Ek Tha Tiger on August 15. What are your best memories from making that film and does it rankle somewhere that you haven't helmed the subsequent instalments?
Not at all! That was a conscious decision because I don't do sequels. As an individual, I don't get excited by sequels. I may end up making one some day but it will be because I got excited by the character again and a story around that character. I will never make a sequel to cash in on the success of the first film.
I owe a lot to Ek Tha Tiger and my association with Salman (Khan). This film introduced me to the world of big, blockbuster cinema. Even today, people mention the film to me, it's lived on in memories. I travelled to five countries to shoot it, including Cuba, which was on my bucket list. The running joke at Yash Raj (Films, the film's producer) would be that Kabir sets his films in the countries he wants to visit! (Laughs) I had great memories of shooting it in Turkey, Cuba and Dublin.
It was my first film with Salman and this association, with all its debates and arguments because we come from two different sensibilities, led us to make Bajrangi Bhaijaan, which will always be a special film for me because of the politics we spoke about and the way it touched people's lives.