When Abraham & Thakore's 'Time Travel' unfolded on a canvas-wrapped ramp at Lakme Fashion Week in partnership with FDCI, at Jio World Convention Centre in Mumbai last October, looking back at their three-decade journey, with an eye on the future, you couldn't help but marvel at how relevant the brand was. Ahead of its time and a mind reader at that. Of course, Gloria Gaynor's I Will Survive, to the tune of which the models marched, was an apt song, as the pristine charm of traditions and the handcrafted blended beautifully with a contemporary language to send out effortlessly edgy-cool silhouettes. An aesthetic that the designer duo had made their own. What went into being timeless, we had asked David Abraham, one half of Abraham & Thakore. "By staying up to date and being conscious of what's happening around us, environment, society... people's lives are changing. Also, being willing to discard your old beliefs and learn new ones, otherwise, then you are finished. It's about being on the move all the time...," he had told us. We were chatting backstage with just minutes to go for the show. As the happy chaos bubbled around us, David went on to elaborate on how they had put the show together. "From our current season which is available in the stores to the next season, spring, with old, iconic archival pieces which we are going to mix and probably hope people will not be able to make out, which is which," he told us.
What stayed with us was how intelligently modern the designs were. And of course a stunning Carol Gracias in an A&T archival sari, a silk houndstooth ikat drape in amla, black and white, that was "acquired" by the Victoria and Albert Museum, London, and was also a part of their Fabric of India exhibition. Statement and so powerful.
We recently had the opportunity to chat with David again at length and the masterpiece did come up in the adda, among other things, including the secret to sustaining a brand for decades without diluting its spirit and pushing the envelope further, with every collection. And, when he told us how it felt like just yesterday that the journey had begun, the song that immediately came to our mind was Dil toh bachcha hai ji. #timelessExcerpts.
The journey has been such a long and rewarding one. Let's start from the present though. Where do you see the brand in 2023?
I think it's at a juncture where we are seeing it grow into new spaces and directions and reach a wider audience, which is very exciting. So, I think it is an exciting juncture.
Most good things happen when you don't plan for it. Did you plan the journey of the brand or took it as it came?
Now with the benefit of our new partnership with Reliance and the inputs of skilled professionals, we are embarking on a much more planned journey. Prior to this, we had a plan but it was not sort of articulated. We pretty much took it as it came. We started a long time ago, even though I feel like we started yesterday. There was really no organised fashion retail scene in the country and that led us to actually selling the collection overseas and focusing on the overseas market for the first 10 years.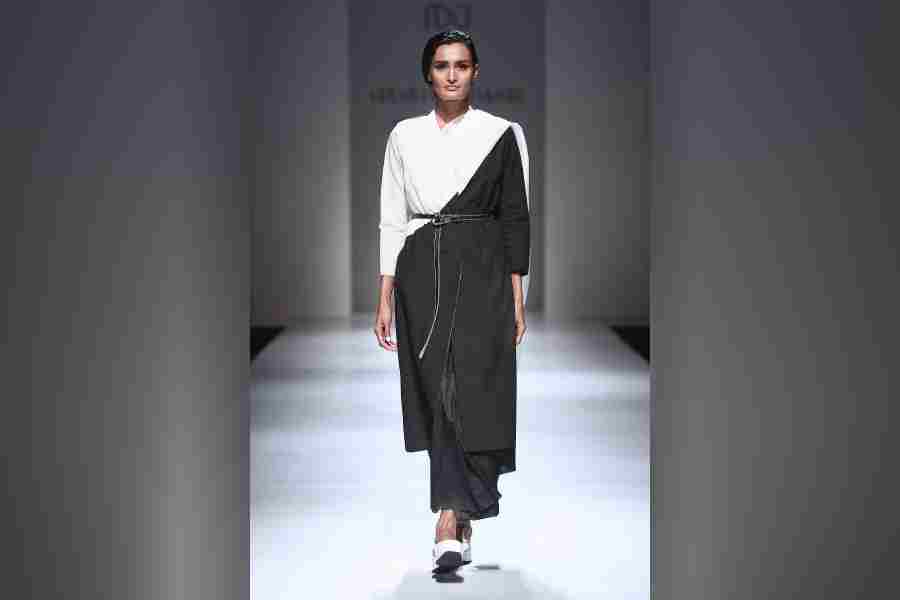 Year: 2017
Collection: Block. Black. White.
Rakesh Thakore had told us once how to work black and white, colours that the brand was synonymous with. "The clarity that comes across in black and white and the purity of it, is what it's all about eventually. It speaks for itself. It has a language which is clear and clean. You can have a palette of just whites and looks of just blacks. It is also nice when you combine the two. You can wear a white shirt with a sari.... More of black in the winters and more of white in the summers. It is always a nice surprise to wear white in the winters because that white makes you feel fresh. You can team a white shirt with a black jacket and trousers with a beautiful cravat or a pocket-square," he had said. This ensemble consists of a block-printed silk sari and a khadi cotton jacket with an 'engineered block print to create a perfect diagonal line when worn together'.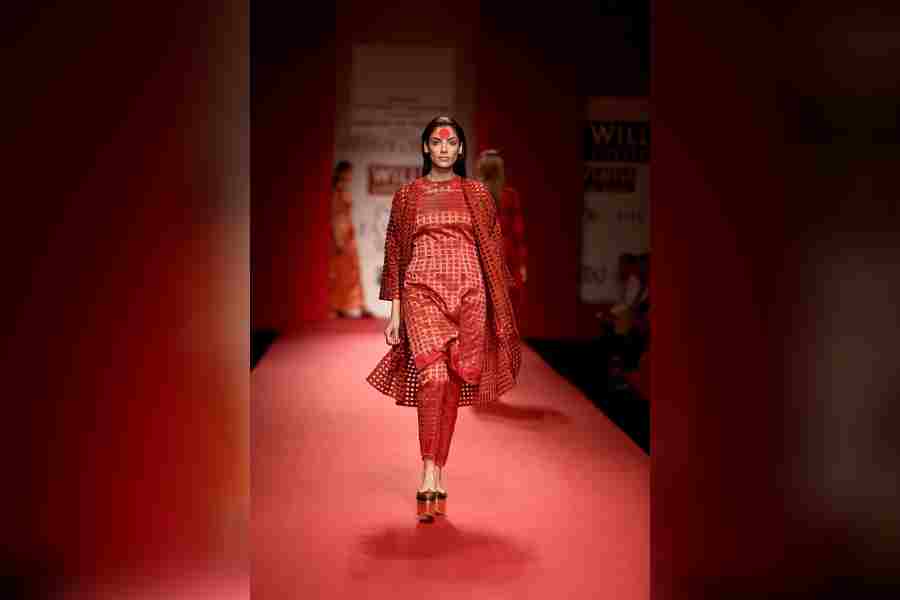 Year: 2013
Collection: Varanasi Collection
The vermillion look consists of a brocade kurta and a pair of pants, with an overlay of a stitched lattice jacket. 'The lattice jacket is a juxtaposition on the lattice brocade'.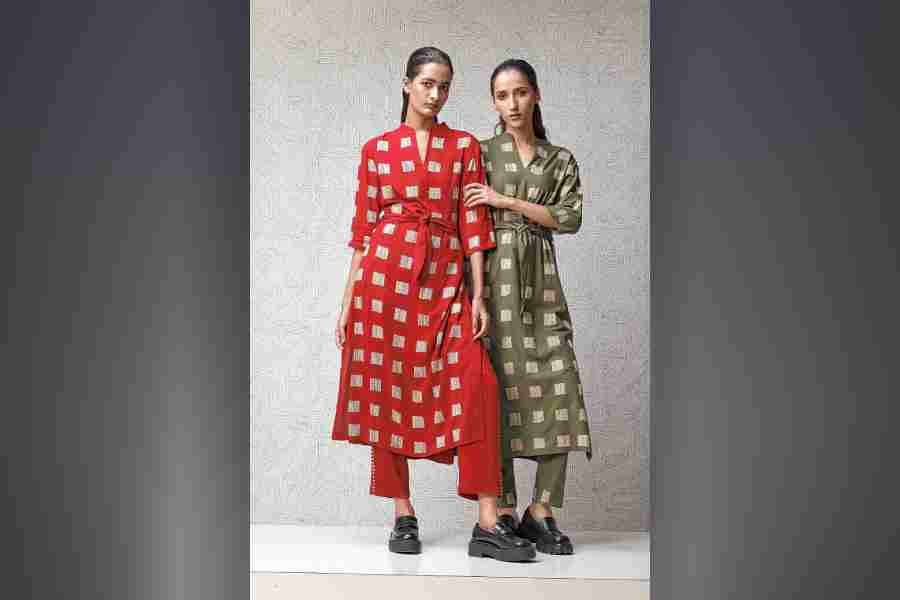 Year: 2022
Collection: Autumn Winter
How smart are these simple madder and seagrass kurtas in 'sustainable Ecovero fabric embroidered with handspun tussar yarn in a perennial block pattern.' Head to work and then carry on in the same for a drink with your besties. #seamless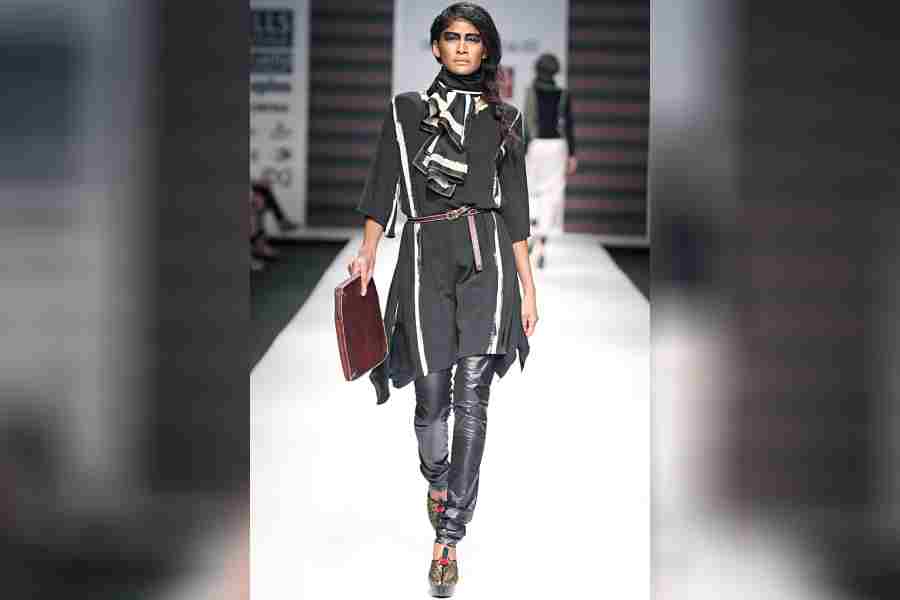 Year: 2010
This piece belonged to Abraham & Thakore's first show — a digitally printed khadi kurta and silk scarf, paired with nylon churidar with hand kantha on the side seam. 'The hand-painted dry brush artwork... was translated into an engineered digital print' for the look. A modern-cool sensibility of presenting tradition.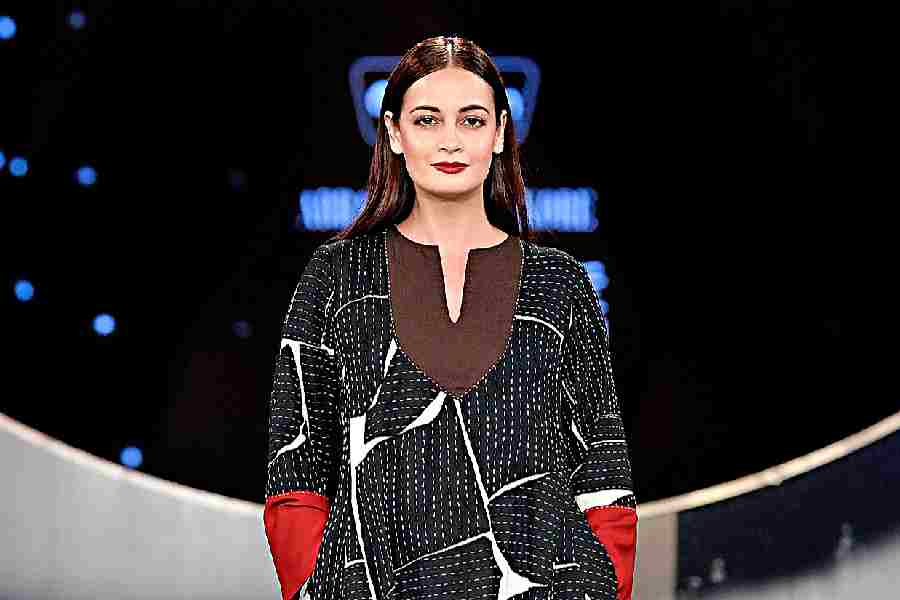 Year: 2021
Collection: Assemble. Disassemble. Reassemble. Dia Mirza in an Abraham & Thakore kaftan that was 'was made from recycled PET fabric and off cuts/ katran patched together by hand kantha'.
That was really because that's where we really had a market and earned our living, so to speak. It was an excellent experience because we actually learned the profession because we had the opportunity to work with some really good professionals and saw some really great stores and each experience was enriching. We learnt about manufacture, quality, and on-time deliveries. It was a small business but we were dealing with a lot of clients.
It was only later, after the first 10 years or so, that we began to shift our attention to the home market because it was beginning to grow by then. We opened our first couple of stores and began to stock at different retailers in the country. Things began to change after that. Of course, now we are looking mostly at the home market because that is the most interesting right now.
Is going with the flow more thrilling... discovering new things about yourselves and the brand?
I think it is okay to be sort of fairly disorganised like we were at the beginning when you are a small business because then the risks are much lower, but as the business grows, I think it is a disadvantage not to plan because the stakes are higher, so you really cannot afford to make those mistakes. Each mistake gets that much more expensive. We are benefitting from proper planning right now.
Looking back, do you think you've had the luxury of making mistakes and learning from them because you started so long back, and recovered and are the brand you are today?
There are two sides to that. Of course, we benefit, as you say, with experience. We have done all kinds of things over the years in different markets and learnt a huge amount. Right now, I think that really plays to our advantage because we can draw on all that experience and perhaps make less mistakes. But the other side of the argument is when one has been doing things for a long time, you have to make sure that you don't fall into a trap of overconfidence.... Things change and it is terribly important to be conscious of the fact that one constantly learns. I am very nervous about that. If one begins to think that one has answers to everything, then I think it is a sure recipe for falling on your face. Though I have experience and I do know a lot of stuff, I still think what keeps the business exciting for me is the constant learning. Markets change and people evolve. There was fashion then and fashion now, but the world is a completely different place. Technology has changed the universe for us. One has to be receptive to all that and not take anything for granted.
Acceptance of the label's aesthetics is at its peak now with the world opening up so much. When you started, it was a very different language. Did that play a role in the brand focusing on the overseas market initially?
That to a large extent, yes. When we started initially, it was a two-way street. We did want to sell in the West and were being approached by stores there. The market here was still nascent. The whole sensibility was evolving and the whole thing was in a state of churn. Fashion in India is such a recent history and in fact, it is still in a stage of evolution.
The brand is clearly ahead of its times. What was the DNA of the brand when you started?
One thing that has been important for us in design sensibility is if there is an established approach to design or a design problem, we always start by questioning it.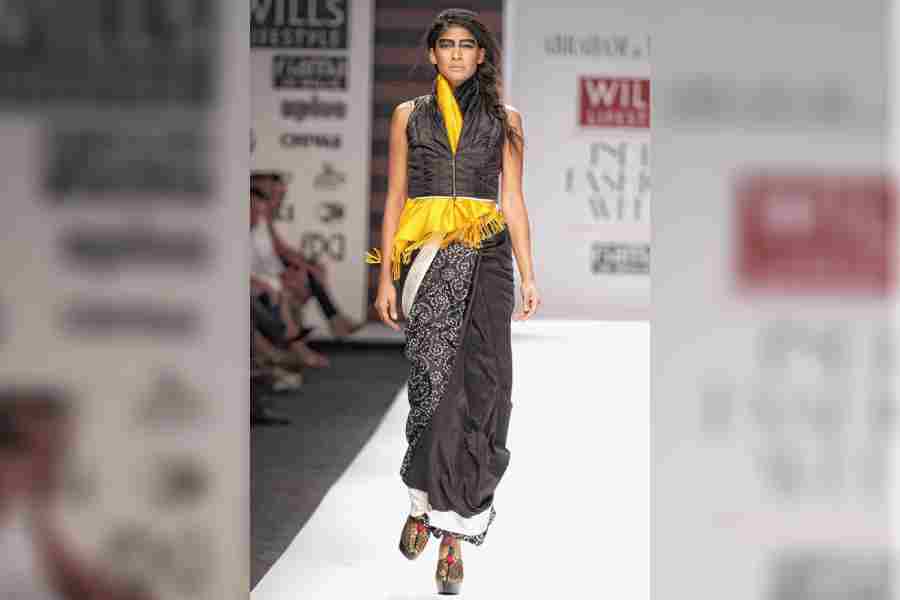 This too belonged to the first show, in 2010. This sari is 'a cut-and-join sari that is half double ikat and half bandhani, as a part of the tie–dye and resist series. The puffer jacket blouse is a 'fun take' on the 'cold weather choli'.
It is always finding a different way to restate an existing problem, in a small way. We also started working very closely with the traditional craft industry. Our first collections were with ikat. I find that when you work with traditional crafts, it is important to move it forward. I don't think it is necessary for us to repeat what's been done for thousands of years. As designers, I think we come in with a contemporary voice and it is much more interesting if we nudge it with each collection and push it in a particular direction.
Another part of the whole process for us is that when we make something it should be relatively timeless. A garment has to have a life that extends beyond many seasons. Of course, now the sustainability argument has become fashionable, but this was before the sustainability argument.
What have been some of your favourite collections over the years?
I am very happy with the work we have done in textile development, which has influenced the clothes we have made, which could be the ikat weaves or what we have done with the brocades. We have done a lot of work with khadi. We did a collection a couple of years ago with recycled PET bottles. We used the fabric to develop kantha techniques and shapes. It played on the fact that recycling could also be used as a source of ornamentation on already recycled fabrics. It was playing with ideas really. The houndstooth sari that you mentioned was playing with the idea of gender. We have been very interested in investigating why certain patterns are considered male. The houndstooth collection was based on masculinity and femininity and we derived all those patterns from menswear suitings and put them on womenswear to twist that whole perception of what is considered gender relevant.
Do you think the brand has stayed relevant because you have never treated fashion like a fad?
Yeah, fashion has to move beyond fad. Unlike many fashion designers, our initial training was in textile designing and the making of the cloth. So, we really start with the making of the cloth, which then influences the making of the garment.
How do you think the word 'minimal' came into your lives?
We do use it sometimes when we do something which is (minimal) but we also do a lot of things that aren't. I think it was used more by other people to describe us in the beginning because I think they were seeing it as opposed to rich bridal trousseau.
Which brings us to bridals. Though some of your pieces will be picked up by evolved brides of today, but as a brand then, is there no pressure to conform?
I think one of the reasons we didn't was because we were able to do business without it. We did not just have fashion, but home textiles. It is also an area we didn't know very well or understand and we didn't make an effort because we always found ready-to-wear much more interesting. We were really interested in providing clothing solutions to people in their everyday lives. What you wear every day is interesting to me, not a one-time event. Having said that, if an opportunity came up and somebody told us to do it using our design language, we would never say no.
The brand has now diversified into home in a big way. You have also done carpets. What else is in the pipeline?
We have got bedcovers, cushions and soft furnishings and plates, bowls, tablemats and napkins. We are slowly widening the range and we are hopeful about it. As people begin to invest more in home and interiors, I think there is space for new designs. For the first 10 years, it was a large part of our business. In London, we used to have a large space in Liberty (multi-designer space) and The Conran Shop where we used to sell home and were successful. It was a matter of going back and relooking at that and bringing back some of those ideas. We are developing it.
We are strengthening our men's collection because we have been getting an extremely good response to it. We just opened a store in Bombay recently, a few weeks ago. We are seeing how consumers have changed and how there is a much larger male customer who is buying A&T. That will become a stronger offering. Homeware is something we want to focus on. We are redesigning our website and it is in the process of being relaunched.
One always gets a sense of contentment and calmness from you. You are just happy doing what you like and there is really no contest to belong. Tell us how you have done it...
(Laughs out loud) That's kind of you to say so, but a lot of it may be projection! I don't think I am that calm at all! But I do really agree with you that I am happy doing what I am doing and so is Rakesh. We really enjoy what we do. We like to sit around in our studio and discuss. We are happy if a new fabric comes in and then we argue over it and with our team, we sit and chat and discuss new ideas. That's really one of the best parts of my day and I never get bored of that. I can sit with masterjee and adjust the sleeve of a dress and to me that's extremely enjoyable. The reason why we enjoy it is we are hands-on. I can't sit and delegate a whole bunch of stuff. I have to be fully involved.