During a slow afternoon in April 2020, when I was bored out of my wits, my mother pointed to a bag of vibrant threads lying on the sofa. As it turned out, that's exactly what I needed! 
I'm grateful that I made it through the lockdown phases along with my family. I had the leisure of time, like so many people my age. Tik Tok was obsessing over cottagecore crafts like crocheting and knitting, and I already had the resources at hand. So, embroidery was obviously what I decided to explore. 
I have been raised in an artistic household. My father paints and my mother stitches and designs her own clothes. I knew how to hem and sew buttons thanks to the home science classes in school, but that was about it. 
I immersed myself in YouTube tutorials and I realised I was drawn to simple but voluminous stitches. I zeroed in on an elaborate floral design as my first reference and began sorting my supplies.
Though I was threading a needle after years, I found it to be fairly easy. Drawing the outline on the fabric, however, seemed intimidating because I was never good at art. With a little help from my dad, I was able to get the outlines ready for embroidery.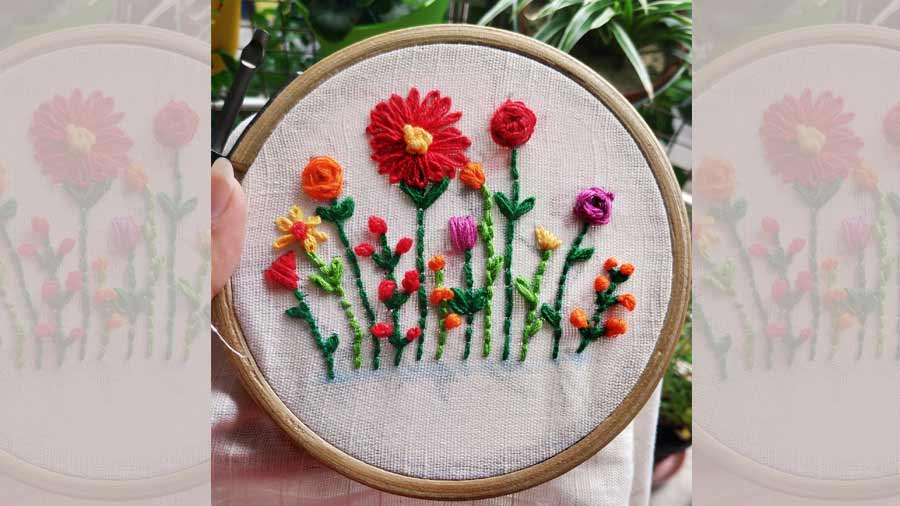 My first embroidered flower garden hoop
Following some basic stitches like the chain and leaf, along with a few French knots here and there, I embroidered my first row of flowers. To be honest, I still can't believe how easy this craft came to me. Pushing the needle through the fabric and pulling it out the other side felt therapeutic.
Nothing brought me more joy than stitching, amid an unpredictable lockdown. My obsession with embroidery steadily grew and I decided to take on a larger passion project.
This time the canvas was bigger, the fabric was thicker and I was more goal-oriented because I had chosen to embroider – the back of my denim jacket! I picked out the colours and drew on the design and I was ready to conquer!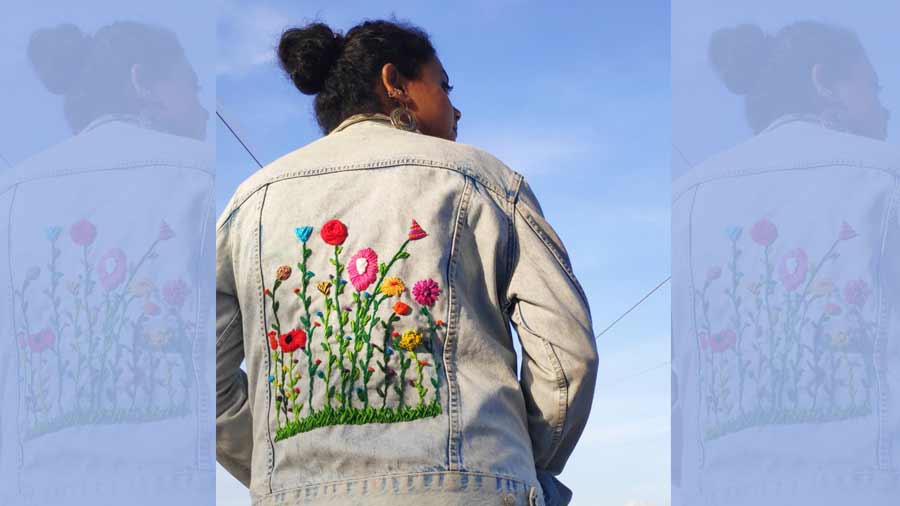 An embroidered back panel on a denim jacket
It took me over a month to finally get it right. But my oh-so-basic denim jacket had transformed into a piece of wearable art. This jacket was going to be a family heirloom that can be passed on from generation to generation!
My next project was embroidering a hoop wall art. I decided to embroider a bright cycle overflowing with flowers, like the ones you can spot in quaint Sicilian towns. It was the closest I came to travelling while being stuck at home.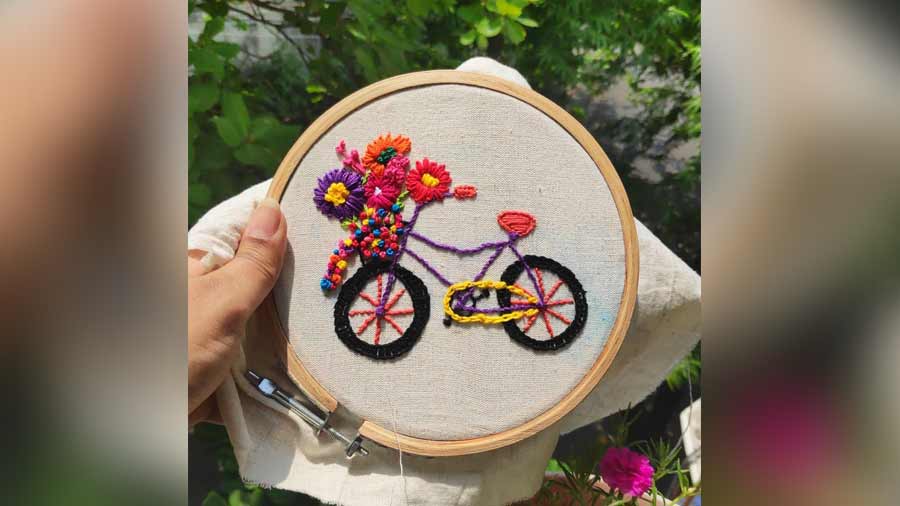 An embroidered cycle overflowing with flowers
I finally landed on a design that became my proudest work. Of course, it had something to do with Frida Kahlo, an enduring influence for artists and designers. I have been hugely inspired by the artist, so much so that I even got a tattoo of her a few years ago. Embroidering her felt like a fitting homage. Her iconic unibrow, her quirky earrings and the bright gardenias and bougainvilleas in her hair made her an enthralling subject.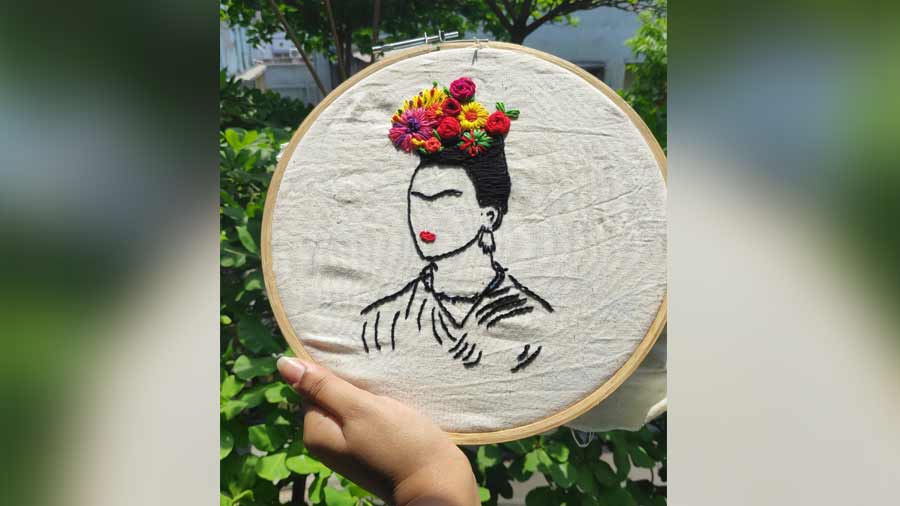 A Frida Kahlo embroidered hoop
I was simply grateful to have a hobby that took away the burdens of the world from my shoulders. If you want to dip your toes in the humble, low-maintenance world of embroidery, you just need some simple, easily available supplies:
A set of needles
Cotton embroidery threads in any colour
An embroidery hoop
A few metres of plain white cotton fabric to practise on before you embroider your own clothes
Local markets like New Market or Gariahat's Hindustan Mart offer embroidery supplies. You can also opt for DIY embroidery kits that are available via virtual platforms like Okhai, Fabriclore or Natty. From threads, needles, hoops to fabrics, you can find everything online.
Starting-off tips
Watch as many tutorials as possible to master the basic stitches. Rewatch, pause, embroider and play. Repeat this till you are confident with the strokes of every stitch. If you understand how the threads interact with the fabric with each stitch, you will be able to understand which design demands which stitch.
Always tie a small knot at the end of the thread on your needle. This will ensure the streams do not slip out and remain attached to your fabric so that your design is structurally sound.
Make sure the thread you put into your needle isn't too long or it might entangle the threads on the back of the fabric as you embroider. Thus, creating unwanted knots and forcing you to start all over again.
While attempting something like the French knot, make sure you hold the thread taut and provide a slight tension to the thread, this will ensure that the stitch is tight making a neat design.
You can mix thread colours to create ombre shades or even add contrast to your designs. Most embroidery threads have six very thin strands which you can separate. Use three of one colour and three of the other to ensure a uniform change in colour.