After the overwhelming success of Coke Studio globally, Coca-Cola recently announced the launch of Coke Studio Bharat in Mumbai. The season brings forth an amalgamation of over 50 artistes from across the country who have come together to create over 10 memorable tracks celebrating their roots. The Indian music industry is undergoing a revolution, and the youth is driving the change. Today, as the youth seek authenticity, greater freedom of expression and openness to immerse themselves into different music forms that are unique, diverse, yet meaningful, this season of Coke Studio brings forth emerging artistes from India's hinterlands and seasoned artistes together, to cook their magic with the season. The season is curated by the award-winning musician and songwriter, Ankur Tewari with poet, lyricist and scriptwriter Kausar Munir on lyrics and sound engineering and music production handled by KJ Singh.
"Coke Studio, a globally acclaimed platform, has always aimed to celebrate authentic regional music. Musical traditions from multiple regions in India are at an inflexion point not only in India but even globally. Coke Studio Bharat connects the truly distinct cultural dots of various regions in the country with artistes whose music is defined by their roots. They are the real stars of the season, giving regional music a bigger impetus," said Arnab Roy, vice-president, marketing, CocaCola India and Southwest Asia.
Having partnered with Universal Music India (UMI) as executive producers for the launch season of Coke Studio Bharat, Devraj Sanyal, MD and CEO, Universal Music India, India & South Asia said: "To be a significant part of the Coke Studio phenomenon is a true honour for any music company, but to be involved in it from start to finish including spreading our brand of 'Bharat' music to not just our country but to the worldwide streamscape is something that makes me very proud. The trifecta of team Coca-Cola, Ankur Tewari and my team came together with our creators in a way I've rarely witnessed, making way for some of the finest folk & fusion music in a new age Bharat sonic that I have ever heard. Today, more than ever before, music knows no language or genre. It is crossing borders boldly the world over and it's our shared dream that we are able to deliver that in the first season of Coke Studio Bharat."
Curator Ankur Tewari had a quick and candid chat with The Telegraph on the season and its design.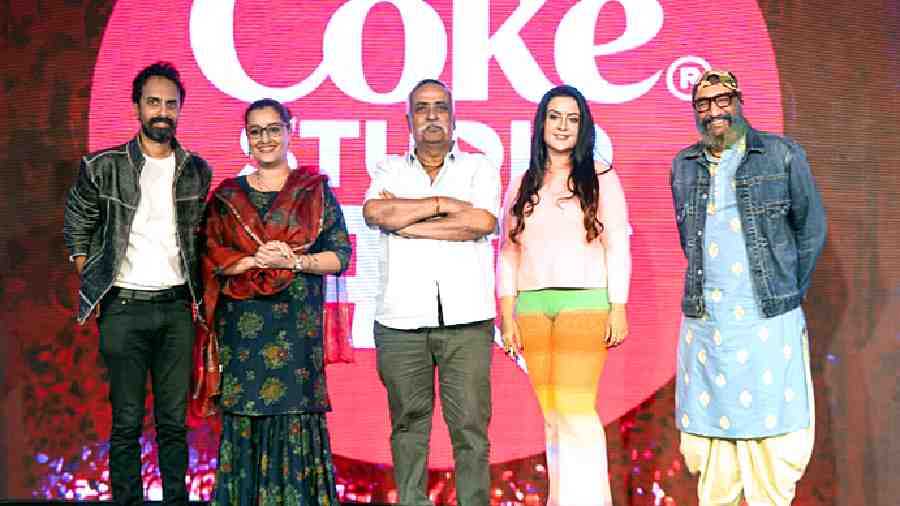 Devyani Rana, vice-president, public affairs, communication and sustainability, Coca-Cola India and Southwest Asia, and Devraj Sanyal, MD and CEO, Universal Music India
Coke Studio is returning to India after eight years. After an immense subcontinental success over the past few years, what's the primary force behind the upcoming season?
The idea behind this season is to showcase the stories of India through the voice of the young. Have music that moves your body and the soul, and bring with it the audacity that the youth have.
How would this season be different from the past seasons?
India is different right now than what she was during the first few seasons. It has shifted from television to the Internet. Thus, the listening ambience will certainly be different. The world is looking forward and I hope we can resonate what the world is feeling at the moment, and make it a success.
What does the line-up look like? Is there anything in particular that you want to experiment with this season?
The idea is to make songs which are easily hummable and relatable, the stories are deeply rooted in who we are and at the same time upholding the simplicity that make them easily palatable. We have designed it in a way where we could have fun, without thinking of genres too much. For instance, you can listen to a reggae song with Punjabi folk on it. A flamenco song with Gujarati elements to it. It's all about bringing out your story and taking them to the world.
Coke Studio always has a niche fanbase, but over the last couple of years with CS Pakistan Season 14 and CS Bangladesh Season 1, we have seen a wider horizon. How does that play out with the upcoming season in mind?
It's exciting because when we started out, we started talking to the forces behind Coke Studio Pakistan and Bangladesh. We learnt from their learnings and their failures. They had lots of interesting points that helped us design our season in a certain way. Xulfi who produced the latest Coke Studio Pakistan season, had also produced our first album and is a very good friend, as is Ali Sethi. We hope to make something that they can be proud of, like we are so proud of what they have done.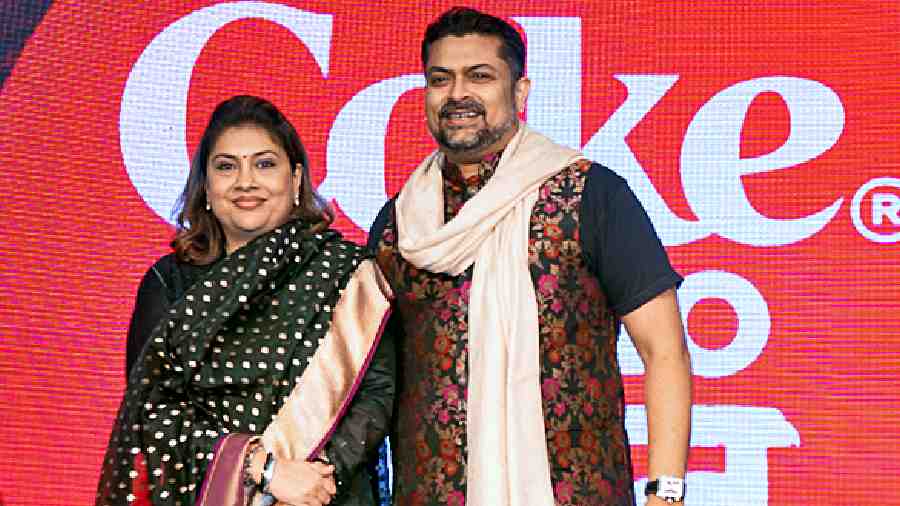 Devyani Rana, vice-president, public affairs, communication and sustainability, Coca-Cola India and Southwest Asia, and Devraj Sanyal, MD and CEO, Universal Music India
Working on Coke Studio always brings in myriad experiences of working with a spectrum of musicians? How is that different from the way you approach a film OST or a solo album?
Working here was like making music for eight films together. Different films, different ideas, different stories and different ideas bloom out of a richly complex country like India. So, telling the stories from different regions and having their cultural references in mind, the idea was to bring it to a very simplistic, unified and at the same time, diverse thought and feeling. So, that's essentially what we had in mind while planning out Coke Studio Bharat.
It's dearly awaited. Any message for Coke Studio fans?
Please share our music with everyone. The world can do with more love. The songs have been crafted with immense love, and if we get back the love from our listeners, there will certainly be more seasons that we come up with