November 14 marked a step forward for the fitness and health industry. Why? Jai Balaji Group announced the launch of their new fitness app JBG Endura 101 along with their roster of events for 2022, at The Park. The app, that is set to launch in January 2022, offers a unique range of customised solutions and structured training programs for a fit and healthy body and lifestyle. The different routines and practices have been curated by JBG's panel of senior trainers and coaches.
Some of the features of the app include well-researched and result-oriented fitness regimen that bridge the gap between ego-centric, superficial training and actual health and fitness for the body, comprehensive, practical and doable day-to-day fitness solutions, interdisciplinary weight loss and fitness routines with special focus on running, cycling, Zumba, yoga and pilates, weight loss programs, E-commerce platform for sports good and more. t2 listened in on the conversations around health and fitness at three panel discussions hosted at the launch, moderated by Mir Afsar Ali.
PANEL 1
Panelists: Vikram Rai (sprinter, and founder of Vik Foundation); Ayesha Billimoria (mobility expert of the app, three-time national champion in 200m race); Nagaraj Harsha (triathlete, four-time Ironman finisher — Ultra runner); Divij Shah (para-national cyclist); and Vinit Baptist (fitness trainer and co-founder of National Fitness and Nutrition Academy).
Mir: How important is it to listen to your body?
Ayesha Billimoria: For me, rehab has been a very big part of my training. I have been a professional athlete my whole life and when we were younger we didn't know any such thing as rehabilitation and recuperation. When I started realising the importance of it I thought this is something we could give to people. Rehab comes differently to different people but it can set a very strong base when you want to make a comeback in the sport. Rehab has become more important than the sport itself but not many are paying attention to it. There are very minute things in this app that we have covered which we would love people to attend. Even if you are not going through an injury it will make you strong.
Mir: How do you train your mind?
Divij Shah: Any activity you do, there's this monster in your mind that says "Shut up, don't have to do this". Your mind controls your body and when you have that ideology that's when you can conquer the inner demon. You can go back and say, "Shut up, I'm going to do this". That's how you keep pushing yourself forward and on the other side there is always victory. Internally, you will know that you have overcome a lot.
Mir: When you fizzle out and lack motivation, how would you fix this problem?
Nagaraj Harsha: First I would like to touch upon ego training. Ayesha spoke about rehab and Divij spoke about the mind. So let's look at fitness in a nutshell. We all get motivated looking at people around us. We want to start the journey. So the moment we get motivated we don't know what the starting point is. So we land up on the net and start implementing on ourselves. Fitness is patience, when you practice it you will start living that life. If you rush it, you will land up in rehab.
Second point, being mindful is very important. We have to keep our ego aside, there might be n-number of competitions, your body can shut down so we need to learn to take a step back.
Mir: Is strength training for everyone?
Vinit: It depends on how people define strength training, it is very individualistic. As soon as we hear the word 'strength' the first thing to come to people's minds is barbells and dumbbells. Strength training could be as basic as body weight. Strength training is for everyone but it depends on how well you execute it and if there is a professional helping you. It helps you in matters like how your day-to-today chores become more efficient for you, the energy you spend will be lesser. There are other benefits of course. It's difficult to say when or where the threshold is. We need to stress ourselves but only to a point where we can recover from it.
Mir: Vikram, from a non-runner to an ultra-marathon runner how has running changed your life?
Vikram Rai: I never did any kind of sports throughout my school and college and till the age of 36 and my cholesterol level was 30-plus because of a serious uric acid attack. I had to start running 5km a day. Consistency is something I believe in, your brain will always tell you not to overdo it. So from 5km I went to 10km… I listened to my heart. I've done 25km, 42km and the hell race, which is a seven-hour journey. Running is not my main occupation, I teach mass communication and now at the age of 40 I have pushed myself a little further and finished my PhD. Running has made me a very strong person and I am happy to represent Darjeeling in running.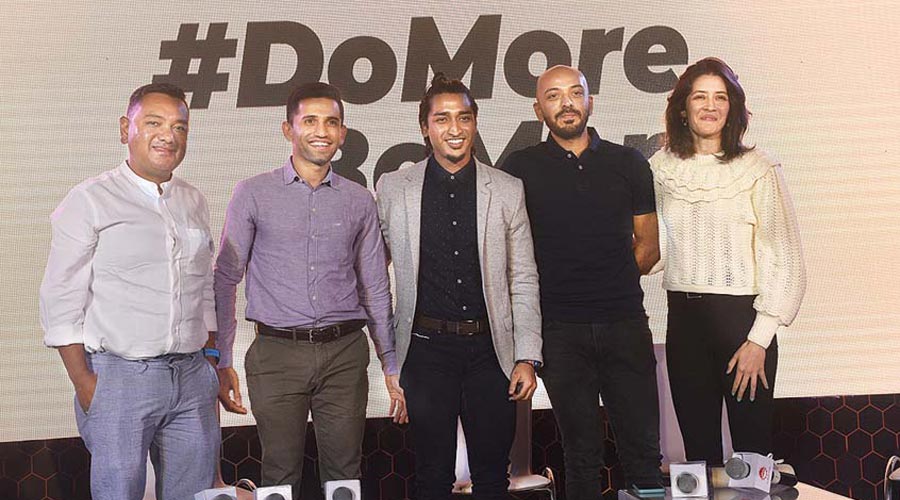 (L-R) Vikram Rai, Nagaraj Harsha, Vinit Baptist, Divij Shah and Ayesha Billimoria
PANEL 2
Panelists: Aditi Almal De (founder of Diet Mantra), Gaurav Jajodia (director of Jai Balaji Group), Nishant Maheshwari (director of SPORTIZ) and Aditya Shah of NFNA (National Fitness and Nutrition Academy)
Mir: Why Endura 101?
Gaurav Jajodia: We all know fitness is important and in the last two years especially. Just not for sports personalities who are enduring the lot but it's also required for the common man. The pandemic has taught us how to overcome these evils we have seen in the past two years. So we wanted to do something virtually… not just plan events but also small challenges for everyone. Be it seven days, two days or a 5km challenge, it will motivate everyone. So to the 100 days of workout that will be on the app we have added one more day. Because that gives the feeling of doing more, why stop at 100? Just to push that "one more" is very important. One is a starting point. Fitness is important. It should be exercise, breakfast, lunch and then dinner.
Mir: How did you motivate yourself to bring about this fitness scenario?
Gaurav: Being an industrialist, it is important to be fit. You are responsible towards society, your decisions are important for not only yourself but your company, employees, and what if in a time of crisis I am not able to deliver and fall ill? Whatever field you are in, fitness should not be neglected. It should be a part of life.
Mir: If someone who likes to run or cycle registers with the app what does he experience and what does he benefit from?
Nishant Maheshwari: Being a part of the community, I discussed with Gaurav and said that doing an event a year is not enough, we need to do more. Something with training and we wanted to come out with a format where we reached more and more people. Because of Covid we thought of connecting people virtually. There are many activities on the app but for example if someone registers in a program for running, he gets the entire training. If someone wants to do a 5K (run) or improve the timing, they get that training. Similar for cycling as well… there are programs created virtually where people can enroll and they'll be getting daily notifications, which they have to do at their comfort. And with the help of Ayesha Billimoria and Aditi Almal De we will be providing everyone with rehabilitation programs through video support. And Aditi's team will help curate a nutrition plan.
Mir: How would the fat-loss program work in an app?
Aditya Shah: After the festivities we all think, "Oh, we've only eaten this much". But that "this much" could be a piece of cake, a Philadelphia cheese which has a lot of calories. So this is very important when you are deciding whether or not you are losing fat because a small cake equates to a lot of calories. So Nishant and I were discussing and he mentioned the app. He was not aware that I have this start-up where we have been doing this (virtual fitness) for two years.
Mir: Aditi, are you actually going to stop asking us to eat sweets, rice and cakes?
Aditi Almal De: No, not at all. We allow everything in moderation. That's how we work but the moderation is different for different people. We understand the lifestyle, age, gender, parameters and accordingly we provide a customised plan. So of course, you will have sweets, you will go out, have your cheat meals and balance it out the next day. So balance it in such a way that the weight loss happens and you enjoy your meals as well.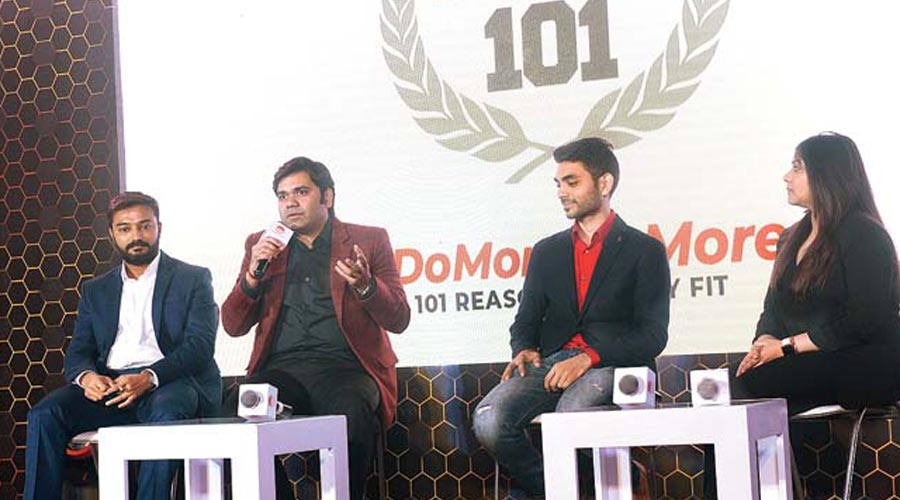 (L-R) Nishant Maheshwari, Gaurav Jajojia, Aditya Shah and Aditi Almal De
PANEL 3
Panelists: Anindya Chatterjee, Devlina Kumar and Gourab Chatterjee
Gourab Chatterjee: Sometimes our schedules are like 23 to 24 days in a month, sometimes we work for 28 days and don't get Sundays off. But this is something we love and is our passion and one of the most important parts of our occupation is to be fit, look fit. More than that, it is our lifestyle.
Mir: Again, it's not something you achieve, it's a journey, you enjoy the journey and don't always think about the destination.
Gourab: Yes, fitness is more of a lifestyle. You wake up, your brush your teeth, you take a dump, you take a bath, you eat… so it's something like that. We humans are born to hunt. We are anatomically made to do physical things but civilisation spoiled us. We have to remember to do something physical an hour a day, or half an hour a day.
Mir: Devlina, how much time do you put into your fitness?
Devlina Kumar: When I am free I can work out the whole day. I go for cycling, I go to the gym, I run, I play badminton if I am free. If I am not free, one-and-a-half hour…
Mir: So even if you are not free you still try to find 90 minutes?
Devlina: Remember the shooting we did together? I used to be in my gym clothes for the shoot because I came directly from the gym.
Mir: And I used to be in my non-gym clothes, if you noticed that as well.
Devlina: (About finding 90 minutes to work out) I feel it is not out of compulsion, it is out of pure passion for working out. As somebody said that it is about consistency and I believe that if we get half an hour a day, then just work out. Maybe running or stretching but put on your watch and get your body moving.
Mir: Anindya, since you are a part of a cycling group and go out regularly. Do you know how it all began?
Anindya Chatterjee: I had an athletic background, I used to be a swimmer back in the days and life changed after that. So during the pandemic, one day producer Mahendra Soni tagged us on an Instagram story that said something about cycling for 30km. Back then I had no cycle, he had one and I had to borrow my girlfriend's bike. We had one bike and we would take it out on alternate days. When I go out at 5am with my cycle, it's like a holiday because for the last two years I haven't taken one. So during these adventures we go for 50km, 40km... it is so liberating and it changed my life. We dedicate six days to the Rajarhat expressway. We start from Gariahat and then City Centre 2 or airport or highway.
Mir: The dedicated cycling habit of Calcutta has been reintroduced by Debashish Sen (in the audience) as he created a separate cycling track.
Devlina: If you feel like you want to run tomorrow because you don't want to today then I suggest you run today.
Gourab: This is the time you should leave electronics aside and spend time on you, think of what you can do, what productivity you can bring to the table. It is about changing the way you think and the people around you. If you're going somewhere, just walk or cycle. But we are so habituated to take our vehicles.
Mir: There is a picture of Mahanayak Uttam Kumar (legendary actor and Gourab's grandfather) out in shorts and a T- shirt.
Gourab: He was a swimmer and very good at it and he would go for jogs. There were times during the last phase where he would indulge in food and alcohol but he made sure to go and run the next day. And those days he would wake up at 4am and take my father, his brother and other artistes from that era with him. He would promote fitness!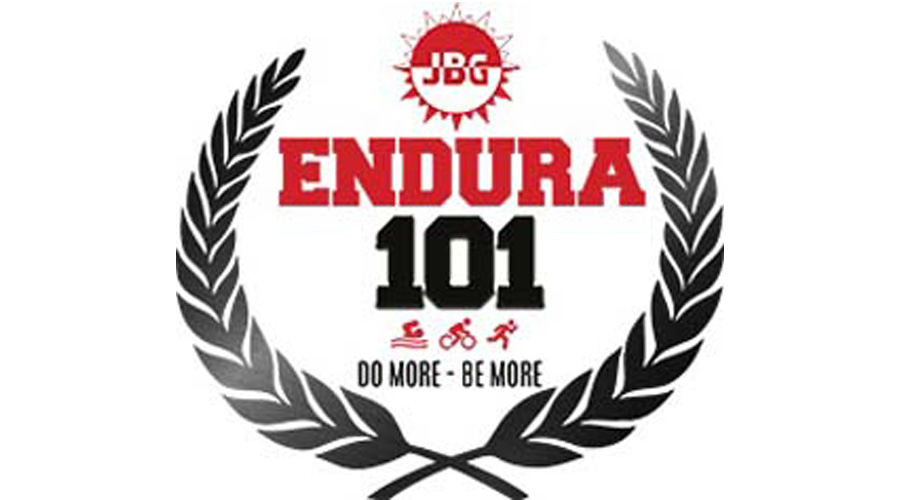 What: JBG Endura app
Expect: Customised solutions and structured training programmes for a fit and healthy lifestyle. The programmes and therapies will be conducted by senior and professional panelists from the fitness industry
Availabe on: Play Store and iOS
Available from: January 2022