Hours after BTS wrapped up their four-day 'Permission To Dance On Stage' concert at California's SoFi Stadium, Billboard announced that the pop supergroup had scored the biggest numbers for concerts in almost a decade, with a sale of an impressive 214,000 tickets and earnings worth $33.3 million. Not only is this the highest engagement recorded since offline events started again, but it is also the biggest US-based Boxscore (a report of all shows that an act plays at a single venue during a given tour, or during a leg of a tour) in 18 years and the second-biggest ever in the 30-year-plus history of Billboard Boxscore in North America. Beyond the mammoth numbers that BTS have always pulled, this was the first time they were meeting their fans, face to face, in almost two years and it was nothing short of a grand celebration.
Happiness and economic boost
The four-day BTS concert prompted a festival-like atmosphere that was a citywide phenomenon with fans visiting local restaurants, stores, and tourist spots. ARMYs (as fans of BTS are called), had flown in from all over the world to attend the concert. So great was the outpouring of fans, it prompted flight announcements wishing all ARMYs a safe and enjoyable journey, hotels putting up welcome signs with the fandom colour of purple and much more. The tremendous crowd that trickled into the city for the concert, not only poured revenue into the venue and the act, but also into the local economy which understandably, had been facing a lag due to the pandemic.
The group members are no strangers to causing economic impacts, as they have done it on a significant scale for their native country. Ahgassi Gopchang, a Korean restaurant that even BTS had mentioned a few years back in an interview, saw huge crowds and queues. Michael Chon, the owner of the restaurant, told LAist: "It brings tears to our eyes every night because everyone's having a really, really great time. They're just enjoying the food, they're dancing, they're singing, they're cheering — it's insane."
There were a host of activities outside of the stadium as well, with photo spots, merchandise booths, photocard dispensers and more present. Concert-goers from outside the US especially, filled social media with them visiting other tourist spots in California like the Universal Studios and the Six Flags theme park. It was evident from the barrage of posts made by ARMYs that this was nothing short of a celebration. After more than two years of the gloomy pandemic, this festival of music and coming together of a community, prompted by a single act, was evidently euphoric for all and showed the sheer power that BTS hold.
Unbeatable performers
The boys are kings of the stage and at LA, they proved it once again. When you visit a BTS concert, you know that you are in not only for the music, but an auditory as well as a visual feast. For almost two and a half hours, the members performed some of their biggest hits, complete with never-officially-released remixes and spellbinding stage direction. In the run up to the performance of their songs Black Swan and Fake Love, the backup dancers revealed the members one by one through a swan-like formation, complete with sweeping feather-like fabrics attached to their sleeves.
The swish of the sleeves, made to imitate a swan's wings, was surprisingly audible in a stadium of such scale, perhaps because the audience was watching the compelling performance, rapt with attention. Concert VCRs were played before the concert and during costume changes, making sure the audience stay focused with their eyes on the stage, waiting for the seven all-rounder performers to emerge and take them to the next part of the concert. Many prominent visitors were among the audience at SoFi, like singers Halsey and MAX, who are close friends with BTS, Conan Gray, Bella Poarch and more. They were also joined on stage by British band Coldplay and Megan Thee Stallion who performed their collaborations with BTS, My Universe and a remixed version of Butter, respectively.
Despite not performing any of their solo songs as they wanted it to be "seven from the beginning to the end", each member of BTS, shone as distinct personalities, evident not only from their performance but also their speeches and the way they engaged with the audience. While Jin put on different headgears to show his love for the fans, V, playfully directed the light sticks held by the ARMYs. RM, whose speeches are famous for getting everyone emotional did not fail to do so here as well. Suga, who had freshly dyed ginger hair switched often between being adorable to a fierce performer, along with bandmate J-Hope. Jungkook, the youngest of them all, smiled cutely at the audience, but as the centre of the band, put up a captivating performance with phenomenal vocal strength and sharp moves.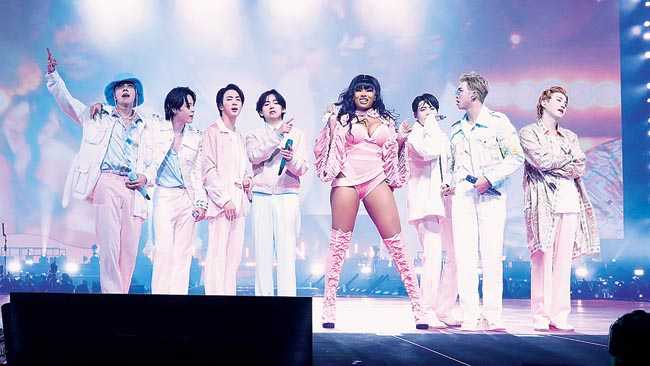 Megan Thee Stallion joined BTS at the group's Los Angeles gig
The pandemic effect
The pandemic has been a difficult time, to say the least, and it was no different for BTS, who have said as much. At the end of their recent concert, V, whose real name is Kim Tae-hyung said: "For two years, it was very hard. But throughout the four days of doing the concert, I was able to feel how much love we receive from the ARMYs. We haven't met you guys for two years and had doubts if there would be any ARMY left. Thank you for loving us so much".
Evidently, it had been hard on them to not see the live audience for so long, as it perhaps had been for many other artistes. As performers and artistes who also draw their energy from the audience and their reactions, BTS has talked about how exhausting it has been performing without one. This concert was, therefore, not only a monumental moment for fans but also perhaps for BTS themselves. 
BTS had never stopped performing even during the pandemic, with numerous online concerts that pulled in huge audiences. However, the glory of an offline concert is perhaps unmatchable for both fans and the artist, with its loud screams, rush and happiness shared by all. Jin, whose birthday was on the last day of the concert, became emotional as he saw the fan projects that had been arranged to celebrate his birthday: "Today, I was really surprised. I received so much from you but recently, I only prepared events for you and didn't expect receiving anything… now that I have received your gift, I know how it feels!"
This genuine exchange, a give and take of love, giddiness and energy is perhaps the foundation of the strong bond that BTS and their fans have always seemed to share.
The concert was also streamed in real time at the YouTube Theater in California. Moreover, the last day of the concert was livestreamed online, making fantastic use of the blended mode to make sure all fans could feel included in this celebration and victorious return of BTS to where they rightly belong.
It would have been perhaps impossible, even a few years back, to think that a group that primarily does not sing in English, could dominate American soil as much as BTS has done, especially in these four days. However, with RM saying, "Where you are is where our stage is," BTS has proven once again that language is no barrier when it comes to love, music and art.