In the land of what was 18th Century Bengal's prosperous capital of Murshidabad, lies the beautifully restored boutique heritage hotel of Bari Kothi, which is ensconced on around an acre of land and that has a story peeking out of every nook to tell its tale of 200 years and eight generations of the Dudhorias. Located about six hours on road from Kolkata, Bari Kothi in Azimganj is also reachable by train, which is the mode that we opted for as it is quicker. An electric tuk-tuk ferried us to the property from Azimganj station through a delightful local bazaar and narrow gullies dotted with people and their goats — the preferred animal of domestication locally, we were told later. What awaited us was a traditional welcome by the female staff dressed in red-and-white saris and a brief introduction to the property.
Crossing the threshold into Bari Kothi transported us into a world of historic splendour that was painstakingly restored recently by brother-sister duo Darshan and Lipika Dudhoria, who enlisted help from Canada-based architect Samar Chandra to make the historic 'Palace of the Elder' what it is today — a heritage accommodation with 15 rooms/suites, seven interconnected courtyards, five blocks and history seeping out of every checkered marble we stepped on.
The staff at Bari Kothi is often heard referring to the property as amader bari (our house) and that perhaps explains the community spirit with which it was developed. Local women form the backbone of the staff (with a few local men too) that runs everything from housekeeping to the kitchen and the servicing during meals. But they are also up for a chat anytime of the day as they help keeping your rooms tidy or serve you your meals with a generous side of genuine endearment. So when 24-year-old Taufa who heads the local staff there told us about how she stitched her own blouse in a fancy design to go with her sari or how she bought her own two-wheeler with money from her salary, we loved hearing the tinge of pride in her voice. 
The architecture of Bari Kothi is a story unto itself. European and Mughal influences are fused together to retell the stories of opulence from the times of Rai Bahadur Budh Sing Dudhoria to now, as it has developed into a hub for sustainable tourism that promotes local cultures, people and their practices. Therefore what Chandra did was to restore as much of the time-ravaged property as he could by engaging local people from the beginning. So expect to see an old room of treasures and jewels with its one loose tile that was the route of a 1980s robbery, or hear about the lore of jokker dhon, or be served food on a hundreds-of-years-old kansar thaala.
The entire property is interconnected and every area has a unique name with an even better story attached to it. The Gaddi Ghar was the place of erstwhile business that now doubles as a place of evening entertainment with cultural performances (we witnessed a baul one), while the Darbar Hall was the ballroom or the place of reception earlier, which now acts as the main dining area. Gardens, secret staircases, a well that Budh Sing Dudhoria would allegedly chuck a gold coin in after every bath, terraces and more, make up the entire property as it is today and is as beautiful by day as it is by night. Old-world charm dominates the decor replete with chandeliers, old restored furniture, old photo frames (including a very cool three-dimensional portrait much before "3D" came into our lexicon), stained glass paintings, old wooden doorways and an Omar Khayyam couplet casually inscribed on the coffee-table in our room. In fact, we recommend keeping a portion of the day aside to take a tour of Bari Kothi.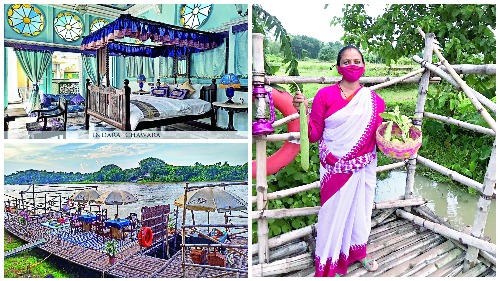 What: Bari Kothi Where: Bari Kothi, Jain Patty, PO: Azimganj, Murshidabad To get there: Six hours by road or four hours by train Keys: 15 For more: info@barikothi.com/@barikothi on IG
Itineraries are designed and customised as per the guests and ranges from ones that focus on textile, culture and heritage, amongst others. We were there for two nights and we got to wet our toes in all three. A day's tour around Jiaganj (located across the river from Azimganj) let us visit places of historic significance such as the Katra Masjid that was built in 1723, the Phooti Masjid that has a gaping hole in its ceiling, Hazarduari that used to be the local administrative office during the colonial era and had 900 real doors and 100 fake ones to dupe any convicted runaways, and the Kathgola house, which is a historic mansion owned by yet another erstwhile aristocratic family.
The Taantipara, on our way back, is a textile lover's dream and we can vouch for it with the fine silks that we purchased from a weaver there. In fact, Murshidabad, with the significant role it played in India's history, is a history nerd's dream come true. From the treacherous Mir Jafar's house named Namak Haram Deorhi (generations of his family still live around there) to the large chandelier in the Darbar Hall of Hazarduari that was presented by Queen Victoria to Nawab Nazim Humayun Jah and is considered to be the second-largest chandelier in the world after the one at Buckingham Palace, which probably explains the importance of the region to the British Empire.
The food served at Bari Kothi is a Sheherwali dream come true! The Sheherwalis were named so as after the original settlers relocated to Murshidabad from Rajasthan and Gujarat to share in the prosperous business pie of a region that is touted to have once contributed handsomely to India's GDP, and later started working out of Kolkata after the British made the city their capital instead of Murshidabad. The Sheherwali food habits, therefore, is also a mix of vegetarian Mughal, Jain, Bengali and European influences. Every meal at Bari Kothi is an experience carefully curated by the team and each one is nothing less that a five-course affair. Expect breakfast next to the Ganges at the ghat that is owned by the property and a sunset tea on the water itself on a comfortable boat. If you'd like, you can also pick your own vegetables in a farm and ask for them to be cooked for you. Interestingly, all our meals were served at new locations within the property, except for the ones at the ghat and on the boat, while the menu was different for each of them.
The story of Bari Kothi, therefore, is not that of a hotel but that of hospitality as a community and the local stories that it endeavours to tell, with the local people. Go there for a dose of historic splendour, comfort, delicious food and a beautiful getaway from our daily lives. But most importantly, go there for the warmth of their non-hospitality-school-trained staff comprising locals who are eager to please and are abundant with their affection.
A Bari Kothi chef decodes the Sheherwali cuisine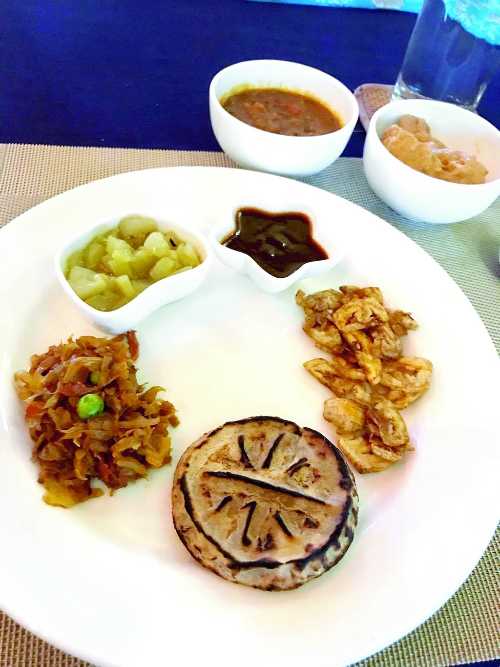 Due to the major influences on the Sheherwali community, a large part of the cuisine was influenced by Mughal spices and essences like rose water, saffron and dry fruits. Mustard seeds and oil found their way into the cuisine because of the Bengali influence. As they were Jains, potato was replaced by bananas and the flavours of the root vegetables were substituted by Mughal ones. The rich history and legacy of Murshidabad were behind indulgent dishes such as the Moin Ka Puri (a cold puri that will never flatten so that every guest is served non-flattened ones). A simple roti or paratha never found its way into the menu but the breads were taken from the Rajasthani platter. The signature Pitha was an interesting mix between Mughal and Bengali, whereas Kutti Mirchi Ka Aachar saw an interesting mix of chillis, raisins and dates preserved as a pickle without any oil. The sweets also saw a similar influence with Chhuare Ka Goli being the most exotic blend of influences. Saloni Mawa Ka Khichdi and Khire Ka Kachodi are two signature dishes that always find a mention. Madia, an accompaniment to the Khichdi, is a Mughal and Rajasthani flavoured starch water that is common to Bengal.
Pictures: Courtesy of Bari Kothi