Even without the distractions of modern technology, our attention wavers often. 
Science tells us that our mind wanders for about 50 per cent of our waking hours, making it hard for us to keep our attention on the task at hand. Add poor mood, stress or threat of danger (like a global pandemic due to a novel virus), and this number goes up. In March–April of 2020, just as most nations in the Western world started entering lockdowns, the number of people searching for 'meditation' went up by as much as 100 per cent. 
Amishi Jha is the associate professor of psychology and director of contemplative neuroscience, Mindfulness Research & Practice Initiative at the University of Miami. Her research focuses on the brain bases of attention, working memory, and mindfulness-based training. She studies what causes attention to wander and, most importantly, how to bring it back.
If our brains are computers, our attention is the processor's control unit
Jha describes attention as a flashlight. There's far too much information in our environments for our brain to meaningfully absorb. When we move the flashlight of our attention on one thing, it allows us to ignore information from everything else. If our brains are computers, our attention is the processor's control unit. As Jha writes, 'Wherever attention goes, the rest of the brain follows — in some sense, attention is your brain's boss. But is it a good boss, and can we train it?' 
According to Jha and her more than eighteen years of research, the simple answer is — yes. You can train your attention with practice. The way to do it is to practise mindfulness. Jha explains, 'From our work, we're learning that the opposite of a stressed and wandering mind is a mindful one. Mindfulness has to do with paying attention to our present moment experience with awareness and without any kind of emotional reactivity of what's happening.' 
Bringing our minds back to the present moment
The critical idea in mindfulness is not to look at a wandering mind as something inherently good or inherently bad. It is something that simply is. What matters is our persistent but gentle effort to bring our minds back to the present moment. A good metaphor is to imagine oneself sitting on a bench at a busy railway station. The trains that pass through are our thoughts. Typically, our mind tends to follow these thoughts causing us anxiety or stress. We may try to block or stop the thoughts, which only backfires. The key idea is to notice the trains come and go without reacting emotionally.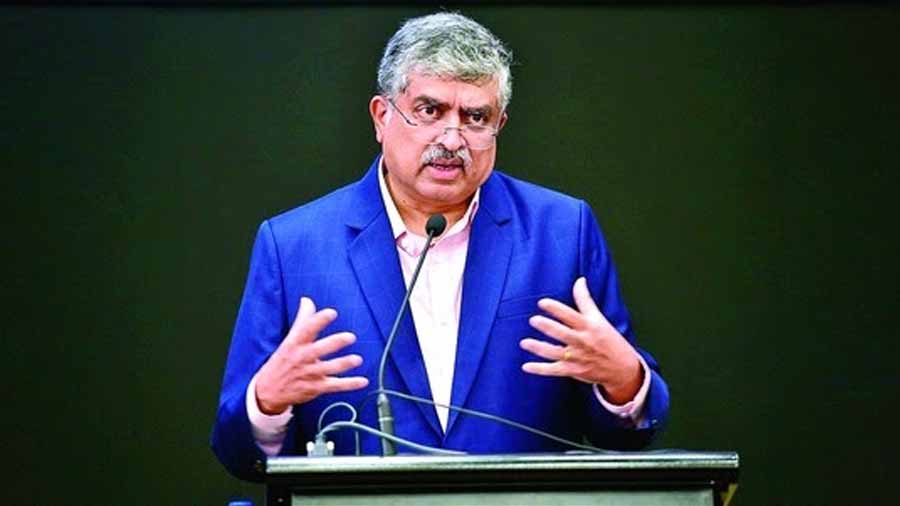 Co-founder and currently the non-executive chairperson of Infosys, Nilekani was among the pioneering group of entrepreneurs who changed the face of information technology in India
TT archives
Over time, bringing our attention back to the present becomes a skill. We start seeing the benefits of the ability to be present on our entire life. We realize that sometimes our impulsive first thought does not need to be chased down. People who practise mindfulness report being better able to handle stress, modulate emotional responses and deal with distractions. 
One way to frame our toxic relationship with technology is that our extended mind is wandering. Instead of helping our brains think, these technologies amplify the tendency of our minds to wander. Our devices have given us the ability to chase every train of thought, and it is hard to keep it focused on the right one. Practising mindfulness helps focus our minds on the present, ignoring stray thoughts. Can we learn how to focus our extended minds too?
A challenging class of problems
Our struggle with our technology is part of a challenging class of problems. We struggle to keep our weight in control in an age of readily available high-sugar and high-fat foods. We know that obesity is associated with many diseases. Yet, this knowledge is insufficient to cover the gap in practice. We experience the same problem when trying to quit addictive substances such as cigarettes and alcohol. 
The most common misconception whether we're trying to lose weight, quit smoking or focus our extended mind is that it requires an iron will. In fact, for success, we need precisely the opposite. There are numerous behaviour change studies which demonstrate that instead of relying on maintaining willpower, we are more likely to succeed if we change our environment to avoid junk food or cigarettes. Instead of aiming to lose ten kilograms, you want to focus on something in your immediate control, like not snacking between meals. You want to make small changes, each adding up bit by bit, to create healthier habits that are easy to maintain, even on days when your willpower is low. The desired outcomes automatically follow. 
Our extended minds are programmable
While we can't change our minds to start disliking high-sugar or high fat foods, the good news is that our extended minds are programmable. We can spend some time becoming aware of how we falter and then put systems in place to prevent it from happening. Instead of exerting willpower to stay focused, we can design our technology to guide our attention to the task at hand. We can sustain new digital habits much more effortlessly than dieting or exercising because we can configure our devices to assist us instead of distracting us. 
This awareness-driven environment design and habit change are what we call The Art of Bitfulness. 
We, the authors, have both personally experienced frustration from technology overwhelming us. We have also found that it exists, to varying extents, amongst our friends and colleagues. Everyone we know has come up with their own rules and strategies to manage the overwhelm. Nandan, for example, does not use any instant messaging apps — he sends and receives SMSes only. For Tanuj, most of his contacts are on WhatsApp. But the way we deal with messages is similar. Using them as and when required rather than letting incoming notifications dictate our attention. Those few friends, family and colleagues who may need to reach us urgently know which channels to use and our devices are configured to let them. Some differences in our approach emerge due to the age at which we started using these technologies. Nandan got a smartphone only at age fifty-five. Tanuj had one since he was twenty-one. Being in very different stages of life, we had different aims for our extended minds. Being connected to friends was essential to Tanuj, and he made allowances for limited use of social media. Nandan believes social media is not very useful for him. So, he sends emails to his friends or picks up the phone to call them if he can.
Giving up the internet is not a desired option
Despite the thirty-four-year age difference between us, we found that we have a lot in common in our approaches to manage our relationship with technology. We realised that there were principles that remained common, even though the specific apps or technologies we used to attain similar goals varied. We both also acknowledge that giving up the internet is not a desired option for us. This book, therefore, does not recommend quitting or detoxing from any particular technology. The aim is to have a sense of calm and control over our interaction with our technology. 
We both believe taking a thoughtful approach towards when, where and how we interact with our technology has greatly benefited our sense of well-being. So how do we go about fixing our toxic relationship with technology and being more bitful? 
As with all toxic relationships, you don't focus on the people; you focus on the patterns. 
The Art of Bitfulness: Keeping Calm in the Digital World has been published by Penguin.
Read more about it here.