With winter almost saying goodbye and spring knocking on the door, the season is perfect for experimenting with the scarves lying in our winter wardrobe for some transeasonal style statements suited for this time of the year. The Telegraph creates the mood board with actress Susmita Chatterjee flaunting the styles for us and caught up with the actress for a chat on all things winter. Excerpts:
What are the things that you like to add to your wardrobe right ahead of winter?
Swan goose jacket, scarves, hoodie, leather boots, blazer suits, denim wear, hats and... honestly, my list is endless! (Smiles)
What is that one winter-specific style you wait to try on for the entire year?
Sari with a blazer and boots.
You are quite open to experimenting when it comes to fashion. Is it just professionally or on the personal front too?
I am open to experiment in my personal and professional life both. I am an explorer. I love to do things out of the box, I don't stick to trends too much. I try to set my own trends. Ultimately, I feel experimenting is easy if one knows how to carry it well. Confidence is the key to it. My body language changes with situations and things and most importantly, I am never scared to look different.
What is your comfort wear?
My all-time go-to comfort wear is shorts with a loose fitted tee and sneakers.
What are your favourite winter memories while growing up?
There are many but my most favourite one is the sports tournament in my school. I have always been a sports person and won a lot of prizes. While growing up, during winters, this was the only thing I used to wait for.
Winter would be incomplete without?
My favourite blanket and goosebumps!
We know that your favourite winter delicacy is nolen gur. Does Susmita ever wear the chef's hat too or just loves sitting back and relishing nolen gur desserts on the plate?
I don't have too much interest in cooking, I am a foodie and would always love to sit back and enjoy the food on my plate. But at times I try to make a few special dishes for my loved ones and I end up doing it so well that I keep myself reserved for special days and people. So you could see me wearing a chef's hat that is "limited edition". (Laughs)
What is the picture in your mind of spending an ideal winter afternoon?
Somewhere in the hills having Maggi and oranges along with Vitamin D from the sun.
Winter months are full of festivities and for you the celebration must be starting with your birthday in November. What are the special occasions you look forward to during these months?
Winter is my favourite season... cosy and comfy. Definitely my birthday itself is a festival to me and then I wait for Christmas. For Christmas, I love wearing those Santa caps, decorating the house and baking my favourite cake. Also the celebration of Makar Sankranti is one of my favourites because I get to eat a lot of pithes made by my mom. Picnic, bonfire and trekking are my favourite activities this season. I feel winter is very special because it is both the end and the start of a new year.
Did you take any New Year's resolution this year?
Yes, taking a resolution is very important because it reminds you to do what you desire deeply. I made two resolutions this year —finding peace in the chaos. My happiness will no longer depend on people. When it comes to peace, it's just me, myself and I. Secondly, trying to be less emotional and less sensitive.
Do you manage to stick to your resolutions?
My resolutions are always a bit tough to follow but I try to make it such that it is worth following. We all go through bad days, life is unpredictable but we try to come up stronger. Que sera sera!
Winter is also the party season. Are you a party freak?
Absolutely not! I don't like parties too much. Sometimes it is okay to be loud and crazy with other people but that can't be my ultimate happiness.
In what ways did you have fun and make memories this winter?
I always do things which make me happy and feel satisfied. My most favourite thing to do in winter is to play badminton and watch sunsets with a cup of coffee. Basking in the sun is a bliss during these days. Travelling is also so much fun during winter but this winter I couldn't travel much. I did a bit to make myself happy.
2021 has been a big year for you and you must have not had the time to relax much. How does the calendar of 2022 look? Is there some time for a breather too?
2021 has been the best year of my life till date. I lived the way I have always wanted it to be. I didn't plan anything but by God's grace and with people's love, I tried to grow wings. 2021 in short was peaceful and hectic both at the same time. When you do something you love, you get motivated each and every moment.
My 2022 calendar looks quite interesting to me. There are new challenges and new opportunities. It is the time for me to learn and grow. I wish to make the most out of it. And honestly, I am a workaholic, so my work is my breather, the more I work the more I relax, it is proportional. (Laughs)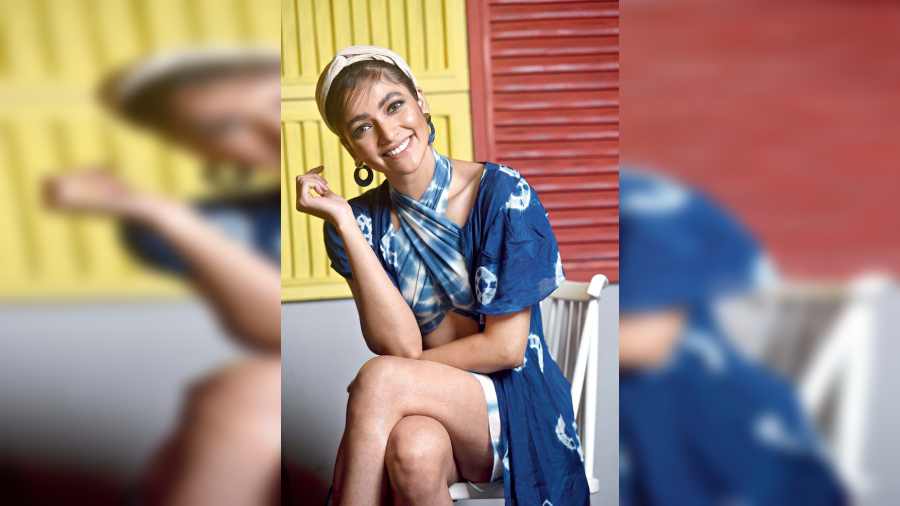 The Prem Tame actress channelled a charming look in the halter-neck top and skirt co-ord set created by wrapping indigo cotton tie-and-dye scarves from Deshaj. The look was completed with a short-sleeve indigo silk shibori long front-open jacket. The hair was set with oil-based gel and accessorised with a trendy hairband. Black liner and semi-nude lips complete the winter-spring resort-wear look.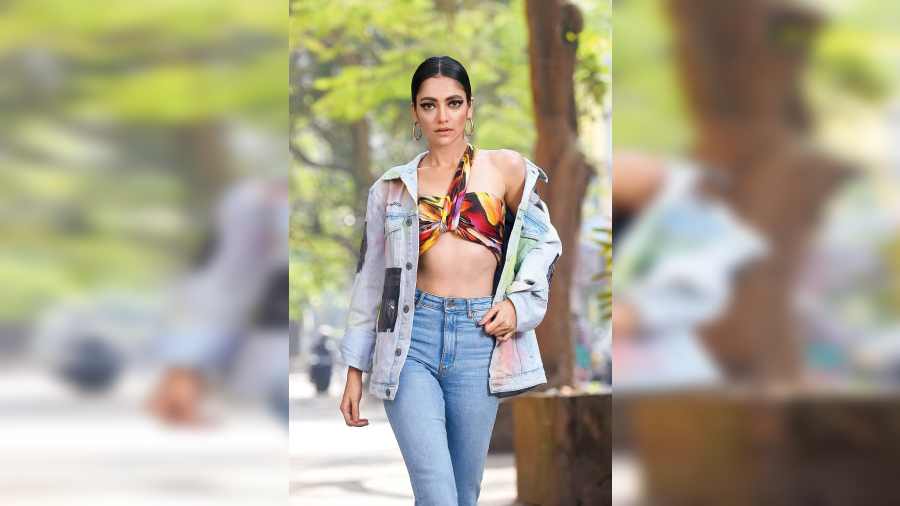 The transeasonal baggy denim look is stylised with a multicoloured modal fabric scarf from Sasya, wrapped as a one-shoulder tube top. Magenta block shades on the eyes, the hair tied up into a neat middle-parted bun, pink on the lips and cheek completed this street-style smart look.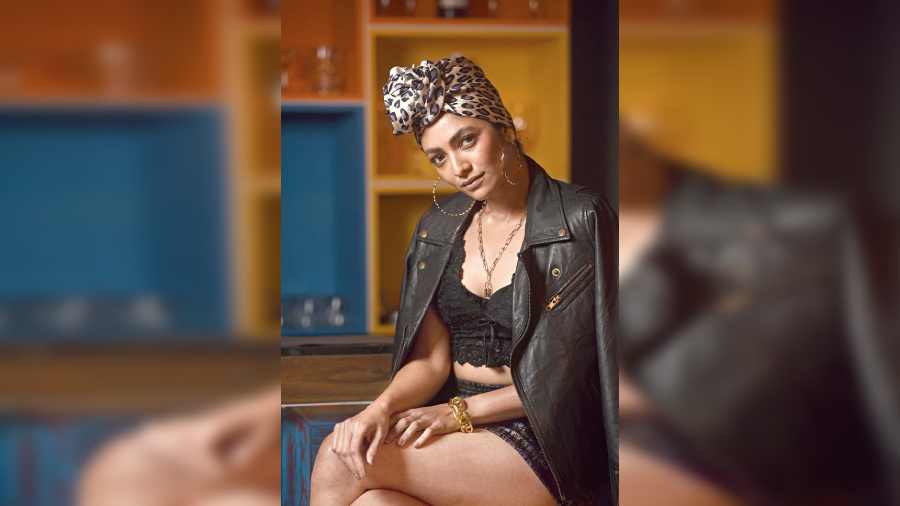 The winter-favourite leather jacket was styled up by draping the animal-printed scarf from Shreya's Fashion Studio on the head like a twisted top knot in front. Glossy natural make-up with brown gel eyes and semi-nude lips, bushy eyebrows and contemporary metal jewellery added to the punk-rock style with a bohemian touch.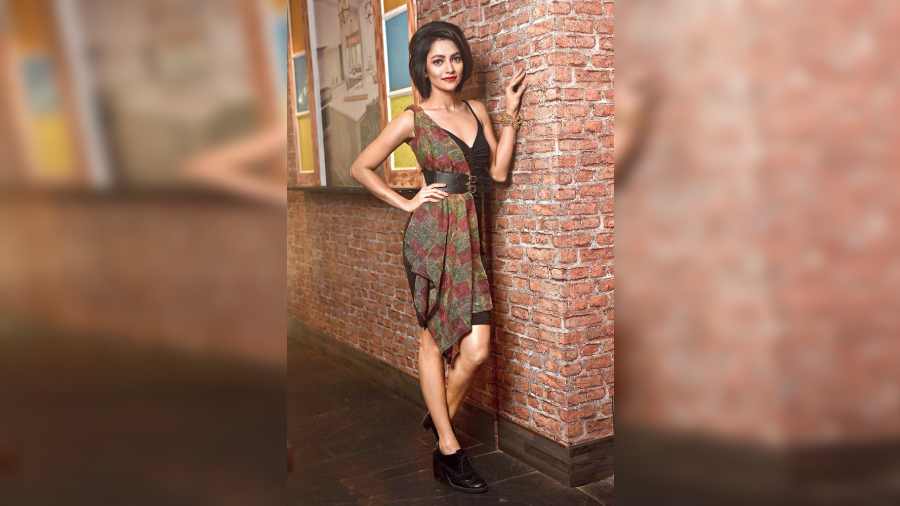 This intricately designed geometric patterned kantha-embroidered scarf on chiffon from She Kantha adds colour to the LBD and breaks the monotony for a subtle-glam elegant look, styled contemporarily with a corset belt. The hair brushed neat, the eyes lined and a pop reddish-orange shade on the lips accentuate the grace.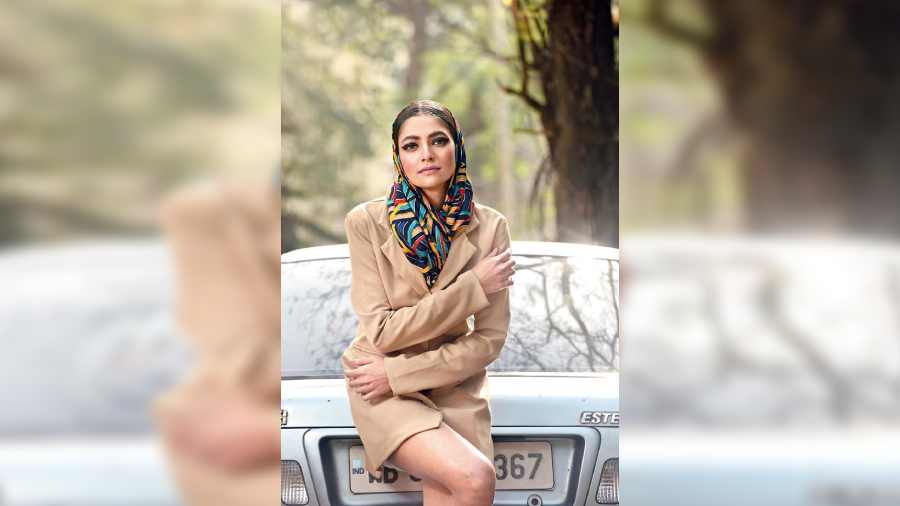 A perfect winter look, this recycled viscose rainbow dunes-motif scarf from Dorii Calcutta is styled a la Hollywood style, with a classic knot and paired with a beige blazer dress. The hair tied up neatly and shades of pink and magenta up the chic quotient of the look.
Pictures: Pabitra Das
Styling: Wrick Chhanda Bhadra
Hair and Make-up: Abhijit Paul