It was an evening of conversations and culinary extravaganza as the corridors of Taj Bengal were full of the lush fragrance of Bengali, Awadhi and Anglo-Indian delicacies at the special Chambers Rendezvous with popular London-based chef and Kolkata girl Asma Khan. The evening began with a flow of canapés and cocktails where esteemed guests and members of the Dram and Supper Club came together to relish a special menu by the popular chef whose Darjeeling Express in London has made waves throughout the world for its simple and honest representation of food.
"When fine dining merged with soul food... We were waiting eagerly for this spectacular evening with Asma Khan. It was a pleasure to bring to Kolkata her personal touch at the Taj Bengal," said Modhurima Sinha, director public relations, Eastern India, Taj Hotels.
"Asma's Darjeeling Express is out of this world. You feel so proud being there, sitting in London having phuchka and kosha mangsho. Such an authentic taste. I felt proud because it was bustling and people were waiting. It was a fabulous experience. The way these ladies cook, you can see the heart in their food. It's cooked with a lot of love and compassion and that speaks volumes," said Tanusree Shankar who was present at the dinner and had also tried Chef Khan's food at her restaurant in London.
The Telegraph was there to savour it all and here's getting you a taste.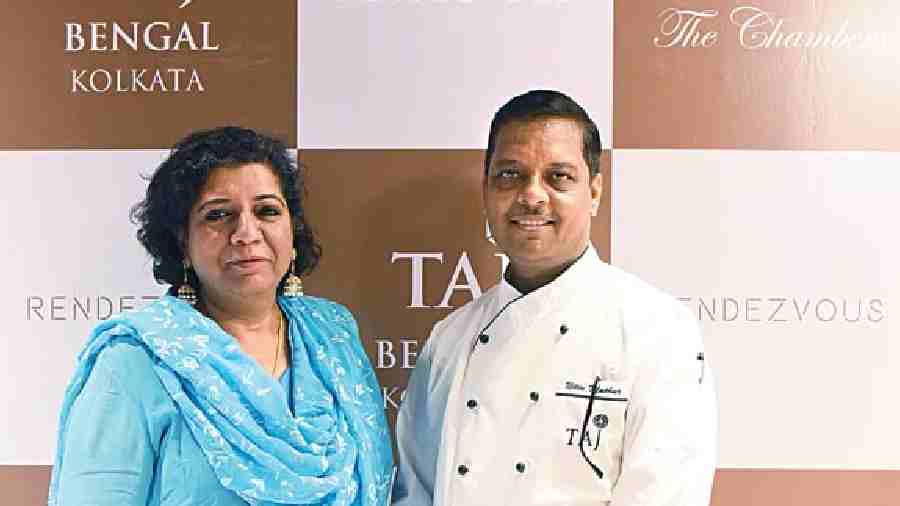 "It was a privilege to collaborate with Masterchef Asma Khan and curate an exclusive dinner for the city of Kolkata, her hometown. Our team worked offering the best of Asma Khan with a touch of Tajness," said Nitin Mathur (right), executive chef, Taj Bengal.
On the menu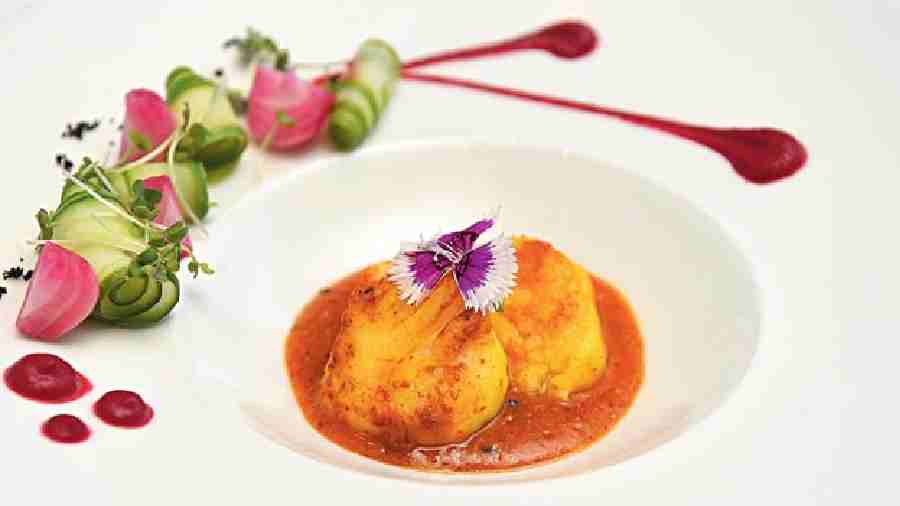 The non-vegetarian amuse bouche was a Bangali take on scallops — Haldi Mirch Scallops with an amsotto khejurer chutney. The chutney brought about a sweet and tangy zing to the scallops.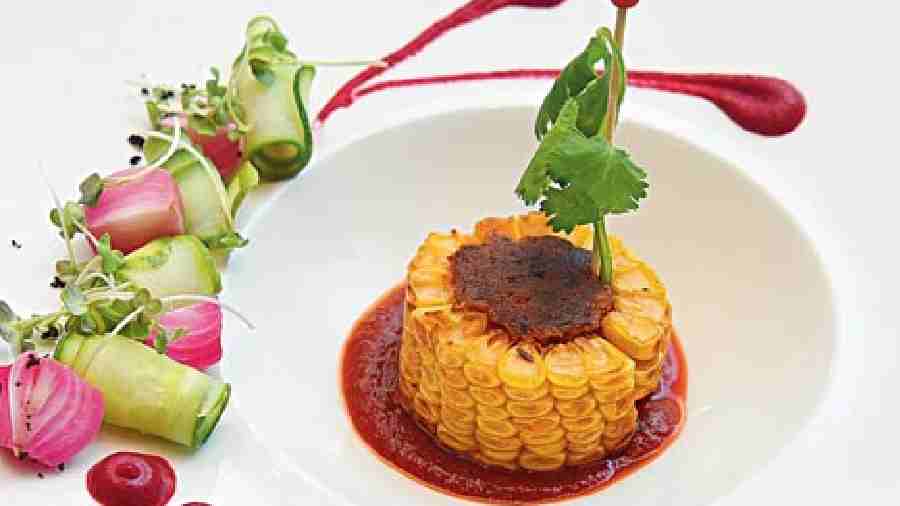 The vegetarian amuse bouche was a stellar Bhutte Ke Kebab where a small section of the corn on cob was roasted and char grilled to perfection. The relish served with it had sweet potatoes that added a mild bite to it.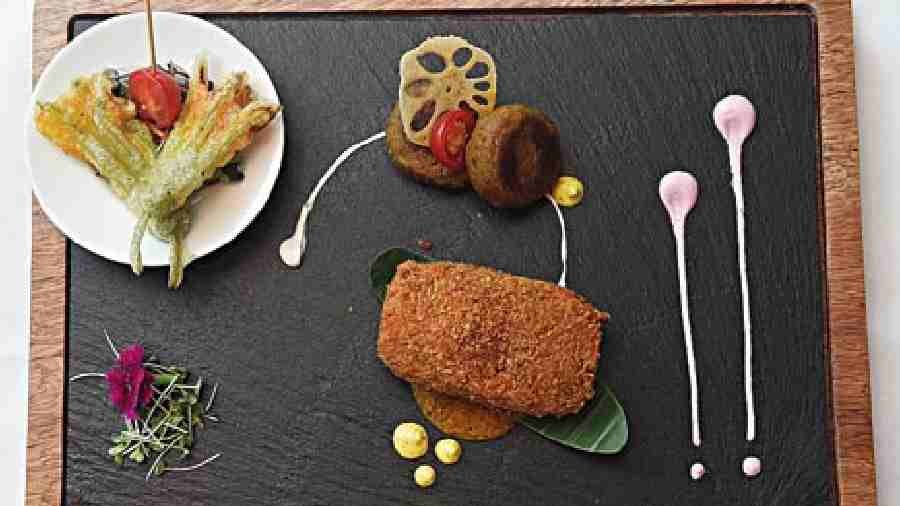 The vegetarian appetizers were a plate full of crispy goodness such as Kumro Phuler Bora (fried pumpkin blossoms); Kamal Kakdi Galouti (soft and melt-in-the-mouth lotus root kebabs); and Chilgoza Mochar Cutlet where a Bengali ingredient such as banana flower meets pine nuts to create a crisp yet soft-on-the-inside croquette.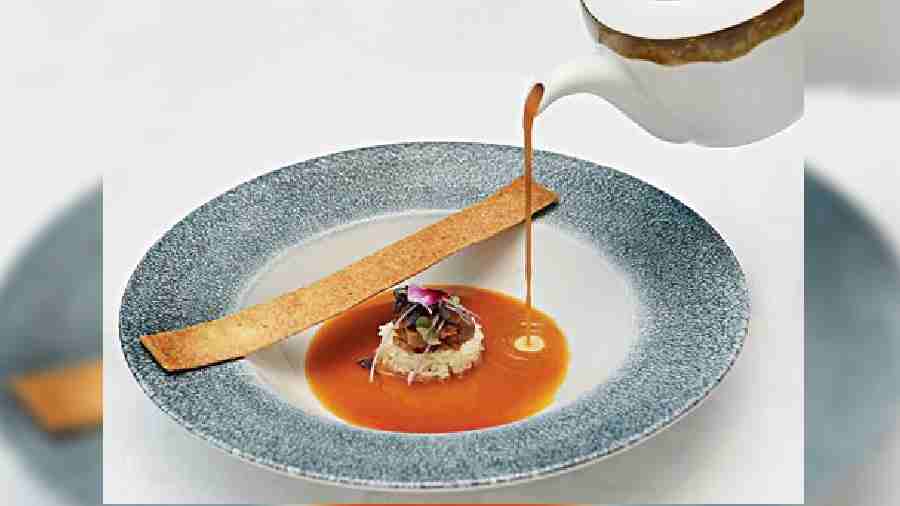 Sunehri Nalli Shorba: A rich and aromatic mutton broth that is topped with crispy nimki and kosha mangsho.
The non-vegetarian appetizers were served plated and comprised Bagda Chingrir Salmi (spiced prawns with onions and tamarind), Gota Masala Mangsho (succulent chunks of lamb cooked with whole spices for an aromatic bite), and Chittagonger Ilish (grilled hilsa fish with mustard and panch phoron).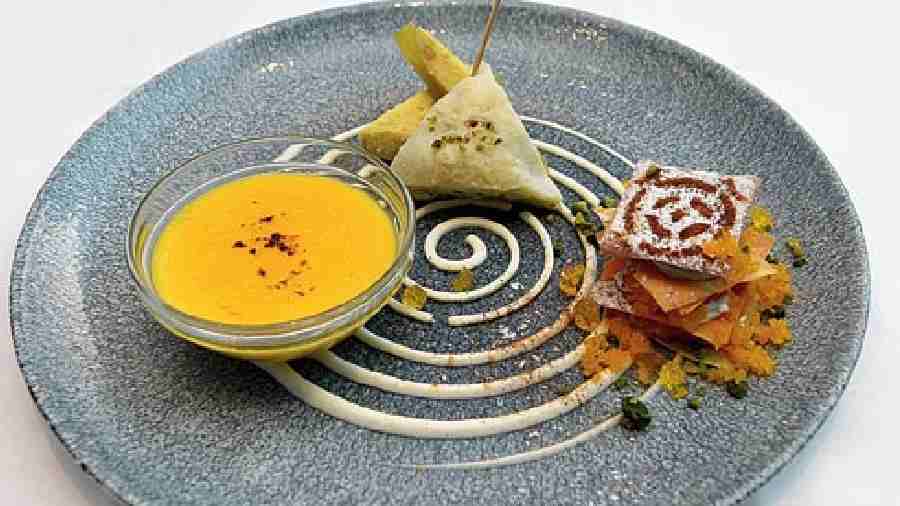 The dessert plate had specials such as Zafrani Caramelised Phirni (soft, milky rice pudding with saffron); Rabdi Mihi Dana (a quintessential Bengali dessert), and a refreshing Sor Patta Paan and Purbhora Potol.
Pictures: B. Halder