The second edition of the National Family Golf Tournament 2023, in association with HSBC, was held on April 29 at Tollygunge Club, with 107 golfers competing in various categories. The Parent-Child, Husband-Wife, and Siblings categories competed for top honours in the tournament.
Following the success of the first tournament, held in Pune on April 15, the second event in Kolkata was a huge success. The tournament is being held with the goal of promoting golf as a family sport and encouraging families to get together and play the game, besides promoting family golf tourism.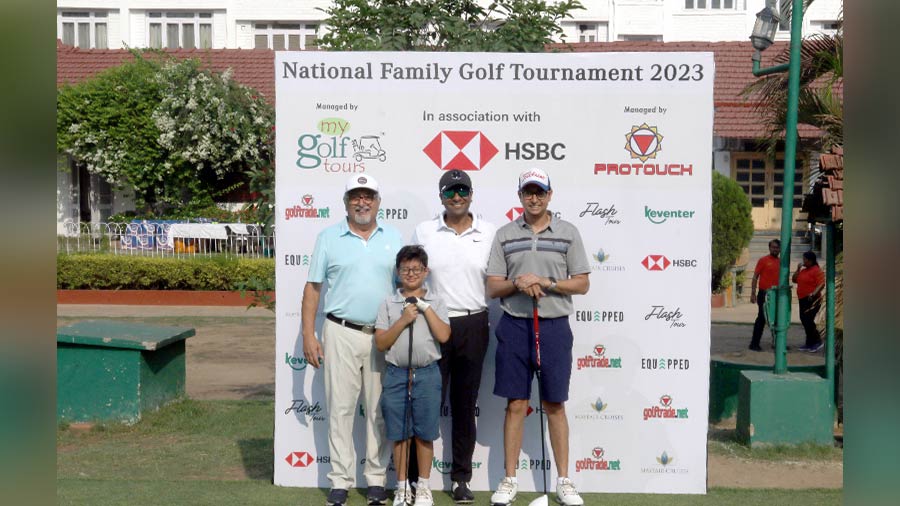 Rohinton Babaycon and Mayank Jalan with Ranveer and Rayhan Singh
Protouch Sports
My Golf Tours and Protouch Sports are promoting the concept of family golf, as part of the National Family Golf Tournament 2023. The event's Associate Sponsor is HSBC, one of the world's leading financial institutions. The success of the tournament will be followed by the next event on May 19 at the Bombay Presidency Golf Club in Mumbai. Mayfair Cruises, Flash Tour, Equipped Golf Apparel, Golftrade and Shangri-La's Hambantota Golf Resort & Spa are the event partners. The tournament is expected to grow bigger and better with each passing year, promoting the sport of golf and bringing families closer together.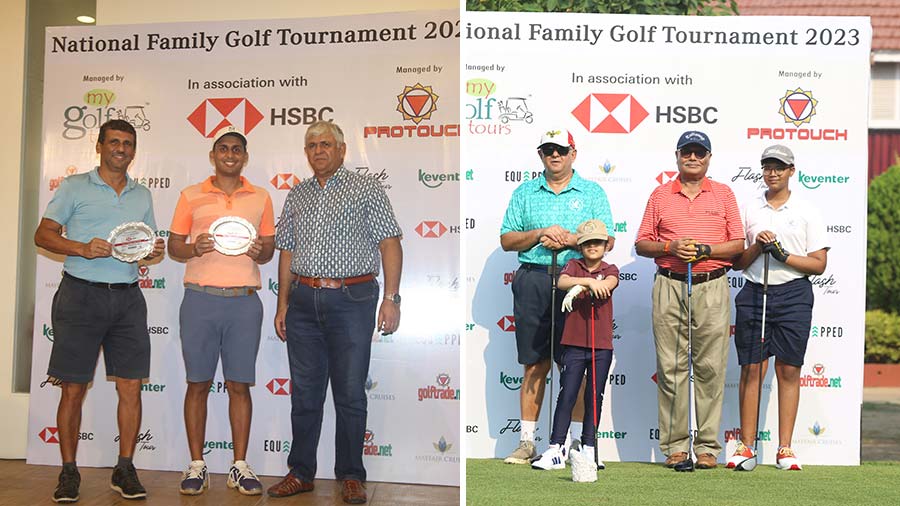 (Left) The Parent-Child category winners Ambarish and Vedant Daga with Tollygunge Club president Captain Dhir; (right) Captain Dhir with his granddaughter Tashya and Rajesh Kumar Poddar with his grandson Avyay
Protouch Sports
Ambarish Daga and Vedant Daga won the Parent-Child best gross score with a score of 66, followed by Amit Mishra and Anshul Mishra with a score of 67.
The second runners up of this category were Sudipta and Suryasish Goswami. Anant Bajoria and Shivangg Bajoria won the title for the best net, while Paresh Patel and Dhanvi Patel became the runners up. Paresh Patel and Dhanvi Patel won the best net with 59 in the Parent-Child category, while Anant Bajoria and Shivangg Bajoria finished as the runners up with 60.8.
In the Siblings category, the gross winners were Akshay and Shivam Pasari, while Siddharth and Rajat Parasramka became the runners up with 73. Amit and Abhishek Saraogi became the winners of the Siblings net category with 58.1, while V.V. Lakshminarayan and Radha Lakshminarayan became winners in the Husband-Wife category with 65.5.