The overall mood at Johnnie Walker Refreshing Mixer Non-Alcoholic presents The Telegraph RCGC 31st Nite at The Royal Calcutta Golf Club was to have a ball with non-stop music, a variety of food and drink and a zesty dance floor. Two generations of the Vyas family on the stage entertained the guests all evening and way past midnight with a wide variety of songs starting with mellow English numbers and moving on to the peppy Bollywood and Punjabi dance numbers. Accompanied by friends and family, the last night of the year was all about having fun and ending the year on a happy note and in high spirits.
Midnight moment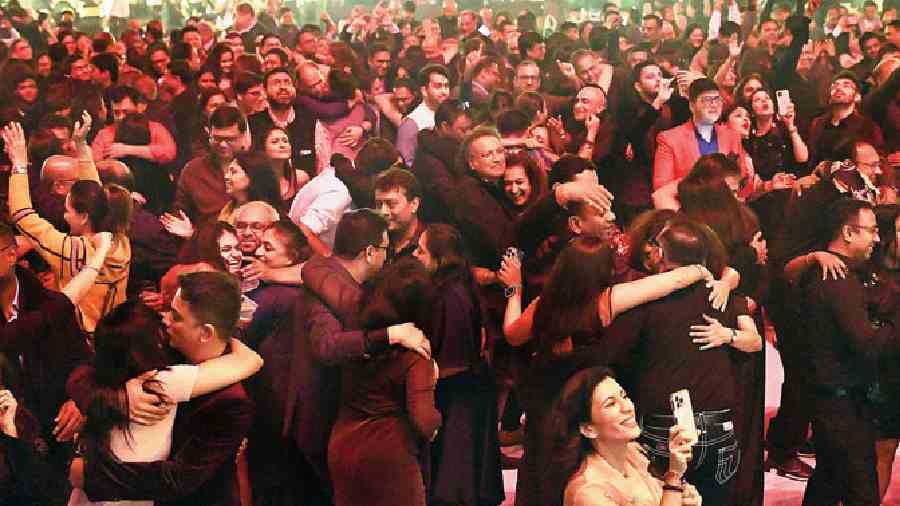 The midnight moment was all about warm embraces with loved ones and sealing the last night of the year with a kiss. Fireworks in the sky, as the clock struck 12, is a signature way for the club to welcome the new year and this year was no different. People looked up in awe, clicked photos and videos and shared the spectacular moment with loved ones over video calls, too. The party continued way past midnight, where the dance floor was not enough. Our camera caught a party reveller showing a dance move to her team on the table top, too.
Performances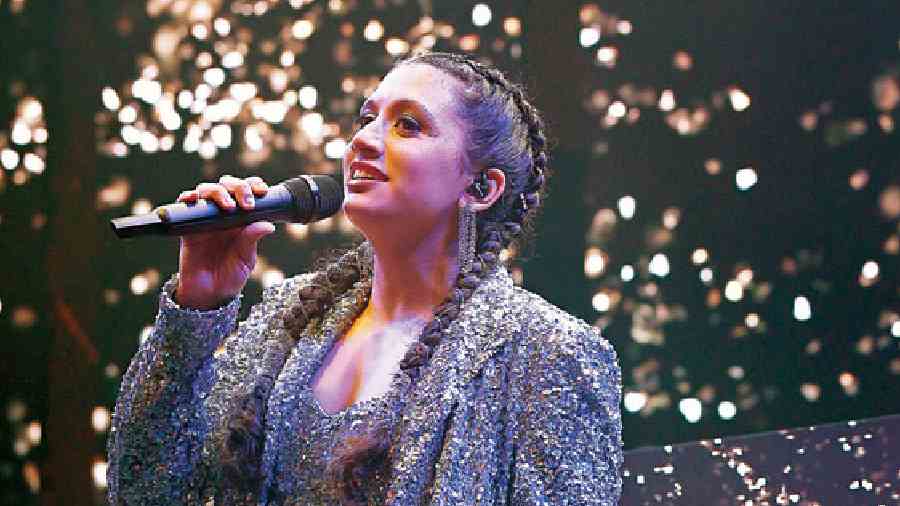 It was 16-year-old Samara Mehta Vyas's first big performance and she had the club members grooving to songs like Always Remember Us This Way, Hit the Dance Floor and Uptown Girl. "This is my first major show and it looks like a lot of fun. I want people to have a good time. Hopefully, this playlist will help," said Samara.
"I love this club. It is a heritage club. I am really excited and what a way to start 2023. We are going to play what the crowd wants. We have a mix of rock, pop and Bollywood. The live jam session is what people love about us," said DJ Sanjeev.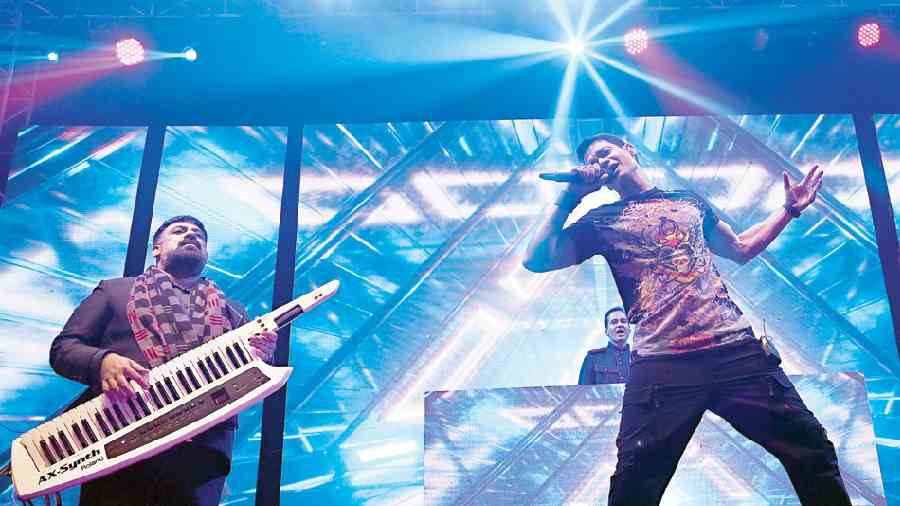 "I am performing at RCGC after many years. We usually travel abroad for the NRI community every year. But this time I felt I wanted to be in my city with my family. This year my daughter is also singing with me. For me this is very special. We have a good mix of Hindi, English, Punjabi, rock, pop and Sufi on our playlist and this is our USP," said Sandeep Vyas, who had the party people on the dance floor with songs like Pretty Woman, Lamborghini and Summer of '69.
Club speak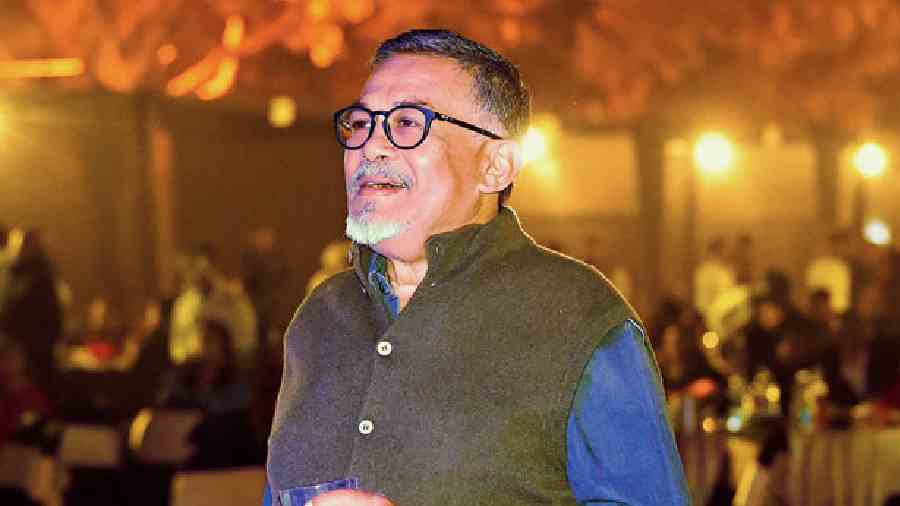 "This is the year-end event at the club and we put in a lot of effort on this at the club. The entertainment committee comes together to put up a great show. It is restricted to a certain amount of people. We don't do the kind of thing that other clubs do and make sure everybody is comfortable. This year, we have provided butler service at each table. We have great food and a good show tonight, I hope to end the year in a bang," said Rohan Ghosh, club captain.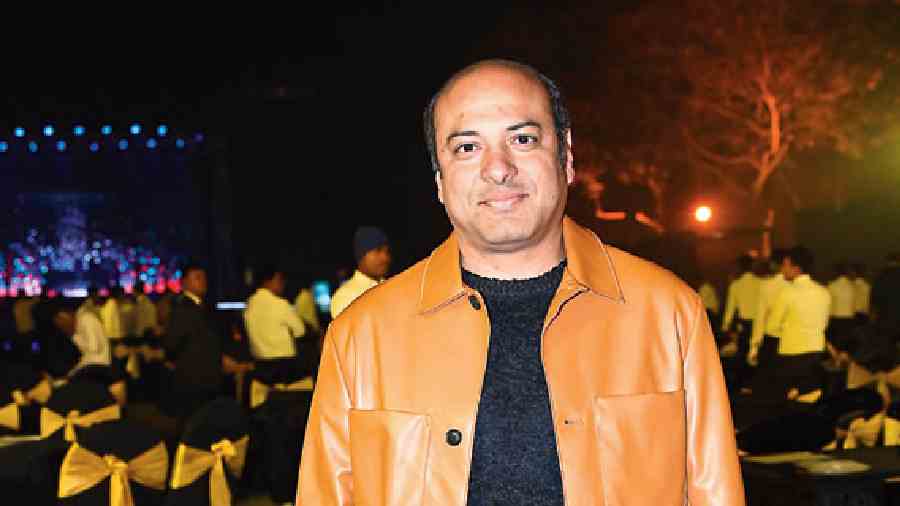 "We had planned the event keeping in mind to add a local touch to it. So, we chose the Vyas brothers as they are Kolkata boys. We got good numbers this time and a great response. It is a hit event and our passes are all sold out," said Hemant Goenka, head of entertainment committee.
Moods and Moments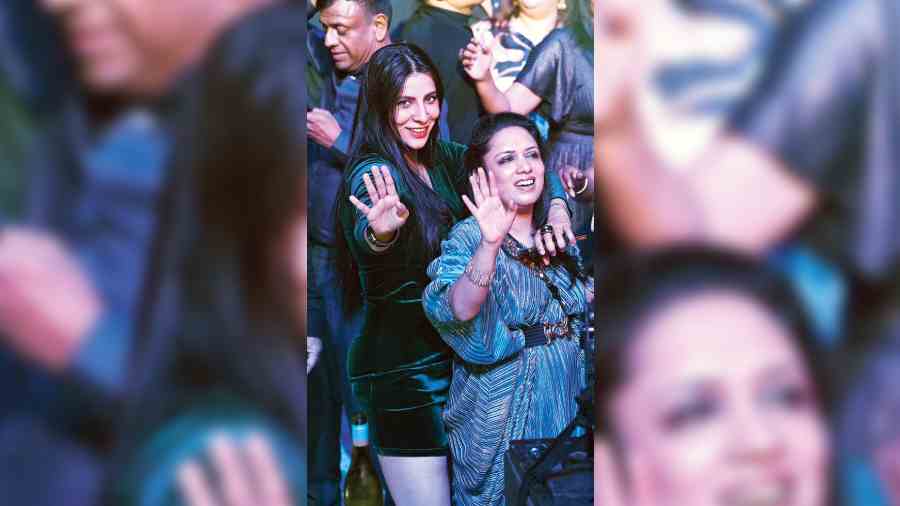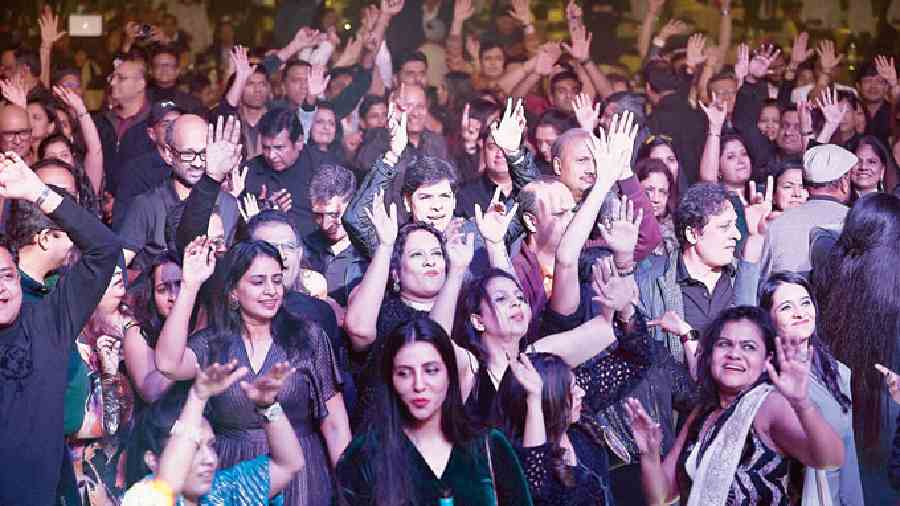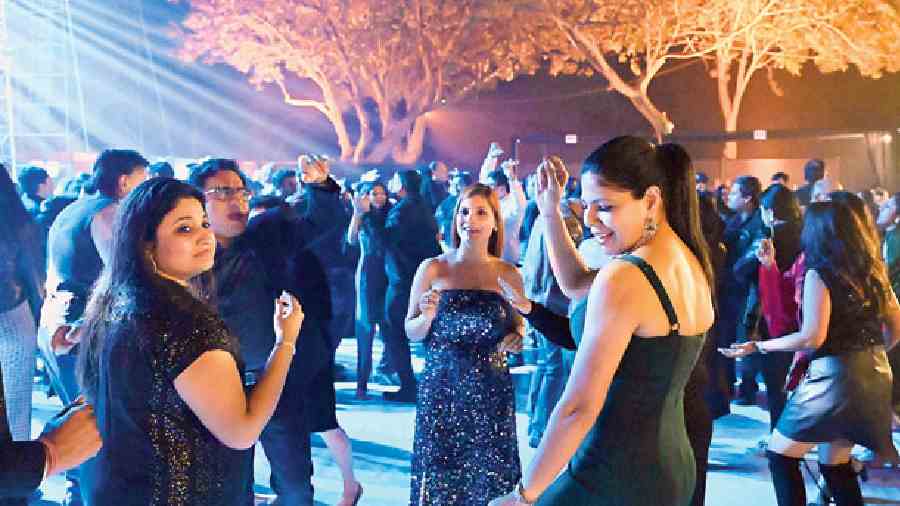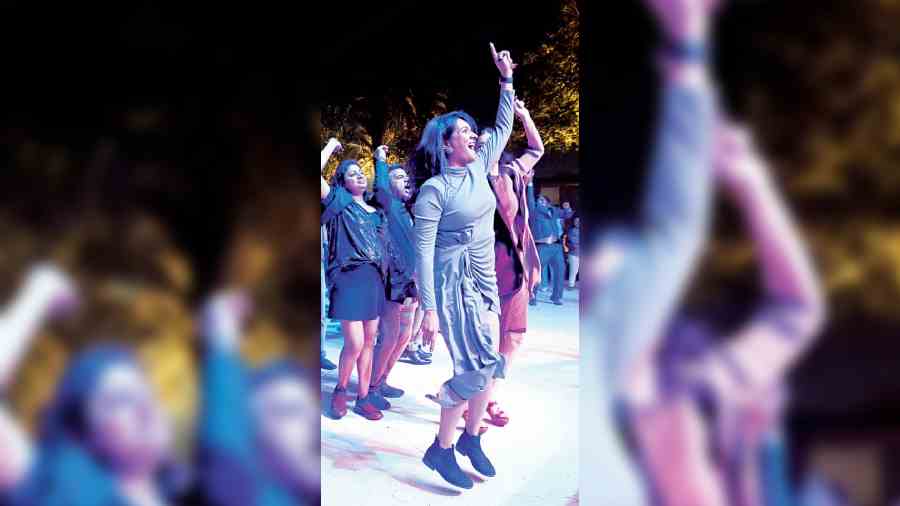 Age was no bar on the dance floor as the young and old enjoyed alike, matching steps to English retro and Bollywood numbers belted out by the Vyas brothers. But the ladies at RCGC sure owned the night with their moves on the floor.
Style picks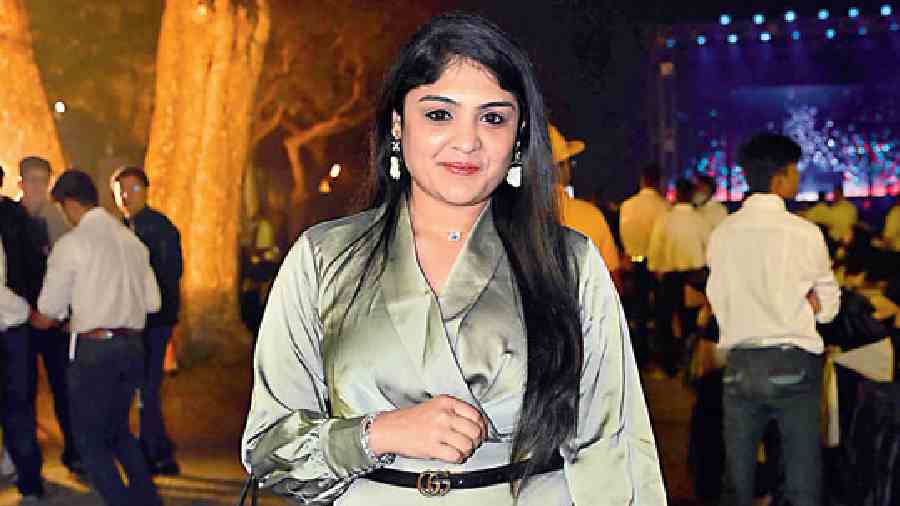 Puja Kothari, a teacher, chose her velvet dress in a metallic shade and paired it with knee-high boots. "I am a regular at RCGC and came to party with my family. We really enjoy the food and ambience here. My New Year's resolution is to lose some weight and be more healthy," said Puja.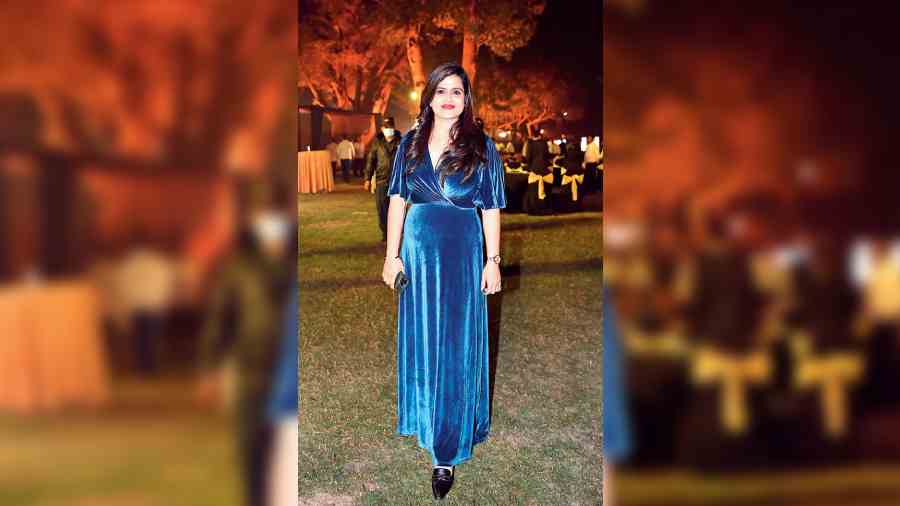 Bling and velvet were the two top trends that we spotted on this New Year's Eve at the club. Puja Binani chose her blue velvet outfit from Kazo. "I have come to party at RCGC for the first time and I am hoping to have a blast," said Puja.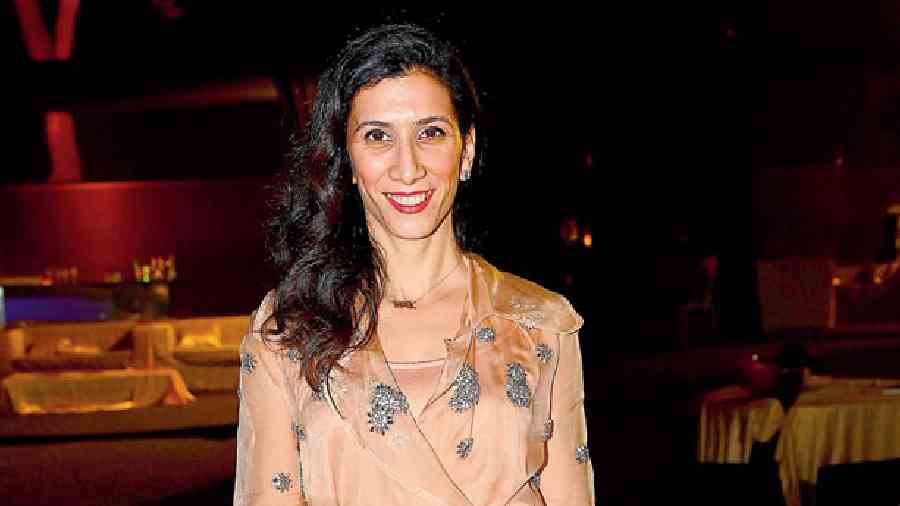 We loved how Sanaya Mehta Vyas's Vizyon outfit was all about balancing the bling with a soothing pastel hue. "It is the first 31st night after a long time where the whole family is together and I am looking forward to having a blast," said Sanaya.
Guests speak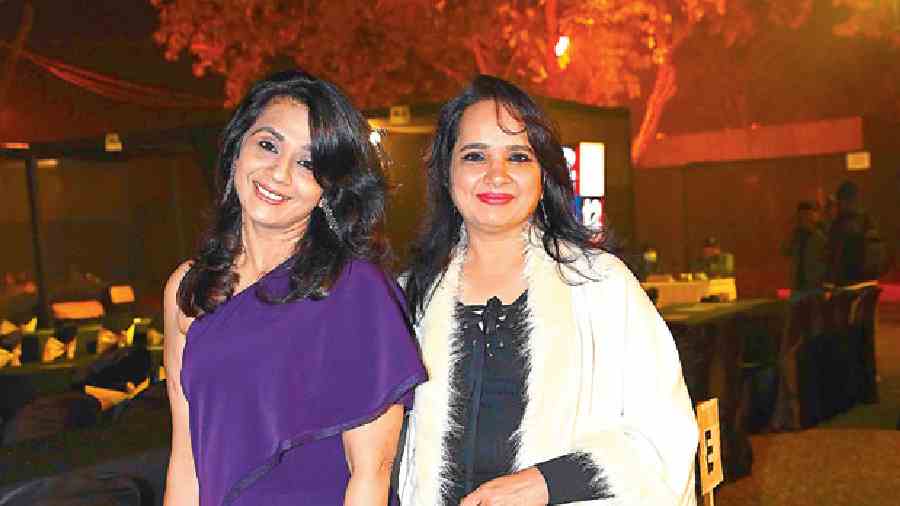 "I have been coming here for the last 15 years and came this year, too, as the event sounded very happening. We became friends during the Covid pandemic. This is our first New Year's Eve together," said jewellery designer Shailja Agarwal (left), whose New Year resolution is "Be positive." Homemaker Vinita Agarwal said, "I want to just enjoy today and will think about my New Year resolution tomorrow."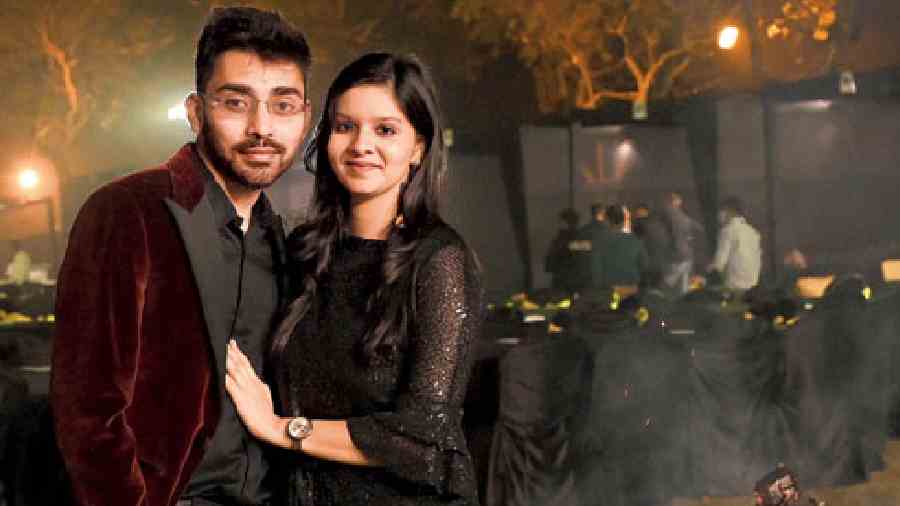 "RCGC is one of the most prestigious clubs and we have been coming here since a long time. I have grown up here playing golf and I am also a regular golfer. Spending New Year's Eve at RCGC is a tradition and we have lots of memory from this place," said Dhawal Vora, who came to party with his wife Saloni.
Decor and set up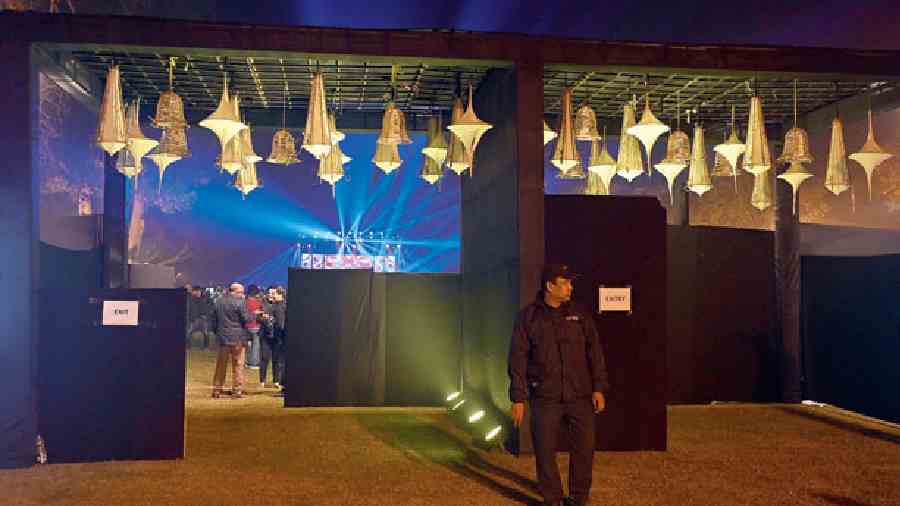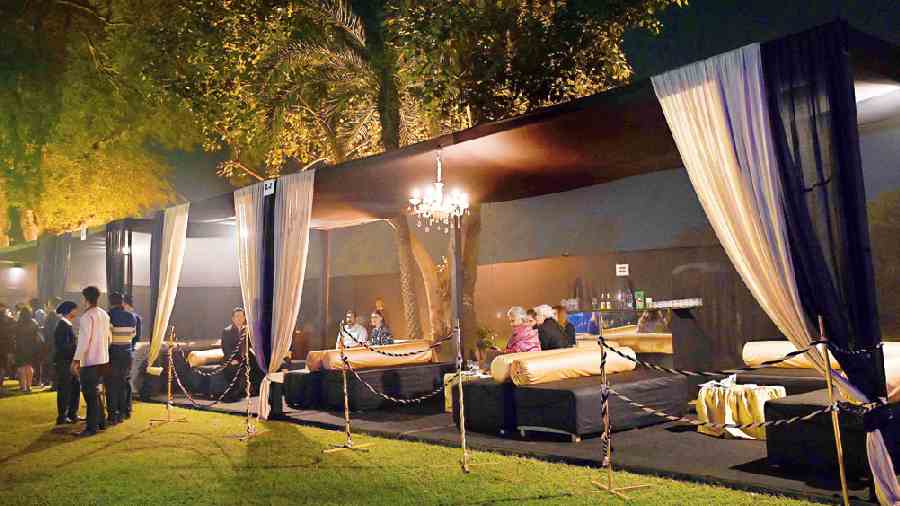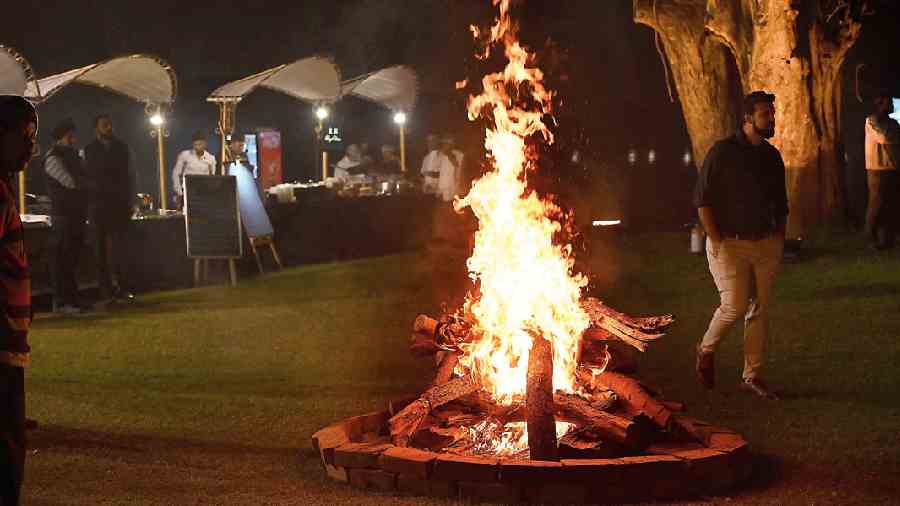 Hanging lamp decor of various shapes and sizes welcomed people at the entrance. The bonfire set in the middle of the ground was not only a perfect spot for clicking pictures but also for warming up. Besides the table set-up on the ground with designated butlers, the cabana set-up on the ground was a huge attraction for many. The cabanas in black and gold were beautifully decorated with chandeliers, too.
Sip & Bite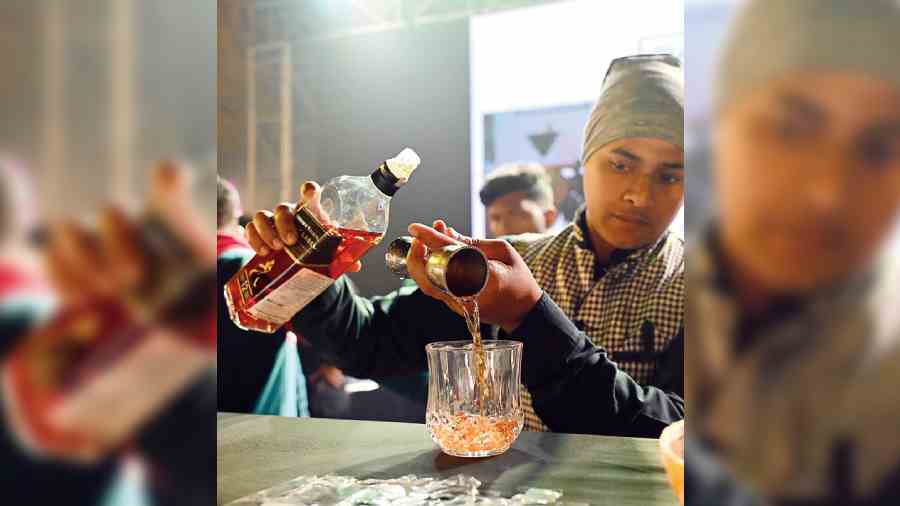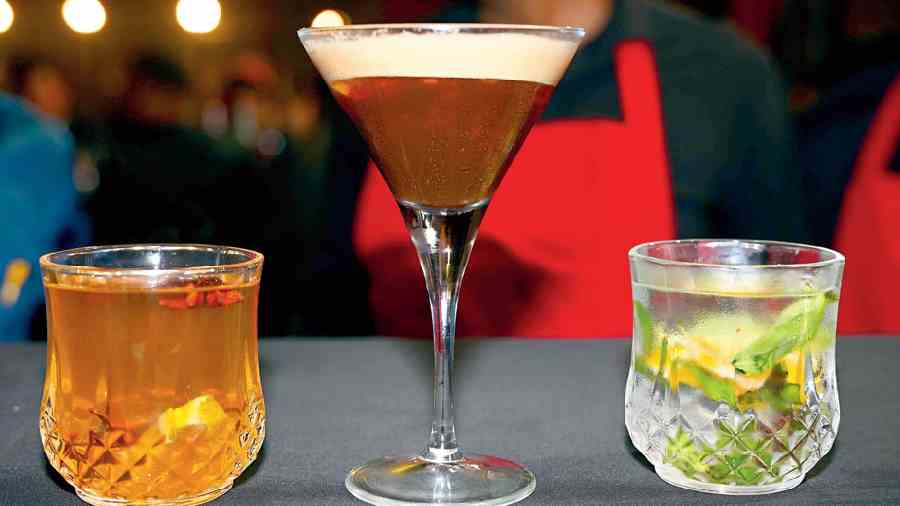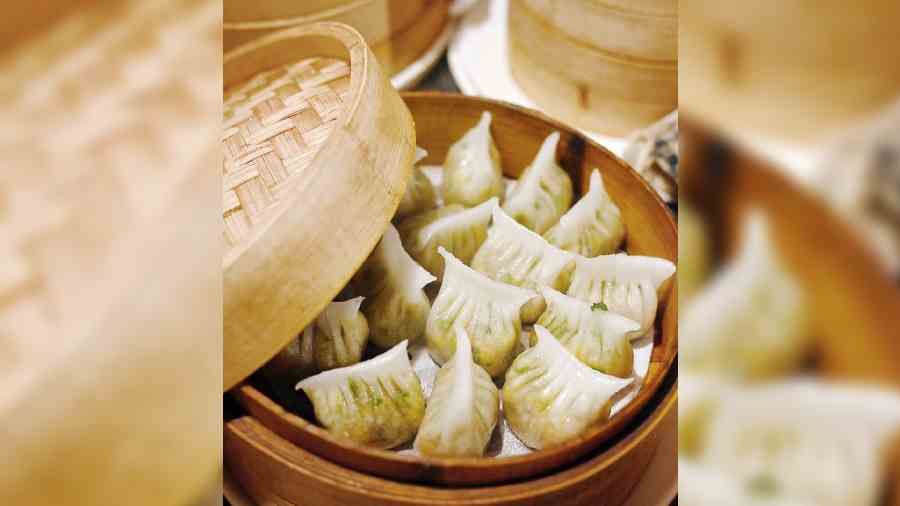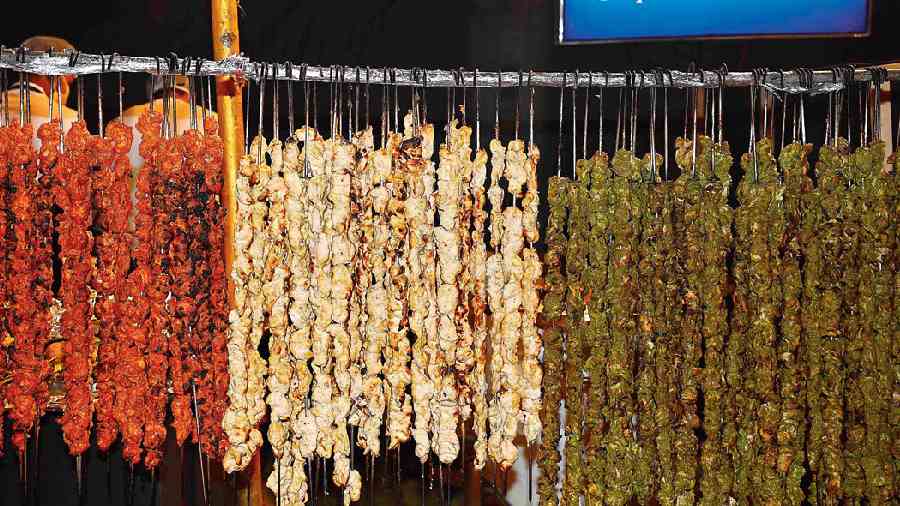 A variety of kebabs and fried munchies were top picks from the menu. Kebab dishes included Goan Cafreal Tandoori Chicken, Nagpuri Saoji Chicken Tikka and Cheesy Mutton Seekh. Sandwiches and biryani were also part of the menu. The weather was just right to indulge in some dim sums from the special counter set up by Royal China. Top picks were Chicken Dumpling in Chilli Oil and Royal Dim sum platter. The tipple counter offered a variety of cocktails, mocktails and straight drink options. The Warm Toddy along with whisky, vodka and gin- based cocktails were in demand at the bar counter.