In its 77th year, Samaj Sebi Sangha has decided to go back to its roots. They will recreate the ambience of 1946 when their Puja started. They will replicate their first idol and the socio-political environment during that year. My Kolkata is the digital media partner for Samaj Sebi Sangha.
Theme and decorations
Samaj Sebi Sangha started their Puja in 1946, the year when erstwhile Calcutta was being torn apart by communal riots. During that turbulent era, a number of freedom fighters created temporary camps in the area to maintain communal harmony. "A number of locals had assisted Leela Ray, Sarat Bose and Anil Ray in every possible way to maintain peace and they also provided shelter to the riot-hit people. Besides that, funds were raised for the Red Cross and that is when Leela Ray suggested the club's name," said Arijit Maitra, the club's general secretary.  
During the Amrit Mahotsav year, the club has decided to go back to "where it all began". At the entrance, a stage will be made where freedom fighters used to enact plays to maintain communal harmony. The idol will be placed at the thakur dalan. "Hundreds of suitcases and luggage will be placed on the terrace to resemble the state of affairs when the refugees had assembled after the riots," said Maitra.
The idol
Keeping the riot theme in mind, a clay idol is being made by artist Krishanu Pal. The ek-chala idol will have a traditional look and resemble Krishnagar style.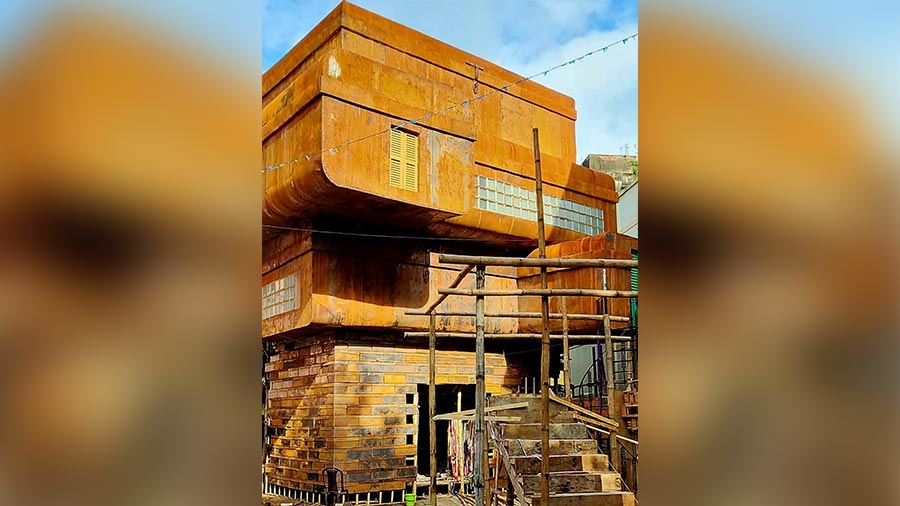 A unique theme music has been scored to recreate the environment of the riot-affected era
Samaj Sebi Sangha
Theme Music
To recreate the environment of the riot-affected era, a unique theme music has been scored. At the entrance, in front of the stage, recordings of old plays will be played. The music inside the premises will be calm and soothing and at regular intervals, the sound of breathing will resonate. It is expected to pay tribute to those who had sought shelter at the building to escape the wrath of the riot. The music has been scored by Tirtha Bhattacharjee," Maitra added.
Looking back
In 2018, the club was the talk of the town following its extensive use of braille sheets to help the visually challenged realise the pandal design.
In 2019, the Puja was based on the labourers without whom Durga Puja would not have been possible.
Social work
For the last several years, Samaj Sebi Sangha has been organizing an inclusive puja with labourers, the visually challenged and autistic children. This year, the club has identified 17 students from different schools in the Topsia area and will support their education and sporting interests.
How to reach
The pandal is near Lake Market. Kalighat Metro station is nearby. Priya Cinema and Lake Kali Bari are two important landmarks.